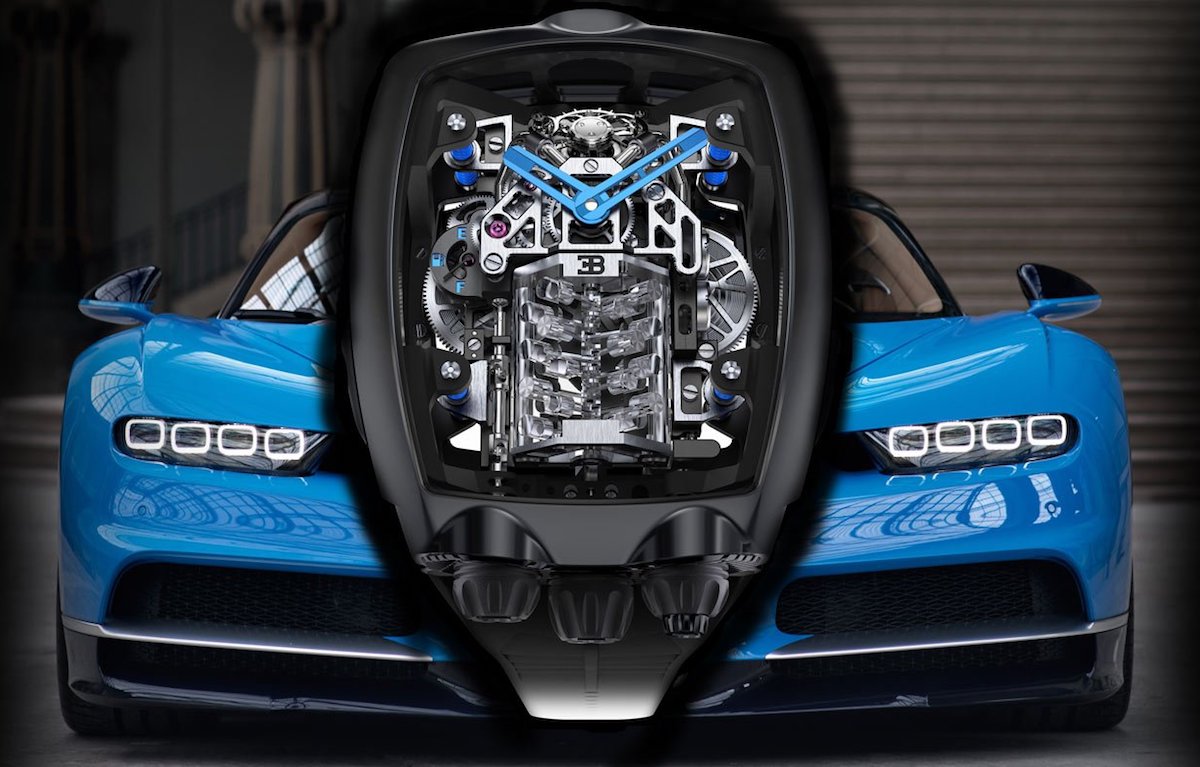 With an air of sophistication and confidence, and a passion to design the most innovative mechanics, two of the world's pioneers have come together to create the first-ever luxury timepiece that houses a tiny working replica of the signature Bugatti W16 engine. The Bugatti Chiron Tourbillon from Jacob & Co. combines the mechanical precision, beauty, and strength of a high-performance car engine with the delicacy and intricacy of a complex timepiece.
The Engine Design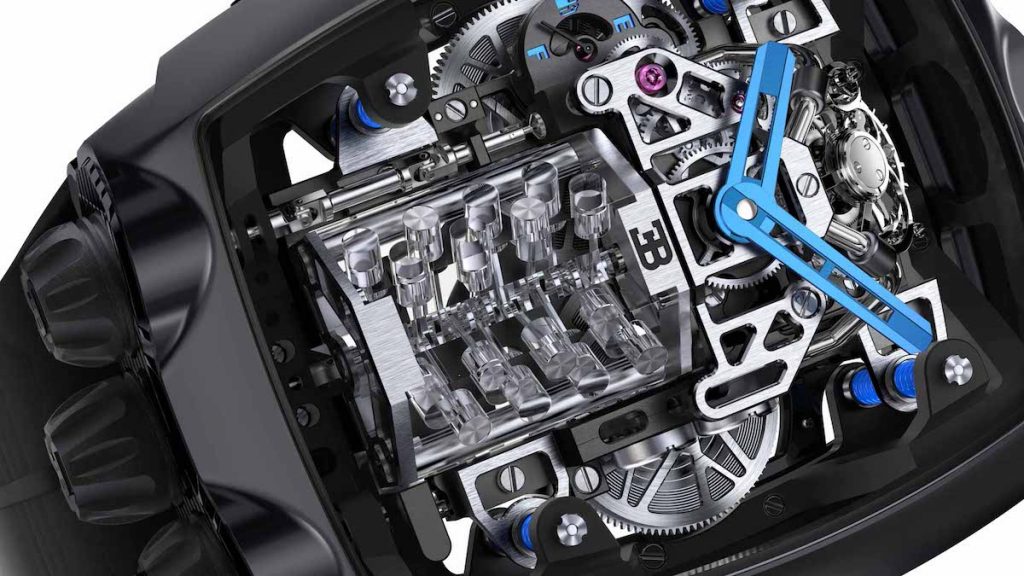 While the main purpose of the Bugatti Chiron Tourbillon is to keep time, the inner workings are no doubt a wonder to watch. With the press of the pusher crown, the small-scale engine is set in motion for approximately 20 seconds. With four shock absorbers suspended under a generous sapphire crystal, a tiny motor revs while even smaller pistons pump up and down. The stainless-steel crankshaft turns as the 578-piece mechanism is clocked at turbo speeds. The watch has a 60-hour battery reserve, resembling that of a gas gauge. The blackened titanium casing is 54 x 44 mm, while the rubber strap is held fast with a premium titanium buckle. A year's design is behind the intricately assembled masterpiece.
The Bugatti Connection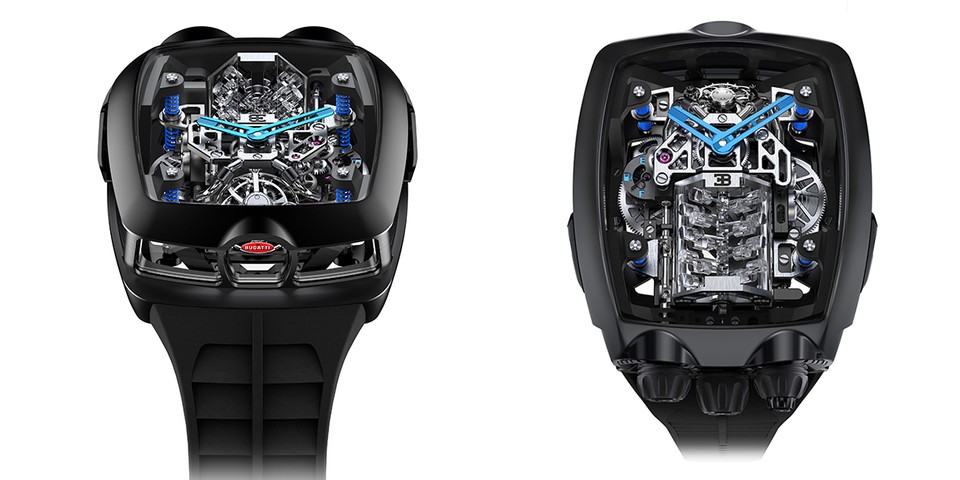 Supercars and exotic watches have shared many connections over time. The road-bound Bugatti Chiron has a 1500-horsepower, 8.0-liter, 16-cylinder engine, calling for the designers at Jacob & Co. to produce an incredible working device with 16 tiny pistons. The watch's design lines and color patterns mimic the Bugatti Chiron in a way that only Jacob & Co. could pull off. The Bugatti Chiron Tourbillon is elaborate in animation, yet simple in design as the general theme of the design is puristic, according to Bugatti.
Previous Watch Designs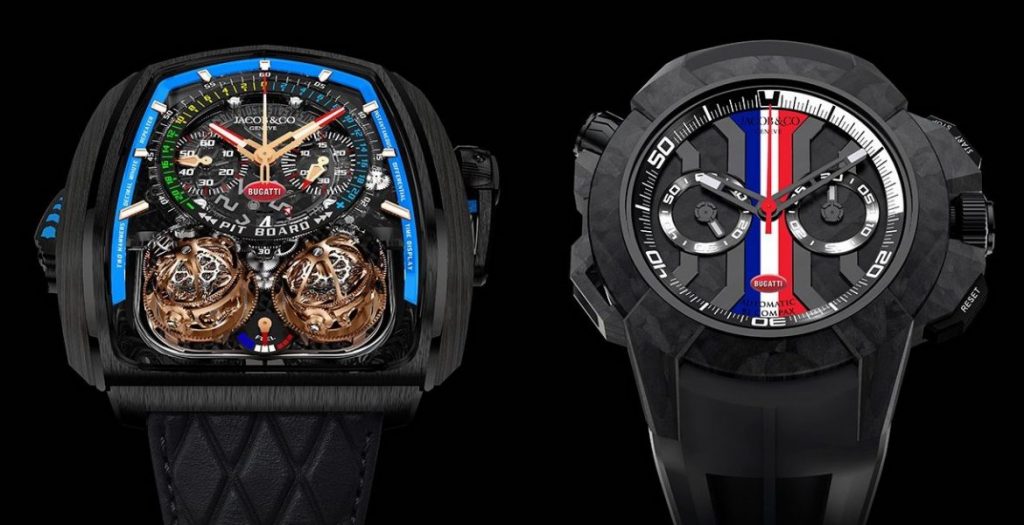 The Tourbillon is not the first collaboration between Jacob & Co. and Bugatti. The Twin Turbo Furious Bugatti and Epic X Chrono Bugatti timepiece models were both successfully created to showcase the luxury and style that is synonymous with both brands. Only 18 of the former have been crafted while 110 of the later were released. With 250 of the new Chiron Tourbillon watches to be released at around $280,000, they will move at breathtaking speeds.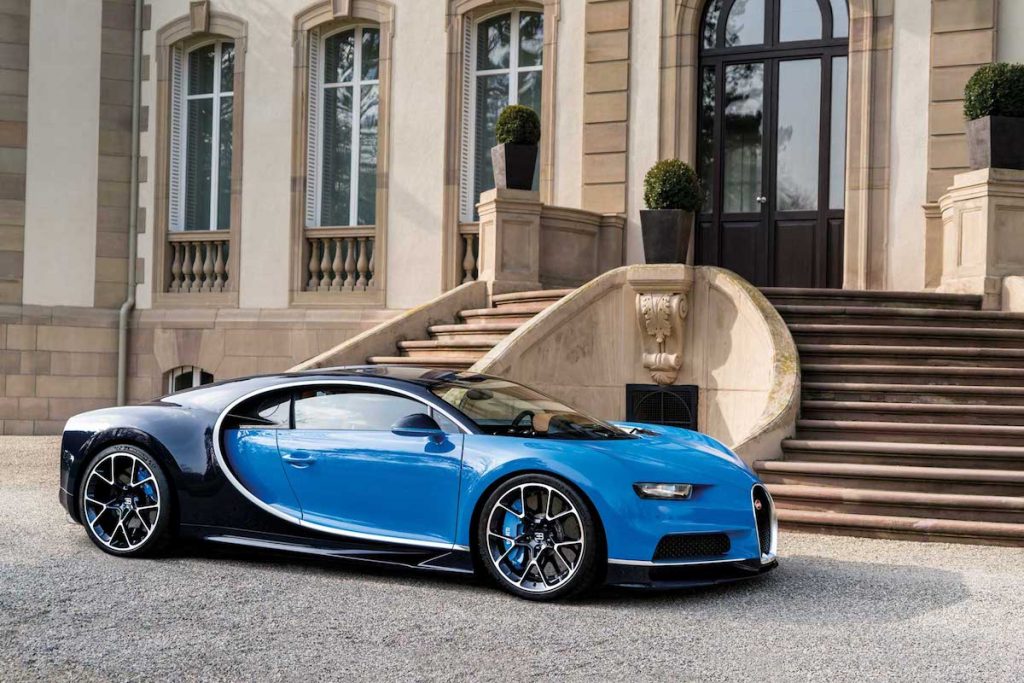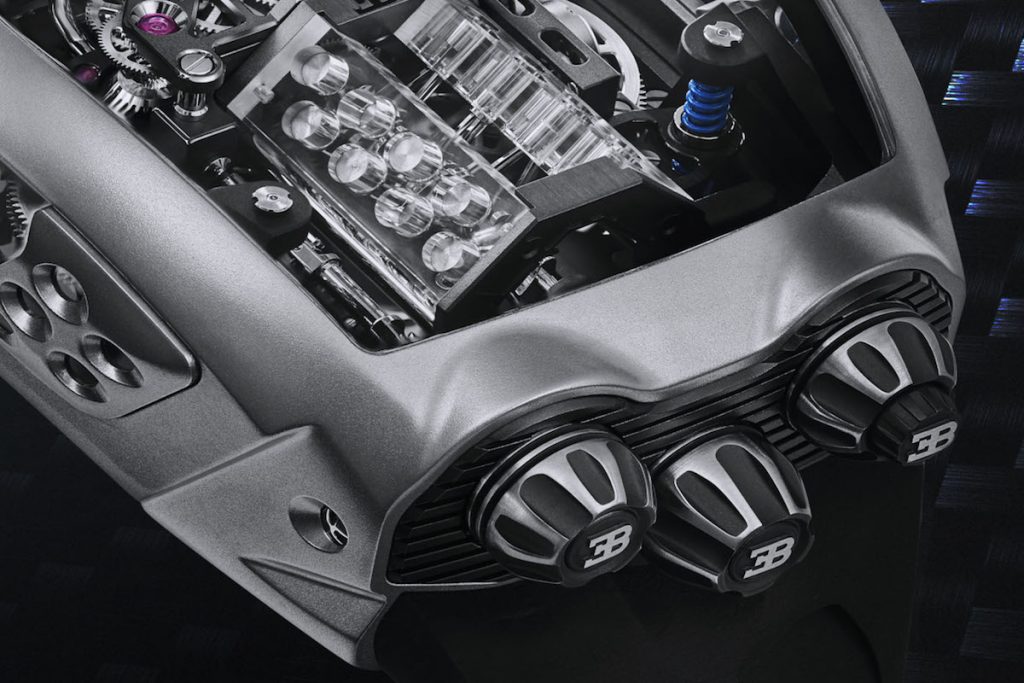 While the three masterpieces are different in specific details, they are similar in their inspiration, exclusivity, and splendor. The Bugatti Chiron Tourbillon, though, was the most challenging feat to date as 578 components churn the engine.
Bugatti and Jacob & Co. have plans to introduce new watches in both the Twin Turbo Furious collection and a new line in the Bugatti Chiron collection.