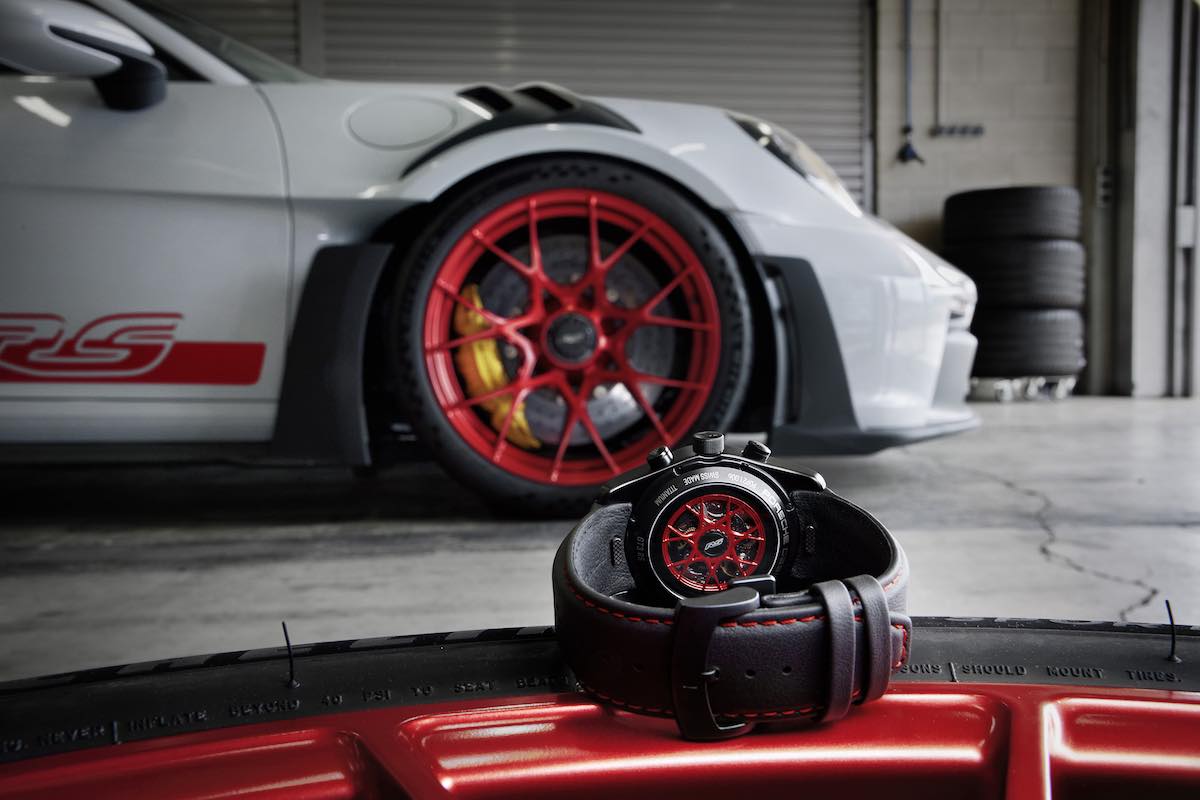 In August, the talented team at Porsche released the all-new Porsche 911 GT3 RS along with an exclusive matching watch, available only to owners of the new sports car. The Porsche Design 911 GT3 RS Chronograph includes the latest in high-end features and technical details designed to pair with their newest sports car perfectly.
Each timepiece is crafted by hand at the Porsche Design watchmaking facility in Solothurn, Switzerland, by master craftspeople to guarantee the highest quality and precision performance.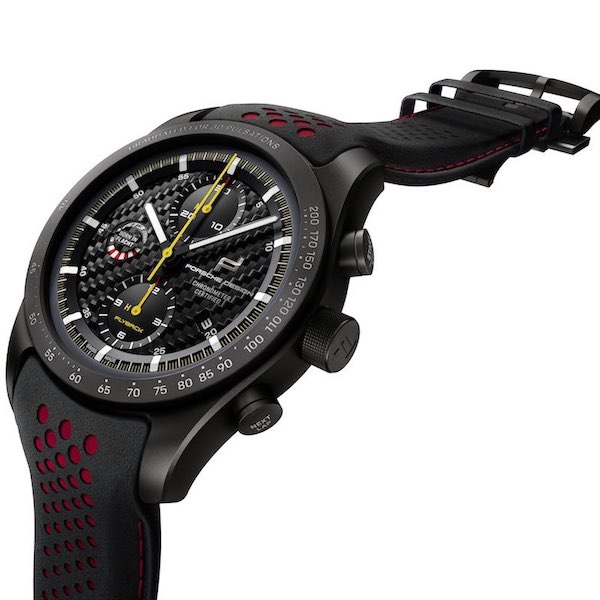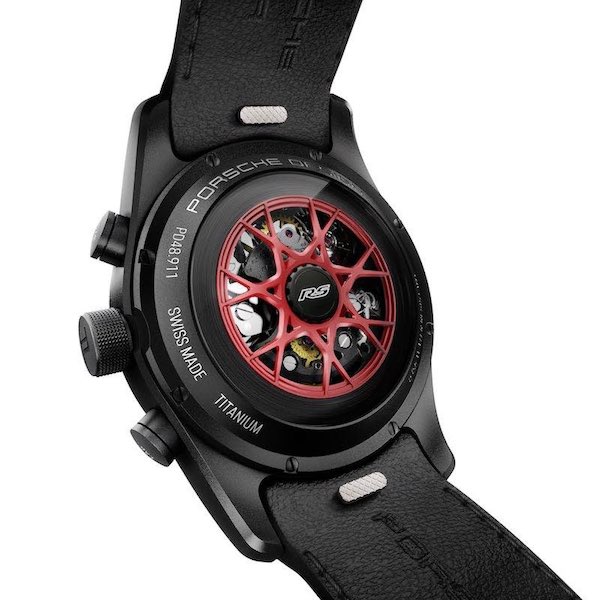 The chronograph reflects the sports car after which it's modeled with striking details: laser engravings of "Start/Stop" and "Next Lap" on the pushers; second and 30-minute counters that display the wearer's best times; a customizable ring around the dial with nine color options to match the car's paint color; and a titanium watchcase in black or natural finish, with the option to add a customized engraving up to 12 characters long to the back — Porsche Design suggests the vehicle identification number (VIN) as the perfect detail. Further mirroring the sports car, the timepiece includes the same rim design as the wheel of the 911 GT3 RS and a black rotor cap in the same design as the wheel's center lock.
Additionally, this timepiece is COSC-certified, ensuring that it is of the highest quality. It boasts a flyback function that allows the wearer to start, stop, and reset with a single operation.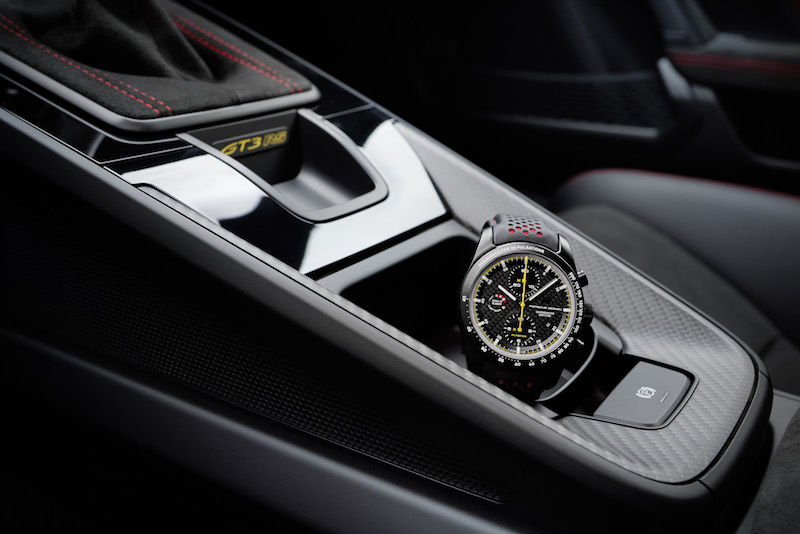 Porsche Design has used the most luxurious materials in the making of this timepiece. The watch face is made of scratch-resistant sapphire crystal and features a seven-layer anti-reflective coating on both sides. The dial is made of carbon fiber and the white hour and minute indexes are made of ceramic Super-LumiNova glowing material.
The chronograph's leather strap is made of genuine Porsche vehicle leather, mirroring the 911 GT3 RS interior, with two options for the accent color and decorative stitching: GT Silver or Guards Red. The wearer could also choose high-quality titanium straps.
The bezel is made of titanium or titanium with a black titanium carbide coating and includes a pulsometer scale to measure the wearer's heartbeat simply by feeling their pulse to activate the feature. Alternatively, the bezel can be customized to display a tachymeter or minute display.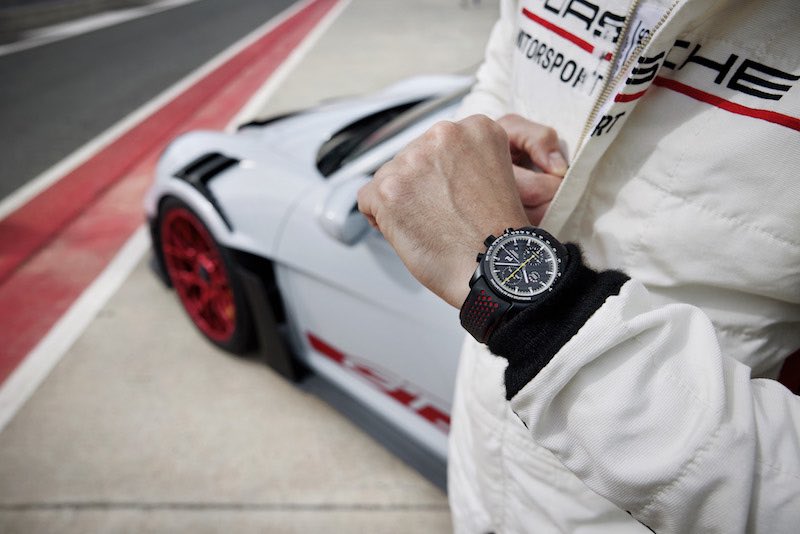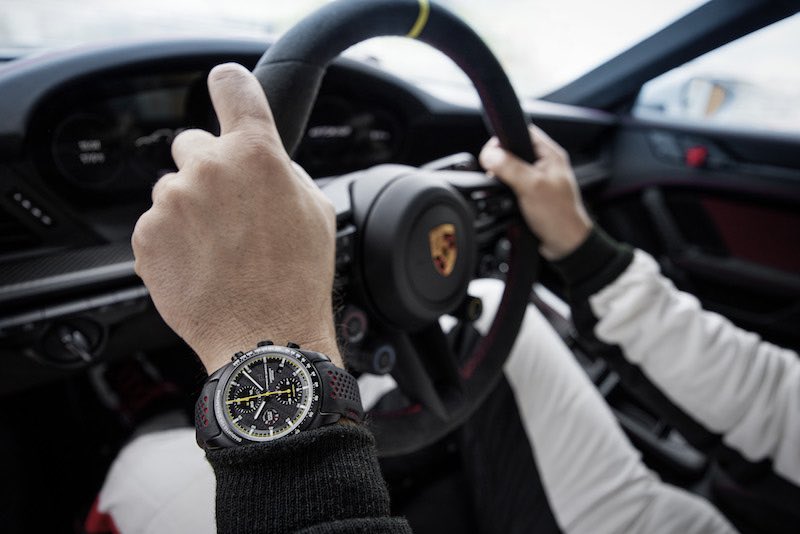 The Porsche Design 911 GT3 RS Chronograph is now available exclusively for buyers of the new Porsche 911 GT3 RS and 911 GT3 RS with Weissach Package at Porsche dealerships and www.porsche-design.com.