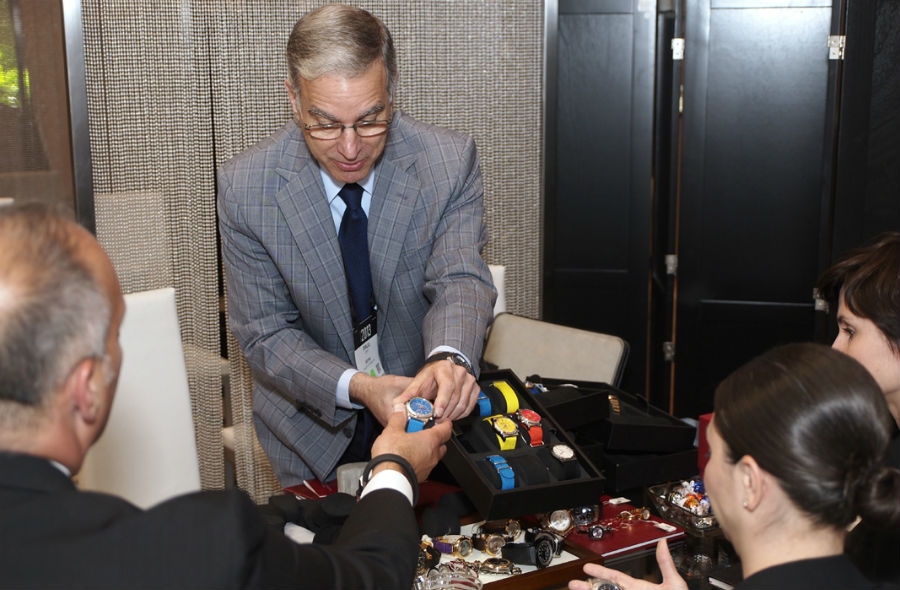 If you attended the Couture Show this year, it didn't take long to discover that everything you needed to know about fine timepieces was located in the Cambertin 2 Ballroom!
For Gevril Group, the Couture Show has become just as essential as the more established Baselworld show in Switzerland. According to Gevril President Samuel Friedmann, Couture is more effective at meeting the needs of North American jewelers and retailers. "This show is mandatory for American luxury retailers," says Friedmann. These retailers certainly got a treat when they visited The Chambertin 2 Ballroom, home to Gevril Group during the five-day show.
Showcasing some of the industry's most popular watch brands, Gevril Group's convenient location, just a few feet away from the Couture registration desk, provided attendees with an unprecedented opportunity to discover emerging trends and hot new fashion ideas. "This was our most successful show ever," said Gevril Executive Vice President David Yurowitz. "Customers are taking a new look at our company and are very eager to participate in all the projects and brands we have rolled out. The success of Couture 2013 was a record-breaking achievement for Gevril and we see this as a stepping stone for the future of our company."
Paul Ziff, president of Ferragamo Timepieces in the United States, concurs. "There was a definite buzz in the Chambertin 2 Ballroom as customers and prospects gathered to view our Gevril collection of brands," says Ziff. "The new Ferragamo Lungarno automatics and the fashion-forward Minuetto line were particularly well received by the press and retailers. Bloomingdales buyers even made a point during their appointment to say that they are very proud and excited to have just launched the Ferragamo timepiece line in eight Bloomingdales locations with more to follow."
The Versace and Versus displays were both popular destinations for jewelers and retailers. Kari Allen, President of Versace Timepieces for the USA and Caribbean, had her best year ever at Couture. She attributes her success to the great teamwork exhibited by the Gevril staff. "It takes a lot of effort throughout our organization to achieve our goals and I very much appreciate all the support," says Allen.
Miriam Tress, representing Gevril's popular Fortis brand, says Gevril Group had lots to be proud of during Couture 2013. "The Chambertin 2 ballroom was exquisite and served as an impressive showcase for a wider variety of watch brands than any other exhibitor, says Miriam. "I observed a constant excitement and buzz in the air from our many current and new customers. You could see respect and admiration for Gevril Group and the values they stand for.
From the opening night concert by popular rockers Neon Trees, to the highly anticipated Couture Design Awards, Couture 2013 was an event to savor and remember. Once again, Couture was joined by the prestigious Watch Journal to present Couture Time, a carefully curated collection of the world's finest timepieces.
"There is no substitute for seeing, touching, and admiring one of the most diverse collections of fine timepieces available today," says Samuel Friedmann. "People are amazed at how many fine brands we offer, and Couture gives us the opportunity to show these customers how we can help build their business, both before and after the sale."
Las Vegas has always been known for putting on a good show, and Couture 2013 was no exception. This prestigious event has become an essential destination for anyone serious about selling luxury goods. That's a big reason why Gevril Group plans to be back again next year.