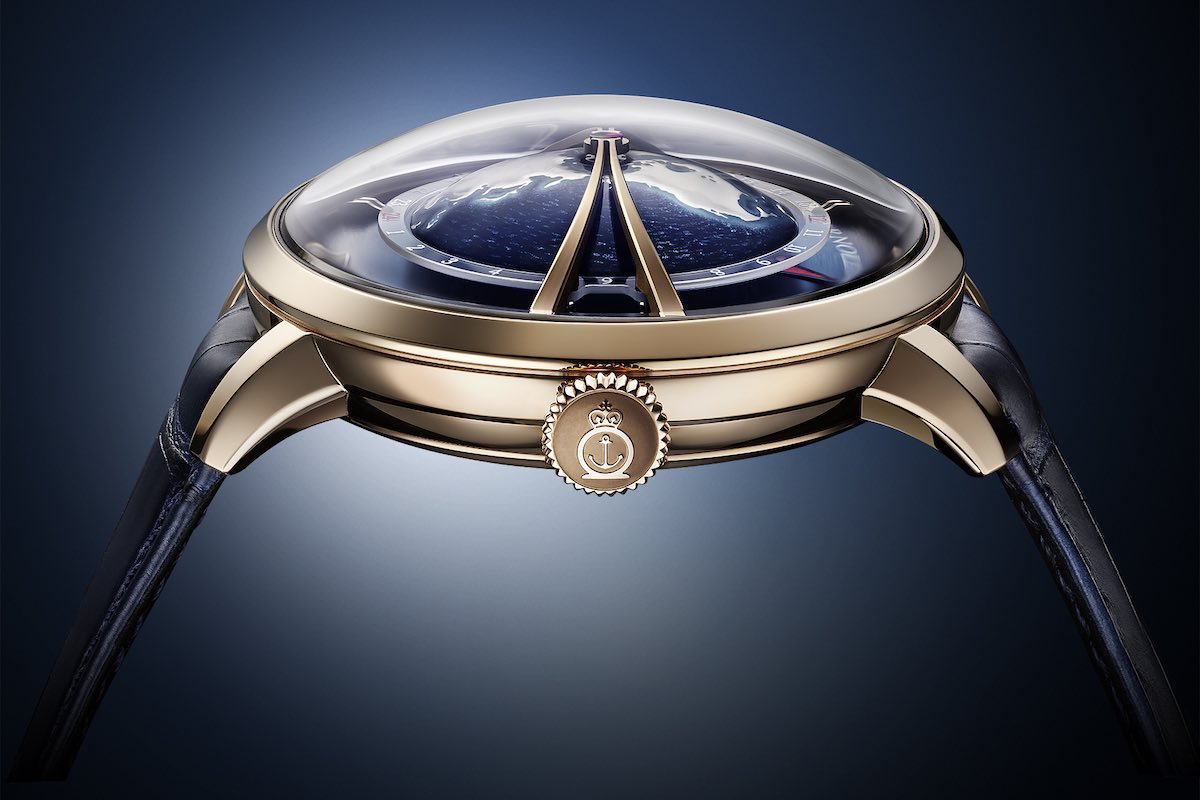 Jetsetters travel the world in pursuit of wealth, luxury, and adventure, but their most valuable asset, beyond money and property, is time. For busy professionals, time is constantly slipping through their fingers. Knowing how to invest it is, therefore, essential to strategically building relationships, orchestrating business deals, and maximizing personal efficiency. That's why so many investors and celebrities spend thousands of dollars on high-end timepieces, ones with intricate craftsmanship and pinpoint accuracy.
Legendary Swiss watchmaker Arnold & Son understands how precious time is to their clientele, which is why the brand recently released a limited-edition wristwatch, specially made for international travelers. The Globetrotter Gold, produced with 18 karat red gold, boasts a watch face like no other, sporting a gorgeous motif of the Earth's continents accompanied by unique timekeeping features. Only 28 of these masterful wristwatches have been produced, and because of their elegant flair and incomparable design, they are sure to be the envy of jetsetters and horology connoisseurs everywhere.
A Legacy of Elegance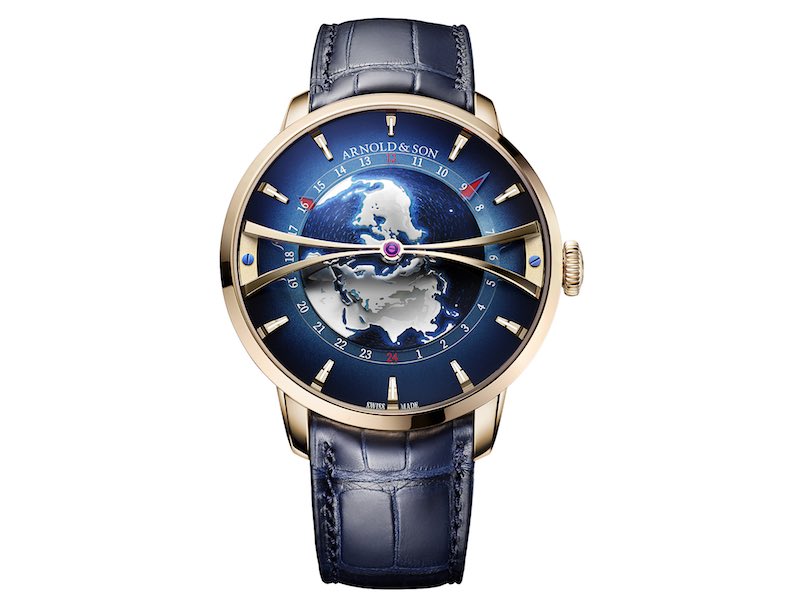 At 45 millimeters in diameter, this special edition watch pays homage to Arnold & Son's storied history as a producer of marine chronometers, a history that reaches back to the 1700s. Arnold & Son's chronometers helped navy sailors keep time and map their positions at sea for centuries, and over the years, the company has honed their craft further, evolving into a producer of high-end wristwatches that innovate and amaze. This particular model features a map of the Northern Hemisphere, hand-painted in rich blues and matted silver, which rests on an open-worked bridge, made entirely out of refined red gold. Hailed as an atlas for your wrist, this watch captures the spirit of exploration for which the Maison is known and loved.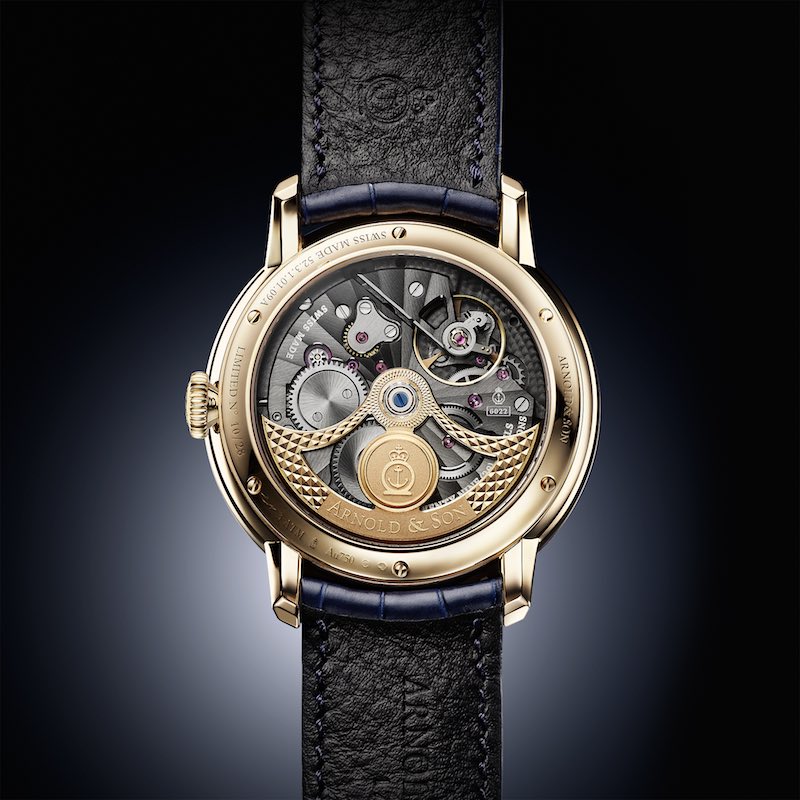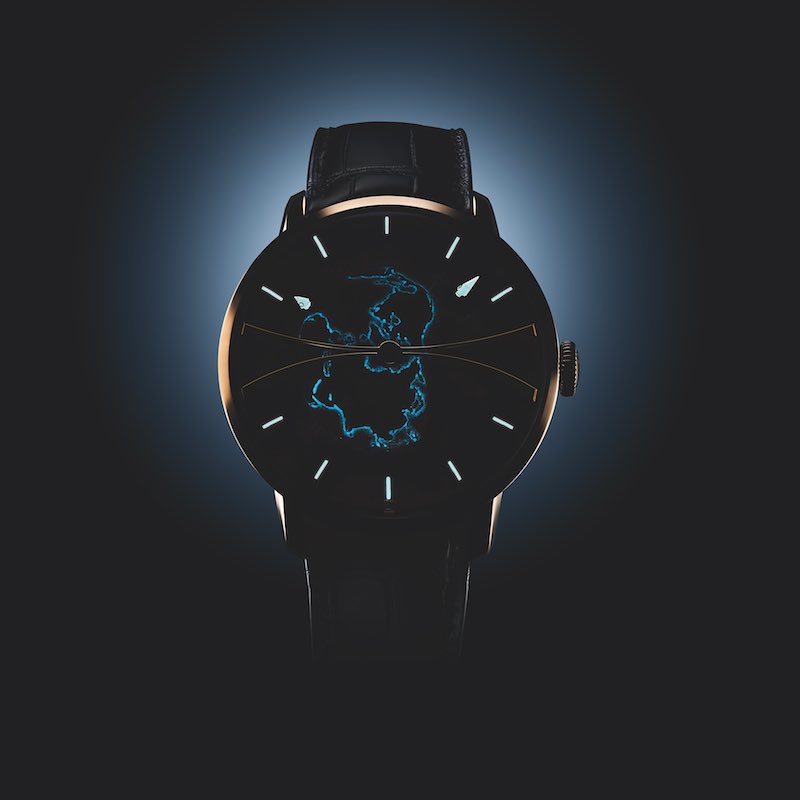 Manufactured at Arnold & Son's factory in La Chaux-de-Fonds, the Globetrotter Gold possesses a distinct timekeeping function: it is capable of tracking time in both local and global time zones. For example, a red-colored hand indicates time in the wearer's present location. In order to reveal the correct time in other regions of the world, however, all the wearer has to do is draw an imaginary line from the ruby situated in the bridge all the way to the desired coordinates on the 24-hour sapphire ring. This subtle and clever function makes the watch the perfect accessory for a savvy traveler or an international entrepreneur, who crosses the globe as a way of life.
A Wristwatch Like No Other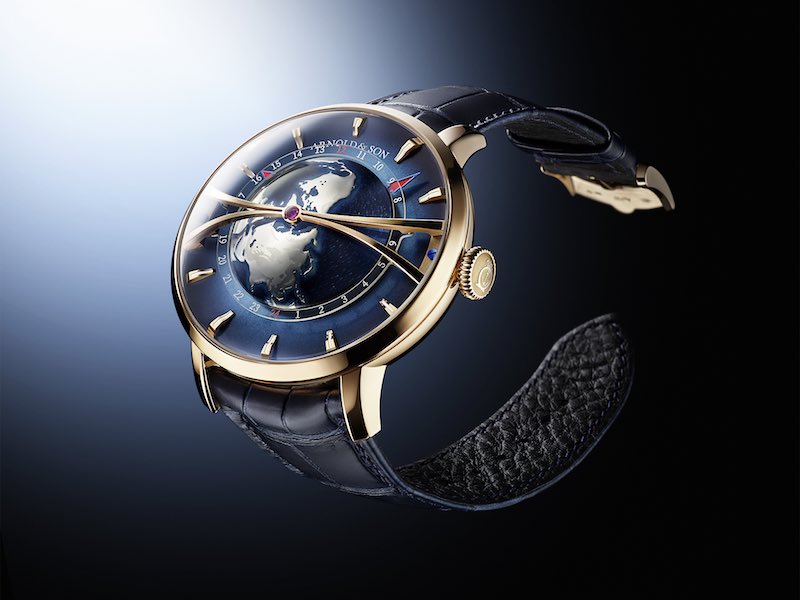 The Globetrotter Gold is a watch that both stuns and surprises. For example, the continents' coastlines are lacquered with Swiss Super-LumiNova, an aluminate-based pigment that glows in the dark, a feature that accentuates the watch's cool factor and sleek design. Priced at $45,900 USD, the timepiece takes horology to whole new levels of prestige and beauty. It is uniquely crafted for a person of the world, someone whose lifestyle isn't limited by borders, time zones or open seas. With its supple alligator wristband, durable skeleton, and breath-taking face, this latest release from a time-honored company is bound to make waves. Its elegance unmatched, and its craftsmanship unparalleled, the Globetrotter Gold packs a world full of beauty into the size of one humble—yet extraordinary—wristwatch, and only a select few get to treasure and enjoy it.