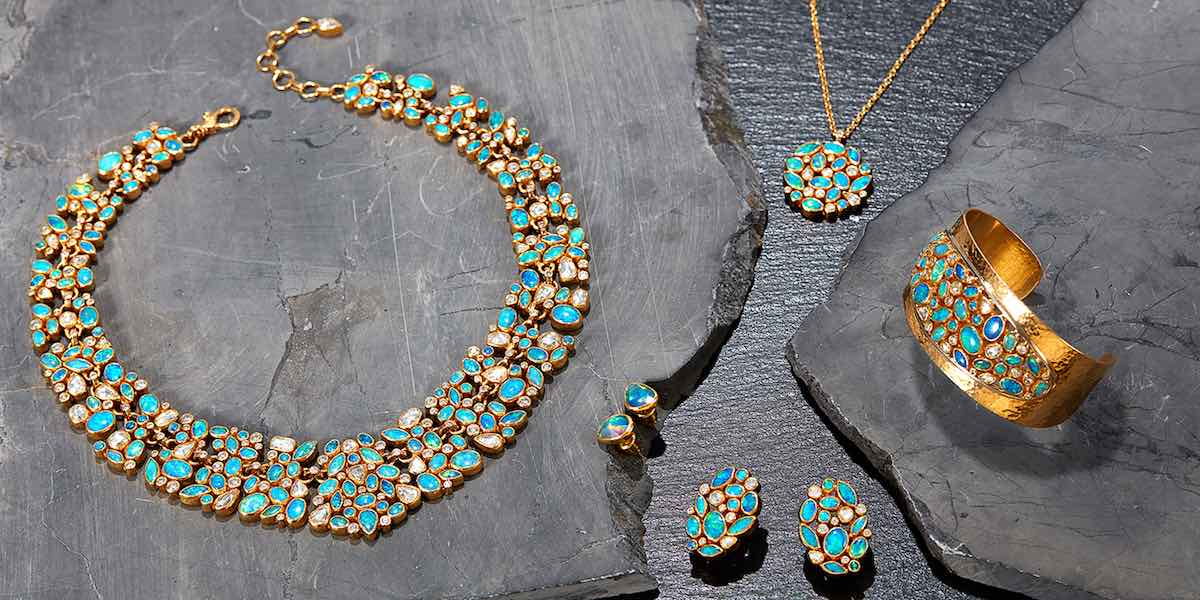 The Man Behind GURHAN
They say life imitates art. This certainly is the case when it comes to Gurhan Orhan's jewelry collection. From humble beginnings in Turkey, Gurhan fell in love with pure gold and pursued ancient artisan techniques that he would incorporate in his own meticulous methods and intricate designs to launch his impressive jewelry line. Looking through GURHAN's celebrated portfolio is the equivalent to viewing a world-class collection of art.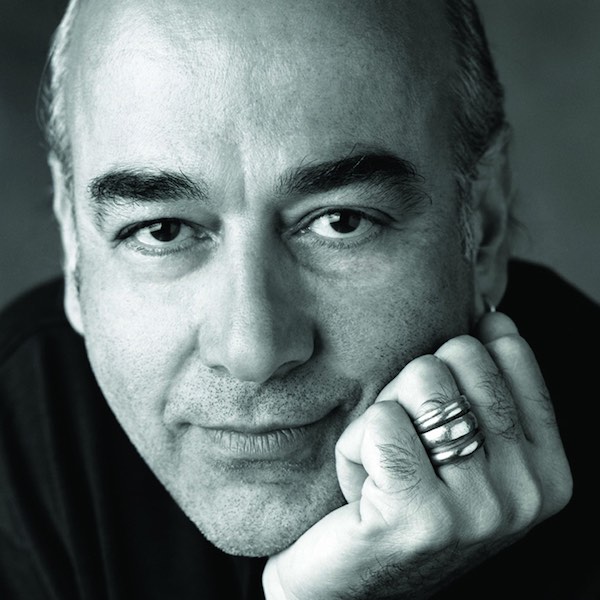 Through his passion he forged an international brand that bridges the gap between ancient civilizations and today's consumer. He works out of his Tribeca atelier and in his workshop in Istanbul. His namesake jewelry collection has adorned celebrities from Jennifer Lopez to Angelina Jolie.
The mastermind behind the brand, Gurhan was commissioned by the Metropolitan Museum of Art to create a collection including his trademark hammered-gold designs for the exhibit Afghanistan: The Hidden Treasures Collection.
The Discovery Channel featured a segment on Gurhan's ascent as a renowned jewelry designer. He studied the secrets of the first Anatolian goldsmiths and fused ancient techniques with his own style, always keeping true to early methods. Gurhan personally trains each of his artisans at his workshop in Istanbul to do the same. The end result is truly a labor of love.
Gurhan uses 24k pure gold resulting in collections of exquisite beauty. He painstakingly hand crafts each of his designs. More than 1000 hammer strokes go into every square inch of the gold. This technique gives his jewelry a distinction from others. Yes, the result is beautiful to the eye. The hammer strokes also fortify the gold strengthening its durability for everyday use.
It's not only about hammering, however. For handmade chains it means individually creating each link, joining it to another and fusing it closed. One of these necklaces takes several days to complete. Gurhan's method has become the signature to his work. The integrity of this craftsmanship has earned him multiple awards as well as a loyal client base.
Love of Collecting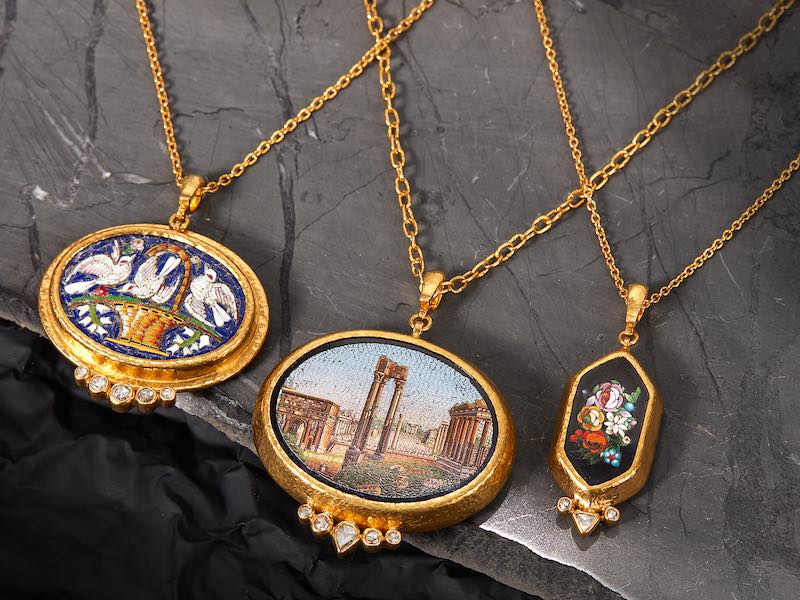 Travel, art and culture are the sources from which Gurhan draws inspiration for his creations. He is an avid collector of antiquities and unique, unusual gemstones from around the world. Gurhan, utilizing these remnants of the past, captures and reimagines history for the modern-day woman.
He immerses himself into diverse cultures to absorb local flavor and influences. His exotic and exclusive pieces are born out of these experiences. In fact, 60% of his collections are one-of-a-kinds. That's why when you buy GURHAN jewelry you are acquiring more than a piece of artisanship. You are wearing a unique collectible.
"Collecting remnants of the past and recreating their future has been an obsession for me since my earliest days as a goldsmith," says Gurhan. "Nothing gives me more pleasure than to capture a piece of history and imagine the past lives that were touched by it."
Some of the jewelry from the antiquities collections is inspired by the Grand Tour, the historic period when British aristocrats traveled to Italy and France to study art and architecture. Gurhan's creations from this era are apparent in his pendant necklaces with lava cameos and detailed micro mosaics. He also uses Roman and Byzantine coins in some of his jewelry. Mixing antiquities with 24k gold is a standout feature of Gurhan's one-of-a kind tassel necklaces and all-around necklaces.
Colored Stones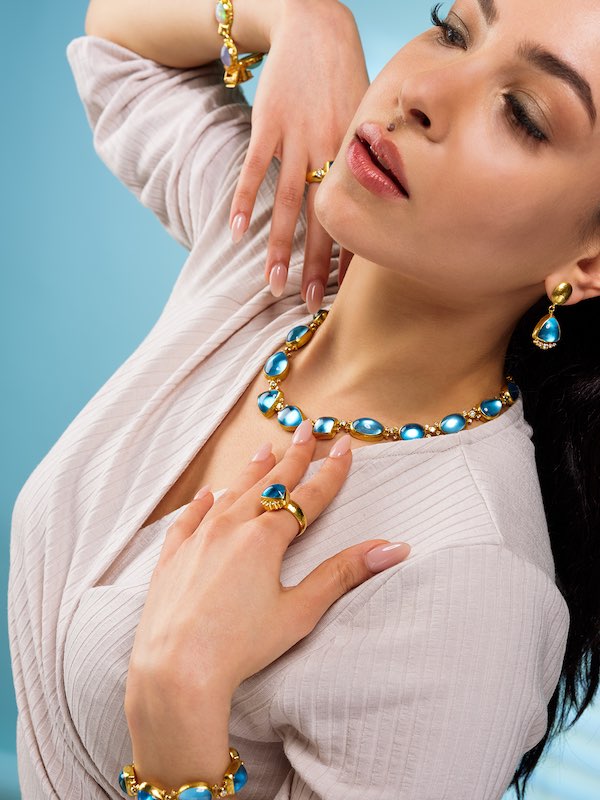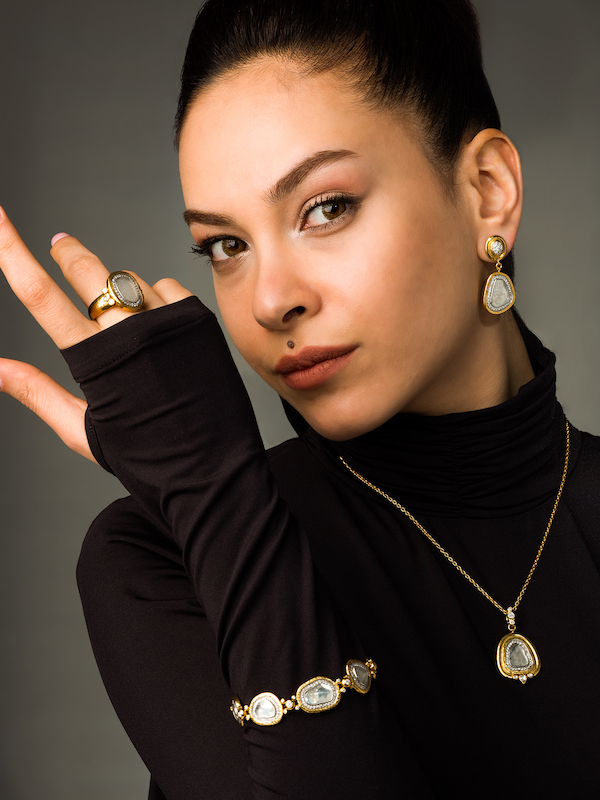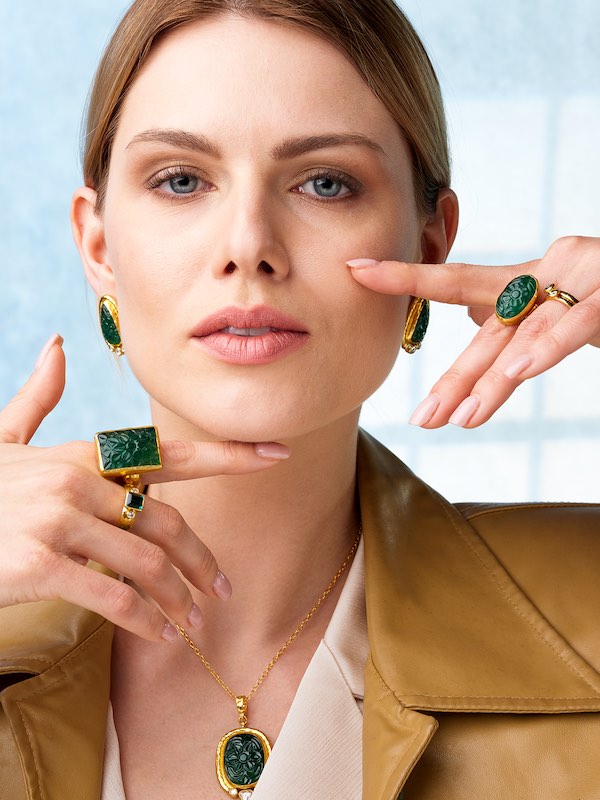 Gurhan is renowned for his use of bright, luscious gemstones. He personally selects each stone and envisions its destiny to build a unique design for his customers. Keeping to ancient traditions that did not regard stones as flawed or unusually shaped, Gurhan too believes there are no defective gems – a testament to his visionary talent.
Opals and emeralds are among his most in-demand gemstone collections. In fact, high-quality opals are more rare than diamonds and do not depreciate in value. GURHAN uses predominantly Ethiopian opals due to the magnificent color changes the stones emit when light hits them. The kaleidoscopic color play is one of the opal's most notable features.
The popularity of emeralds dates back to ancient Egypt and the gems are associated with Cleopatra and Elizabeth Taylor. This season GURHAN has incorporated carved emeralds with floral motifs into the collection. The intricate designs are very rare and distinguish GURHAN from other jewelry designers. A one-of-a-kind GURHAN creation will leave you looking radiant and feeling confident.
Bold Gold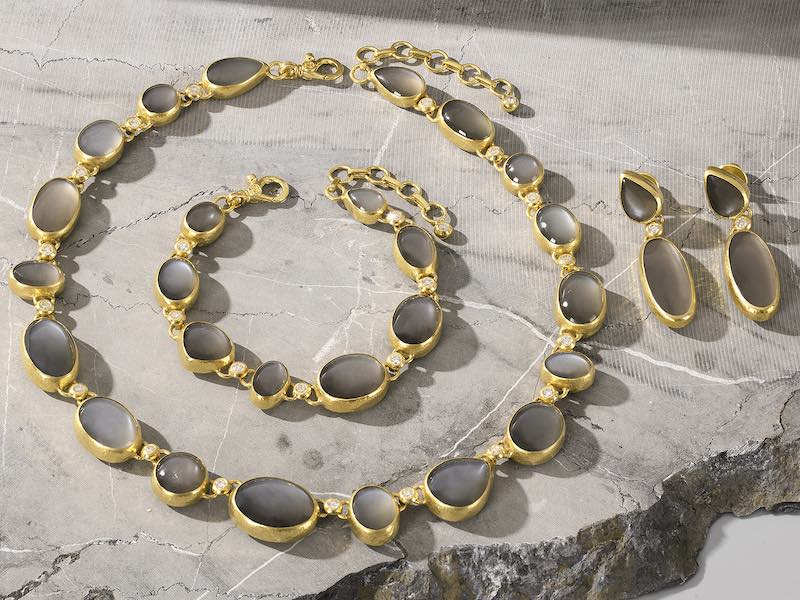 Bold gold necklaces, link bracelets, statement earrings all come to mind when we think of GURHAN. Seen on runways as trending for 2022, gold never goes out of style. GURHAN's gold necklaces are diverse enough to be worn every day to dress up a casual outfit or make a statement on its own. Whether traveling on holiday or having dinner with friends, GURHAN's bold gold is meant to be enjoyed.
Look to GURHAN's 24k gold link bracelet or spell necklace. Gold chains may be layered or wrapped for maximum effect. The options are limitless. Gurhan has devoted his life to his passion for gold.
Men's Collections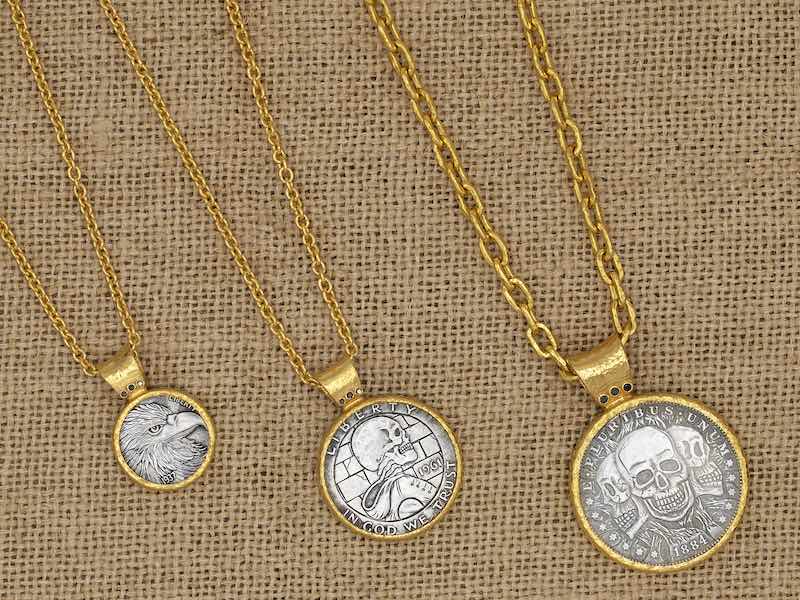 Men's jewelry in recent years has moved way beyond the watch and ring. Well paired jewelry shows confidence and distinction, and more men are opting to accessorize in order to enhance their style aesthetic.
While gold rings and bracelets have always been a go-to option for men, pendants are poised to up the style ante in 2022. His line includes vintage bronze coins and silver engraved coins with skull images exuding vibes of ancient riches. The marriage of past and present portray a sense of timelessness.
Beyond the Brand: It's a Lifestyle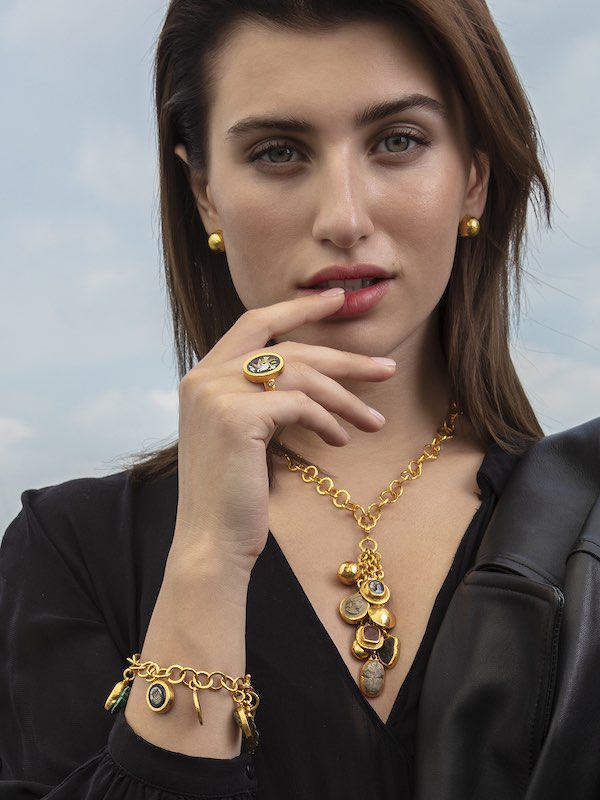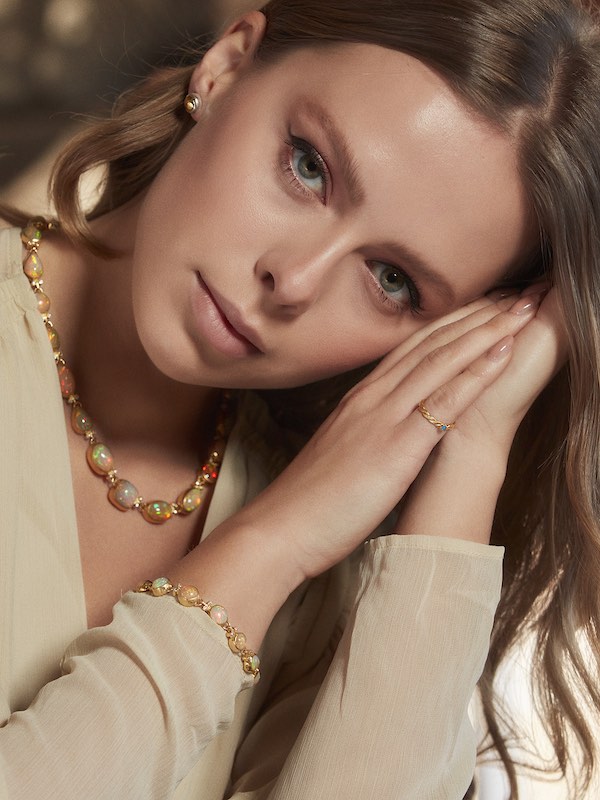 GURHAN's exquisite pieces speak for themselves. Owning a GURHAN design is more than purchasing a piece of jewelry. It's a glimpse into the journey of the craftsman and a conduit to past civilizations. It's a man's quest for beauty and his desire to share it. Whether your mood is simply stated elegance or wildly flamboyant, there's a GURHAN creation that can be uniquely yours.
The GURHAN collection is available at Gurhan.com and at the Tribeca Atelier at 160 Franklin Street, NYC.