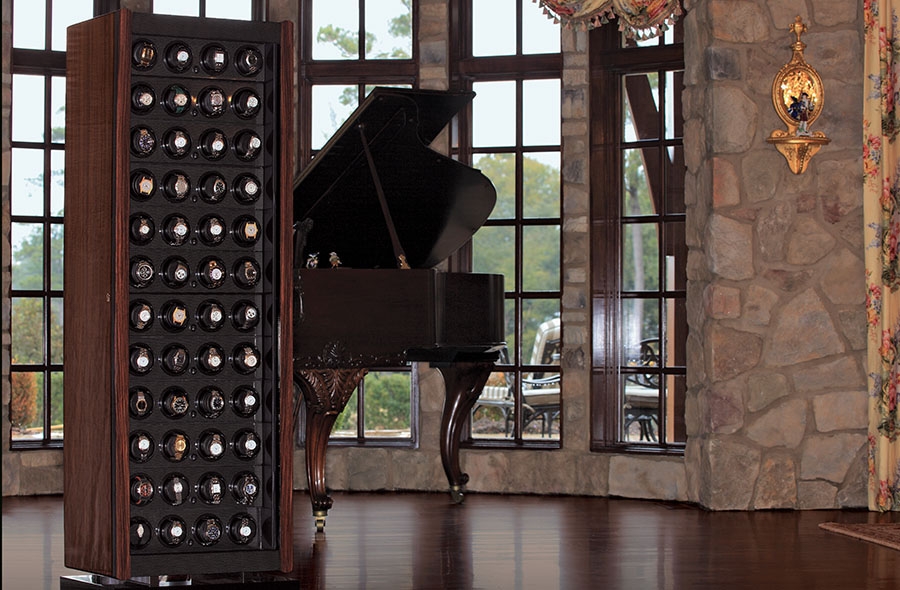 North Carolina company delivers value, US-based customer service and an American Made product line next to none. Orbita watchwinders offer serious watch collectors a wide selection of luxury tools to help maintain and display treasured timepieces for years to come.
Wind down while your fine Swiss watch winds up! Orbita's leading-edge winding technology is recognized and acknowledged by both watch manufacturers and watch collectors around the world. Orbita offers a multitude of winder models encased in elegant hardwood or leather cases to keep virtually any automatic or any hand-wound watch fully wound when its not on your wrist – without any chance of over-winding. Luxury winders are available for winding single or multiple watches, currently up to 48 watches at a time. Many styles also incorporate built-in drawers for additional watch or personal jewelry storage. Do-it-yourself watch winder modules are also offered for use in custom designed cabinetry.
About the Company
Entrepreneur and brilliant mechanical engineer, Charles (Chuck) Agnoff's retirement was short-lived. To celebrate his 60th birthday and his retirement, Agnoff's wife gave him a gold Rolex President Day-Date watch, which Agnoff loved for its aesthetics and craftsmanship but found frustrating at times. If he left it unworn for more than a day or two, the watch would stop running, which required him to reset the time, day, and date. Being mechanically inclined, Agnoff decided to build a winder that could keep his expensive Rolex current on the days when he wasn't wearing it. Once he realized how well that winder worked, Agnoff was back in business, this time dedicating himself to building the best watch winder.
In 1996, he launched his new business, Orbita Corporation, an internationally renowned watch winder company.
Since then, Orbita has sold to passionate watch collectors and jewelers around the world.
Advance Winding Technology for Your Lifestyle
Mechanical watches require winding motions that are tailored to their specific construction in order to wind them in a gentle and safe manner. Orbita offers two made-in-the-USA, patented movements to accomplish that task. Both movements feature ball bearing construction and solid-state controls to insure a long and maintenance-free life.
Rotorwind® Movement
This patented design is unique in that it swings an automatic watch, rather than rotating it, mimicking the natural action of the wrist. Then, with a series of oscillations triggered by a single revolution of a low-current draw-drive motor, power is only needed for a few seconds every 10 or 15 minutes. Battery service life can be measured in terms of years, not months. Extensive beta testing by hundreds of watch collectors owning a variety of automatic watches has validated the concept.
Programmable Movement
This classic design employs a sophisticated microprocessor control for winding cycles of 650, 800, 950 or 1300 Turns Per Day (TPD), with a choice of clockwise, counter-clockwise or automatic reversing rotation. The ironless core, Swiss-designed motor operates on 6VDC batter power using either alkaline C cells* or with a supplied wall plug AC/DC adapter. *Battery power is only available on winders with no more than six modules.
Customizable to Your Lifestyle
Orbita's bestselling Avanti Series is housed in modular cabinets with an array of choices including winders, hidden biometric locking safe, pen storage, digital atomic clock, jewelry case and coin displays.
The tempered glass door on this handsome winder is fitted with invisible Soss brand hinges, a concealed lock and carbon fiber trim. The side panels are made from exotic Brazilian rosewood protected by an elegant and durable high gloss finish. Each module is faced with carbon fiber trim and the pedestal base is weighted to provide stability. Available in three cabinet heights: 36", 50" and 65"; accommodating six, nine or twelve modules.
Display your coveted collection with impressive, freestanding, automatic watch winders with matching pedestal bases. The lockable, Italian-made cabinet uses exotic Macassar veneers and genuine carbon fiber accents. The durable finish provides an attractive high-gloss luster that will last a lifetime. The Avanti 8 provides a generous storage area for watches, jewelry or other valuables.
Orbita's most popular winder can conveniently grow as your watch collection increases. The Avanti 3 is designed to wind three watches with three storage drawers. However, it can be factory upgraded to become the elegant six watch winder, or you can order is as a six right from the start. The six version has a single drawer for lay down storage of strapped watches.
Each winder level has its own power switch but individual stations can also be turned off when not in use. Combining exotic Macassar veneer and genuine carbon fiber trim results in an impressive cabinet that will retain a great look forever.
These cabinets can be placed anywhere you wish in your home because they are powered by long-lived lithium batteries; no electrical cord is needed. They employ Orbita's patented self-programming Rotorwind® system and the glass doors are lockable.
Classic Watch Winder Case Designs are Timeless
The elegant sloped front case design on Orbita's Siena Series affords perfect visibility. The top is fitted with a beveled glass viewing panel and superb quadrant hinges. All interior surfaces are lined in rich suede. Drive modules simple lift out to load batteries (which are optional). Multiple layers of high gloss polyester lacquer enrich the finished case, which is available in two different wood materials. The bottom surface of the case is covered in suede to prevent damage to fine furniture tops.
The Only Winder for Hand-Wound Watches
Totally unique in concept, Orbita's Sempre winder will wind, but never over wind, virtually any manually wound mechanical watch ever made. Replicating finger-winding action, precision collets (mechanical fingers) grasp the watch crown and wind the watch as you would. An ingenious microprocessor control senses the increasing resistance as the mainspring is being wound and automatically stops winding when the watch approaches the fully wound state.
Today, from its headquarters in Wilmington, North Carolina, technology breeds innovation and Agnoff and his team are constantly discovering ways to improve their already state-of-the-art winders. But whether stored behind beveled glass, bedded in soft, luxurious suede or hidden in ornately designed wooden cases by Italian artisans, Orbita's luxury automatic watch winders are at their core a tool, a fine instrument of calculated efficiency and dependability.
The young brand, in a relatively short period of time, has become a favorite among serious watch collectors and independent jewelers around the world who appreciate the quality, workmanship, customer service and care that goes into an Orbita creation. The successful family-owned and operated business is the only company who currently manufactures and assembles its winders and other fine watch accessories in the United States. www.orbita.com.
Interested in becoming a dealer? Orbita welcomes inquiries from those in the jewelry trade business to execute a dealer network in your area. For more information please contact [email protected].