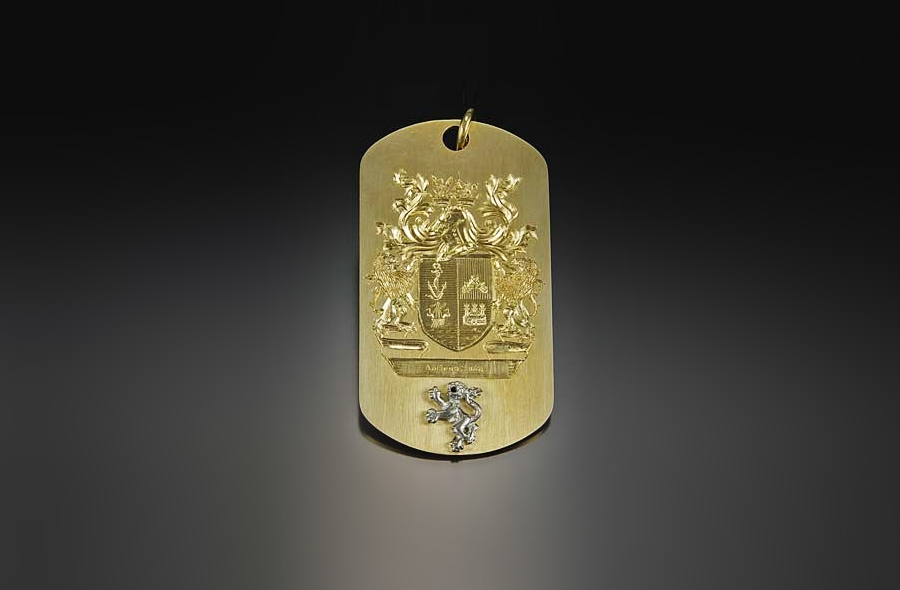 Beginning in the 12th century A.D., when knights in shining armor served their kings with honor and valor, a form of symbolism developed in which these early knights would adorn their shields with decorations and emblems and carry banners into battle.
With the advent of The Crusades and the evolution of body armor that completely hid the knight's identity, it became a military necessity to somehow identify the combatants, to know friend from foe.
During The Crusades, knights began to wear a woven surcoat to protect their armor from heat and moisture. These tunics or surcoats came to be decorated with the same symbols and emblems adorning the knights' shields and became indicative of the knights' ancestry, accomplishments, and distinctions and were uniquely identified with a particular knight. These were the early origins of Coats of Arms. And these Coats of Arms were passed down from generation to generation, serving as a proud symbol of the family's history, identity, and unity.
A complete Coat of Arms often includes the following elements:
One's Coat of Arms was often used to mark and authenticate documents and communications. Rings deeply engraved with the Coats of Arms acted as seals by leaving a relief impression of the Coat of Arms in sealing wax. These "seal" or "signet" rings, known as "Family Crest" or "Coat of Arms" rings, are the ultimate symbol of personal identity and pride in family.
Rampant Lion Collections® utilizes their vast research library of original recorded Coats of Arms for over 2,000,000 surnames of European ancestry to locate your family Coat of Arms. If Rampant Lion Collections® has your family Coat of Arms in their computerized data base, they will provide you with your authentic, heraldically accurate, full color family Coat of Arms, as well as your surname history back to its early origins, reproduced on quality parchment suitable for framing. If Rampant Lion Collections® is unable to locate a recorded family Coat of Arms in either their computerized data base or historical Coat of Arms source books, they can help you in creating one with their copyrighted manual, "How to design your own Coat of Arms."
With their highly customizable, copyrighted signet jewelry designs, Rampant Lion Collections® offers rings, cufflinks, pendants, dog tags, money clips, and stud sets handcrafted in six lustrous precious metals. Master engravers, at the peak of their profession, use hand graver tools to artistically hand-cut all Coats of Arms and monograms just as they did in the Middle Ages. With innovations like comfort-fit ring shanks, tri-color gold applications, hidden carved rampant lion logo, shield-shaped gemstone inlays, and a library of hand-sculpted relief appliques inspired by the most important symbols in heraldry, Rampant Lion Collections® brings you their "Finest in the World" signet rings that set the standard by which all heraldic jewelry is measured.
Rampant Lion Collections® looks forward to assisting you with researching your family Coat of Arms, selecting and customizing an appropriate original signet jewelry design, engraving your family Coat of Arms by masters in the centuries old tradition of intaglio hand-engraving on your chosen signet, and reuniting you with an ancient tradition. Bring honor to your ancestors and family name by wearing your family Coat of Arms signet by Rampant Lion Collections®.