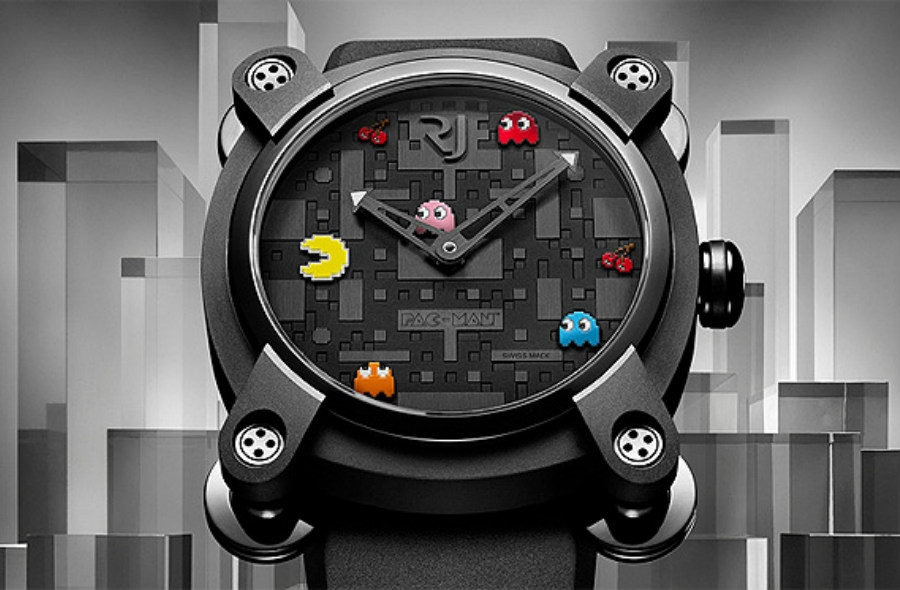 Romain Jerome has earned worldwide recognition as a watch manufacturer of exacerbated perfectionism, achieving a unique style in a highly dynamic and bold horological industry.
It is thanks to this boldness that the Genevese watchmaker is able to pay tribute to the timeless Pac-Man arcade with an exceptional product inspired in the famous 80's game, yet maintaining the brand's distinctive identity: the new Romain Jerome Pac-Man watch.
Created by the emblematic Japanese company Namco Bandai Game, Inc. in 1980, the Pac-Man fever continued with the mythical legacy of Space Invaders, achieving an even higher welcoming by the gamer crowd with more than 300,000 arcade machines sold around the globe.
The Swiss manufacturer attempts to immerse us in a new game through its 4 limited edition series of 20 pieces. Each one of them has inherited the characteristic cornered case of the past Moon Invader collection, making use of the precious black PVD finish fused with fragments of the Apollo 11. These 4 vertices emulate the support modules of Moon-landing in a sophisticated and clever construction: they support the rubber strap and contribute to the easy adaptation to any wrist size, due to its evident flexibility.
In the back of the case we find a medallion that represents the lunar surface as seen in the predecessor Moon Solver model, made from a unique fusion of low oxidation silver with lunar stones. This precious accessory provides an extremely sophisticated finish that matches the perfect lines of the watch.
This gamer tribute also houses a cal. RJ001-A, 23 jewels automatic movement, complementing a fantastic engineering piece. Its water resistance is up to 3ATM.
Nevertheless, it is in the dial of the timepiece that the Pac-Man comes to life. Romain Jerome has recreated the game sequences through an innovative 3-level pixel matrix. The conjunction of meticulously built mechanical pieces and bright colors of the fruits and characters of the game, give the Romain Jerome Pac-Man a genuine retro style that evokes those great hours of fun spent at the arcade during the 80's decade.
The price to revive your 80's gamer soul: around US$17,000
For more information about Romain Jerome and its futuristic visions visit: http://www.romainjerome.ch/