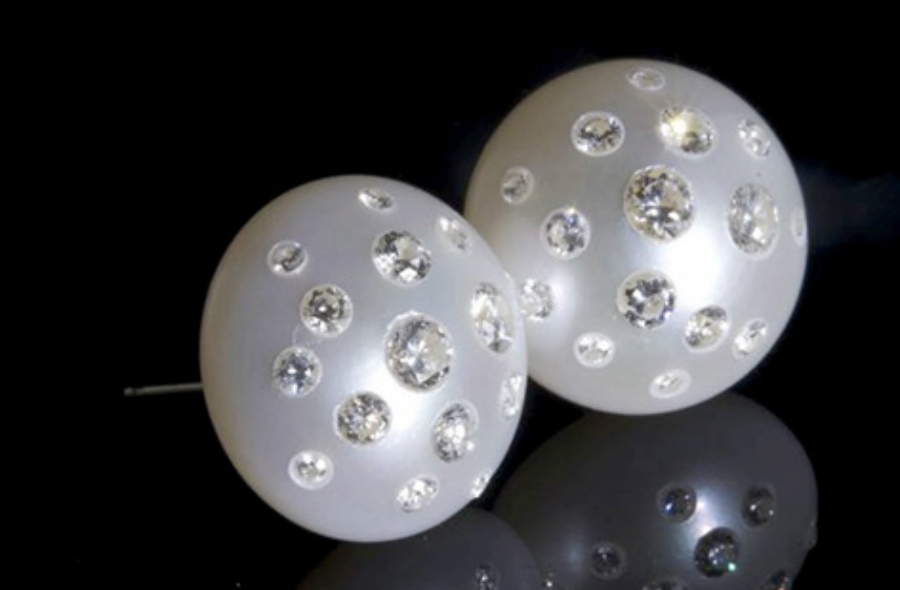 Diamond Embedded Earrings – The Russell Trusso Signature piece. 12.5 mm freshwater pearl earrings embedded with 1 ct diamonds mounted in 18K gold.
Custom variations available (pearl color, diamonds, etc.)
The LaMer Ocean Spray Earring – Gold coral accented with grey akoya and freshwater pearls in pastel shades. Each pearl is delicately embedded with diamonds. 1.26 tcw diamonds. 18K gold.
Baroque Pearl Chandelier Earring with amethyst, tourmaline, sapphires, and diamonds. Pearl is detachable to create a versatile, exciting new look. .50 ct diamonds, 4.12 ct tourmaline, 1.25 ct pink sapphires. Mounted in 18K yellow gold.
Fuji Mum blossom brooch/pendant delicately created from handout slices of conch shell. 16mm pink South Sea pearl is brooch into a stunning pendant with your own chain.
Show-stopping freshwater soufflé, freshwater, and South Sea pearl necklace. Each pearl in its own 18K gold setting. Brilliant diamond links (3.45cts) and hand-chassed gold leaves. A total of 23 remarkable pearls comprise this extraordinary modern masterpiece.