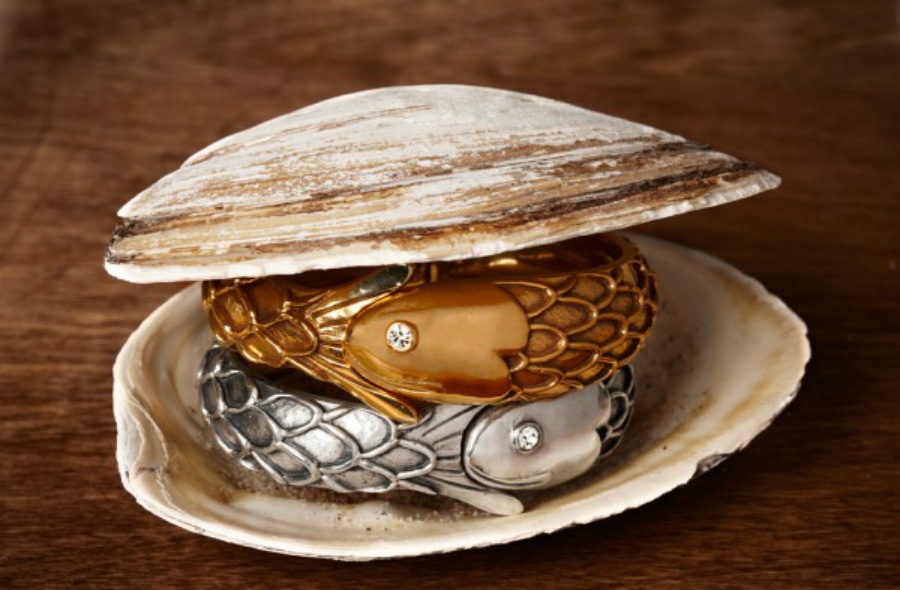 Activist and filmmaker Susan Rockefeller has just launched a nautical and mythical themed jewelry line called Mission of Mermaids on the heels of making a documentary of the same name about saving our oceans.
"I love the ocean and I've spent most of my formative summers by the ocean out in the Hamptons and it's the place where I go for solace, peace, wonder and inspiration. I dive, swim and paddle board, I sail and I love to be in the water or near the water." Susan is on the board of Oceana (the only non-profit, global organization solely focused on ocean perfection), and has co-produced a critically acclaimed documentary film called A Sea Change based on the New Yorker article The Darkening Sea by Elizabeth Kolbert. "I wanted to reach a much broader audience and those that might believe in angels and mermaids but not necessarily global warming and because we need science to push policy, I wanted to get as many people excited and interested in the ocean but through the myth of mermaids." Susan's idea was to combine statistics, stories, myths and facts to create a wake-up call to save our seas. "It's a poetic ode and a love letter."
Susan Rockefeller
Susan also found a way to harness her creative talent for jewelry design to make an environmental statement and create awareness. "I realize that in terms of fashion, women go to cocktail parties – I'm always out and about, and when you wear something, you have an opportunity to wear inspired jewelry that tells a message and a story." Susan continues, "As women and mother's we make decisions about what food you want to eat, what you want to buy, we are basically running the world in terms of the maintenance of the planet. We are the educators, the nurses, home-makers – it terms of what needs to happen to make peace on the planet, we need the women there to say this is what's important. The idea was how to create the conversation and why not make beautiful inspired jewelry? I used the symbol of the mermaid which represents the mystery inside ourselves and the ocean."
According to Susan Rockefeller, there are over 1 million species that have not been identified yet in the ocean. "I want it to be there for my children and for us not to destroy it. Hopefully, people will wear these beautiful pieces and be reminded of the ocean." Naturally, Susan is encouraging people to join Oceana, "We are working hard to protect our ocean and this is really a platform for doing that and people seem to love it. California is a coastal state and more than 80 percent of the world's population lives within 50 miles of the beach – so you've got real estate, security and people relying on fish protein for the daily intake so we need to save the oceans, " said Susan.
In February, a few select pieces will be going onto QVC to sell, along with Honora pearls, a pendant and a ring. The in-store line includes necklaces, rings, earrings and a stunning, hand-carved, gold cuff bracelet (see below) that looks like an etching of a mermaid floating in the sea. These works can be custom ordered or curated in 24 karat gold or sterling silver with an antique finish for close to $800. Prices for the Mission of Mermaids line start at a very reasonable $125.00.