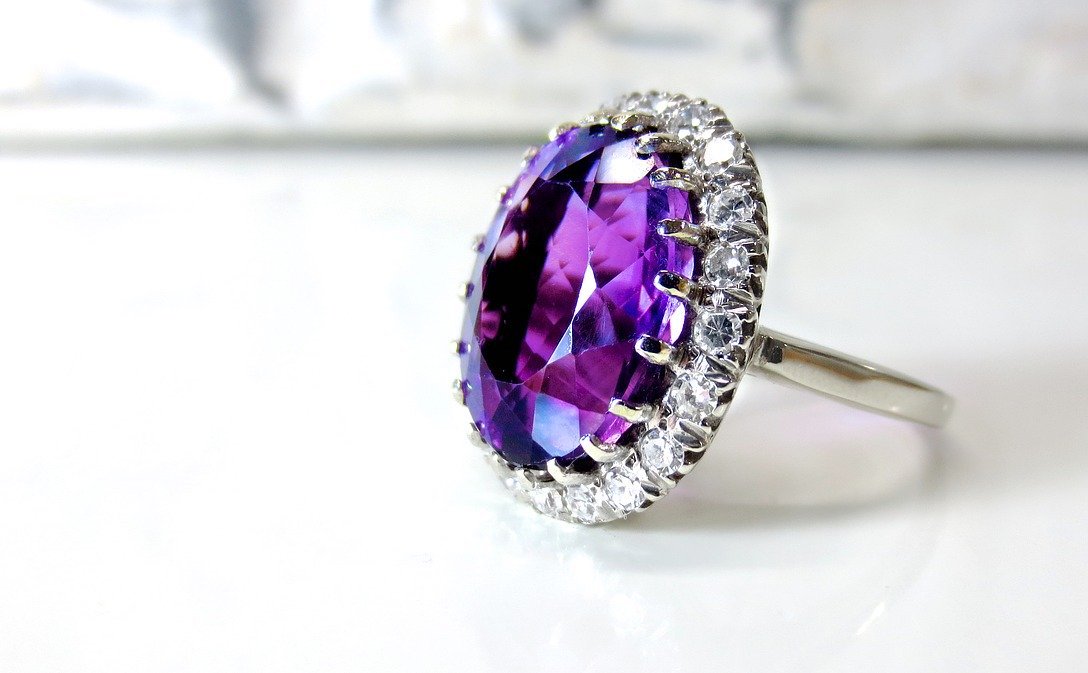 A cocktail ring is striking, glamorous, and the epitome of style. But, not just any ring can be deemed a cocktail ring. In the 1920s, the solitary accessory was an ornamental piece featuring a large center gem or stone surrounded by a halo of diamonds. It remains as such today, however, cocktail rings can come in different shapes and sizes. There are three things all cocktail rings have in common: They are always sublime, they are always extravagant, and they always make a statement. Here are five of our favorite.
Cartier Alligator Diamond Platinum Cocktail Ring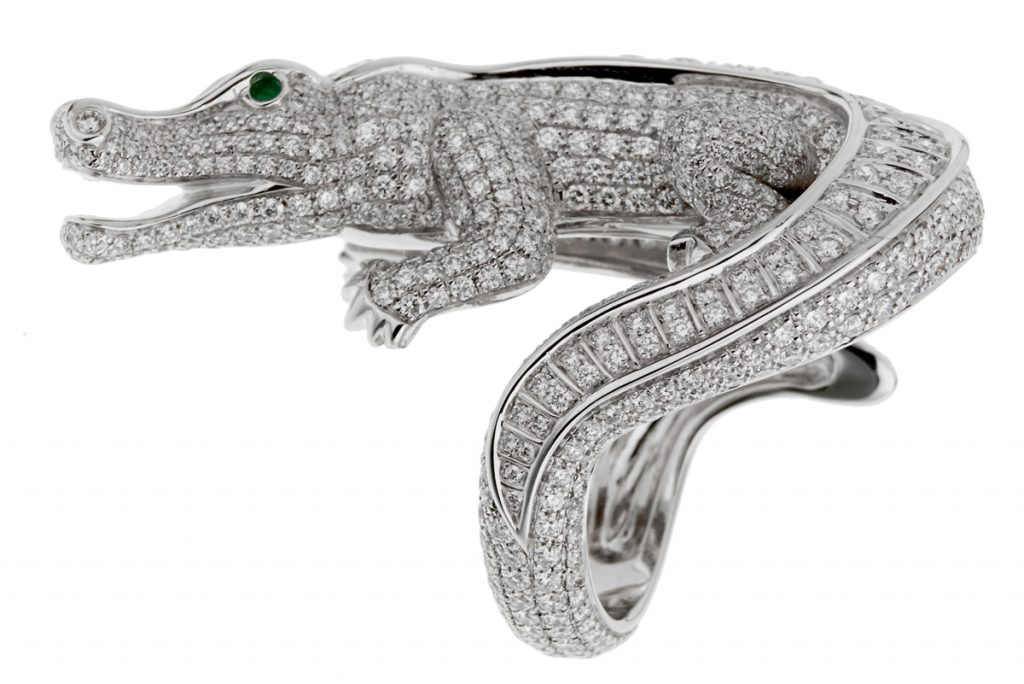 Cartier is renowned for luxury and elegance as their designs deviate from the norm while still keeping continuity since they started producing jewelry in 1847. Some of our favorite cocktail rings come from the PANTHÈRE DE CARTIER ring collection, however there is one Cartier statement piece that has no rival.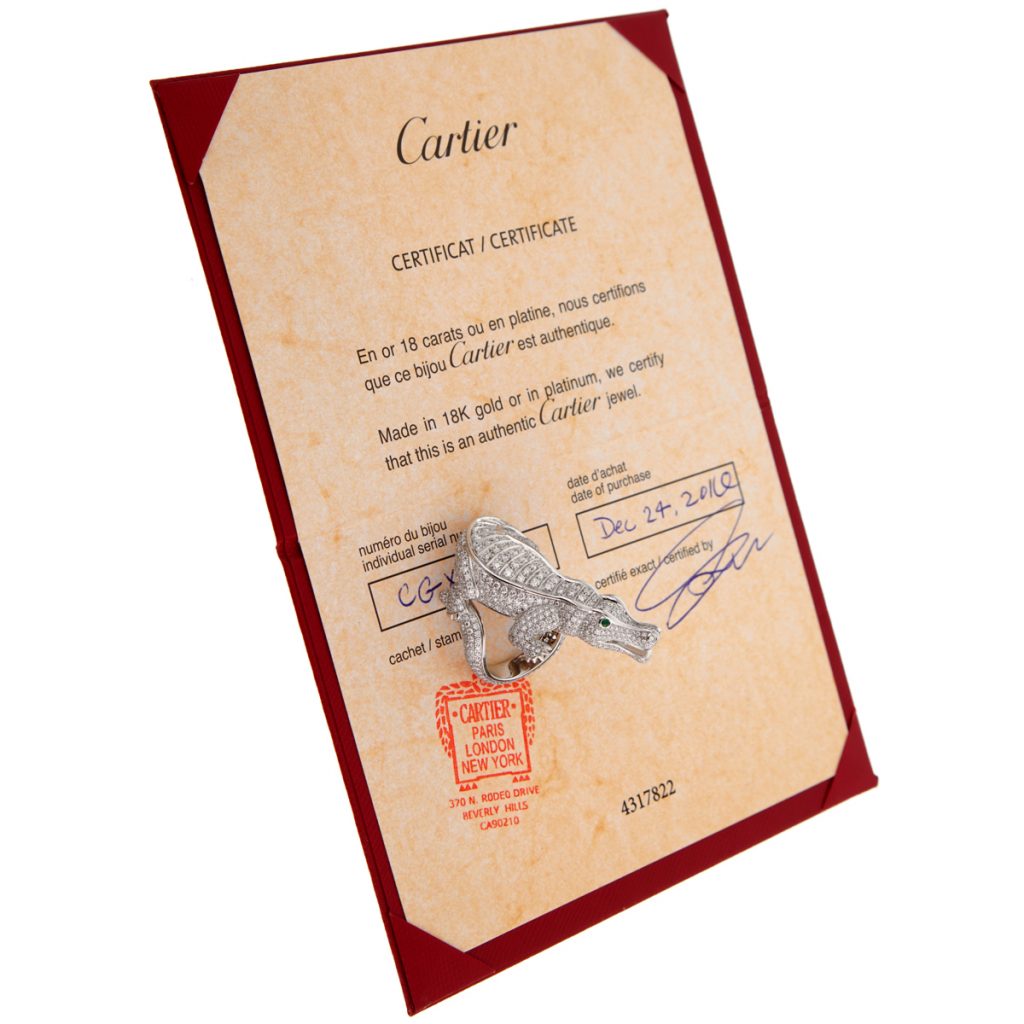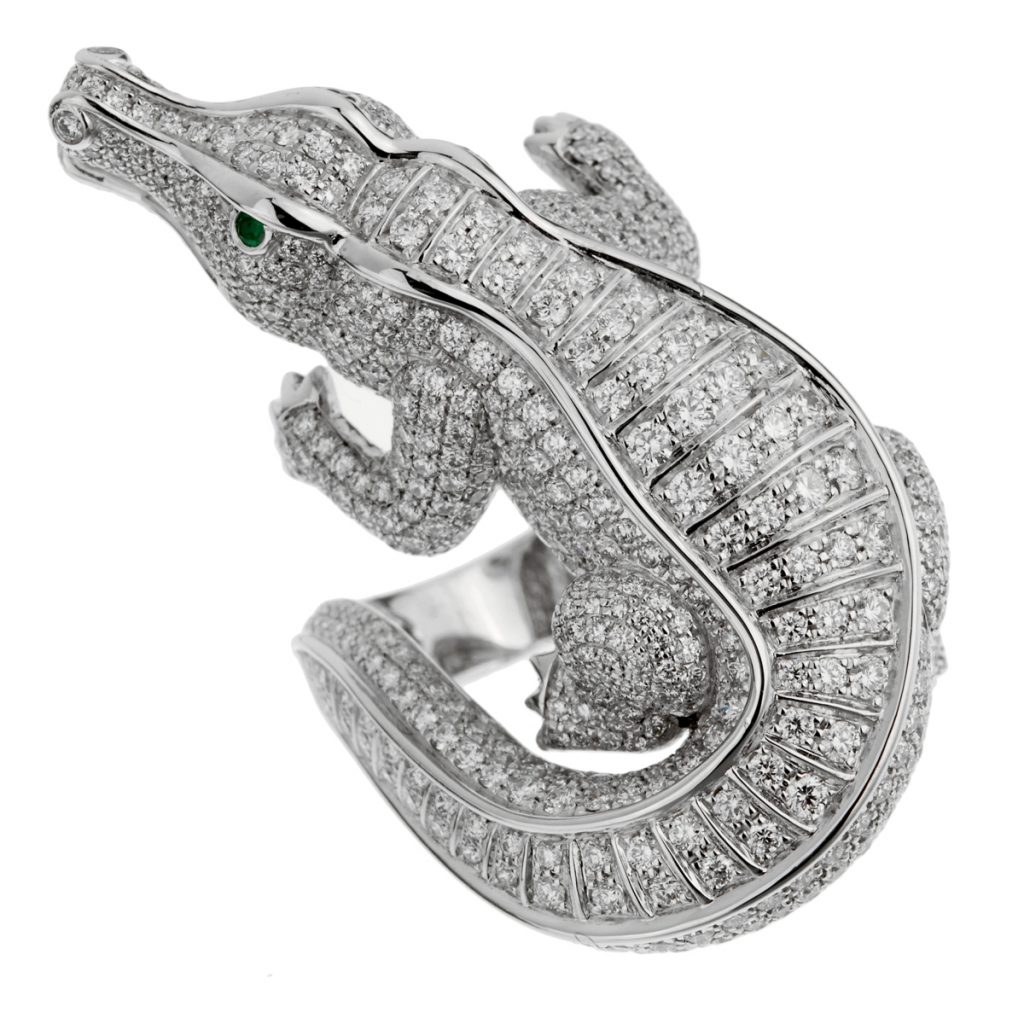 The Alligator Platinum Diamond Cocktail Ring is the crème de la crème of contemporary cocktail rings. Multiple diamonds in a pave setting weigh in at 5.45 ct. and make up the body of the alligator while twin emeralds gleam from the eyes. You can find this larger than life ring at Opulent Jewelers selling for $137,000.
Just Jules Charming Collection Watermelon Tourmaline Cocktail Ring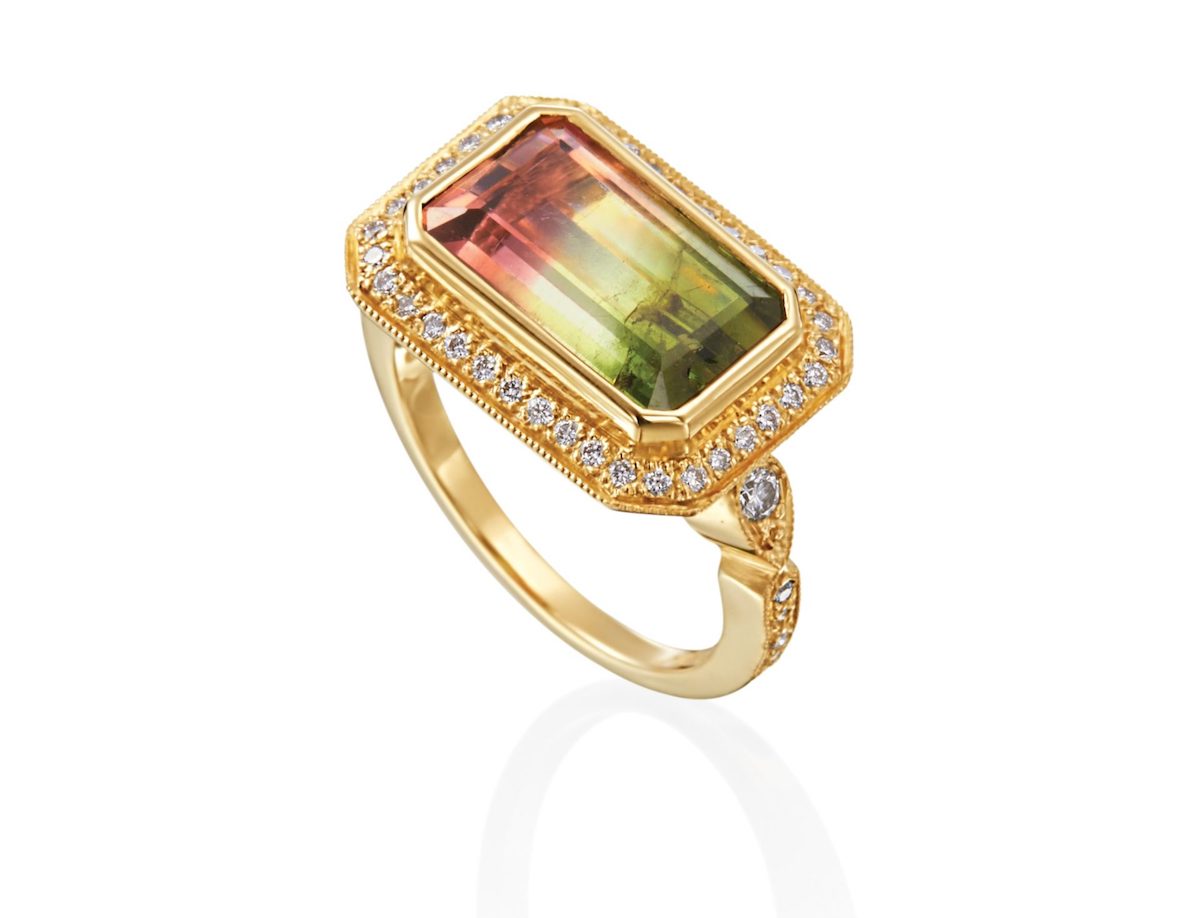 Julie Romanenko is a high-end jewelry designer who has always had a passion for the whimsical and lavish. The Charming Collection from Just Jules includes stunning necklaces, bracelets, and rings that truly bling. Our favorites are the tourmaline cocktail rings, particularly the Watermelon Tourmaline Cocktail Ring. Tourmalines have a stunning multi-hued shimmer that pair perfectly with yellow-gold settings. This particular piece has an emerald cut 5.20 ct. watermelon tourmaline surrounded by brilliant diamonds.
Boucheron Turquoise & Diamond Cocktail Ring Platinum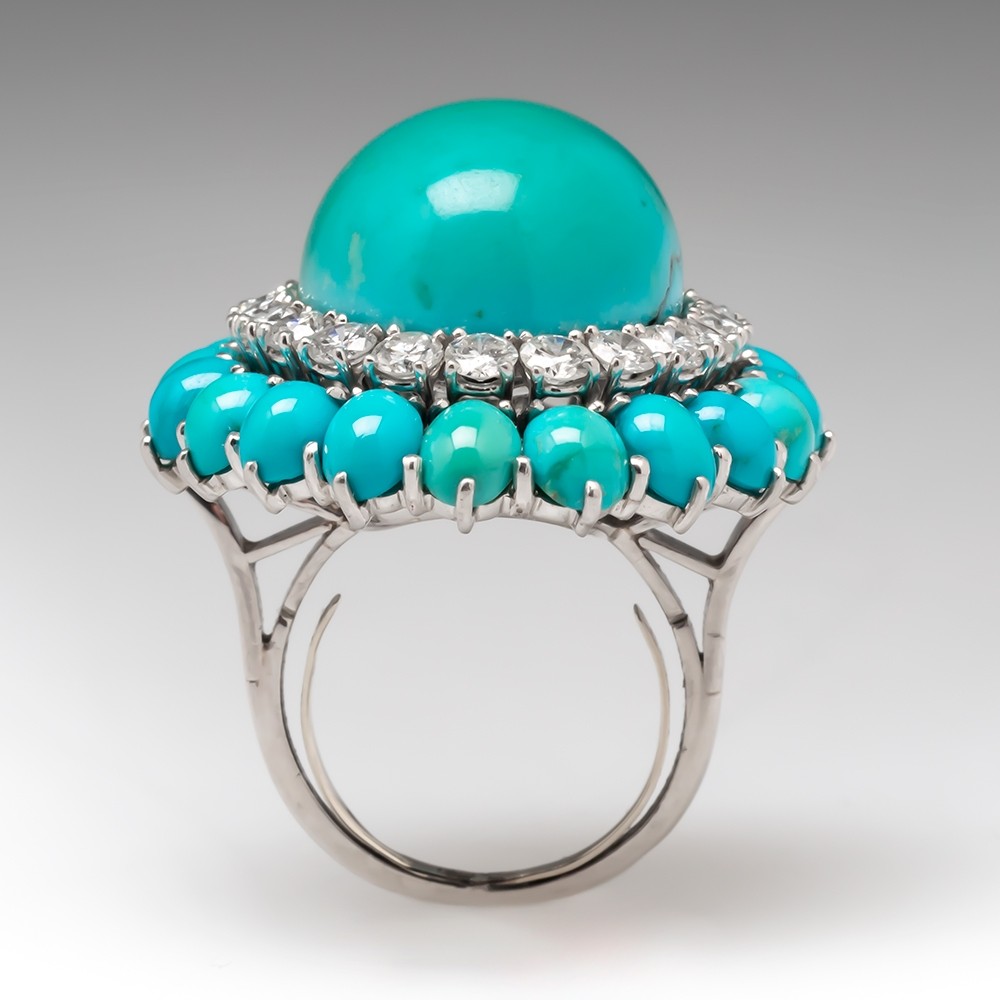 Founded in 1858, Boucheron is the oldest jewelry Maison in Place Vendôme, Paris. For 160 years, the Maison has taken high jewelry creation to extraordinary levels of artistry. Here is an amazing 1950s Boucheron turquoise and diamond cocktail ring set in platinum. Eragem brings this vintage/estate piece to market at $11,500. The large, 30 ct. oval-cut turquoise cabochon measures 21.2 x 16.9mm and is haloed by 20 round brilliant-cut diamonds totaling 2.09 ct. Another ring of 20 oval-cut cabochon turquoise stones circles the diamonds.
Yvonne Vintage Diamond Halo Aquamarine Ring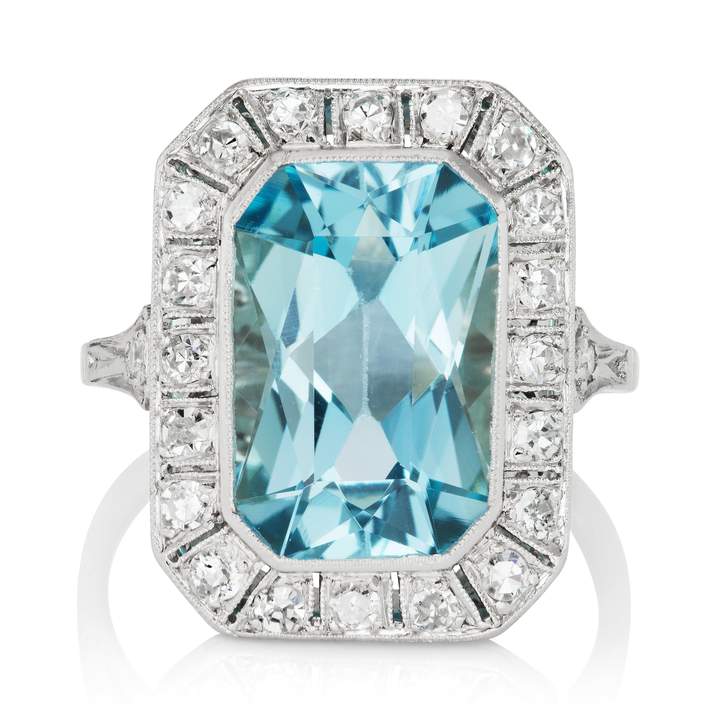 Aquamarine gemstones evoke purity and calmness due to their transparent ocean-like color. To those who use stones for spirituality, aquamarine is considered a stone of eternal youth and happiness as it provides good luck and protection (especially while at sea). This Yvonne vintage diamond halo aquamarine ring presented by V.Barboné dates to 1915 and is the only available in stock. A large, brilliant aquamarine bezel-set in platinum is haloed by 18 surrounding diamonds.
Pomellato Sabbia Cocktail Ring 18k Gold and Diamond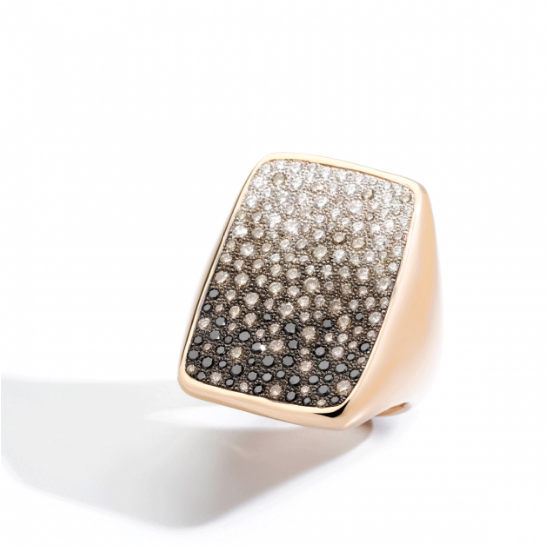 As mentioned, the rules of cocktail rings have changed in modern times. New Jersey-based Hamilton Jewelers presents the Pomellato Sabbia cocktail ring in which 172 brown, white, and black treated diamonds totaling 1.8 ct. are set in 26g of 18k rose gold. Pomellato was founded in Milan in 1967 and takes an avant-garde approach to their designs.