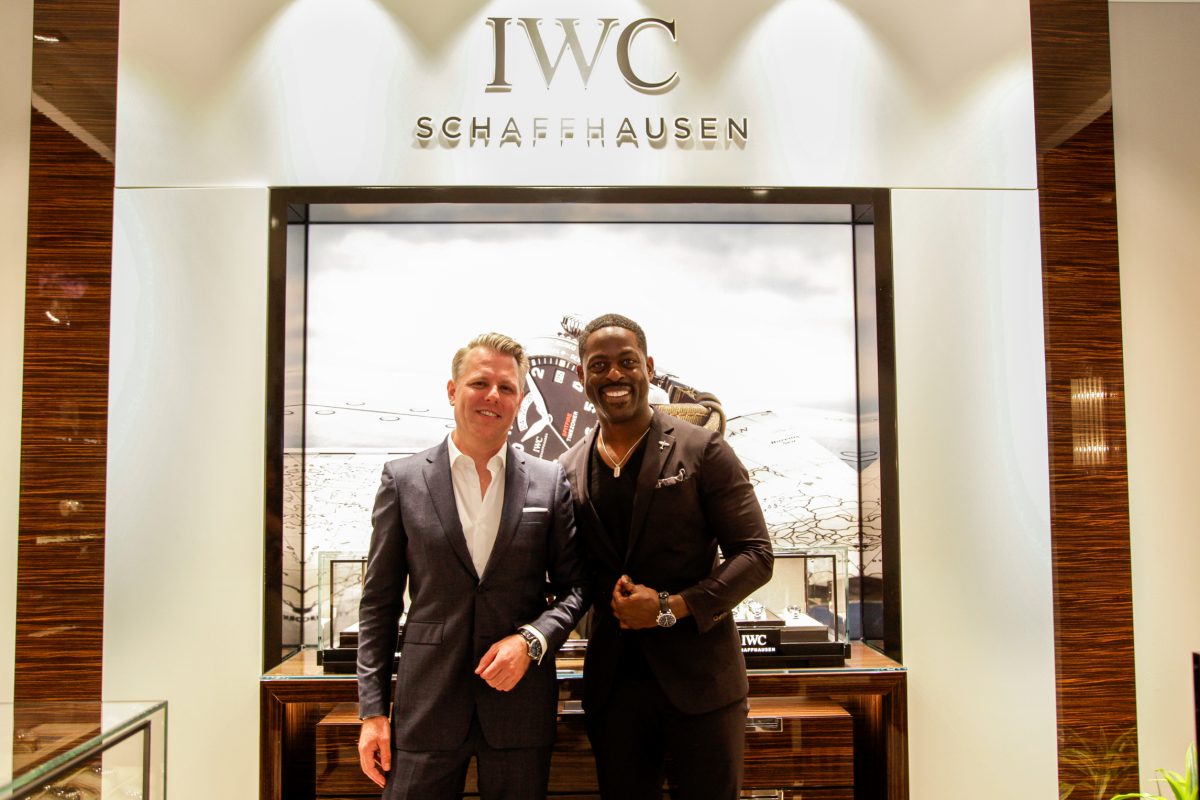 In a rather unprecedented twist, IWC Schaffhausen recently unveiled its new Spitfire Collection of luxury timepieces at the official ribbon-cutting ceremony for the brand's newest boutique in Scottsdale, AZ. Located inside the ultra-luxe Scottsdale Fashion Square shopping center, IWC's special event received a warm reception from the dozens of affluent timepiece aficionados and stylish socialites in attendance. The launch coincided with the watchmaker's forthcoming summer campaign affectionately titled "The Longest Flight" and featured a few noteworthy friends of the brand. These included celebrities Sterling K. Brown (This Is Us, American Crime Story: The People vs. OJ Simpson, Black Panther, etc.) and Arie Luyendyk Jr. (The Bachelor), to name a few. IWC Schaffhausen was kind enough to invite Jetset to the illustrious grand opening for what was certainly an evening to remember.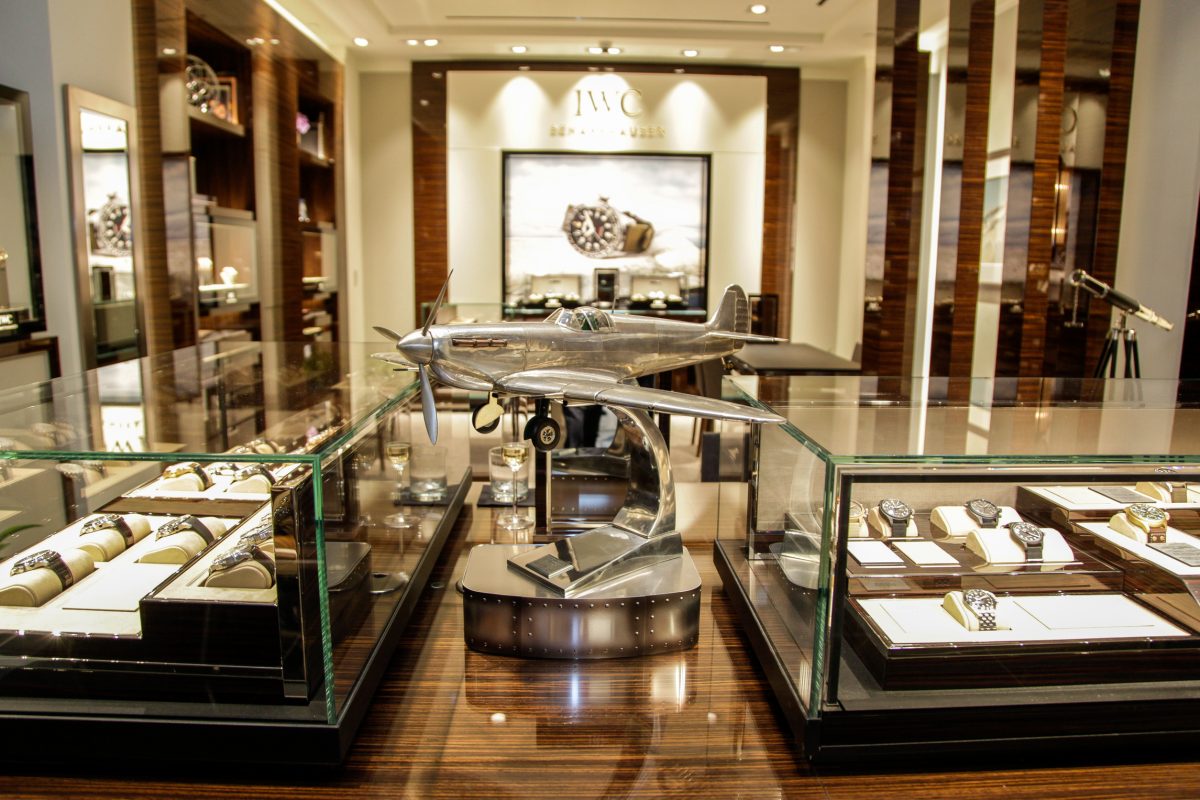 Upon arriving at the new boutique, just the 8th dedicated IWC storefront to be opened in the US, I was treated to a personal tour of the new store and the stunning Spitfire Collection before sitting down with the newly-appointed North American Brand President, Darin Rabb. Our conversation afforded an insightful and thought-provoking look at the trajectory of the brand and what drives his passion for the impressive timepiece manufacturer.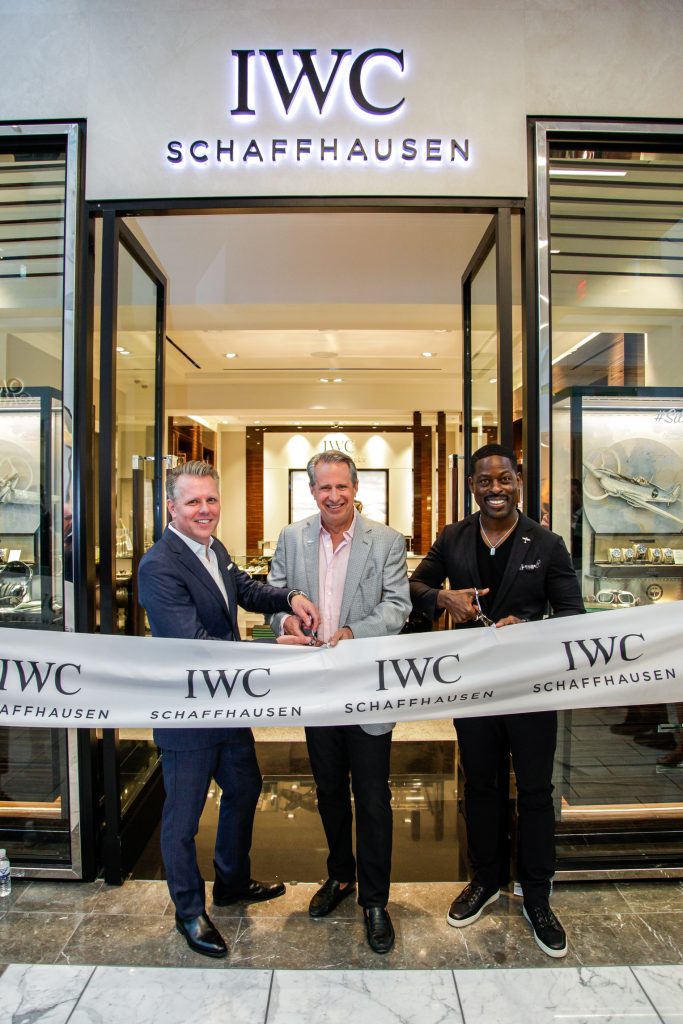 When asked what excites him most about the future of IWC Schaffhausen and the launch of the new Spitfire Collection, Rabb replied, "I think I'm far and away most excited about our opportunities, and the opportunity we have in North America, from a growth perspective and from an engagement with our consumers. And one of the ways that we do engage is through product, through our timepieces."
Rabb's enthusiasm for the new Spitfire Collection was obvious, as he discussed the watch's debut in January at SIHH in Geneva. He commented that the timepiece is heavily influenced by the design and engineering of the iconic British Spitfire fighter airplane, a cherished favorite of aviators since its introduction more than 80 years ago. Later this summer, two British pilots will take off in a faithfully restored Spitfire plane for a round-the-world expedition dubbed "The Longest Flight." IWC is a sponsoring partner of the project, and its Spitfire pilot's watch will be along for the journey. "I'm very excited to debut the product here," commented Rabb. "This is really our North American debut of the product in our brand-new boutique here in Scottsdale."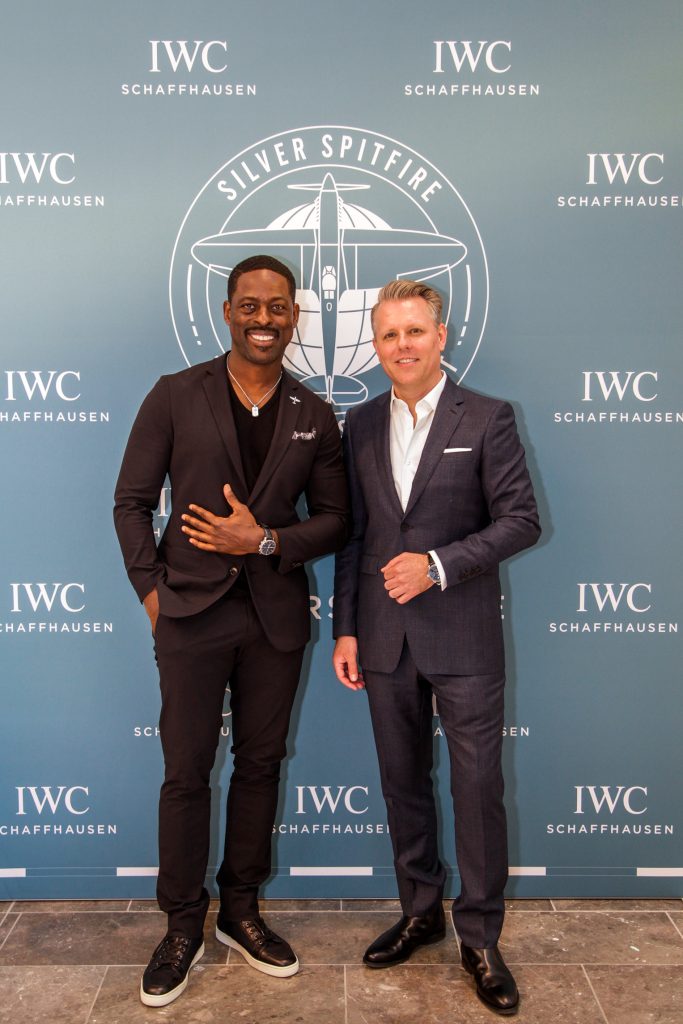 Rabb believes IWC differentiates itself from its competitors primarily through its authentic stories. "We're a brand founded by an American, back in 1868. F.A. Jones from Boston moved to Schaffhausen, which is very different from other luxury watch brands," Rabb observed. "[Jones] had a vision to combine Swiss watchmaking craftsmanship with American manufacturing ingenuity. He moved to Schaffhausen, opened a watch company, built timepieces, brought those timepieces back to Brooklyn, and installed them in cases. And I think our deeply rooted history and heritage is a pretty amazing story."
The IWC story is inextricably entwined with the history of aviation. Said Rabb, "We have a deeply rooted heritage in aviation that dates all the way back to 1948, through the launch of our Mark 11." The Mark 11 is widely considered the definitive pilot's watch, as it established the requirements for every pilot's watch that followed. Rabb noted that the Spitfire Collection is heavily influenced by the original Mark 11 and continues the company's "deeply rooted history and heritage and passion for aviation."
I also had the opportunity to meet with Sterling K. Brown for a brief interview and cannot speak highly enough about the esteemed actor's character and level of sheer classiness. Always a sharp dresser and never one to shy away from an opportunity to discuss his experiences, Mr. Brown proved just as kind and endearing as one might expect.
I was curious to know what it is about IWC Schaffhausen that led the A-list actor to support the brand for the launch of its Spitfire line. Brown's answer came without a moment's hesitation: "The product is gorgeous. When you go on the red carpet and you're looking at different designers that you want to wear in terms of suiting, different accessories that you want to wear in terms of necklaces or timepieces, I came across IWC and I was like, 'They make a gorgeous product. Can I please wear your watch on the red carpet [laughing]?' And they said yes." After establishing that initial connection, Brown was invited by IWC to help launch the Spitfire Collection and The Longest Flight campaign at its gorgeous new Scottsdale boutique.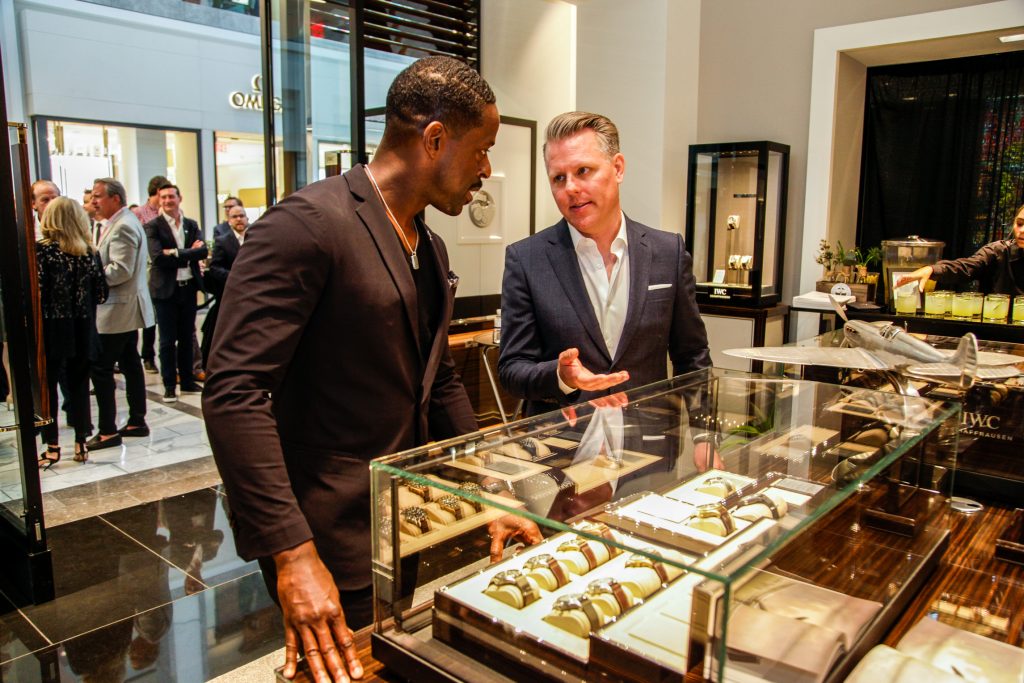 "I got a chance to take a gander at the Spitfire Collection, and it's dope! It's nostalgia. I look at the timepieces and I see the planes, the pilots that are supposed to be in them, and it captures exactly the feeling of that time," Brown continued. "It's also sort of a thing for me like a kid pinching himself. For such a long time I didn't allow myself the purchase of luxury items, and I would always say if and when I had the time and/or money, I wouldn't mind having myself a nice watch." With his trademark charm on full display, he added, "Now Brown gets a chance to rock a nice watch."
Although Brown was obviously in Scottsdale for the launch of the new Spitfire Collection, he has another personal favorite from IWC's extensive product line: the Portugieser. "I just love it," he said. "It's sleek and it's lean. I like something that's not bulky, that is sort of inconspicuous but for the people who notice it they're like 'oh, look at you.'" He qualified the choice, though, by adding, "Sometimes your tastes may grow, so it may develop into something else. I'm looking at the Spitfires right now, and I'm like 'I wouldn't mind one of those either.'"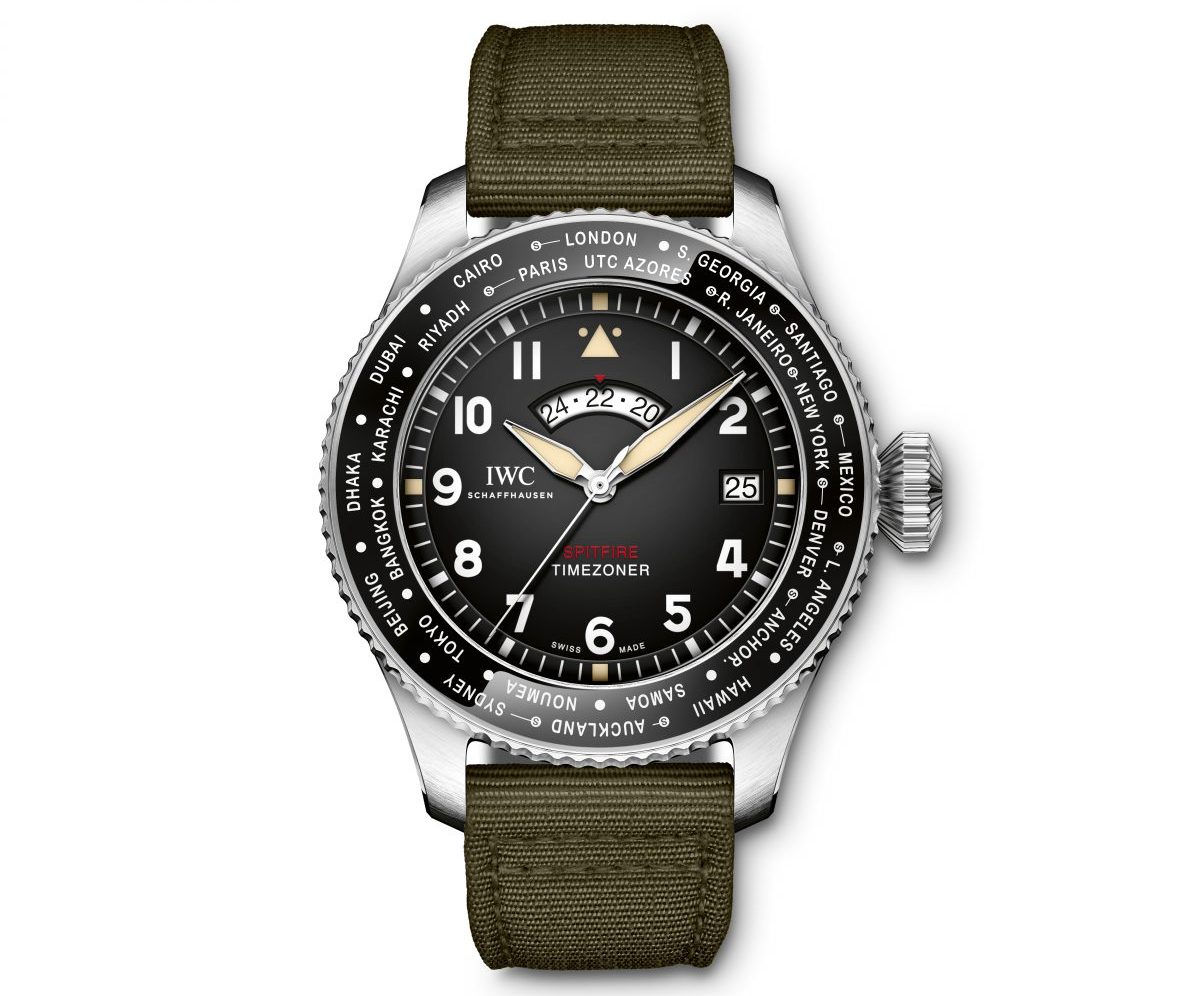 IWC Schaffhausen
Pilot's Watch Timezoner Spitfire Edition "The Longest Flight"
$12,400
Case: Stainless steel
Strap: Green textile
Dial: Black dial with luminescence
In keeping with the new Spitfire Collection's homage to IWC's rich history in aviation and comprehensive line of luxury pilot's watches, it was only natural that I ask the instantly-recognizable actor whether he's flown private, to which he humbly replied, "Every once in a while," before adding, "Listen, Brown is still very much in his infancy in this socio-economic climate. So if you want to put me on a private jet then I'll take it." Touche! Perhaps we will meet again at 30,000-ft for your next Jetset profiling. Until then, be sure to visit IWC.com or the IWC Schaffhausen boutique in your area to see the impressive new Spitfire line for yourself. It's a journey you won't regret.
*Photos by Jason Wise for IWC Schaffhausen