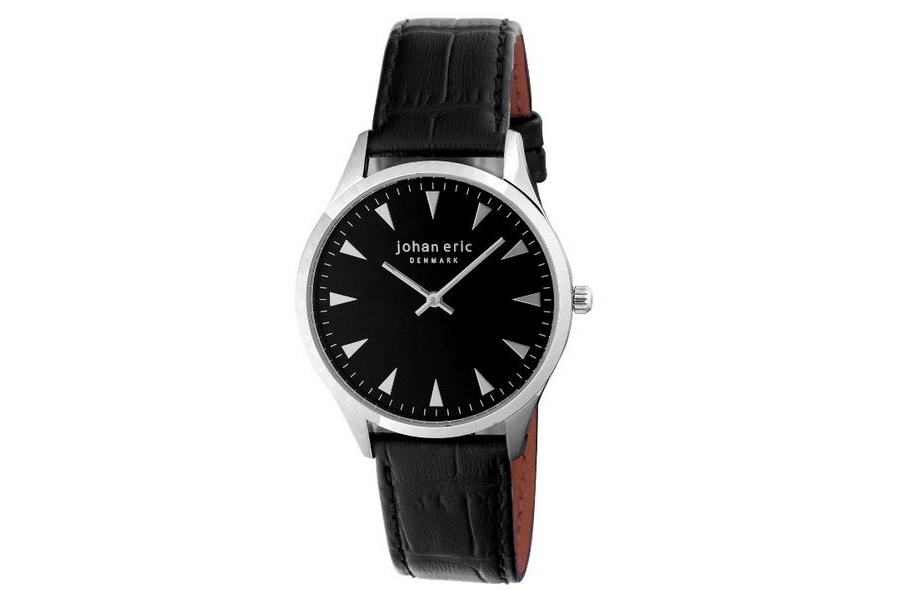 Father's Day is just around the corner. With all Dad has done for you, isn't it time to do something special for him?
This year, instead of another boring belt, tie or bathrobe, how about a really nice watch? Watches are in this year, and with so many exciting new timepieces to choose from, we can almost guarantee that there's a watch that your Dad would be proud to wear on his wrist.
Today, it's easy to find a fine timepiece in just about every price range to match your Dad's personal taste. Is Dad a cyclist or a runner? Does he like the outdoors? Or is he a globe-trotting businessman? Whatever your Dad's personality, there's a watch that will suit him perfectly.
Johan Eric Helsingør
The Johan Eric Helsingør is a masterpiece of understated simplicity. This classic Danish design features a clean, easy-to-read two-hand dial with distinctively shaped triangular indices. This is a watch that is equally at home in both dressy and casual situations. The slim, modern lines of the 40 mm Helsingør will appeal to the Dad who appreciates quality, craftsmanship and great value. This distinctive watch is available in a wide variety of color combinations, including stainless steel,IP rose gold, and IP plated black. All models can be equipped with either an elegant genuine leather strap or an integrated stainless steel bracelet.
Giulio Romano Termoli
The massive 46 mm Giulio Romano Termoli will appeal to the man who likes a modern, European look. This stunning Italian design features a high-tech aluminum case with dramatic raised numbers on the bezel. The historic clock tower in Termoli, Italy served as the inspiration for this uncluttered, minimal three-hand configuration. There's nothing old-fashioned about this fashion-forward watch, however. With a colorful case and dial and comfortable silicon strap, the Giulio Romano Termoli is perfect for the confident man who respects the past and has his eyes focused on the future.
Viceroy Real Madrid
The sporting Dad will love the distinctive Viceroy Men's Real Madrid Chronograph. This distinctive Spanish design features the coat of arms of the popular Real Madrid professional soccer team engraved on the case back. The professional chronograph has two easy-to-read subdials that allow you to time virtually any event, plus a third subdial that indicates the date. There is also a handy tachymetre scale on the stainless steel chapter ring. For fans of the Real Madrid football club, the Viceroy Real Madrid Chronograph is a must have fashion accessory and precision timing instrument. For all other Dads, the Real Madrid is a brilliant, and seldom seen addition to any watch collection.
Rudiger Dresden
Timepieces in the Rudiger Dresden Collection will appeal to the man who appreciates the masculine look of fine machinery. This German inspired design takes its inspiration from the German city that was the home of the Leica camera. Available in both three-hand and chronograph versions, Rudiger Dresden watches exemplify German engineering at its very best. This beautifully engineered timepiece can be equipped with an integrated stainless steel bracelet or a crocodile patterned leather strap. It's perfect for the Dad who appreciates the masculine appeal of German engineering.
Ferragamo 1898
The elegant Men's Ferragamo 1898 is perfect for the Dad who insists on making a good impression on all occasions. With its sophisticated white textured dial and brushed and polished stainless steel bracelet, this classic three-hand configuration with the designer's signature on the bezel conveys an unmistakable sense of luxury that only Ferragamo can provide.
GV2 Parachute
Last, but certainly not least, is the boldly styled GV2 Parachute. This rugged looking 48 mm professional diver chronograph features a unique high-visibility black and yellow unidirectional rotating bezel, along with a textured black dial with three well-placed subdials for timing events. If Dad enjoys water sports or diving, this is the perfect watch for him. With a dial that is easy-to-read under the most adverse conditions and a case that's water resistant to 165 feet, this is a watch that's ready for anything.
How to Buy
Your Dad is special. Give him some quality time this year. A fine timepiece is something that your Dad will enjoy for a lifetime. With Father's Day only a week away, you don't want to wait much longer to get Dad the watch he really deserves. It's time to find a reputable watch retailer near you and show Dad the time of his life.
For help with your decision or with making your purchase, contact Mimi by email or call her at 845-425-9882.
About Gevril Group
Gevril Group, directed by company founder and long-time creative force in the watch business Samuel Friedmann, is the exclusive US representative for select European watch brands, distributing and servicing luxury, fashion and sporty timepieces at a wide range of price points. Additionally, Group Gevril operates a full-service watch repair department staffed by master Swiss watchmakers. Contact Mimi, Customer Service Representative, by email or call her at 845-425-9882.
Please subscribe to the Gevril Group newsletter and blog updates. Like us on Facebook. Reader comments are welcome.