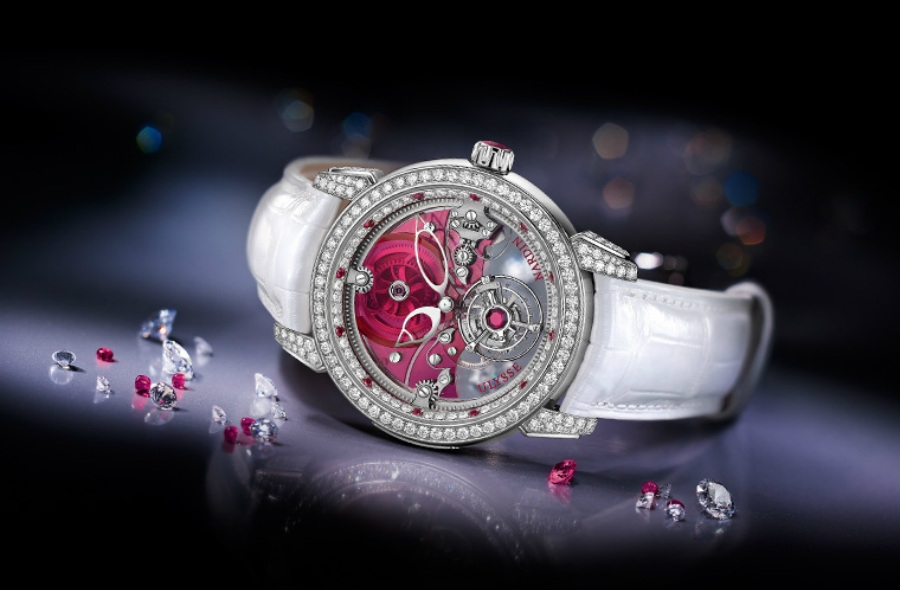 An explosion of red erupts in the Ulysse Nardin Royal Ruby Tourbillon, drawing upon the force of this precious gemstone to make a seductive, dramatic statement.
Enhancing the timepiece's fiery beauty is the bold spark of red across the face of the dial, catching the eye of its wearer to reveal the complex flying tourbillon mechanism.
Constructed along the principles of famous Swiss watchmaker James Pellaton, and with bridges and main plates crafted in ruby and sapphire, the flying tourbillon appears to defy gravity, resting and revolving weightlessly inulysse nardin royal ruby its cage. As well, the movement parts are skeletonized and aligned in perfect symmetry, while the manual winding system is unseen. These fine nuances enhance the mystery of the flying tourbillon, as hours and minutes seem to magically pass by.
ulysse nardin royal rubyA handcrafted masterpiece lightweight in appearance while refined in jewels, the flange of the Royal Ruby is set with 12 rubies distinguishing the hours, accompanied by 48 diamonds. After the diamond, the ruby is the strongest jewel and the choice stone for this confident new timepiece. Each gemstone is cut to perfection by a highly skilled precious stone cutter to fit the 41 mm platinum case made for this collection. To further enhance its luxury is a beautiful alligator leather strap with a platinum folding buckle.
The sibling to the Ulysse Nardin Royal Blue Tourbillon, a mechanical masterpiece embellished with sapphire, the Royal Ruby is a remarkable representation of horology at its highest. An air of the exotic shines through its precious crimson stones, once believed to protect warriors in battle, enable peace among enemies, and assure health, wealth, wisdom and success in love, while the superior precision and quality of Ulysse Nardin remains unequalled.