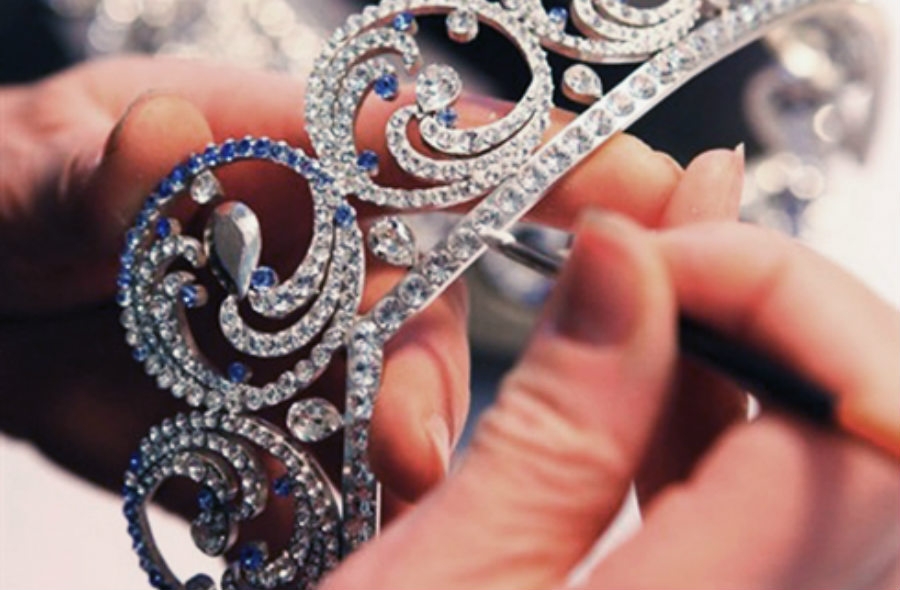 Certainly, Van Cleef & Arpels is one of the most internationally recognizable names in high-end fine jewelry, so much so that they are considered a reference to others in the industry.
It is a company whose name is called upon by the best collectors and auction houses due to its well-deserved reputation, and whose clients in the past hundred years have included celebrities and royalty alike. "We stay true to ourselves and create pieces relevant to our world," explains Nicolas Bos, Vice President and Worldwide Creative Director for Van Cleef & Arpels, and President and CEO to the Americas. Bos shared with me the genesis of the house, and the significance depicted in some of their most magnificent jewelry fit for even today's princesses, pieces created by jewelers they call their "golden hands."
"All of the jewelers in our workshop are considered golden hands," Bos proudly states when asked who they are and why they are considered as such. At this consistent level for the authoritative brand, the materials, designs and techniques become crucial to each piece, which can take up to three years to develop. "The serpent chain demands remarkable technical mastery," he notes, as do the jewels set in their patented Mystery Setting where stones in the jewelry have no visible setting. Bos explains that since there is much less metal involved in setting the stones, "It allows much more light to reach the stones, thus enhancing their brilliance."
Size does matter, but it is not the end all. "We have had a 30-carat diamond of exceptional quality," Bos reveals, "and we have had a 5-carat blue diamond which is considered huge for a blue diamond." Sharing his knowledge in a humble and authentically French manner, Bos reminds me, "the value and beauty is in the rarity and quality within the category of stone."
Another example of true mastery is the Zip necklace, part of the Couture collection inspired by fashion, of course. Paris is known as the fashion capital of the world, so a Couture collection came naturally for the French company. Here you find gold lacework, tassels made of rubies and diamonds, and buttons of precious metal. Back to the zipper: yes, it is an operable zipper, though one unlike any other you have seen. This zipper, completely covered in diamonds, is also a Van Cleef & Arpels transformation piece, so it can be worn open as a necklace, or closed as a bracelet.
As an haute joaillerie, the house will cater to the individual client request. "We do a lot of custom pieces for our clients. It is an interesting process, as it involves what the client wants to have created by us, yet it is their life and their taste," says Bos. Some famous clients include Elizabeth Taylor (the inspiration behind Bals de Légende), Brigitte Bardot, and, of course, Princess Grace Kelly of Monaco, just to name a few. "She often wore our formal pieces for those occasions, and other daily pieces like the Alhambra necklace, for instance, when playing with her children," Bos describes of the late princess.
"Time changes, the spirit remains," is a concept expressed by Van Cleef & Arpels principles. So naturally, they won the heart of the new Princess of Monaco, Charlene, when she selected the Ocean necklace out of numerous other jewels as a wedding gift from Prince Albert II. The necklace, a transformation piece that can also be worn as a tiara, was customized for the Princess who is a former Olympic swimmer. It is designed with waves of over 1,200 diamonds and sapphires. The Magic Alhambra set is now named in honor of Princess Charlene and it is sold exclusively at the recently renovated Van Cleef & Arpels boutique in Monaco.
A love story was the genesis for the brand, and one that continues throughout the company's creations filled with nature and fairytale themes. You will find many fairies at Van Cleef & Arpels, along with other fluttering beauties such as beaming butterflies, glimmering dragonflies and dancing ballerinas. While some fly, others fall, like the Snowflake jewelry, a brilliant collection in platinum and diamonds that seemingly contains all of the most glorious fallen stars the night sky has offered.
Bos has been with Van Cleef & Arpels for 12 years, so I ask what he admires most about the company and how they have been able to sustain this level of expertise. "Our identity is our inspiration. There is such a strong history and legacy, yet freedom to explore new designs." In my opinion, this is their foundation for greatness. "I really like working with this quality where we do not compromise. We only work with the best designs, techniques and stones, or we will not create it. Our customers recognize and respect this." Though with such talent comes responsibility. Bos clarifies, "At the end of the day, we are blessed for this and cursed, because we have to create at that standard to seduce our clients, always surprising them and staying at that level of excellence and enchantment."
Over a century later, the first Van Cleef & Arpels boutique is still located at the affluent Place de Vendome, Paris. For more information and to learn where to purchase, visit their web site at vancleef-arpels.com.
"The love story is our strength."
–Stanislas de Quercize, President & CEO, Van Cleef & Arpels