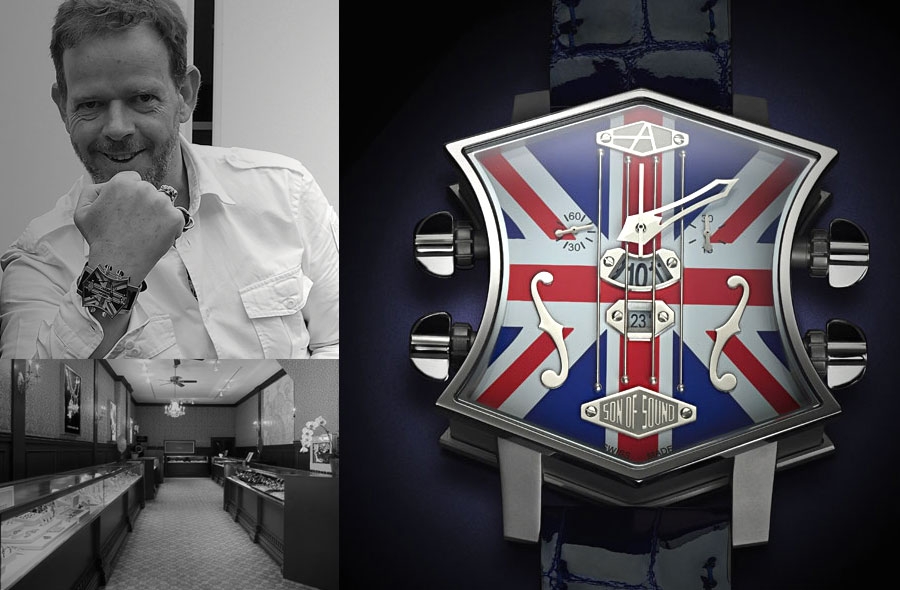 After having made a significant contribution to some of the biggest success stories in the watch industry, in 2010 he launched his own Brand, called ArtyA.
The man plays by his own rules, creating art pieces that simply cannot fit into any existing category of watchmaking. Each piece is either numbered or unique, blending audacity with creativity in a disruptive way – very provocatively so, on many occasions. No one in this very conservative industry has managed to move so much in so little time.
The company is 100% independent, with a highly responsive team of fewer than ten people. ArtyA has its own manufacture, something very few Swiss Brands have. The Brand and its manufacture are based in central Geneva.
Its indefinable, uncategorizable, innovative and trendsetting collections can be divided into six different families, housed in seven different watch cases, ranging from 38 mm up to 47 mm.
ArtyA's collections all go by the "Son of" brand name: Son of Sound, Son of a Gun, Son of Earth, Son of Gears, Son of Arts and Son of Love.
These families allow Yvan Arpa to have an open, living playground, in which he can create many variations every year, using some very innovative concepts and unconventional raw materials – such as butterfly wings (under the control of the authorities), stones, real bullets, real (shredded) euros, , non-circular mechanical gears, cases struck by real lightning (video available at www.artya.com), steel drenched in Arpa blood or in motor oil, to name but a few.
All the hand-made dials in the various collections are made by artist Dominique Arpa-Cirpka, applying numerous techniques – most of which have never before been used in this industry.
The research into exclusive or and never-before-used materials and treatments for watches, and the exceptional savoir-faire to implement it, are a jealously guarded secret.
All ArtyA Masterpieces are recognizable at a glance due to their distinctive, creative, passionate, epicurean and original style, cultivating a philosophy of ultimate luxury filled with pure, uncompromising emotion, year after year after year.
From a mechanical standpoint, ArtyA masters every aspect of the historical knowhow of this age-old industry, from three-hands models to perpetual calendars and tourbillions, from minute repeaters to simpler skeletonized mechanical movements.
One final characteristic of ArtyA is the constant evolution of the brand and its models – collections stay, but the watches are all very limited in number, with many of them being unique pieces. Yvan Arpa makes them live and progress every month, every quarter, every year. ArtyA unveils key new creations during Baselworld, but the manufacture's brainstorming never stops.
Enjoying worldwide success, some of those masterpieces are already in key museums around the world, embodying Iconic Design or Concepts, while others have commanded incredibly high prices in private auctions.
Artya watches are now available at Grenon's of Newport. For over 20 years Raymond Grenon has specialized in unique timepieces and bringing never seen before collections to the United States. With other brands like Zannetti, Alexander Shorokhoff and Schaumburg Watch, Grenon's has earned a reputation for bringing unique, not mass produced, pieces to the discerning collector. Grenon's can even help you make that special one of a kind piece custom made just for you. If you think you've seen it all, you have to visit Grenon's of Newport.
Grenon's of Newport
210 Bellevue Avenue
Newport, RI 02840
(401) 846-0598
www.grenons.com