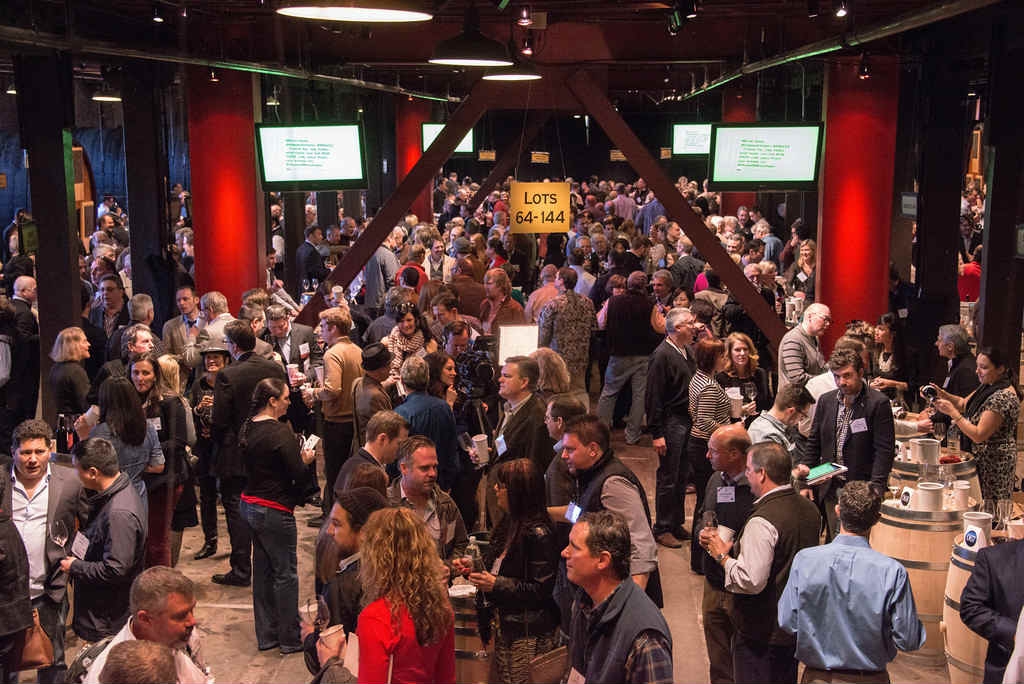 The Napa Valley Vintners' 17th annual Premiere Napa Valley brought in a resounding $3.04 million, nearly matching last year's record-breaking event.
The auction's 211 lots donated by 218 NVV members were purchased in just over three hours of lively and spirited bidding at The Culinary Institute of America at Greystone.
More than 80% of the lots featured were from the 2011 vintage, which had an unusual growing season. However, the vigorous bidding at today's auction proved that the skills and experience of Napa Valley's vineyard managers and winemakers prevail, even when the growing conditions are less than perfect.
The average wholesale price per bottle sold was $160.75, an indicator of the rarity of Premiere Napa Valley wines, the demand for the limited 2011 vintage and the overall appreciation for the consistent quality wines produced in the region.
This year's Premiere, always a hot ticket, sold out six weeks in advance. The more than 1,000 total attendees included 600 top trade and media from 35 states and 9 countries.
Founded in 1997, Premiere provides funding for the Napa Valley Vintners (NVV) to further its mission to promote, protect and enhance the Napa Valley appellation, its wines and its community. Revenue comes from the auctioning of rare, ultra-boutique, one-of-a-kind wines, crafted in as few as 60 bottles and never more than 240. For Napa Valley winemakers, Premiere is a chance to express something they have always wanted to convey in a wine in very limited production for this one moment in time and then never again. For attendees, it's the chance to preview the vintage coming into market.
This year's 67 successful bidders had the chance to choose from an array of wine lots as diverse as the grape varieties grown in the Napa Valley itself, including Cabernet Sauvignon, Cabernet Franc, Pinot Noir, Sauvignon Blanc, Merlot, Chardonnay, Malbec, Petit Verdot, Petite Sirah, Semillion, Syrah, and even sparkling wine.
Top Earning Lots – Bevan Cellars/Chateau Boswell Winery (joint lot); Reynolds Family Winery; Shafer Vineyards; Keenan Winery; Kapcsandy Family Winery; Rombauer Vineyards; Duckhorn Vineyards; Silver Oak Cellars; Derenoncourt California; Saintsbury; Hourglass; VHR, Vine Hill Ranch; and ZD Wines.
Top Accounts to Acquire Premiere Wines – Total Wine & More, Potomac, MD; Cliffewood Wine Syndicate, Little Rock, AR; The Wine House, Los Angeles, CA; Gary's Wine & Marketplace, Madison, NJ; Beverage Warehouse, Los Angeles, CA; Nakagawa Wine Company, Tokyo, Japan; Meritage Wine Market, Encinitas, CA; Imbibe Wine and Spirits, Bakersfield, CA; Petroleum Club, Oklahoma City, OK; Spec's Wines, Spirits & Finer Foods, Houston, TX; Bounty Hunter, Napa, CA.
Often referred to as "the best week in Napa Valley," the days leading up to the tasting and auction are considered almost as exciting as the grand finale of Premiere Napa Valley itself. This year included the ninth annual Symposium for Professional Wine Writers, co-hosted by the NVV, Meadowood Napa Valley and The Culinary Institute of America; Experience Napa Valley, an NVV signature education immersion program for international trade and media; the big screen premiere of the "Napa Valley Rocks" video series; and numerous Premiere Preview Parties hosted by vintners throughout the week. The many events and activities entice an estimated 750-plus trade, media and their guests to the Napa Valley, building business for hotels and restaurants during a traditionally slow time of year, and helping to further the region's reputation as a legendary travel destination.