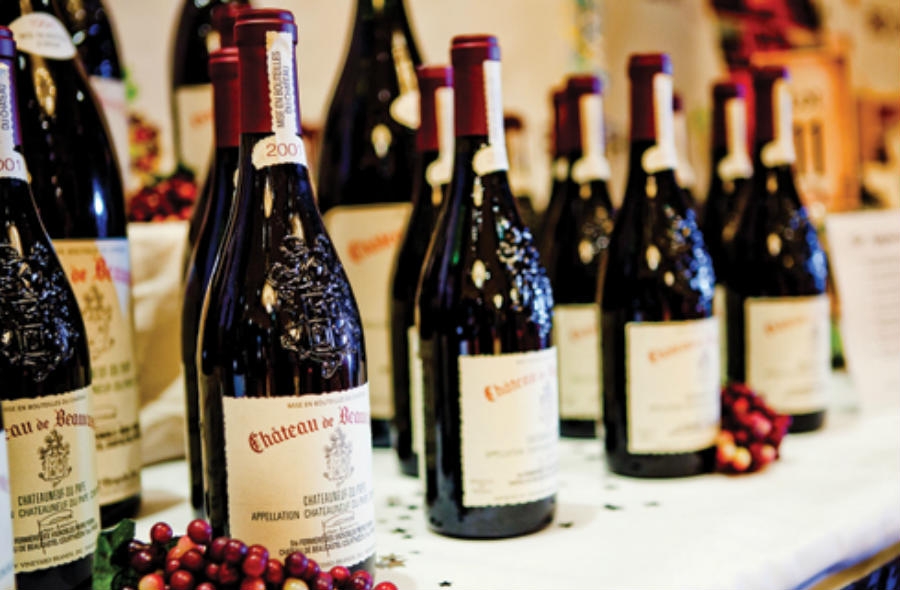 There are parties, and then there are PARTIES.
The Naples Winter Wine Festival has made a name for itself among the latter. Ranked by Wine Spectator since 2004 as the most successful charity wine auction in the nation, the Naples festival is also rated as one of the top 10 events for wealthy Americans by The Luxury Institute.
What's behind the festival's appeal for well-heeled philanthropists and wine lovers? Exclusivity is one reason. Tickets are only available for 550 guests; typically, many millionaires and a few billionaires are among the attendees. The festival is also known for its star power —16 celebrity chefs and more than 20 world-renowned vintners put on intimate vintner dinners in Gulf Shore mansions. Luxury treasure hunters also revel in the festival's 65 one-of-a-kind auction lots of rare wines, custom jewels and unique experiences.
According to festival organizers, the driving force behind it all is to do a world of good. Since 2001, $107 million has been raised for underprivileged and at-risk children, and more than 150,000 children have benefited.
Festival chair Bob Edwards sums up the festival's purpose pretty simply: "We turn wine into miracles." He and his wife Terry are co-chairs of the Jan. 25-27 festival to be held in Naples, Florida, and they are among the 56 trustees of the Naples Children & Education Foundation (NCEF), the organization that created the festival. Bob says, "People ask how we raise so much money, and it really comes down to creating a very special experience and environment that brings out people's spirit of generosity."
The idea to hold a world class wine festival in Naples came about in 2000 when 18 Naples couples got together. They loved fine cuisine and rare wines, and, in fact, two of them owned their own wineries. They talked about the area's pockets of poverty that coexist with Naples' posh resorts and pristine beaches and decided to put their wine and culinary passions to work on behalf of children in need.
At the first festival in 2001, trustees raised more than $2 million under the auction tent, exceeding their wildest dreams. Each year since, millions have been raised in an afternoon, with proceeds of the auction tent going to improve the physical, emotional and educational lives of underprivileged and at-risk children.
Last January, the live auction brought in $12.4 million, with the top money-raising lot capturing multiple bids totaling $1.2 million for a private concert by Grammy-award winner LeAnn Rimes to be held at a Naples beachfront estate, and accompanied by dinner prepared by Tom Colicchio of Bravo TV's Top Chef.
The top wine lot at the 2012 festival fetched a cool $1.1 million. The original lot featured eight rare bottles of Château Haut-Brion and six bottles each from the 2010 vintage of Haut-Brion Blanc and Rouge nestled inside a hand-carved red wine console. Following spirited bidding, a second identical lot was donated. Each captured a bid of $550,000.
Stars Aligned For Good
The theme chosen for the 2013 festival is When Stars Align. "The theme pays homage to all the stars involved, from esteemed vintners and top chefs to donors, sponsors, volunteers, and, especially, the children who benefit from the immense generosity," says Terry. "Festival events play off the theme, and January's vintner dinners will be spectacularly staged, each with a different, elegant spin on celestial décor and entertainment and matched to the cuisine and wine."
Festival stars presiding over vintner dinners include celebrity chefs Michael Anthony of Gramercy Tavern, Lee Hefter of Spago and Marco Canora of Hearth. Vintners personally pouring their special wines include the proprietors of Colgin Cellars, Domaine Ponsot, Torbreck, Shafer and other luminaries.
In addition to vintner dinners, guests attend Meet the Kids Day for an up-close look at how festival proceeds make a difference, with time to interact with children from NCEF-supported charities. "We started Meet the Kids Day nine years ago with a few patrons attending, and it's grown tenfold," comments NCEF board chair Anne Welsh McNulty. "Patrons are so moved by the children and the odds they have overcome. The experience puts real names and faces to the children who will benefit from their generosity at the auction."
On Saturday of festival weekend, the culinary showcase and live auction take place at The Ritz-Carlton Golf Resort, Naples — a founding sponsor of the festival. Wine tastings throughout the weekend, a post-auction wine-down party and closing celebration brunch on Sunday complete festival events.
Bid High And Often
Although the festival takes place in late January, creating auction lots with beyond-compare treasures and experiences starts well over a year prior. Participating vintners and chefs contribute to the lots, offering their finest wines, exclusive wine tastings, tours, stays and dining experiences. Private wine collectors also dig deep into their cellars to compile one-of-a-kind lots.
Among auction lots for the 2013 festival are tickets to the Emmy Awards after party, a private jet trip around the world, voyages to the Greek Isles and Turkey on private yachts, an unparalleled vertical of Chateau Mouton-Rothschild from 1945 through 2009, an excursion through Thailand, Hong Kong, Macau and Tokyo; and special stays at vineyard properties around the world with private tours, tastings and dinners accompanied by the proprietors themselves.
There is also an auction lot of special interest to guys: a sporting trip to Scotland, with stays in a neoclassical mansion and daytime fishing, hunting and skeet shooting on the private grounds. For those who love bling, there are fabulous trips paired with custom-made pieces by some of the world's most recognized jewelers.
For The Kids
Amid the high-energy party atmosphere under the auction tent, the glamour and pageantry of the vintner dinners, and the friendships of a lifetime that are forged at the intimate venues, the true purpose of the Naples Winter Wine Festival is threaded throughout, according to Bob Edwards. "It's all for the kids," he says. "Thanks to festival proceeds, NCEF has made grants to 38 children's charities, collaboratively funded a pediatric dental center and early learning center, and taken a bite out of children's hunger with the delivery of 1.5 million pounds of food for families in need. We couldn't do it without our generous patrons and sponsors, and boy what a good time everyone has along the way."
Naples Winter Wine Festival By The Numbers
$107 million, amount raised for children in need by the Naples Winter Wine Festival since 2001
1 Ranking as nation's top charity wine auction since 2004 by Wine Spectator magazine
550 Guests to be under the auction tent at the Jan. 25-27 festival in Naples, Florida
11,176 Bottles of wine auctioned off since 2001, with 100 percent donated
65 Auction lots of one-of-a-kind treasures and experiences to be offered at the 2013 festival
$2 million Winning bid at 2007 festival for a Rolls-Royce Phantom Coupe and one of the highest bids ever for a single lot at a charity wine auction worldwide
250 Limousines ferrying guests to and from intimate vintner dinners
2,500 Wine glasses on hand for Saturday's wine tasting and culinary showcase
420 Number of volunteers who help prepare for the gala and are involved during the festivities, serving as wine stewards, greeters, auction spotters, etc.