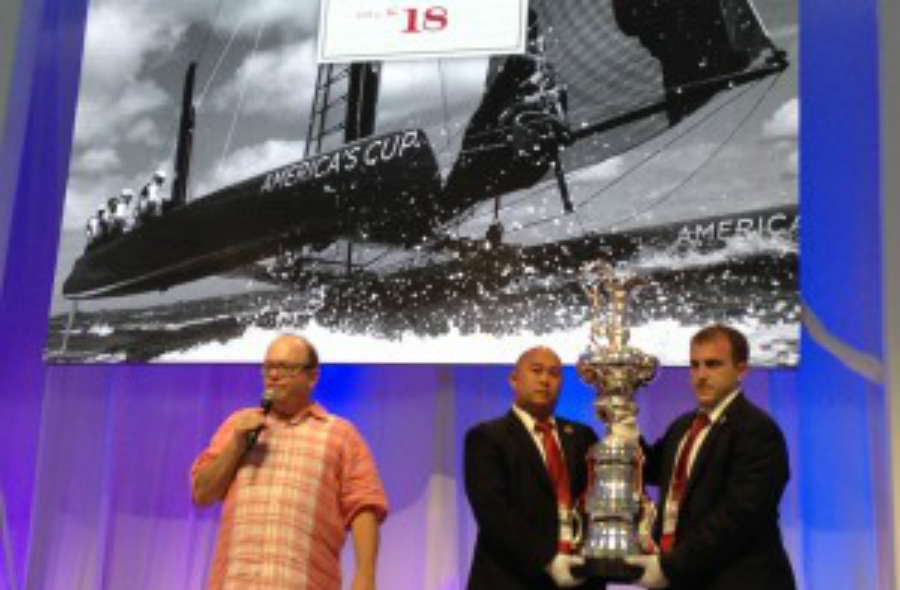 The Napa Valley Vintners' (NVV) annual community fundraiser Auction Napa Valley (ANV) brought more than $8 million in spirited bidding over the weekend,
May 31 to June 3, 2012, as guests from across the country and around the globe gathered for the most celebrated charity wine auction in the world. With picture-perfect weather, the quintessential Napa gathering of wine and food lovers was by all measures a great success.
The Chappellet family of Chappellet Vineyard and Winery served as honorary chairs for the 32nd annual event. Guided by the creative vision of the family's matriarch Molly, art installations that celebrated the origins of what makes Napa Valley so spectacular along with a keen look at the life cycle of the grapevine awed attendees at every turn upon arrival at Live Auction events at Meadowood Napa Valley on Saturday. Recorded sounds of birds and other wildlife, vineyard workers and calming Zen-like music were synchronized with live-performance jazz and classical music that enhanced the theater of the art installations in the beautiful lawn and wooded setting at Meadowood.
"Hopefully we engaged all of the senses this weekend as we combined art, music, outstanding wine and delicious food and dancing with spirited bidding that raised millions of dollars for these great charities," said event honorary chair Molly Chappellet.
Auction Napa Valley
The Live Auction day began with preview displays of the 40 incredible lots offered by vintners that included a live cheetah on hand to showcase a lot that centered on not only a collection of Napa Valley wines but a hosted safari to South Africa. Competitive yachting's top prize was also on display, the America's Cup, as another lot offered the winning bidder the sixth-man's spot on one of the competing boats during racing events in San Francisco later this summer along with a selection of Napa Valley wines.
The 800 attendees that included bidders, vintners and media dined on Auction Napa Valley's signature fried chicken picnic lunch from Thomas Keller's Ad Hoc prepared by the restaurant's chef Dave Cruz. Served in a wooden wine box, the meal was complemented by scores of vintners pouring crisp, refreshing whites and roses–perfect for summer sipping.
Trumpeters heralded the start of the Live Auction where rousing bidding began and stayed strong through the 40 offerings–including the finale and top earning lot, Fund A Need which brought more than $1.2 million for children's health and education initiatives. Here, there was no prize to be captured other than the satisfaction of helping children. Raising paddles were 82 bidders.
Top bidder Mary Miner of Oakville Ranch Vineyards said, "Giving back to our own community is one of the most important things I can do." She captured the number one spot winning six lots including group offerings from vintners from the Spring Mountain District and another from the Oakville Winegrowers.