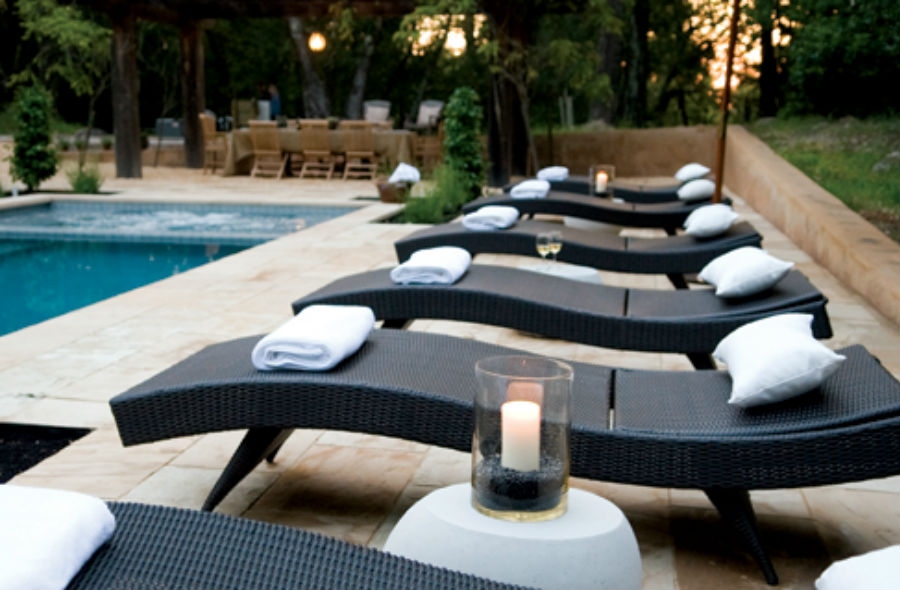 The name of the company is as accurate as it is an understatement: Beautiful Places.
With an exclusive luxury portfolio of 250 spectacular villas and estates located in the most desirable destinations around the world, Beautiful Places is not only living up to its pre-launch goal of becoming the leading luxury villa rental company in California's wine country, it is most certainly broadening its horizons.
The homes the company manages now are as spectacular as any distinguished traveler would want, need or dream of. Located on literally every corner of the globe, Beautiful Places has placed special emphasis on the wine regions of California as well as France and Italy; the resort areas of Mexico, Costa Rica and the Bahamas; the winter playgrounds of Telluride, Snowmass and Aspen; and the glamour hideaways of The Hamptons, Palm Beach and Nantucket.
Add to that some of the most renowned luxury hideaways in the Caribbean island of Mustique, (don't be surprised if you run into some of the biggest fashion and music tycoons on the planet there, or even Prince William and Princess Kate) as well as Barbados and the US and British Virgin Islands, and the epicurean lifestyle experience of your wildest dreams awaits you.
While the jaw dropping villas are the stars of the show, the journey of working with the entire Beautiful Places staff makes the journey to your destination as enjoyable as your actual stay. You will work with a dedicated villa specialist to select the perfect villa for you, based on the location, size, amenities, group dynamics and individual budget. You are assigned a dedicated concierge team that works with you to plan customized itineraries, handle the sometimes tedious personal arrangements and provide insider tips and 'on the ground' services available to you 24/7, all with the goal of creating for you and your group an exclusive experience you will never forget and never want to end.
For distinguished and ultra elite travelers that have the ability to go anywhere, it's the amazing personal touches the Beautiful Places staff takes considerable pride in that make this villa experience stand out. Privacy and security is taken into consideration on all customized itineraries, and the there is no ceiling to the level of lush, expansive and customized accommodations to choose from and request.
Pack your imagination as well as your wildest dreams on this trip, because whether it's chauffeured car service, a private helicopter trip to an exclusive golf course or shopping destination, capped by a gourmet private chef dinner complete with a wine list that would make any five-star restaurant in New York, Paris or London jealous, it is all at your disposable.
All of the properties that Beautiful Places accepts into their program must meet exacting standards of quality of service, so you are truly choosing from the best of the best, and just as importantly, the staff will ensure the home you ultimately choose fits your specific needs perfectly.
Beautiful Places is even prepared for you if you fall in love with your vacation to the level that you don't want to leave. They have added a new segment to their villa rental portfolio called Extended Stay Villas in case you are looking for a place to call home for an entire season. Or, if you are a distinguished business owner or executive that has a project taking you to the Bay Area of San Francisco for an extended trip, Beautiful Places can help you find the right place to call home for a longer period of time. Consider it a great opportunity for second home living, without long-term financial commitment and responsibility.
Renting a fabulous villa is just the beginning of your unforgettable Beautiful Places stay, because they take it so much further, creating unusual and personal experiences tailored to your interests and needs. It's an ideal way to explore your passions, favorite pursuits and the local lifestyle through uncommon, authentic activities that few visitors ever have the opportunity to enjoy. The possibilities are endless, and include everything from total-immersion wine experiences, to thrilling sports challenges, one-of-a-kind family reunions, weddings, birthday celebrations and inspiring executive retreats.
Visit the renowned wineries of California, France and Italy, while also being able to blend your own barrel. Race cars at a premier race track. Hit the links with a pro in Sonoma or Mexico. Compete with family members to stomp grapes, and hike or bike hidden trails with breathtaking views.
The first step to your trip you will most certainly rank as one of the most spectacular, luxurious, unique and fun experiences of your life starts with a visit to the Beautiful Places website to peruse the roster of homes. Don't be surprised if you start visualizing yourself basking in the luxurious surroundings while starting to plan wardrobe choices and menu selections by the end of the night.
For Reservations: 800.495.9961 (or call your travel agent)
Trip To Sonoma
Here's an example of how a trip to a Beautiful Places villa morphed into a memorable experience because of the painstaking customization provided by the Beautiful Places staff.
Our group of five couples (including a top NFL referee, a nationally known television host and business executives) spent a long weekend in the wine country of Sonoma, California. It was a first trip to California's wine country for everyone, and the idea was to make it one we'd never forget. The Beautiful Places Villa we stayed in was located on a 13 acre plot of land that included its own vineyard. It was as discreet as it was spectacular. The views from the kitchen, dining room and master bedroom were breathtaking.
One of the things our personal concierge provided by Beautiful Places did was to put us in touch with the Sonoma County Tourism Bureau. What that did was take all the guesswork and pressure out of our planning, where we simply communicated to them what we wanted to do, and an incredibly unique, first class, private itinerary was laid out for us.
Our itinerary included visits to four wineries where we received VIP treatment, exclusive tours, private reserve tastings and an incredibly intimate experience. The vastness of the California wine country is stunning, and the area is massive, which made our private tours even more valuable to our experience. When choosing wineries you'd like to visit on a future trip, Silver Oak, J Vineyards and Winery, Ferrari, and Coppola are all highly recommended.
Our private transportation was provided by Beau Wine Tours. Our private bus was waiting for us every day, not only taking us to our private tours at exactly the scheduled times, but veering off anywhere we chose to go. Along the journey, we were provided with great insights into the area and the days were as educational as they were fun and carefree. Having a private bus through Beau Wine Tours allowed us to do nothing but focus on having fun.
Wanting to ensure we took our trip to the next level, Beautiful Places made arrangements with Vine Dining for their chef to create an exclusive private dinner just for our group. Executive Chef Max Porter-Elliott, a graduate of the Culinary Institute of America Hyde Park, worked closely with our group to create a scrumptious meal prepared in villa, and uniquely tailored it to meet all our specific preferences. Each course was perfectly paired with a wine selection, and often followed by an intermezzo, leading to a truly gastronomic experience.
The goal for the trip was to have a trip that would be hard if not impossible to eclipse. Mission accomplished.
Wineries:
Silver Oak
SilverOak.com
J Vineyards and Winery
JWine.com
Ferrari Carano
Ferrari-Carano.com
Francis Ford Coppola Winery
FrancisCoppolaWinery.com
Transportation:
Beau Wine Tours
BeauWineTours.com
Private Dining Experience:
Vine Dining
WineCountryVineDining.com