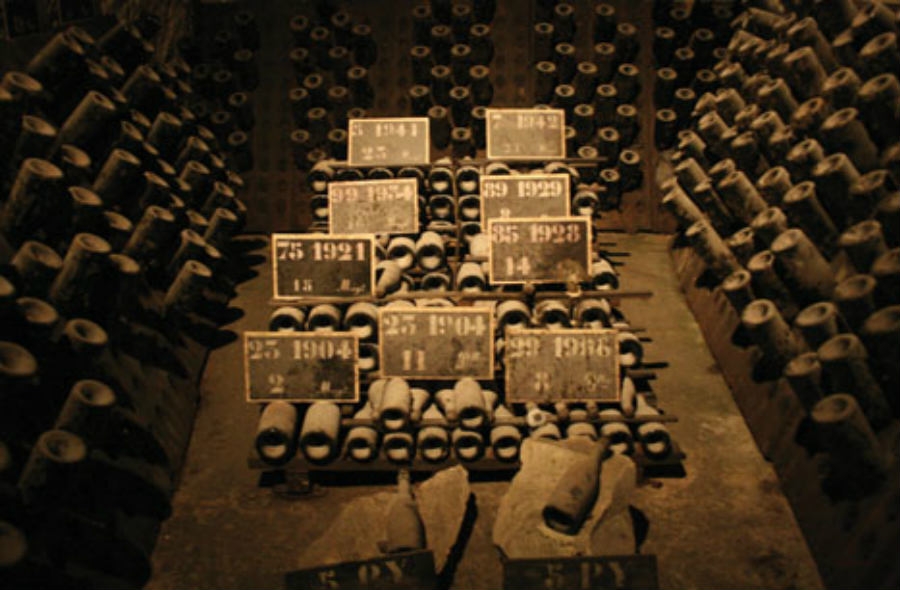 With a legacy of more than 175 years, Pommery is a historic Champagne house.
Founded by Monsieur and Madame Pommery in 1836, today Champagne Pommery is a label operated by Paul Francois and Nathalie Vranken as part of the larger Vranken Pommery Monopole Group. Credited with developing the "brut" Champagne as we know it, Champagne Pommery is celebrated for its avant-garde spin on tradition. Pommery is one of the top Champagne houses, producing over 500,000 cases of Champagne a year.
Located right in the heart of Reims, it is certainly one of the most beautiful champagne wine estates to visit, with its ancient Roman caves, art nouveau tasting rooms and a seemingly never-ending, magnificent staircase down into the chalk caves. Its history can be traced back to the House of Dubois-Gosset, which came under new ownership in 1836.
As fortune would have it, the merchant Louis Alexandra Pommery invested heavily in the house after joining it as a partner 20 years later. Although his family had no historical claim to the property, after his death control passed to his widow, Jeanne Pommery. A remarkable woman, Madame Pommery went about establishing the reputation of Pommery as a force to be reckoned with.
Jeanne Pommery worked monumentally hard to develop the house and commissioned a grand property in the late 19th century, which is notable for its eclectic mix of architectural styles. After she died, her daughter Louise, with husband Prince Guy de Polignac, ran the house. Their family continued running the property until 1979, after which it changed ownership several times within a few years. The LVMH group gained control in 1990, took control of the vineyards and sold the brand to the company Vranken.
Based in Reims, France, the Pommery Estate encompasses beautifully designed and landscaped buildings and gardens that fascinate both visitors and historians of art and architecture. The buildings of the 125-acre Estate are laid out in an open-plan, "H"-shaped style. This open formation goes against the architectural traditions of classic Champagne houses, revealing the brand's innovative spirit, and more symbolically, its philosophy of breaking down barriers to let the world in.
The prestigious Pommery cellars opened on the Estate in July of 1868, and together form an underground city-like space. One monumental 116-step staircase is all that connects the cellars to the outside world. Large bas-relief sculptures accentuate the spectacular beauty of the Estate's vault galleries, which contain individual bottles of wine. These bas reliefs have become the stars of Pommery Estate and the highlight of today's cellar tours.
Created in 1874 by then Pommery Cellar Master Victor Lambert, Pommery Nature was the first vintage "brut" in the history of Champagne. It is this brut that is credited with establishing the fame, style and success of the House of Pommery, as unlike prior Champagnes with their high levels of sugar and alcohol, this brut was delicate and subtle; an adaptation to high society's growing preference toward lighter and less sweet wines. Led today by Pommery Cellar Master Thierry Gasco, there are currently four Champagne Pommery bruts available for purchase in the United States: Brut Royal, Brut Apanage, Grand Cru Vintage and Brut Rosé.
Champagne Pommery's most legendary and exquisite brand, Cuvée Louise, was launched in 1986 and named in tribute to Madame Pommery's miracle daughter, Louise. Each elegant bottle of Cuvée Louise is made exclusively from the three finest grand crus wines in the Pommery Vineyard: Avize and Cramant for the chardonnays and Aÿ for the pinot noir. A rich blend, needing a minimum of eight years to age and fully develop its flavor, the Cuvée Louise is defined by an extreme purity which gives the wine a straightforward, balanced structure.
Sold in small bottles that enable on-the-go consumption at a reduced price, POP de Pommery was conceived during the Great Depression of 1929 by Madame Pommery descendant and Pommery chairman, Melchior de Polignac. The convenient size helped the Pommery business during the tough economic times of the Depression and is still offered today in a small-size color range.