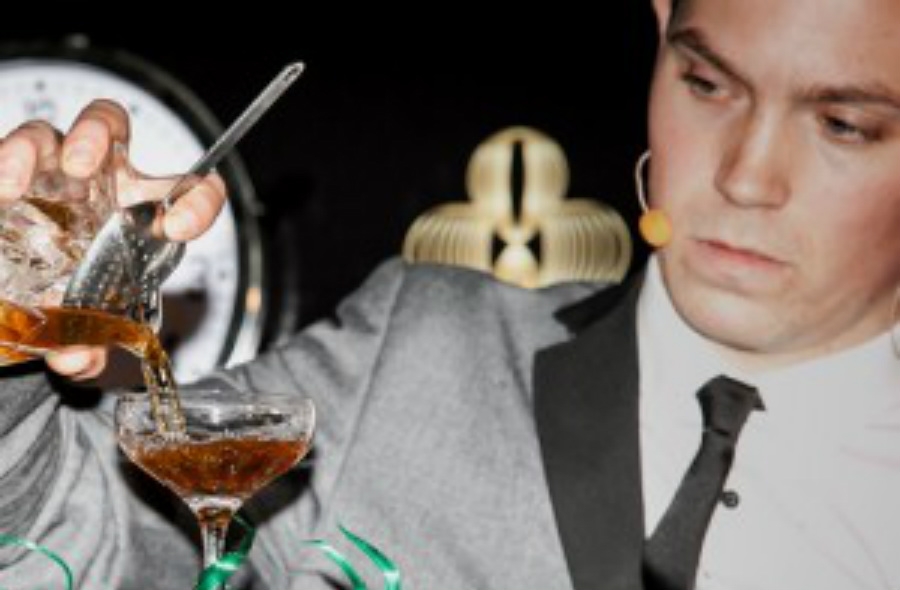 We thought $15 for a cocktail was expensive, but that's actually a bargain. Around the world there are a number of bars that are charging thousands of dollars for a drink. Seriously; this is no April Fool's Day joke.
But these are no ordinary Gin & Tonics. Instead, these concoctions call for a range of exotic ingredients, including spirits that date back to the American Revolution and real gemstones. (Here we thought a flamed orange peel was fancy!) Of course, these truly deluxe creations are more than just a beverage: They're a once-in-a-lifetime experience that you (and your accountant) will certainly never forget.
So whether you're in the market or just merely curious, here are five of the most expensive cocktails in the world.

Winston, $12,040
Club 23, Melbourne, Australia
On February 7, 2013, Joel Heffernan of Club 23 set a new Guinness World Record for the most expensive cocktail with his Winston, named, of course, for Winston Churchill. (It goes for 12,500 Australian dollars—that's US$12,040). The recipe features two jiggers of Croizet Cognac that dates back to 1858, which the bar normally sells for $6,000 a shot.
The extravagant tipple also includes Grand Marnier Quintessence, Chartreuse Vieillissement Exceptionnellement Prolongé and Angostura Bitters, and is served with a chocolate and nutmeg "soil" and pulled-sugar garnish made using the same Grand Marnier and Chartreuse, and misted with dry ice essence infused with citrus peel and spices. Interested? We recommend calling ahead, since they're only making a few more Winstons and each one takes two days to prepare.

Salvatore's Legacy, $8,316
Salvatore at Playboy, London
For decades, legendary London mixologist Salvatore Calabrese has been serving vintage pre-phylloxera cognacs. His latest bar is Salvatore at Playboy,which offers the aptly named Salvatore's Legacy. It was the former holder of the Guinness World Record and costs a cool £5,500 ($8,316). But the decadent four-ingredient libation is still the world's oldest cocktail, combining 1778 Clos de Griffier Vieux Cognac, 1770 kümmel liqueur, circa-1860 Dubb Orange Curaçao and two dashes of Angostura Bitters from the early 1900s.

Ruby Rose Cocktail, $40,000
The White Barn Inn, Kennebunk, Maine
This month, the luxurious White Barn Inn will be celebrating its 40th anniversary with one of the most expensive cocktails. And what better way to observe the occasion than by serving a $40,000 cocktail? The drink itself, the Ruby Rose, is a mixture of Hanger One Vodka, St-Germain, fresh grapefruit juice, pomegranate and a spoonful of rosewater. While it normally costs a comparatively reasonable $18, the addition of a four-carat ruby garnish adds a bit more value to the drink. The restaurant is offering the Ruby Rose through the end of the year.

The Diamond Is Forever Martini, $18,000
The Ritz-Carlton, Tokyo
This Grey Goose Vodka and lime libation, which is named for the James Bond movie Diamonds are Forever, is garnished with a one-carat diamond and is another of the most expensive cocktails. Each time the drink is served in the hotel's 45th-floor Lobby Lounge & Bar, a live band plays the film's theme song. The ¥1.8 million (approximately $18,000) creation, if you can believe it, is a regular menu item at The Ritz-Carlton, Tokyo. The best part is that it can be ordered on-demand for an impromptu marriage proposal—just don't drink the rock.

Diamond Is Forever Martini, $10,000
Uncorked, New York
The Ritz-Carlton isn't the only establishment serving diamonds. The $10,000 Vodka Martini at New York tapas bar Uncorked contains a custom diamond engagement ring. But it does require a 72-hour advance consultation with jewelry designer (and co-owner of the establishment) Andy Goetz.