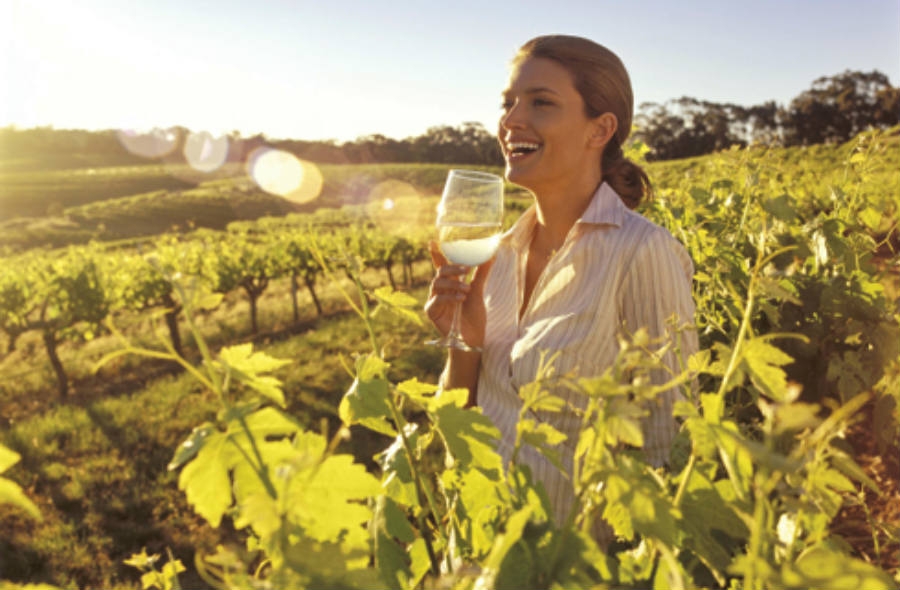 The world is full of incredible wine-producing regions, from the classically coveted French châteaux to the grape-stomping beauty of Italy's premier castles and vineyards to the burgeoning destination spot of California's wine country.
In the spirit of discovery, we asked some of the world's top critics at eRobertParker.com and The Wine Advocate – celebrating 34 years and 200 issues unearthing fine wines from the world's top regions – about their top picks from around the world.
Australia
Frankland Estate 2010 Poison Hill Riesling, Great Southern, Western Australia, $27, 92+ pts
One of Australia's viticultural strengths is its amazing range of Riesling terroirs producing complex and approachably dry, unique styles. Though its most famous Riesling region is the Clare Valley, the Cullams have carved out special single vineyard sites in the desolate, cool climate region of Great Southern in Western Australia. This profound Poison Hill vineyard Riesling is a must-have in the cellars of all lovers of this grape.
Giant Steps 2010 Arthurs Creek Vineyard
There's been a lot of buzz in the international press recently about the incredible quality of Chardonnays coming out of Australia at the moment. Based in the cool climate outskirts of Melbourne, Yarra Valley unquestionably has the terroir to make world-class Chardonnay, and there's been a lot of new talent moving into the area recently to make it happen. Steve Flamsteed at Giant Steps truly has a gift when it comes to this grape and this single vineyard example is one of our faves.
Eden Road 2010 Hilltops Shiraz, Hilltops, New South Wales, $65, 92 pts
Most folks around the world have never tried a Shiraz from Australia's New South Wales state, let alone one from the relatively new Hilltops region. Based in the southwest of Sydney, this is another cooler climate area producing Shirazes of moderate alcohol and plenty of spiciness in place of the power that consumers often associate with Australian reds. Indeed, Eden Road's winemaker Nick Spencer has been turning a lot of local heads recently by demonstrating the potential for greatness in Shiraz through elegance.
New Zealand
Dog Point 2009 Section 94 Sauvignon Blanc, Marlborough, $35, 92+ pts
Winemaker James Healy and viticulturalist Ivan Sutherland, both formerly of Cloudy Bay, wanted to push the boundaries of Marlborough Sauvignon Blanc. The result, Section 94, is certainly no ordinary example — it's a barrel-fermented style (seasoned oak only) aged for 18 months in older oak. So what you get is a less "electric" character but rather a softer, more complex wine, which ages beautifully.
Bell Hill 2009 Pinot Noir, North Canterbury, 93+ pts
Marcel Giesen and Sherwyn Veldhuizen have gone about as Burgundian as one can possibly get in North Canterbury. Their tiny estate, founded on a disused limestone quarry, employs high density plantings and biodynamic farming methods. The early results are truly extraordinary, placing the fruits of this dynamic duo in the upper echelons of high quality Pinot not just for NZ, but for the world!
Craggy Range 2009 Sophia Proprietary Red, Hawkes Bay, 95 pts
A Bordeaux blend composed predominately of Merlot from the Gimblett Gravels sub-region of Hawkes Bay is certainly not the first wine style that folks think of when they consider the great wines that New Zealand has to offer. But to see the vineyard is to recognize that this small stony pocket of land is somewhat unique in its ability to slowly, gracefully ripen the capricious Bordeaux red varieties. I've tasted this 2009 Sophia several times blind amongst Grand Cru Classe counterparts and it always not only holds its own but brings an awful lot of individual character to the Bordeaux blend table.
Greece
2011 Gai'a Assyrtiko "Thalassitis," Santorini, Greece, $27, 93 pts
Santorini does wine? It sure does — and from very old vines. Greece produces fine whites and few of its regions are hotter now than Santorini, typically famed as a tourist destination. This powerful Assyrtiko (old vines) is clean, crisp and pure.
Portugal
2009 Quinto do Vale Meão, Douro Valley, Portugal, $75, 94 pts
2009 Meandro do Vale Meão, Douro Valley, Portugal, $23, 91 pts
Portugal — the next great red wine region? Its most famous region, the Douro Valley, has been famed for Port wine for centuries, but it makes table wines, too, from many of the same grapes. In 2009, the flagship wine at Vale Meão and its baby brother, the Meandro, a very fine value, are quite powerful and exceptional.
France
Chateau Suduiraut 2009, Sauterne, Bordeaux, France, $32-120, 97-99 pts
This historic estate went through a lean patch during the 80s and 90s, but since Christian Seely took over managing the estate in 2001, it has reinstated its position as producer of one of the finest Sauternes. 2009 is probably the greatest wine since the legendary 1959 and will last for decades, not years.
Domaine de l'Alliance 2007, Sauterne, Bordeaux, France, 93 pts
Forget images of a picturesque chateau. Winemaker and ex-fisherman Daniel Alibrand works from his backyard and tiny garage where he welded his own vats together. However, he puts immense passion into the tiny productions that perform consistently well against more famous names in blind tastings. The 2007 is the first vintage where Domaine de l'Alliance really came of age.
Chateau Doisy-Vedrines 1989, Barsac, Bordeaux, France, $66-116, 95 pts
Few wines can match mature Sauternes. I have tasted the Doisy-Vedrines 1989 on countless occasions, including blind against Chateau d'Yquem 1989 when it easily held its own. This wine is always rich and honeyed and the 1989 is at the peak of its powers with few signs that it is reaching the end of its drinking plateau.
Spain
Castell d'Encus, Thalarn 2010, Costers del Segre, Spain, $60, 95 pts
Raul Bobet's chance discovery of medieval "rock" fermenters compelled him to establish Castell d'Encus high up in the foot of the Pyrenees in Costers del Segre. The wine is fermented inside the actual hillside in vessels carved out by monks. The Thalarn is Raul's Syrah possessing incredible freshness, purity and finesse.
Mas Martinet, Clos Martinet 2009, Priorat, Spain, $100, 97 pts
Winemaker Sara Perez is one of the true stars of Priorat, someone who is thinking outside of the box. Mas Martinet's flagship wine combines Garnacha, Carinena and Syrah to devastating effect, a young Priorat that embraces crispness, balance and complexity without some of the overblown tendencies that the region's wines are sometimes prone towards.
Recaredo, Brut de Brut Gran Reserva Brut Nature 2004, Cava, Penedes, Spain, $67, 93 pts
Cava is perhaps one of the most misunderstood wines of the world, partly because it is dominated by high volume, supermarket brands that are not a true representation. Recaredo produces cava as complex as anything you will find in champagne, without the hefty price tag. The key to its success is aging for 79 months on its lees, a process that lends it wonderful freshness and personality.
Cape Point Vineyards, Sauvignon Blanc Reserve 2010, South Africa, $30-32, 92 pts
South Africa is now making a real challenge against New Zealand in terms of quality Sauvignon Blanc. Cape Point Vineyards is leading the way with a clutch of outstanding fresh, zippy, vibrant Sauvignons with subtle tropical notes. Perfect for summer drinking.
Reyneke, Chenin Blanc 2010, South Africa, $35, 93 pts
Rudiger Gretschel is a passionate biodynamic winemaker whose wines have immense character. Sourced from 70-year old vines in Stellenbosch, the Chenin Blanc offers an explosion of flavors that provide an intellectual challenge that many consumers do not realize South Africa can offer.
Newton Johnson, Pinot Noir 2009, Hemel-En-Aarde Valley, Walker Bay, South Africa, $28, 93 pts
South Africa is producing some world class Pinot Noir. Newton Johnson, based in the Hemel-en-Aarde valley, offers one of the finest, combining the freshness and delicacy of the Old World with New World ripeness. This is a wine to pour blind to those who still believe that Pinot Noir can only come from Burgundy.