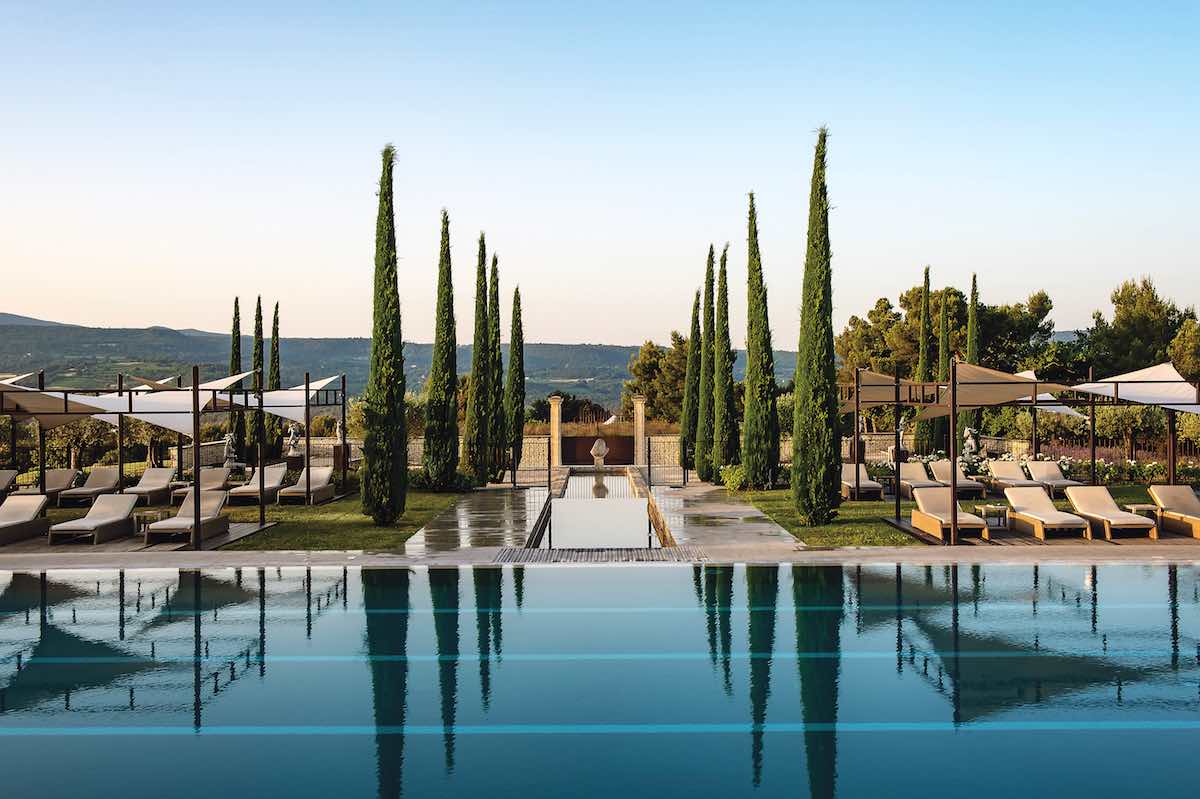 There comes a time in every hotel aficionado's travels that one meets and becomes obsessed with a house-exclusive wine they can only enjoy on property. No shipping a case to follow you back home, no tossing aside your hiking boots so you can pack another two bottles in your Rimowa. I have finally met that wine and her name is Cuvée Coquillade. She's a leggy signature rosé crafted in such rarified small batches, meant to be savored only at Coquillade Provence Resort & Spa, produced by the prestige property's own vineyard.
Sipping a perfectly chilled glass overlooking Coquillade's ravishing, rolling hills is a wine lover's dream. The endlessly intriguing 2021 vintage IGP Méditerranée rosé, on its third year of conversion to organic agriculture, offers savory herbaceous notes driving its nose and opulent weight balanced by ripe acidity on the palate. Grenache, Caladoc, and Mourvèdre grapes mingle towards a juicy, fruity core, with floral aromatics at the finish. Talk about a flavor profile to keep one coming back for more. Malolactic fermentation is carried out to reduce acidity, followed by maturation on fine lees in stainless steel tanks. At the time of bottling, the wines are filtered to ensure perfect brilliance and clarity.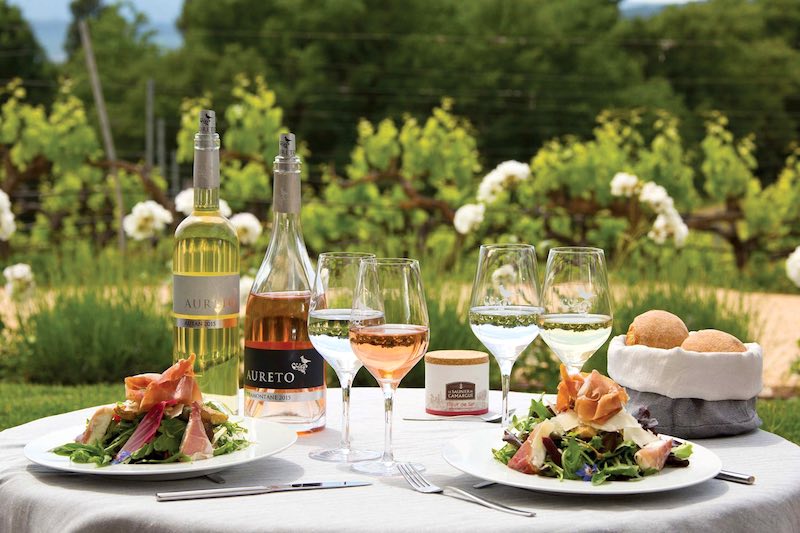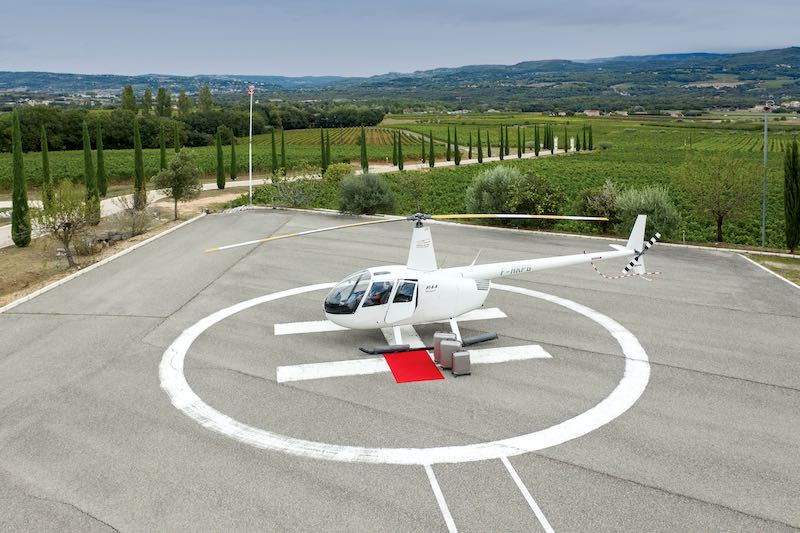 Wine has been grown in Provence since Roman times. Indeed, grape vines are as much a part of the Provençal landscape as lavender fields and medieval hilltop towns. The Luberon valley, to many Francophile travelers, myself included, is the most authentic and spellbinding enclave of Provence. Time and space have seemingly stood still for centuries, as the French shrewdly slowed development in this region, knowing full well economic prosperity lies in the very fact that medieval structures are left to stand and strike awe in the hearts of thousands of Provençale pilgrims every season.
Coquillade encapsulates the alluring charm that has captivated countless visitors throughout the years. This area of France deserves to be delighted in deeply. Don't dare book two nights in Provence and think you can knock out its "greatest hits" in 48 hours. Far from the Côte d'Azur coastal hustle, Coquillade stands as an overture to the classic French trope of taking your sweet time.
Coquillade's sun-kissed pride of place location epitomizes the quintessential ideal of a Provençal retreat. After an extensive multi-million-dollar renovation, the enchanting Relais & Châteaux-affiliated resort has reopened in robust full force. The redesign unveils an ingenious new lobby, the exclusive Bar Lalique, freshly updated and re-named restaurants Avelan and Cipressa, as well as stylish new events spaces, Salon Papillon and the tres-chic Grand Gloriette, next to the hotel's potager for special celebrations.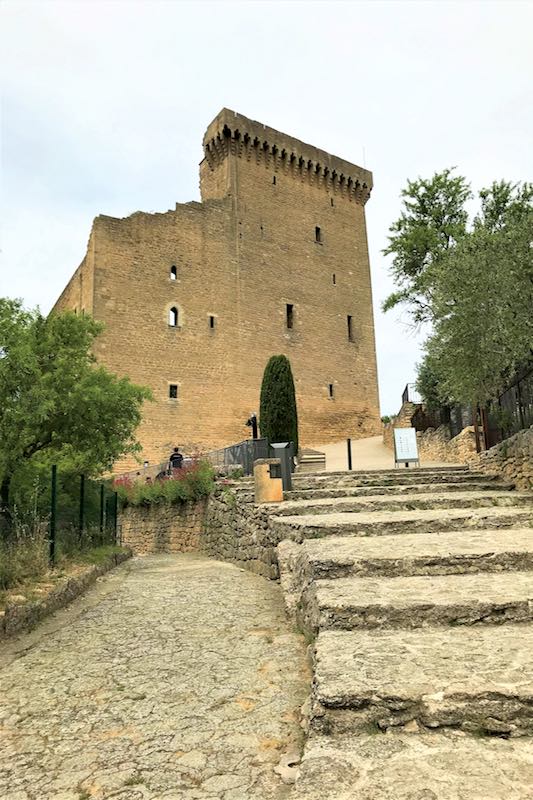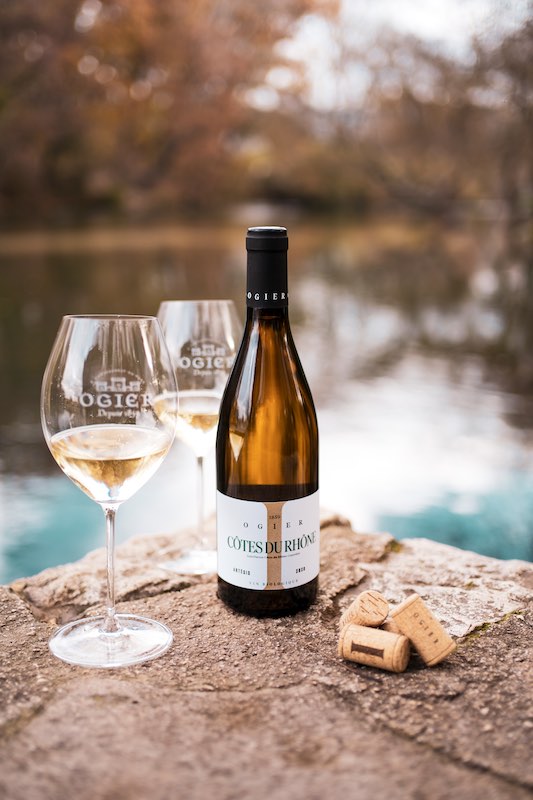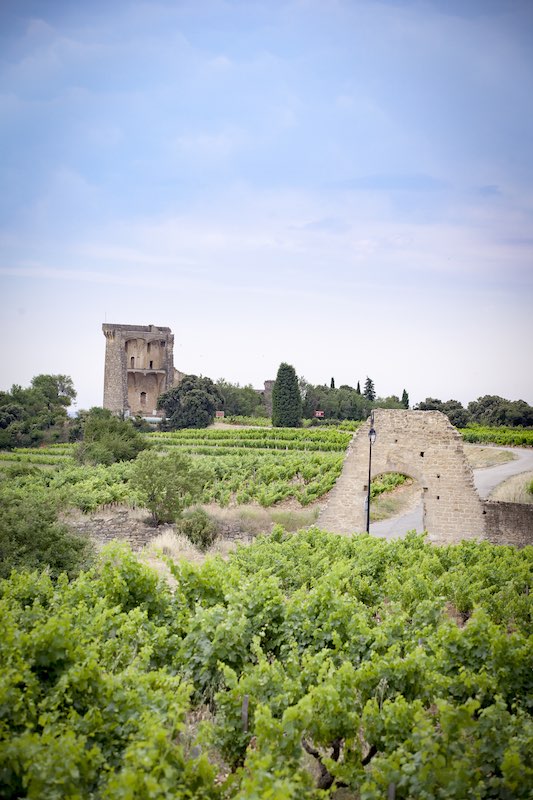 In spring, bask in the scent of jasmine, while spectacular poppy fields as far as the eye can see conjure Monet's landscape paintings. As a land of glorious countryside figures out its future, Coquillade leads the way with progressive adoption of organic farming practices, a world-class cycling center, and inventive twists on contemporary Provençal elegance.
Alain Bachmann, General Manager of Coquillade, greets guests with effortless aplomb, engaging in lively conversation illuminating the locale. I watch him visit with a party at their table—three generations of a family, an F1 driver and his wife and child, as well as his parents—he's insightful and animated; this hotel captain is clearly enjoying coming out of renovation hiatus. Bachmann confides later in the evening over yet another glass of rosé, "Our repeat guests are indeed reveling in the refurbished spaces and new culinary offerings, but Coquillade remains staunchly committed to its authentic heritage. They come back for the service culture we have established here. We deliver an ever-evolving guest experience meant to stir emotion and ignite the senses."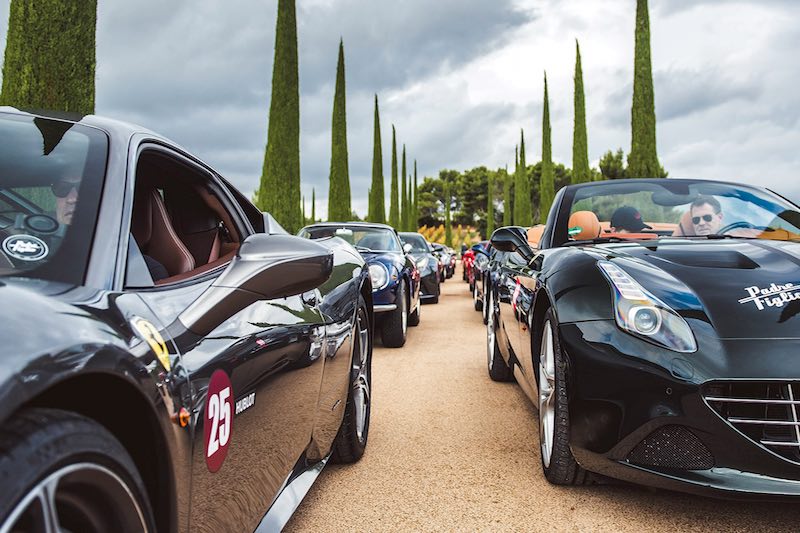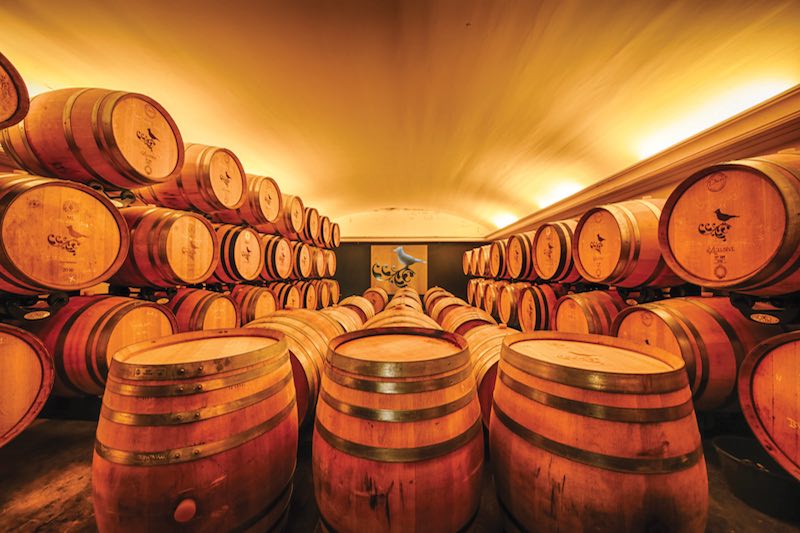 Coquillade's homage to authentic Provençal cuisine alone is worth the pilgrimage. Chef Thierry Enderlin's mastery of French classics, clever take on tapas, sensuous Italian specialties and array of Thai delights result in a week of happy feasting across the property's dining venues with zero palette fatigue. Helmed by Enderlin, the former fine dining Restaurant Coquillade has reopened as Avelan, where we indulge in regional flavors for a spot-on epicurean experience that has us swooning. If you are traveling with a party of four to six people, order the seafood bouillabaisse for the best meal of the trip, served tableside with ceremonial precision.
Dive into your dinner without a care in the world; the cuisine at Coquillade is expertly paired with full-bodied vintages from the estate's acclaimed Aureto winery. Aureto's vines flourish across nearly 90 acres of vineyards, producing a range of cuvées reflecting the soul of the renowned Luberon. Aureto is also the only winery in the region to offer wine tastings in the nearby ancient Broux Mines, providing a sensational glimpse into the region's rich history.
One hardship of a Coquillade stay is choosing between a moveable feast of options on the spa menu. May as well book a facial and a body massage, as both departments are top notch here. Physically speaking, the spa is a gorgeous wellness temple with all the thalassotherapy circuit bells and whistles to revel in before your treatment even starts. The spa's best asset? Talented staff who do pirouettes to please discerning spa goers.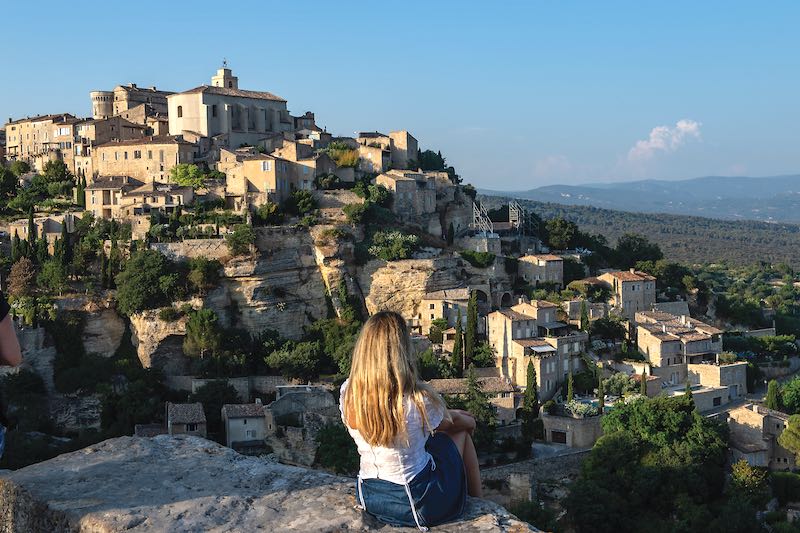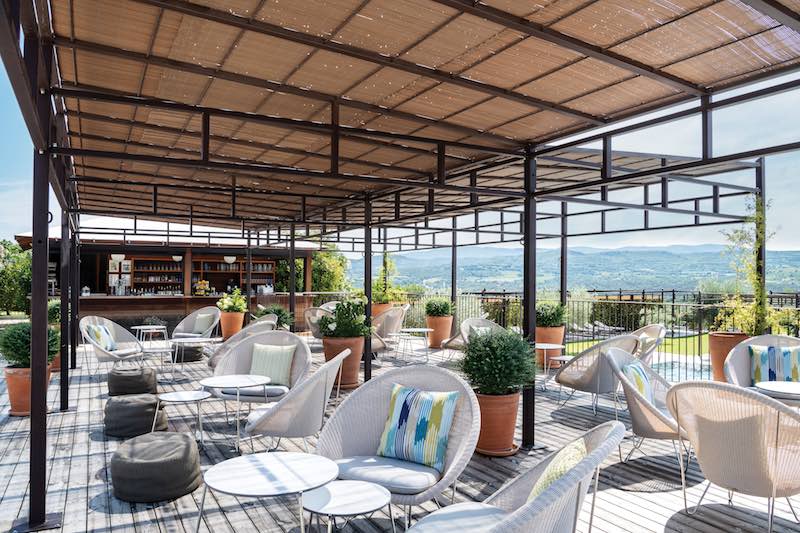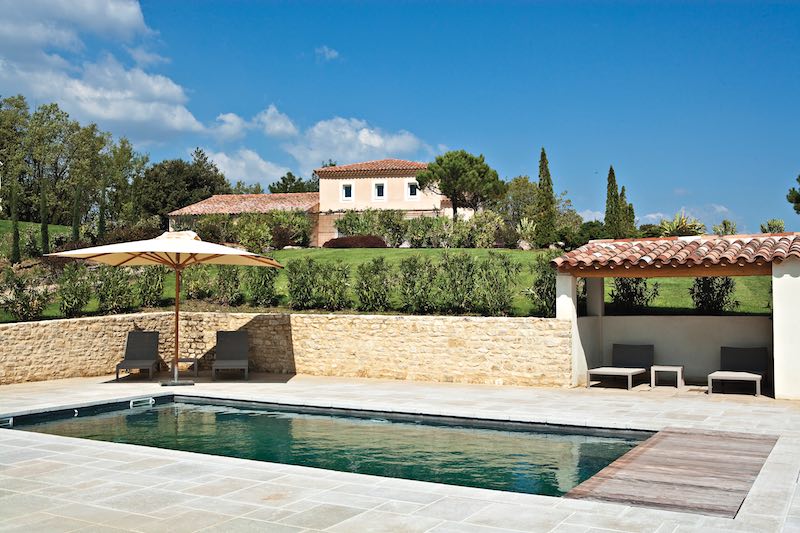 The first thing you'll want to do after checking into the spa is get wet. The pool shimmers like a submerged pearl box. Between the opalescent tiles and sparkling sunlight, you're in for a hypnotic prelude to the perfect spa day. The spa is an immaculate haven within an impossibly gorgeous campus. There's enough wiggle room in the sprawling steam room and outdoor jacuzzi overlooking the vineyards for a whole bridal party. The Tara Harper facials straddle science and bush craft. Unlike other status facials that rely on resurfacing your face, the orchestration of botany and aromatherapy yields a handmade holistic facial that feeds skin on a deeper level. Each oversize spa suite sprawls out like a perfectly gorgeous pied-à-terre. Yes, you've gone to heaven, enjoy!
Casa Palopó: Sololá, Guatemala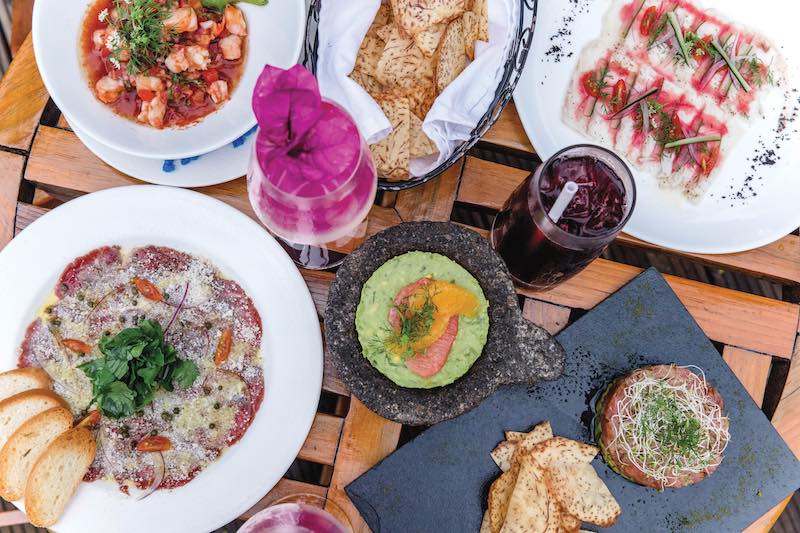 On the pristine shores of Lake Atitlán in the Guatemalan highlands, Casa Palopó is the buzzy "it" hotel for wine and spirit lovers who build their travel itineraries around culinary joy rides. This exclusive, high-end getaway caters to sophisticates who value a rich dose of culture with their dining experiences. The visionaries behind Casa Palopó have turned one of their alfresco spaces into an outdoor canopy that gives way to panoramic views of the sparkling lake and scenic volcanoes. Here, they offer wine and cheese pairings and mixology classes using one of Guatemala's globally recognized exports, Ron Zacapa.
Each of the boutique hotel's nine accommodations offers brightly colored stucco walls, spellbinding Latin American artworks, handcrafted antique furniture, and private terraces boasting sweeping views of the lake's three majestic volcanoes across the shore.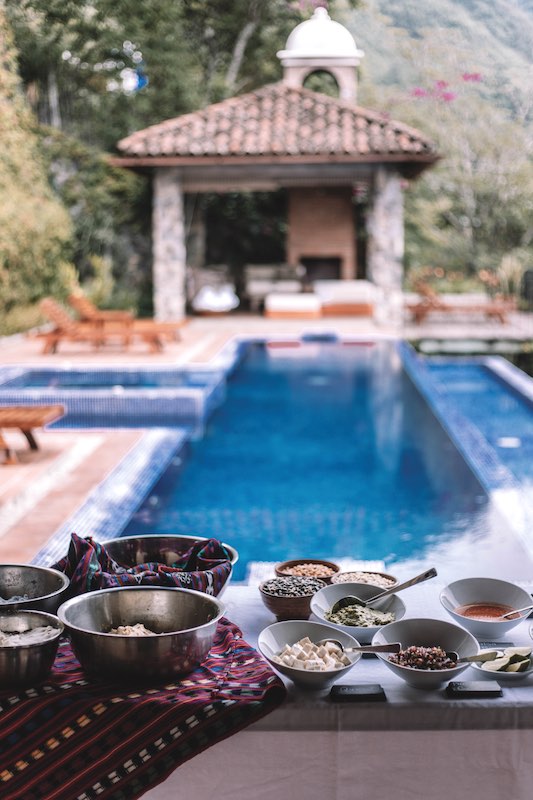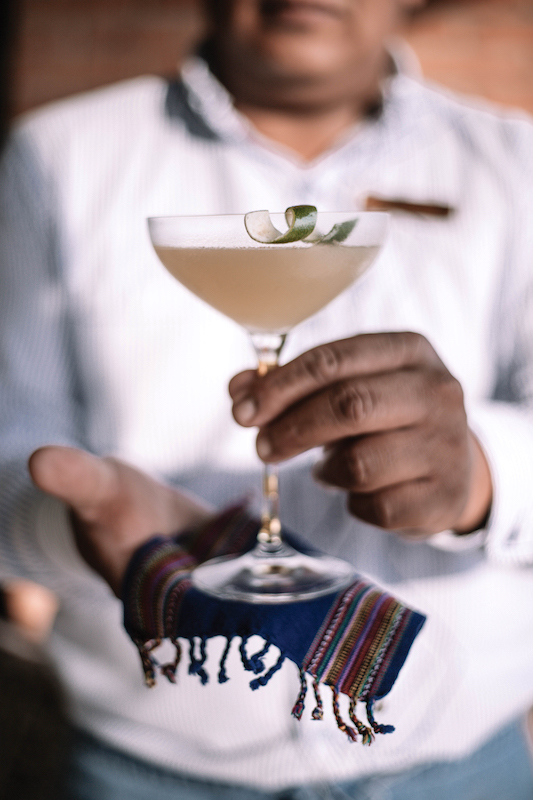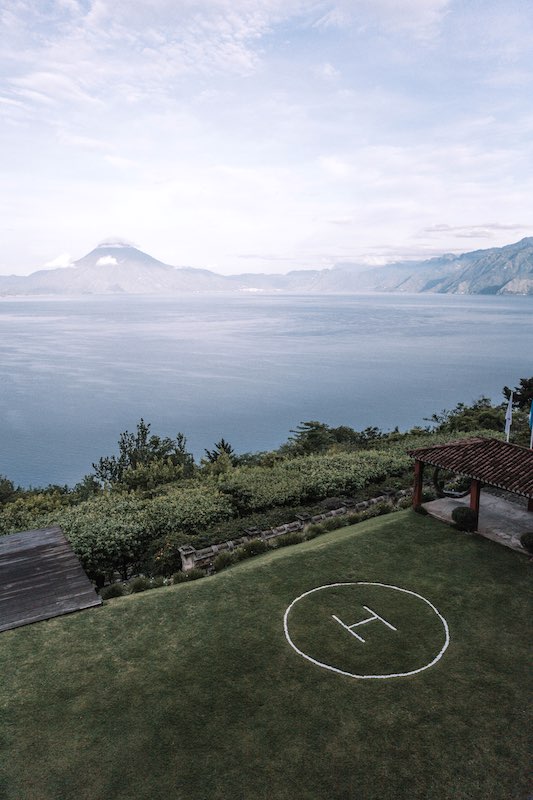 Casa Palopó's internationally celebrated restaurant, 6.8 Palopó, is run by phenom Chef Marco Saenz. His fresh, seasonal menus are inspired by a passion for culinary technique, local Guatemalan cuisine, and international wines. His talent has retained the eye of Relais & Châteaux and 6.8 Palopó became the first and only Relais-christened property in the country. Dining al fresco takes on new meaning here, as the veranda transforms into an enchanting enclave where guests admire small boats making their way poetically across the lake; by dusk, colorful candelabras and twinkling lights from Mayan towns that line the shore are simply enchanting.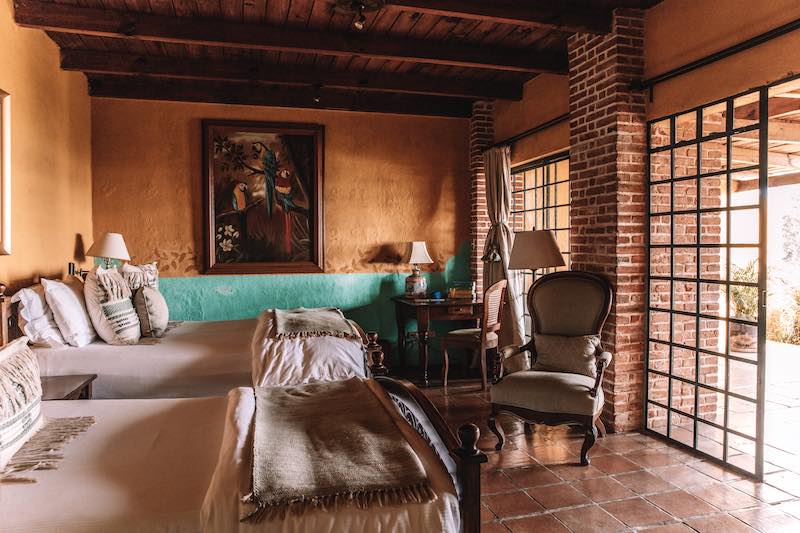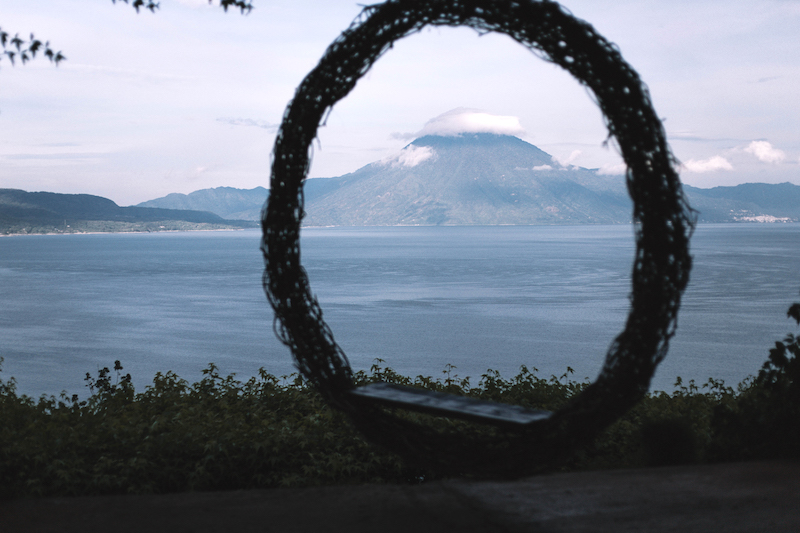 Enjoy immersive, incandescent healing rituals at Palopó's Balinese-inspired boutique spa and expansive pool deck. Originally built as a private lakeside home, Palopó was turned into a boutique hotel in 2000, and purchased by the current owner – Guatemala native and entrepreneur Claudia Bosch – in 2010. Our favorite spot to kick back in? In the cool Martini Bar, enjoy your cocktail while sitting back in old barber chairs, beside a 1930s jukebox, with an antique trombone that hangs from the ceiling. It doesn't get any more eclectic-chic than Casa Palopó.
The Madrona: Healdsburg, CA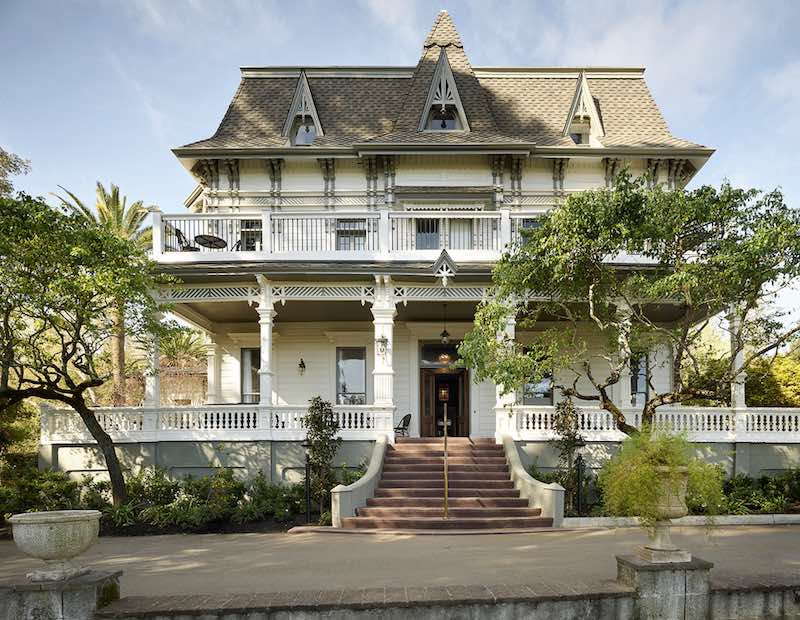 Meet the Madrona, Sonoma's newest boutique hotel designed by distinguished interior designer Jay Jeffers. This stylish hotel and restaurant create bold, spirited spaces within its eight-acre property. Originally built as a gabled private residence in 1881, The Madrona is a historic showpiece emphasizing the sensual qualities of art and design. The 24 stylish accommodations are spread across six buildings, most of which are original to the estate. The historic nature of the estate lends charming characteristics to each space, with no two guest rooms alike.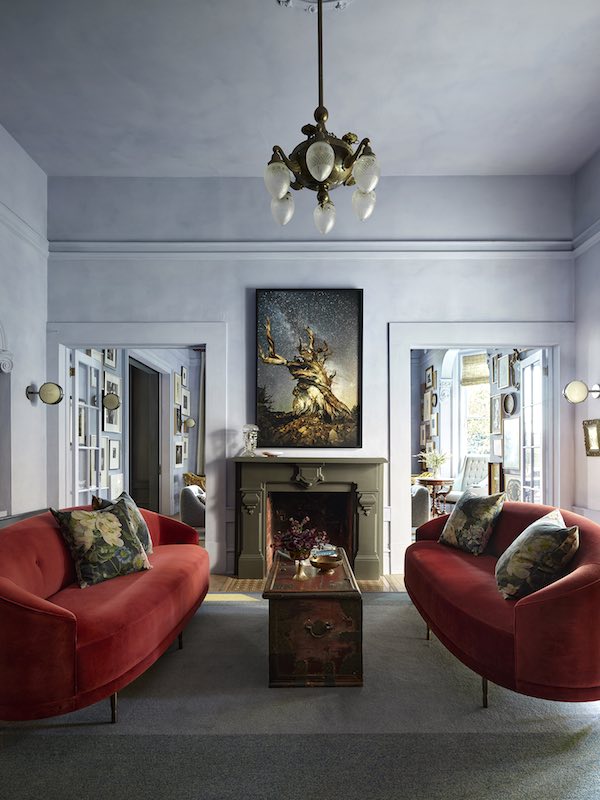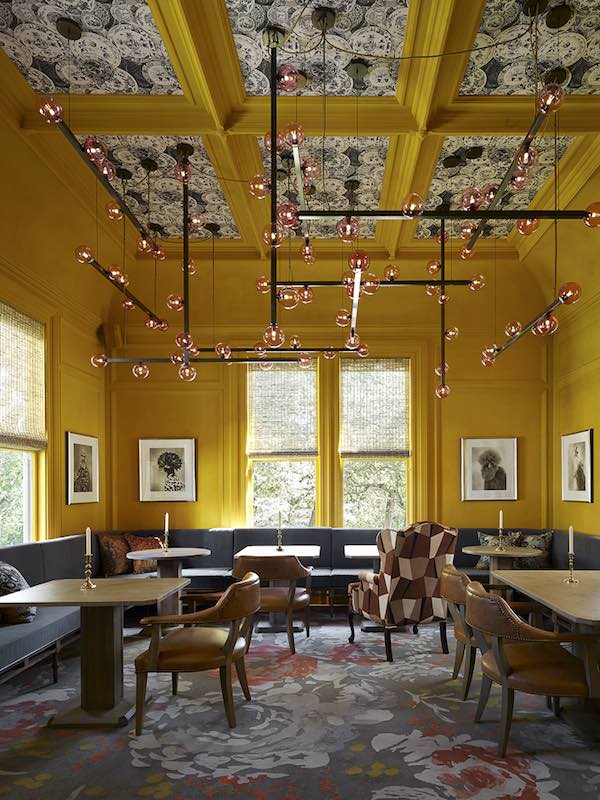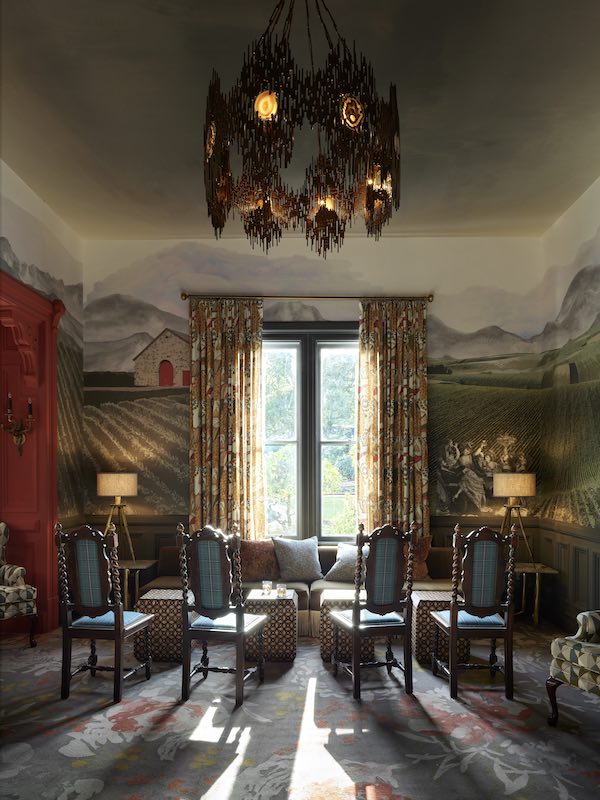 The Restaurant, helmed by Michelin-starred chef Jesse Mallgren, will be an all-day dining destination that embraces the flavors and welcoming hospitality that define Northern California. Chef Mallgren's love of international flavors and seasonal ingredients sourced directly from the on-site garden is bound to delight discerning diners. Our fave perks? Bath amenities by Flamingo Estate, and Van Moof electric bikes for a jaunt into Healdsburg.
Darioush: Napa Valley, CA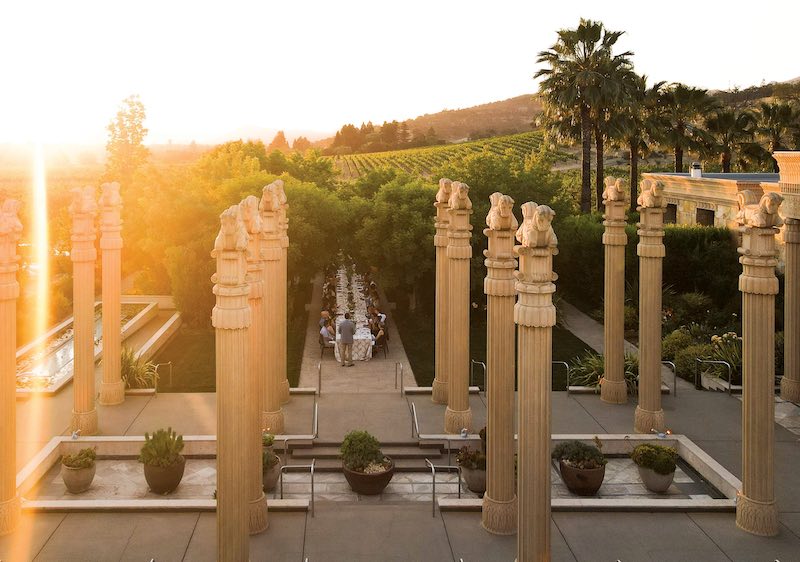 Darioush Winery is a visually spellbinding winery founded in 1997 by Iranian born Darioush Khaledi and his wife Shahpar. The couple had spent several years searching for an ideal vineyard site before settling in the southern part of the Napa Valley—in part, encouraged by Robert Mondavi. Their beloved hospitality "palace" was completed in 2004 and was constructed with stunning stones imported from quarries near Shiraz. This property is 33 acres and along with the winery is planted Cabernet Sauvignon, Merlot and Syrah. When Darioush purchased the property, vines were planted to Chardonnay and Sangiovese. Grapes for their Signature wines are not used until the vines reach at least 7 to 12 years of age. This is a winery where visitors often stop in for reasons other than wine, notably the incredible scenery as this is one of the "destination wineries" along the Silverado Trail.
Villa Bokéh: Antigua, Guatemala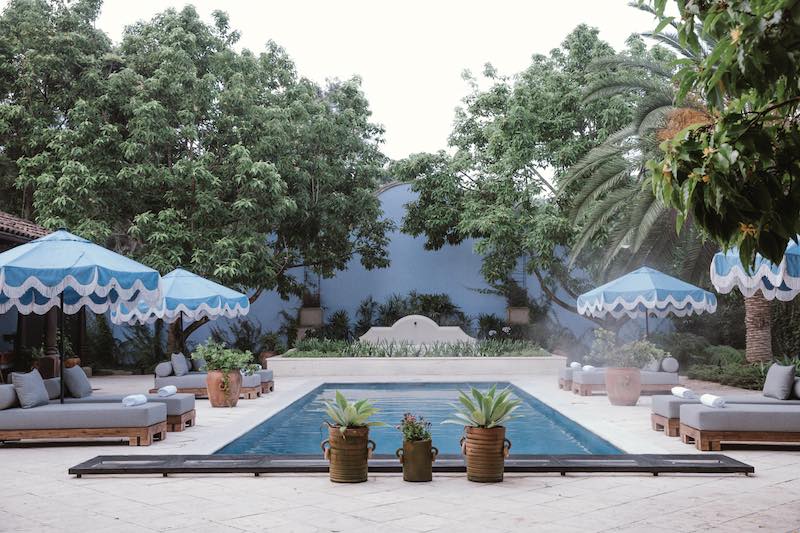 Villa Bokéh, the brand new debutante on the scene in Central America, is poised to be its next critically acclaimed darling. Wine lies at the heart of joy here, celebrating intriguing craft winemakers you won't find just anywhere. A mere 10 minutes from downtown Antigua, Guatemala's ancient colonial city and a UNESCO World Heritage Site, this intimate, tasteful boutique hotel provides a peaceful foil to its vibrant surroundings. Just in time for fall 2022, the dream team here will be offering a wine tasting experience right on trend with hyper-local pairings and niche varietal discovery. In November, the hotel will open a Rum Social Lounge complete with lively tastings, Latin music, and a stylish see-and-be-seen vibe.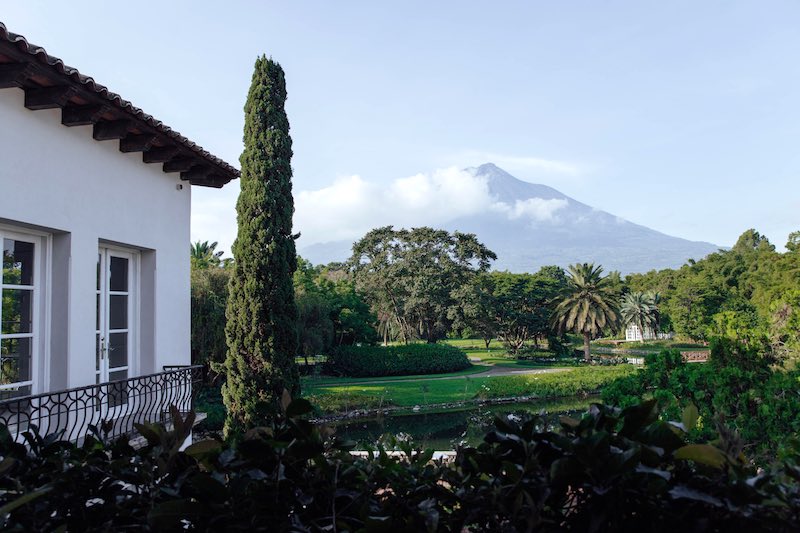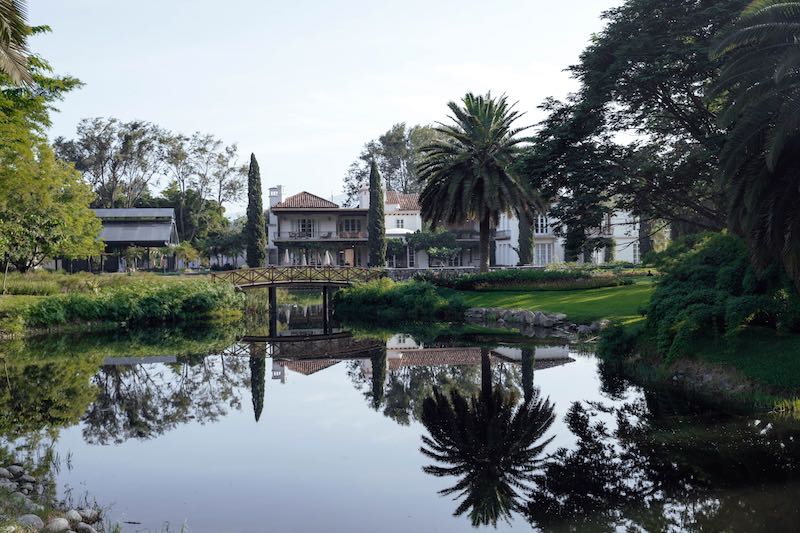 Gorgeous vistas are met with engaging activities that showcase the country's vivid indigenous heritage for an artfully inspired escape to this culture-rich destination. This sublime setting—especially the spa—is worthy of an epic romantic movie, as the hotel holds court in one of the most emblematic cities of the Spanish Golden Age.
An austere ambassador of Guatemalan wellness, Villa Bokeh's spa menu gracefully connects past, present, and future.
Folktale Winery: Carmel, CA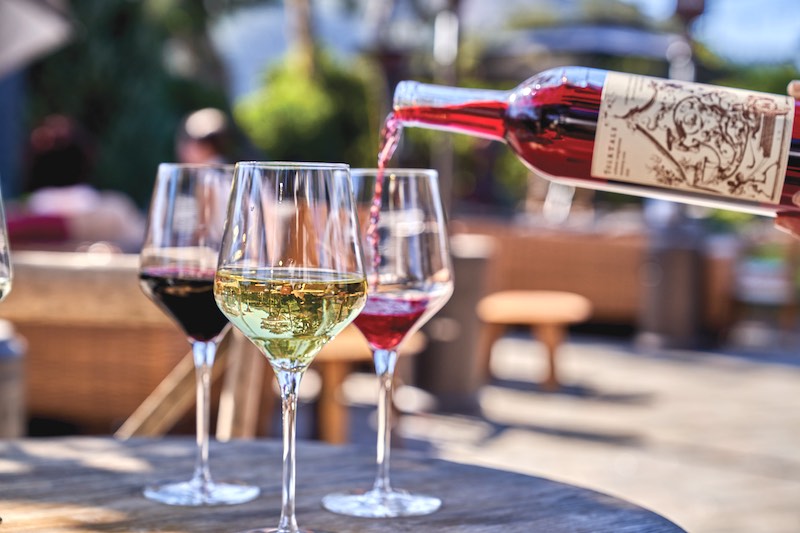 Nestled in the valley just 5 miles from the Pacific Ocean, Folktale is an easy drive from San Francisco. Situated on 15 acres of Sangiovese vineyards along the Carmel River, this is ground zero for a picture perfect day in wine country. Founded by a band of artists and craftspeople in 2015, these lovers of wine kinship brought their imaginations to this magical enclave of Carmel. Folktale was inspired by the idea that in every celebratory bottle of wine, there is a compelling story. The kitchen is a flaunt and flex of delectable foods and memorable flavors. The talented culinary team is inspired by the subtle shift in California seasons and offers delicious shareable dishes made for conviviality. All dishes are perfectly paired with organic, estate vineyard Folktale wines. Sunday brunch has been a beloved hit; they serve a locally sourced, unique menu under the blissful California sun.
Skyview Los Alamos: Santa Barbara, CA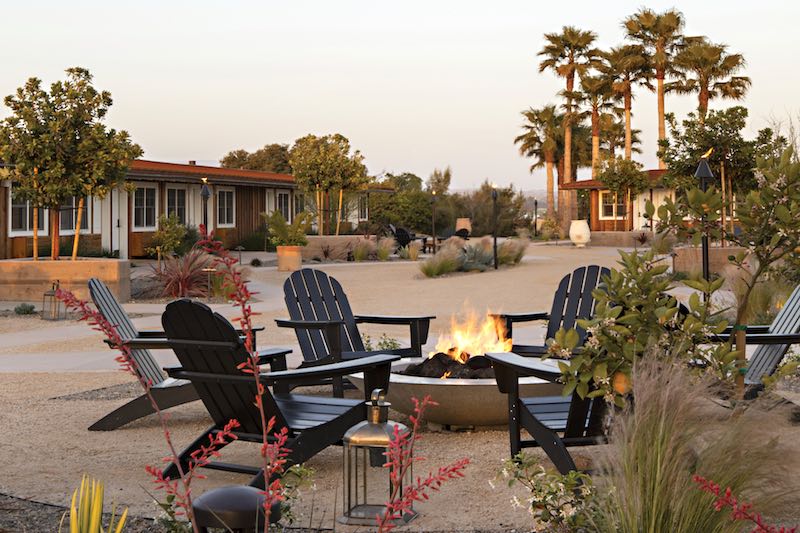 An iconic roadside motel turned boutique luxury hotel, Skyview's stylish 33 guest rooms, upbeat full-service restaurant, sparkling pool and working vineyard make this a playful getaway for wine enthusiasts. Perched on a hillside overlooking Santa Barbara wine country, the 5 acre outpost merges mid century style with modern rustic chic. Their wine experience is locally driven, with a boutique collection of 50 bottles highlighting Santa Rita Hills and Old World varietals. Additionally, the property's two-acre onsite vineyard produces the house wines (pinot and chardonnay). True to its 1950's roots, the restaurant's bar program showcases reinvented Classic American cocktails like the French 75, Old Fashioned, Manhattan, Negronis and more made from locally foraged ingredients. Welcome to Camelot by the pool with Spicy Palomas, Springtime Mules and Peach Bellini Popsicles with Thyme—adding a playful whimsy to the menu. The Skyview vineyards are a sight to behold, 2.5 acres of Pinot Noir grown and vinified as Skyview's House Wine by Mikey Guiliani of Scar of the Sea Wines.