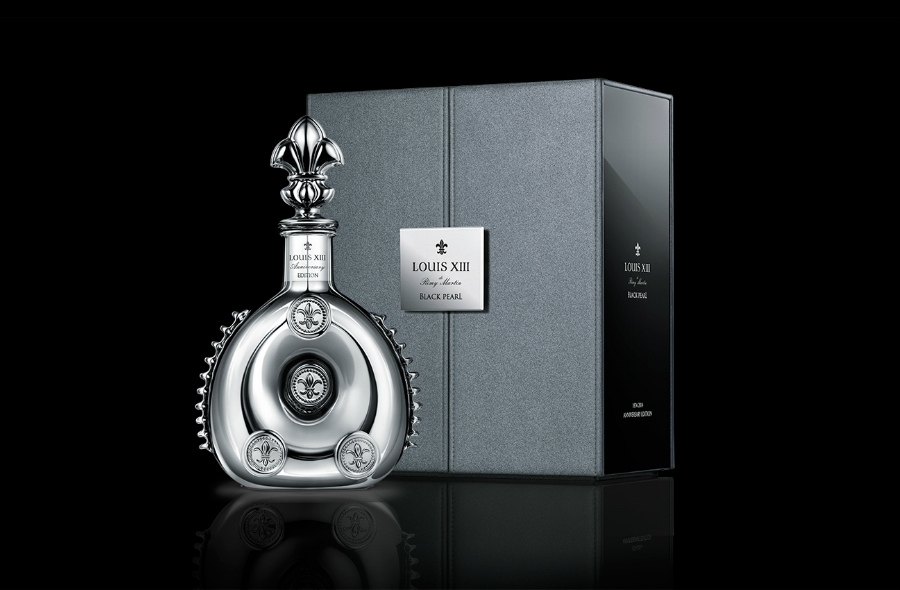 In honor of the 140th anniversary of LOUIS XIII Cognac, The House of Rémy Martin is unveiling a limited series of just 775 decanters of exquisite cognac taken from a single tierçon from the family's private cellars – the LOUIS XIII Black Pearl Anniversary Edition.
These numbered decanters are drawn from a unique 572-liter tierçon, which until now had been part of the exclusive reserve of the Hériard Dubreuil family, who owns The House of Rémy Martin, at their Domaine de Merpins.
Handmade a century ago using oak from France's Limousin region, the tierçon – marked C-100-93 – is only the third of its kind to be released by the family in the past 100 years. The extraordinary liquid contained in this tierçon exhibits the signature blend of nearly 1,200 eaux-de-vie for which LOUIS XIII has been known for the past 140 years – a unique combination that evokes aromas of myrrh, honey, plum, honeysuckle, wood bark, leather and passion fruit. A Grande Champagne Cognac, LOUIS XIII is the company's crown jewel – one that pioneered the super-premium spirits category with its debut in 1874 and continues to lead the category today.
Such an important celebration demands an iconic decanter: a contemporary "Black Pearl" version of the original metal flask that inspired Paul-Émile Rémy Martin when he created LOUIS XIII in 1874. To craft this superb metallic decanter, the House of Baccarat treated the crystal using a unique plating technique. This gives the decanter a beautiful reflective quality, with subtle contrasts of light and dark dancing across its surface. Achieving this dichroic effect involves layering successive thin coatings of precious materials (titanium, carbon and gold) one upon the other. The result is a true work of art.
Four generations of Cellar Masters and nearly 1,200 eaux-de-vie make the LOUIS XIII Black Pearl Anniversary Edition truly unique. Ranging between 40 and 100 years old, these eaux-de-vie from the Grande Champagne region give LOUIS XIII cognac its unparalleled aromatic complexity. LOUIS XIII gained worldwide recognition following the Paris World Fair of 1900, becoming a staple at all grand occasions. A favorite at the Swedish royal court and soirées in the Kingdom of Siam; on board the legendary Orient Express and the Normandie cruise ship's first trans-Atlantic voyage in 1935; at the first Christmas of Charles de Gaulle's exiled French government; and aboard the iconic Concorde in 1976. Today, it continues to be the ultimate, enduring symbol of celebration and achievement, and a favorite of those in the business, arts and creative worlds.
This anniversary offering will be available worldwide, exclusively from LOUIS XIII's partner outlets (including luxury and prestigious hotels, as well as leading wine merchants), for a suggested retail price of $16,000, plus tax. For more information, visit www.louis-xiii.com
By Carole Dixon, Editor-in-Chief, www.thecaratdiet.com