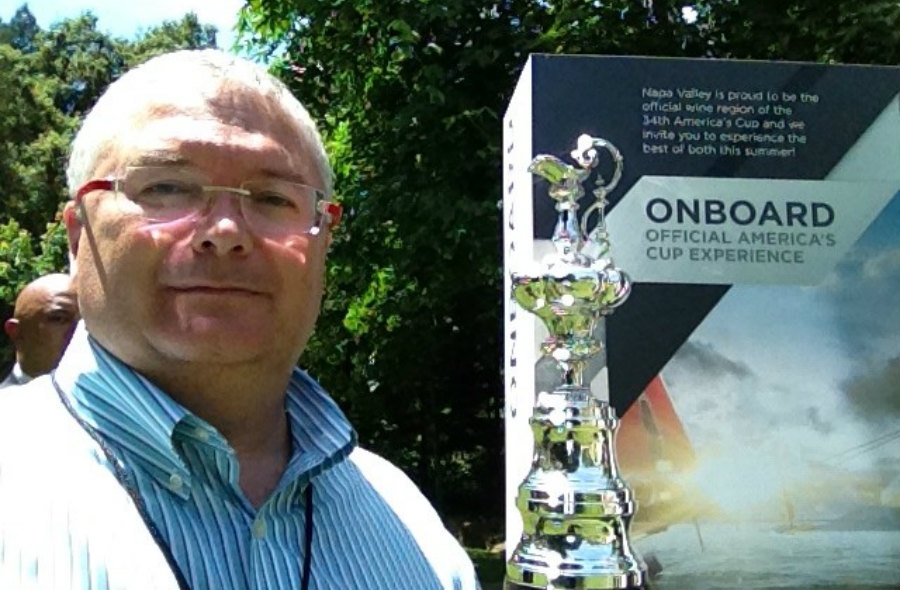 Vintners from the Napa Valley, the official wine region of the 34th America's Cup, will be pouring their wines in Newport, Rhode Island for the final stop of the 2011-2012 AC World Series.
What better way to celebrate summer than with a pairing of legendary American wines and sportsmanship?
"The America's Cup is a fantastic way to showcase the wines of Napa Valley. This high-profile, world-renowned sporting event's stature perfectly aligns with the high quality and world renown of Napa Valley, America's premier wine region," said Linda Reiff, executive director of the Napa Valley Vintners.
During the Newport events, June 23-July 1, 2012, America's Cup spectators can visit the Napa Valley Wine Lounge and enjoy Napa Valley wines while viewing the regatta, which will give the public an opportunity to watch the world's best sailors compete in state-of-the-art AC45 wing-sailed catamarans. Special Napa Valley wine selections will also be poured at Club 45, an exclusive VIP experience within the race park.
The America's Cup Newport Featured Wineries include: Acacia Vineyards, Beaulieu Vineyard, Blackbird Vineyards, Burgess Cellars, Cuvaison Estate Wines, Duckhorn Vineyards, La Jota, Long Meadow Ranch Winery, Robert Mondavi Winery, St. Supery Estate Vineyards & Winery, Saintsbury, Silverado Vineyards, and Spring Mountain Vineyard.
Throughout the months of June and July, more than 25 Newport and Providence area restaurants and wine stores are also focusing on the Napa Valley with special promotions, wine-by-the-glass offerings, and in-store vintner appearances.
Similar to Newport's history as one of the great seaports of Colonial America, the Napa Valley is known for its great wines and is home to the founders of America's fine wine industry–legendary entrepreneurs who showed the world that the art of winemaking had crossed continents. The region is prized for its natural beauty, 14-Michelin Star culinary scene, world-class hotel accommodations, robust arts community, and one-of-a-kind wellness experiences including the region's famed spas, mud baths and healing geo-thermal hot springs.
"The 34th America's Cup is focused on creating a one-of-a-kind experience for every fan, so we look forward to showcasing the bounty that the Napa Valley has to offer to our guests," said Stephen Barclay, interim CEO of the America's Cup.
About the America's Cup One of the most fiercely competitive and sought after trophies in all of sport, the America's Cup was first raced in 1851, 45 years before the modern Olympics. The US yacht America won, giving the international sailing competition its name.
The next Louis Vuitton Cup, America's Cup Challenger Series (July-August 2013) and America's Cup Match (September 2013) will be held for the first time on San Francisco Bay, a natural sailing arena where more than one million spectators are expected.