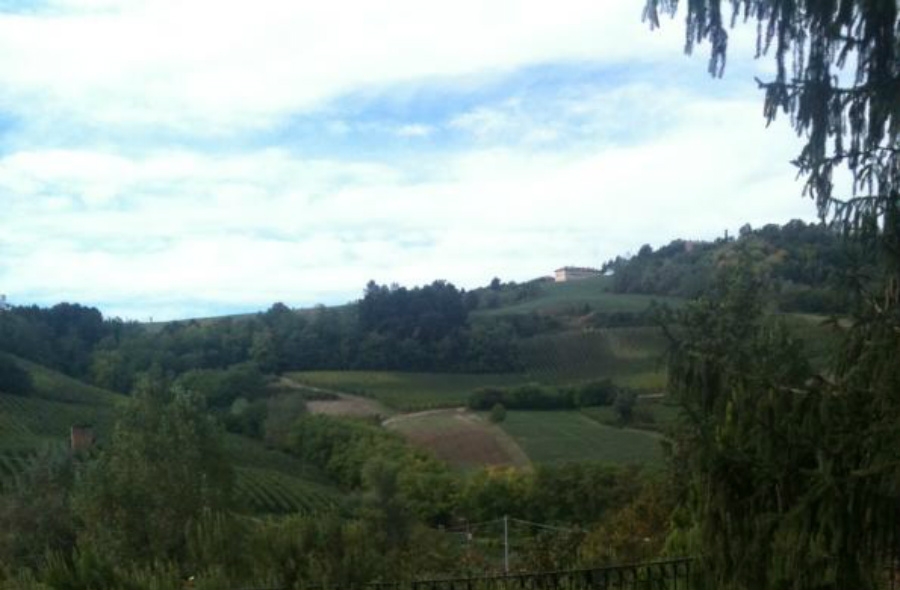 If you're looking for a relatively undiscovered Italian wine region known for stellar sparkling and rose varietals, look no further than the Oltrepo Pavese region and the Provence of Pavia about 40 miles from the fashion capital of Milan.
On your next shopping trip to Milan – especially if it's during Fashion Week and even a lackluster hotel is hard to come by, look into 5 Star Service run by Alejandro Mazza and Emotionphy Communication. This hospitality service focuses on finding private luxury villas for your stay in the city center – not an easy feat, but the gracious staff makes it seem effortless. Some of the properties can sleep up to six people and include hotel amenities such as toiletries, robes and they will even stock the kitchen pantry for you. If you're lucky, a bottle of Jule sparkling spumante will also be found in the fridge for a welcome toast. Their concierge services are also top notch from securing dinner reservations to fashion show tickets.
Before you leave Milan, apart from the obvious designer shopping excursion on Via Spiga, be sure to load up on epicurean goods from the region such as olive oils, saffron and truffle salt at Peck on Via Spadaria – think Harvey Nichol's or Harrods's food court in London; then stop on the roof of the la Rinascente department store for a view of the Duomo and several bars to choose from. Aperitivi in Italy includes several small plates of snacks with your drink order, so this is a great spot to refuel before more retail therapy or a night on the town.
For your wine country excursion, Pavia lies within the Lombardy region and Oltrepo Pavese just on the other side of the 'Po' river where rose, pinot grigio, pinot noir and cabernet grow on acres of vineyards, but also the indigenous sweet Croatina grape used for many red wine blends. This area has been coined a mini-Tuscany for the rolling green hills and vineyards taking up most of the landscape between terra cotta style roofs and sunset colored villas with the odd turret of a medieval castle jutting out of the picture-perfect view. This region actually holds the second largest D.O.C. in Italy which might come as a surprise, along with the fact that it was at one time considered part of the Piedmont region and that many of the 600 winiers are run by women.
If you can only visit one winery make an appointment at Ca'di Frara for a tasting with fourth generation winemaker Luca Bellani. With long salt and pepper hair, he looks like he spent more time in rock band than a vineyard, but his sparkling wines and Rose Reserve are some of the best we've ever tried – outside of France. Lucky for us in the states, they should be distributing soon to Wally's Wine in Westwood, in no small part thanks to their glamorous Marketing Director Veronica Barri. Also look for the label's Pinto Grigio, Reisling and Pinot Nero.
You'll want to stay close to this Oltrepo Pavese vineyard, so look no further than a charming bed and breakfast style hotel called Villa Arabella owned by a British and Italian couple Paul and Arabella Lizioli. With only three rooms you can take over the place if you're traveling with a few couples. In the morning, Paul makes amazing fried eggs with sage and bacon which is far cry from a stale pastry that you would get at most other accommodations. If you want to spend the afternoon away from the vines and just staring at the view from your terrace, a lunch can be arranged down at the resort-style pool where they also have a pizza oven.
If you do feel like exploring, nearby walking tours of the salt trails can be arranged as this region is also known for that mineral. You can also visit a goat cheese farm and restaurant where the range of pure creamy fromage includes ricotta, herb, and blue cheese or wrapped in walnut leaves. Another must along the eating trail is the salumi factory and La Piola eatery. It might be a mom & pop operation but they also hold an annual Flying Pig festival each year with a master of ceremonies and you must be a member of the 'association' to try some of the select cuts from the noble part of the pig. Finally, you can arrange to tour the Castello di Mornico Losana which is privately owned but the site of many dream weddings. They also have four stately rooms that you can book on the grounds just adjacent to the pool and main home for a longer stay.
For more vino, Cabanon is also another 4th generation family owned winery with a top female winemaker Elena Mercandelli – who was also the youngest producer of the region when she started crushing grapes at just age 14. They probably sell more Cab, Barbera and Pinot Noir, but we found the Riesling and Rose to be a nice surprise, plus they make grappa as well. After a long day tasting wines, head for a sublime fine dining experience at Sasseo which is the site of a former rock quarry and now a quintessentially romantic 17th Century farmhouse style building where they do many weddings in the courtyard, and they also carry the Ca'di Frara wines. Their risotto preparation is done table side and the suckling pig or Milanese style breaded beef is also a menu must. For a more casual evening, head to Villa Alpeggiani for a truffle pizza which pairs well with a bottle of the local Jule spumante.
In the central town of Pavia, you can visit a monastery but be sure to take a leisurely walk past the Duomo down a few side streets packed with boutiques and cafes. We loved the modern Italian interpretation with a French twist at the tiny Erbaluce for a long lunch. Expect spoonfuls of gorgonzola gelato with draped with Parma ham; pumpkin crepe with tomato sauce; white fish and fava bean stuffed peppers on belini triangles; and escargot with pancetta encased in soy spaghetti. You might think all of these inventive dishes were coming from a famous Michelin-starred chef, but the modest female chef Antonia Plati is a self-taught cook and former attorney.
We look forward to many of these Oltrepo Pavese local delicacies mentioned heading stateside soon with the Pasquini family operation –already known for their sublime espresso and legendary machines from the province, with the support of the Italian American Museum, start opening true Italian trattorias in select parts of Los Angeles in spring of 2014. We will keep you posted but in the meantime, salute!