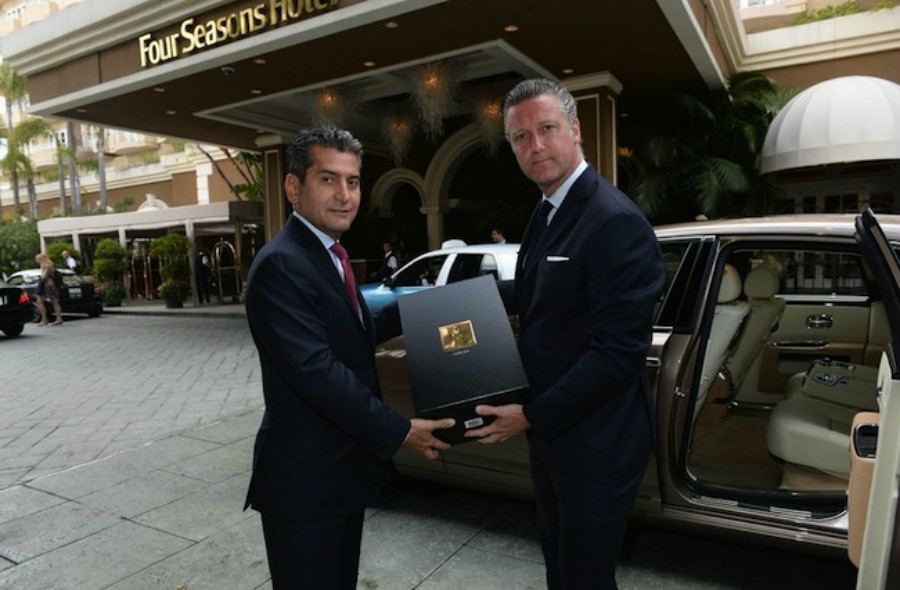 Guests at the Four Seasons Hotel Los Angeles at Beverly Hills will be among the first lucky patrons in the U.S. to taste the highly coveted LOUIS XIII Cognac RARE CASK 42,6, which arrived dramatically escorted in a ROLLS-ROYCE Ghost, by Rémy Cointreau USA Vice President of Prestige Brands Yves de Launay.
The bespoke Inca Gold color of the sublime vehicle matched the 22-carat rose gold neck of the cognac decanter – which was hand-crafted by Baccarat, naturally.
LOUIS XIII RARE CASK is the discovery of one unique barrel among the hundreds of century-old tierçons that will become LOUIS XIII, and is only the second distinctive barrel to be discovered in the venerable Cognac 's nearly 140-year history – reflecting the complex unpredictability of nature as well as the contributions of four generations of gifted cellar masters.
This exceptional tierçon contained only enough cognac to produce 738 decanters, which are being distributed to a select list of retailers and establishments around the world. Each decanter is engraved with a unique number from 001 to 738. The rare blend offers an exquisite taste profile featuring an incredible richness and aromatic intensity, and an alcoholic strength of 42.6 percent alcohol by volume, slightly higher than the 40 percent of classic LOUIS XIII.
A tasting of RARE CASK 42,6 will be available at the hotel's Windows Lounge and will be available to patrons in different pours starting at $1000 for a 1/2 ounce. The rare cognac celebrates the classic LOUIS XIII blend of 1,200 eaux-de-vie, 100 years in the making, here featuring salient aromas that are unique to this one precious cask. Discovered in the fall, it appropriately features autumnal notes of plum and dates, mingling with flavors of gingerbread, prune stone and ginger, and punctuated by a final touch of tobacco leaf.
The iconic black crystal decanter for the collection was created exclusively by Baccarat, utilizing all the skill and expertise of the famed crystal house's talented masters. A team of more than 20 master craftsmen complete more than 50 steps in creating a single RARE CASK decanter, all of which must be carried out while maintaining the opaque crystal at a constant temperature.
RARE CASK will also soon be available by the glass at other select establishments across the U.S. including Ago in Los Angeles , the New York Palace , Café Nuovo in Providence , the St. Regis Atlanta, Bern 's Steakhouse in Tampa and Villa Azur in Miami . Decanters of LOUIS XIII RARE CASK 42,6 will be priced at approximately $22,000 retail (excluding sales tax). For more information on LOUIS XIII RARE CASK 42,6, visit www.rare-cask.com; more information on LOUIS XIII is available at www.louis-xiii.com