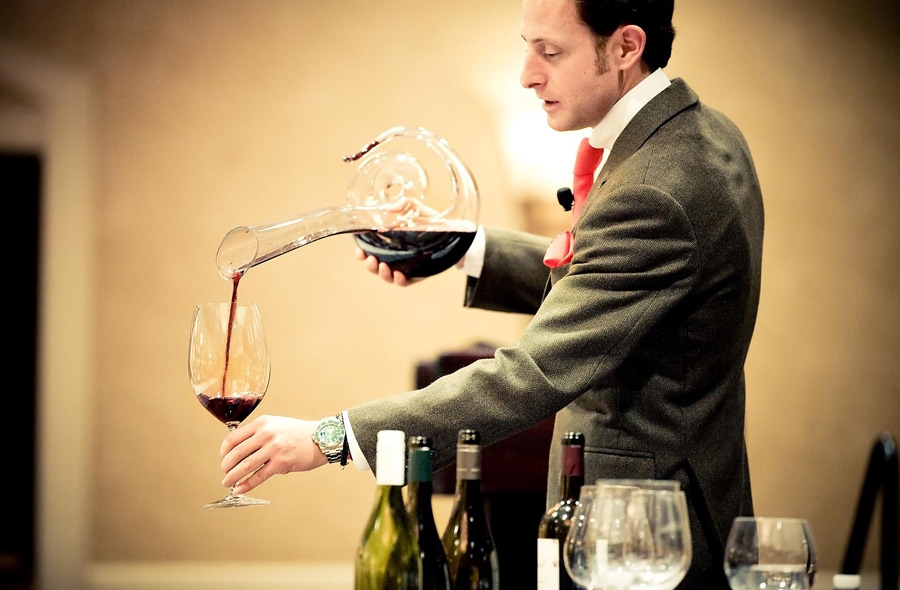 Wines are made for the purpose of "provoking pleasure."
The appreciation of wine requires that we measure the amount of pleasure each wine provokes. Some wines provoke more pleasure than others and this is always reflected in the price one pays for the wine. We begin by analyzing the aromatics (aroma/bouquet) with our nose and this if followed by tasting on our palate. Really fine wines reveal themselves with ethereal aromatics that are always followed with equally impressive, long lasting flavors. Not all wines were created equal. Less expensive wines are suited for simple dining experiences while more expensive wines lend themselves to special occasions and people who understand fine wines.
I'd like to share with you my philosophy on how one invests in wine for Power Entertaining. I will refer to the diagram below which is titled "The 3 B's of Wine Hierarchy"
Just like the wines, those friends and clients whom we choose to entertain come in different flavors. Not everyone is equally experienced with wine and this is where the fun comes in—teaching them something by creating an experience with food and wine. Start them with simple (Beverage) wine and, as their experience develops, bring them up a notch to Better and, if merited, BEST!
Power Tools
Keeping within my theme of Power Entertaining, you need to have some Power Tools. To create an experience that goes beyond your guests' expectations, Power Tools arm you with those subtle distinctions that set you apart.
I enjoy entertaining with wine from each of the three quality levels seen in the diagram. As the wines continue to increase in value I like to make sure that my guests can experience them to their fullest expression. The following are among the items you need to seriously entertain with wine:
Glassware
The pleasure of enjoying wines starts with the glass. You need to have sufficient glassware. For those of you who have experienced my Power Entertaining dinner event, you know that I always serve two wines, side-by-side for taste comparisons. I call this the "intellectual component" where you can teach your guests something about different wine styles (Oregon Pinot Noir vs. California Pinot Noir). For example, if you entertain six people and choose to serve them in this fashion you will need two glasses per person (12 glasses). I suggest you have a dozen white, red and tulips for bubbles. As I've mentioned, when wines progress in price, I feel that the host should upgrade the quality of glassware for maximum appreciation. Simple wines need simple glassware; complex wines deserve complex glasses.
My choice of glassware is Riedel, the Rolls-Royce of fine crystal glassware (www.riedel.com). The correct pronunciation of these is easy: it rhymes with "needle." Riedel has an unbelievably vast collection of superb wine glasses to choose from. How much to spend on wine glasses? A good rule of thumb is to spend about as much on the glass as you spend on the bottle of wine. Here is what I use:
For Best: Riedel's Sommeliers Collection
For Better: Riedel's Vinum Collection
For Beverage: Riedel's Ouverture collection
Decanters
Always decant your red wines. Decanting a wine allows it to open up and breathe. Decanting also allows you to pour wine off of its sediment. Allow at least one hour. Do not substitute using a fine decanter with one of those speedy wine funnels that everyone gave you in your Christmas stocking. You should not be in a hurry, take the time to decant. No Master Sommelier would dare to use one of these devices at your table. Using a decanter contributes the added dimension of theater. Riedel also makes the best decanters. My favorite is their Cornetto because of its impeccable balance.
Drink Don't Dry!
Use your fine crystal glassware and decanters tonight and wash them tomorrow. You will lower the kill rate on your stems by 20 percent.
Polish your glasses each time before putting them away. Use a micro fiber cloth (no lint). That way, they are ready for use on-demand. Water spots are not acceptable.
Have several glass wine bottle coasters handy to keep from soiling a white tablecloth. Your bottles may collect dust and dirt as your hobby grows and as your collection of wines ages. Riedel makes some lovely glass bottle coasters.
Power Tools arm you with those subtle distinctions that set you apart. If you don't have them, you're simply not in the game!
---
Eddie Osterland, M.S., is a nationally acclaimed speaker on food and wine and was the first American to receive the Master Sommelier certification. For the last 25 years, he has worked with event, meeting planners and hosts to customize corporate and private parties and special occasions, adding his own unique touch and perspective to create unforgettable culinary experiences. His clients have included General Mills, American Express, Morgan Stanley Smith Barney, and Procter & Gamble.