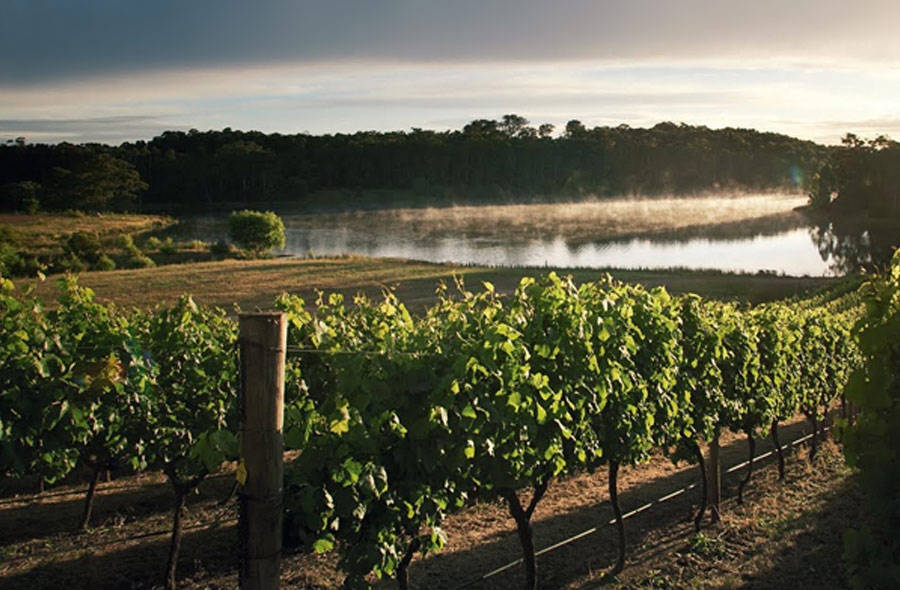 California may be the most famous wine-growing state in the USA, but the entire West Coast produces wines of world-class quality.
I'd like to introduce you to the styles of the Pacific Northwest Wine — specifically, Oregon and Washington.
Oregon and Washington are the USA's answer to Burgundy and Bordeaux, respectively. The wines made there are beautiful and quite different from the same versions made in California. Oregon, which sits on the same latitude as France's famed Burgundy region, is best known for its "Burgundian"-styled pinot noirs and elegant chardonnays. And Washington is fast on the heels of California, producing great cabernet sauvignon and merlot, among other varieties.
Of course, one of the most exciting and educational ways to experience what a wine region is all about is to travel there. An extremely close second is to taste the best examples of what different regions have to offer and compare them to one another. I suggest that when you are entertaining friends and clients that you always serve two wines in order to compare them intellectually. This is the best way for your guests to learn something specific. Accordingly, I am going to suggest some wine pairings that will best accomplish this "educational component" of any dinner events you conduct.
Chardonnay
Chardonnay is not exclusively grown in California in the United States at the highest quality level. Many sommeliers prefer the chardonnays grown in the Pacific Northwest in fact. Believing that there are more than a few California examples exhibiting enough oak to cover up the subtlety of the fruit and "terroir."
These two examples will show you the elegance and complexity of this grape, while not sacrificing the wonderful fruit that USA wines have come to be associated with.
Oregon
Chardonnay is destined for great things in Oregon; their pinot noirs have already reached legendary status. It's amazing what these dedicated producers are making now, and we can't wait to see what their future holds.
These wines possess delicate bosc pears, chamomile tea, and honeysuckle high-toned aromas, alongside baked apples and lemon custard-like flavors. They are brimming with ripe fruit and balanced by juicy acidity. What else should we look for in great chardonnay?
Washington
Although still in its youth, relatively speaking, Washington is growing in quality by leaps and bounds. Chardonnay has become the leading white wine varietal alongside the red: cabernet sauvignon. One of the main things that has made Washington's wines unique is its climate. The High Steppe Dessert in Eastern Washington has very warm days, and then the temperature plummets into very cool nights. The warm days ripen the grapes, and the cool nights help them retain a refreshing acidity.
The chardonnays are a great example of this. They show seductively ripe fruit on a full textured frame, and the lively acidity will dazzle your palate. These wines can rival some of the great white Burgundies at a fraction of the cost.
In Closing For power chardonnay, California is your Clydesdale. For elegance and balance, the Pacific Northwest wine is your thoroughbred.
Oregon Pinot Noir
There is an unwritten rule for wine that says, "The more specific the site is, the better the wine will be." This modicum could not be truer than with the grapes of pinot noir.
One of the best ways to see the difference in quality and complexity would be to compare a generic Willamette Valley wine and the site-specific sub-region wine. You are certain to be impressed with how different they are, both stylistically and qualitatively.
Willamette
Many of you may be familiar with Stephen Spurrier's 1976 Paris tasting event depicted in the movie Bottle Shock. That event put California on the wine map, so to speak. What many don't know is that Oregon earned its original druthers in much the same way just three short years later. David Lett of Eyrie Vineyards entered his 1975 pinot noir in the 1979 Wine Olympics held in Paris. He took second place — bested only by Drouhin's legendary 1959 Chambolle-Musigny — and beat out many other extremely prestigious Burgundies, including many from Grand Cru vineyards.
The long, warm summers of Willamette Valley make it ideally suited to this noble but very fickle grape. The pinots here show remarkable elegance and are brimming with sour cherries, sweet mushrooms and the savory spice of cinnamon and cumin.
"WILLAMETTE" (Sub-Regions)
Many people are aware that famous regions like Napa Valley and Sonoma have distinct "sub-regions" (Napa: Oakville, Mount Veeder, Stags' Leap District, etc; Sonoma: Russian River Valley, Sonoma Coast, Alexander Valley, etc). Each has a specific wine-growing style and personality. In 2005, Willamette Valley began the process of identifying distinct sites that were noted for producing high-quality wines of distinctive styles. As of today, there are six specific sub-regions: Ribbon Ridge, McMinnnville, Dundee Hills, Chehalem Mountain, Yamhill-Carlton District and Eola-Amity Hills. These six sites have demonstrated their ability to produce wines of great complexity and character.
In Closing
Willamette Valley is a relative baby when compared to the longstanding traditions of Burgundy, but this exciting newcomer region has managed to compete with (and often conquer) the great wines of its older cousin in a very short period of time. These wines are destined to become some of the best in the world.
Washington Merlot Vs. Washington Cabernet Sauvignon
These two classic Bordeaux grapes have taken a very strong foothold in Washington, cementing the state's reputation as the Bordeaux of the USA. Just like with the chardonnays, these wines are very different than the ones grown in California and France. They straddle the fence between New and Old World, exhibiting the best qualities of each. The heat of the High Steppe Desert during the day, and the severe temperature drop at night make Washington an ideal climate for cultivating these (and many other) grapes.
The wines show great power and depth, along with the elegance to match. Many sommeliers agree that the merlots here can rival some of the best ones made in Bordeaux's Pomerol region. And the cabernet sauvignons we'll put up against any made in the world.
Washington Merlot
Merlot has received a bad rap since the movie Sideways. It seemingly got pushed to the side after Miles' famous rant: "I'm not drinking any f****** merlot!" There were many lackluster merlots around, but those were typically afterthoughts of producers who were only interested in making cabernet sauvignon. They would end up with a few barrels of merlot made only to blend into their cabernets, and tossed them into a bottle, slapped a label on them without a thought to their individual quality. It's akin to dining at a great restaurant and being served yesterday's leftovers. Not exactly a recipe for great merlot, is it? Washington has many merlots, however, from producers whose goal it is to make great merlot.
The wines are velvety soft. They explode with chocolate-covered plums, sweet baking spices and juicy, ripe tannins. It's a shame Miles hadn't discovered their beauty. Luckily, you won't make the same mistake.
Washington Cabernet
Cabernet, like pinot noir, requires a long growing season to come to full ripeness. Can you think of a better area than one with little rainfall? Late rains have spoiled more cabernet vintages than anything else. Eastern Washington doesn't have that issue, though. The Cascade Mountains keep it all in Seattle. The long season allows the cabernet to slowly ripen, without sacrificing delicacy. These dark currant, cedary wines will seduce your senses.
The average American tends to serve only California wines from Napa and Sonoma, utilizing chardonnays, cabernets and merlots. If you want to stand out, I strongly suggest that you take a look at the best wines of the Pacific Northwest wine. I have an easy way to do this. Take a look at Mycellarmaster.com. You will find a Pacific Northwest Wine tasting kit that has all of the elements I have just discussed.