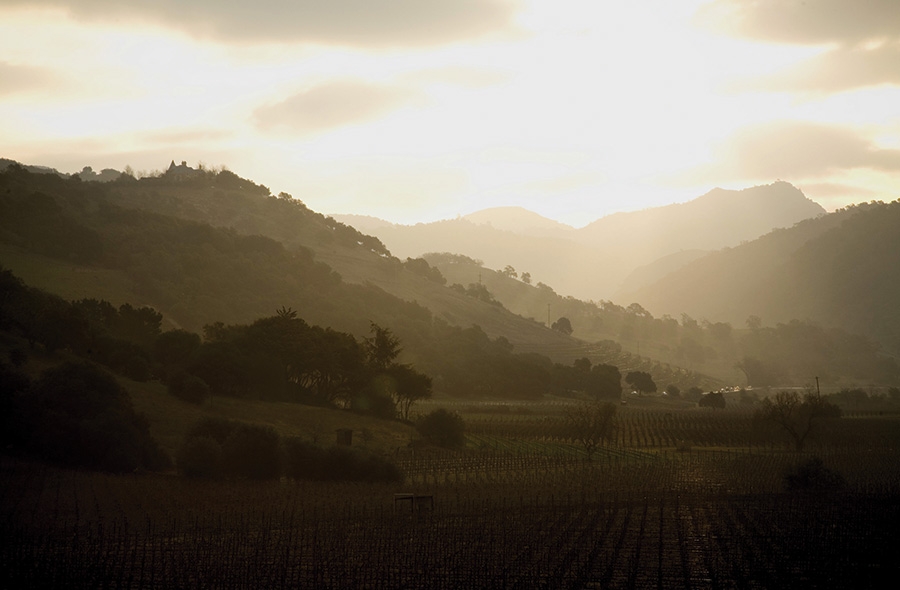 Did you ever wonder how the Napa Valley looks in the middle of winter during the holidays?
Winter is a great time to visit Napa. It is pretty quiet, as half of the wineries are closed to allow their employees time to enjoy the holidays, but it is also pretty festive. The vines are bare with no green leaves or grapes, but are still mysteriously beautiful. Sometimes, with the fog, it is magical just to see the vineyards early in the morning. Start making your travel plans now, because Napa Valley will have a lot to offer during this upcoming holiday season starting in early December.
Thomas Keller's restaurant, The French Laundry in Yountville, recently celebrated its 20th anniversary. Keller's restaurant remains the pinnacle of fine dining in the United States. In fact, with Per Se in New York, Keller is the only American chef to have Michelin three-star restaurants on both coasts. In 20 years, The French Laundry has been a training ground for chefs across the country, including René Redzepi of Noma in Copenhagen (voted best restaurant in the world in 2014). French cuisine remains Keller's basis of his cooking. In the past 20 years, the menu has been constantly changing, but some of Thomas' legendary dishes are still on the menu. The French Laundry is working on expanding the iconic restaurant and construction should be completed by Christmas.
Reservations can be made at FrenchLaundry.com.
Another outstanding place to visit during the holidays is Napa's premier luxury hideway, Meadowood Resort in St. Helena, and its three Michelin-starred restaurant, The Restaurant. If you like exceptional food, wine and exquisite five-star accommodations, don't miss "The Twelve Days of Christmas," (December 5-20) hosted by acclaimed Chef Christopher Kostow. The event is returning for its seventh season. Eleven influential chefs from around the world such as Matthew Orlando, Frank Castronovo, Alexandre Gauthier and Virgilio Martínez will cook in collaboration with Chef Kostow and each will be paired with one of twelve legendary vintners.
If you want to participate in one or more of these twelve nights, visit Meadowood.com/holidays.
You can visit hundreds of wineries in Napa, but this holiday season you must stop at Stag's Leap Wine Cellars, one of Napa Valley's most iconic wineries, to visit their new $7 million, 6,000 square foot visitor center. Guests are now able to stop in for tastings and are offered a menu of special tours and tastings that can be booked in advance at Cask23.com. World-renowned, Barcelona-based architect Javier Barba created the design for the center to take advantage of the stunning views of the estate vineyards and the Stags Leap Palisades, as the mountain and its legend are central to the Stag's Leap Wine Cellars story. Using plenty of glass in the design for natural light, the space is bright and natural. It allows you to witness the changes that the seasons and climate have on the vines in a way that has never been seen before. The new visitor center has a contemporary look and uses materials that blend with the winery's setting and elements from the land.
To help you book your trip to Napa Valley, we recommend visiting Napavintners.com. Happy holidays in Napa!