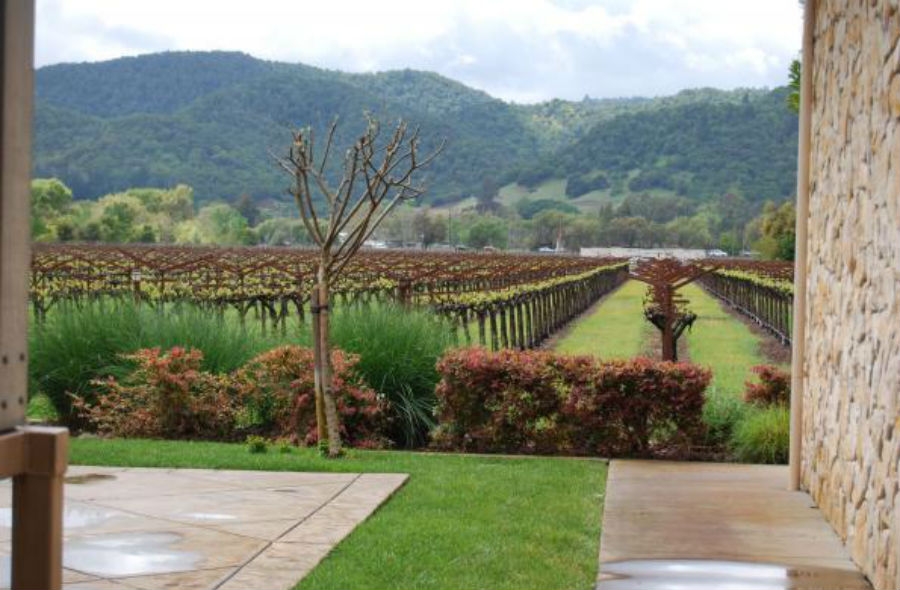 Unless you've been living in a culinary cave for the past decade or two, you know that the picturesque, tiny 1.5 mile Napa Valley town of Yountville was put on the map by Chef Thomas Keller when he bought the French Laundry in 1994.
The multi-course fine dining tasting menu is still one of the hardest tables to book in the world and Keller followed that masterpiece up with a casual French bistro Bouchon and next door walk-in bakery. After he opened Ad Hoc, the family style supper eatery, known for the best fried chicken this side of the Mississippi, the town was coined 'Kellerville.' The low-key chef's latest act is not another restaurant but a retail shop, aptly titled Finesse, tucked away behind the bistro and bakery in the middle of town. Here you can outfit your kitchen with cookbooks, tea towels, aprons, wooden spoons and even packets of gardening seeds that all bear the Keller brand in one way or the other. While the austere shop probably won't be the next Napa Style – crammed with colorful kitchen and garden housewares indicative of the region, a café and cooking demonstration area, its worth perusing to pick up a few one-of-a-kind souvenirs.
While you're still in an exploratory mode, a visit to the historic 1870 V-Marketplace is still a worth-wild pursuit as you stroll past shops selling local art, jewelry and wines, be sure to pop into Kollar Chocolates. The artisan chocolatier Chris Kollar make small batch confections such as the popular chocolate fennel pollen. If you crave a savory bite after that experience, Emmy Award-Winning Chef Michael Chiarello's Bottega restaurant is just across the way. Order a shaved Brussels sprout salad, charcutterie and short rib meatballs.
Along with Keller and Philippe Jeanty (owner of Bistro Jeanty), the other restaurant player in town is Richard Reddington the chef-owner behind the upscale Reddington's – and now the hot-spot pizzeria Redd Wood which shares a courtyard with our new favorite boutique hotel North Block. All the cozy rooms have a modern chic touch with glass enclosed fireplaces, and deep marble soaking tubs. They also have a spa located below the main check in desk (just past the cheeky Sex Pistols sofa pillow), offering massages and facials, including the 'un-corked' using ground grape seeds and wine corks to ease any muscle tension. After that experience, head to the restaurant for spaghetti carbonara with pancetta and wild mushrooms or a four cheese pizza. We should also mention they serve an amazing breakfast sandwich in the morning piled high with crunchy bacon, egg and crispy potatoes. After this experience, you just might want to rent the studio apartment upstairs and extend your stay.
Tuscan inspired Villagio Inn and Spa, or The Vintage Inn across the street, are still setting the bar for high-end accommodations and one of the best spa facilities in the region, but one stand-out new kid on the block is the modern, LEED Platinum certified Bardessono. The wood façade of the property holds stylist suites in creamy neutrals that blend seamlessly to the outdoor showers and garden areas. In the kitchen at Lucy Restaurant & Bar Chef Scargle whips up a vibrant English pea soup with Meyer Lemon panna cotta and delicious lobster risotto, but this summer they plan to throw poolside cocktail parties which will take place the last Thursday of each month in June, July and August. All 'Dive Bar' events are open to non-hotel guests and take place on the hotel pool deck from 6-8pm, where signature summer cocktails and small bites are offered.
Before dinner – or anytime during daylight hours that strikes you, stroll the town and discover small local tasting rooms. One of our favorites is Ma(i)sonry which is located in the second oldest stone building in town and just across the road from The French Laundry. With a living art gallery and ample garden area, this venue is perfect for tasting their Arise, 2011 which is a merlot, cab franc and cabernet sauvignon blend.
Yountville, Napa Valley
Another top stop is Jessup Cellars. The 2012 Chardonnay Los Carneros is exceptional and so is the art gallery. Their Taste Maker Speaker Series currently includes an exhibit inspired by the music of Neil Young, by Jenice Heo and it's perfect to view while sipping and swirling.
If you decide to drive around the vines Bell wines is just on the outskirts of town and is well known for celebrating the South African style of Sauvignon Blanc which you can sample in their handsome tasting room. For a dining experience outside of the village area, a four-course tasting menu at étoile located at Domaine Chandon is a must reservation to obtain. From crab salad with asparagus to Mediterranean Bronzini or Liberty Farms duck with black garlic, this is an unforgettable dining experience paired with sparkling wine, rose and pinot noir made in the classic French Champagne tradition.
Regardless of how you map out your stay, you won't be able to forget the epicurean tastes and rolling vines of this charming town. For more information contact: yountville.com.
By Carole Dixon, www.thecaratdiet.com