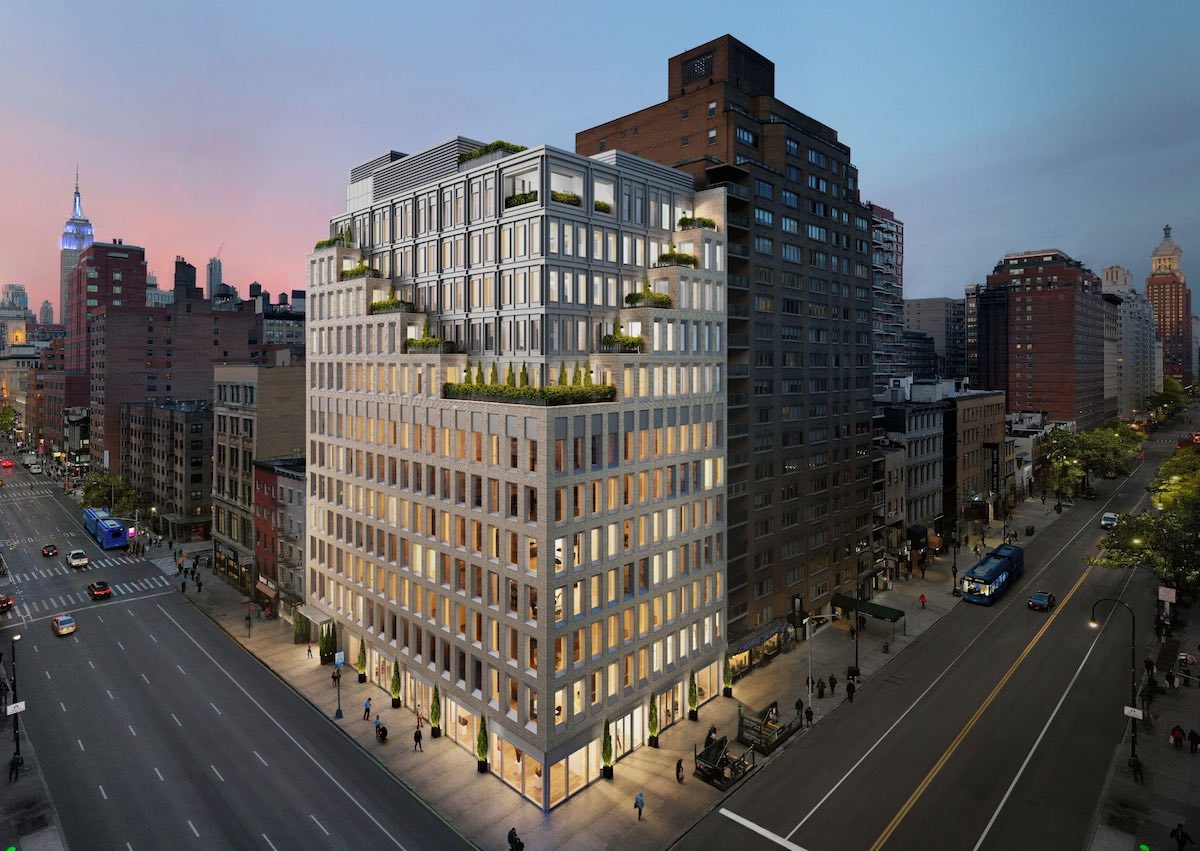 New York City is not only famous for its glamorous, fast-paced lifestyle but also its towering skyscrapers and condominium complexes—lavish homes that invoke envy and set trends all around the world. People flock to NYC for job opportunities and the vibrant social scene, but even the savviest urbanite can grow weary of the daily grind of city life after a while. For some, staying in the Big Apple long-term can even feel claustrophobic and hectic, which is why developers and interior designers have started integrating quiet areas for wellness and relaxation into their blueprints.
One popular feature that fits this trend is the meditation garden. Once a rarity among New York's concrete jungle, now these quiescent areas are a standard feature in many high-end condo complexes. Stark and peaceful, meditation gardens give residents the ability to insulate themselves from the concerns of metropolitan life and re-center their focus on their own health and mental wellbeing. The following gardens are among the most extraordinary the metropolis has to offer—and the condo complexes they are a part of are just as stunning and luxurious.
Jolie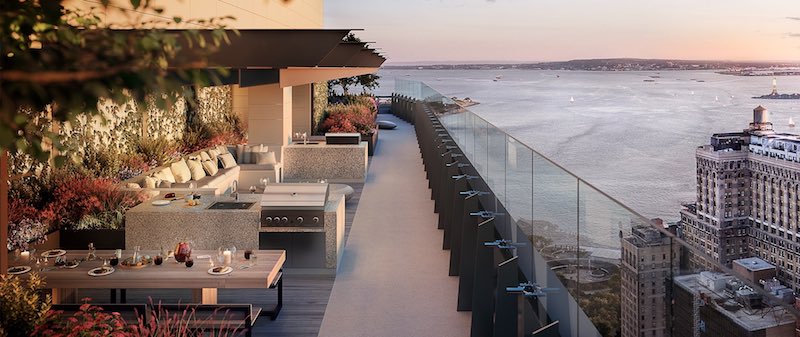 High atop the roof of the new condo complex Jolie sits a tranquil sanctuary, with abundant plant life, gorgeous views, and a ton of open space. This meditation garden is just one of many luxury amenities on offer to residents who call this place home. Located in Greenwich, designed by the architects at FXCollaborative, Jolie facilitates mindfulness and wellbeing by incorporating this and other green spaces into its design. Rising 500 feet off the ground, the Zen Garden sports landscaping from Future Green Studio, and on the 41st floor of the building, there is a Japanese rock garden to soothe and relax the senses. Gorgeous and enviable, Jolie blends high life living with meditative elegance, making it the perfect home for a well-to-do Manhattanite who likes to unwind.
FÖRENA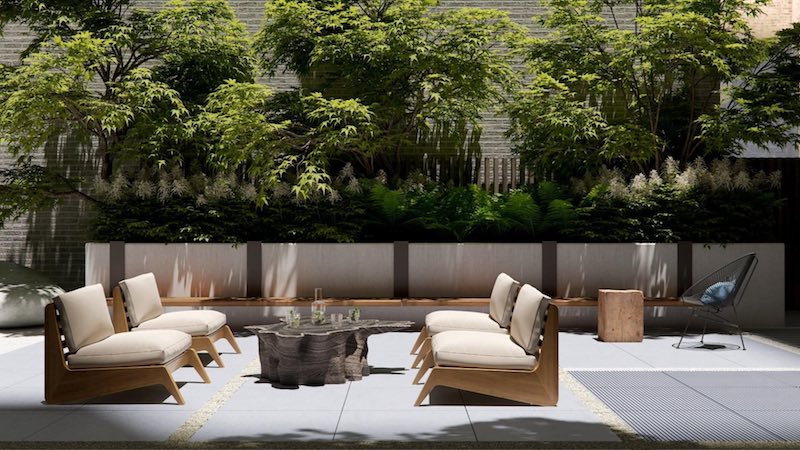 This condo complex's unusual name comes from the Swedish verb "att förena," meaning to unify or reconcile. The title is aptly chosen: Förena serves as a juncture between four distinct and well-known Manhattan neighborhoods (Chelsea, Flatiron, Union Square, and The Village). Its geometric design resembles the gradations of basalt rock formations, a common theme among Nordic-inspired architecture. Elegant in its simplicity, the building is also home to a peaceful Zen Garden, reachable from the residents' lounge. A retreat from the fray of Manhattan life, this space allows owners to sit down, soak in some sunlight, and take a moment for themselves. The garden's sparse furnishings and simple lines are just as clean and modern as the residences; its peacefulness means that residents can catch their breath and hide away—if only for a moment—from the hustle and bustle of modern existence.
505 W 43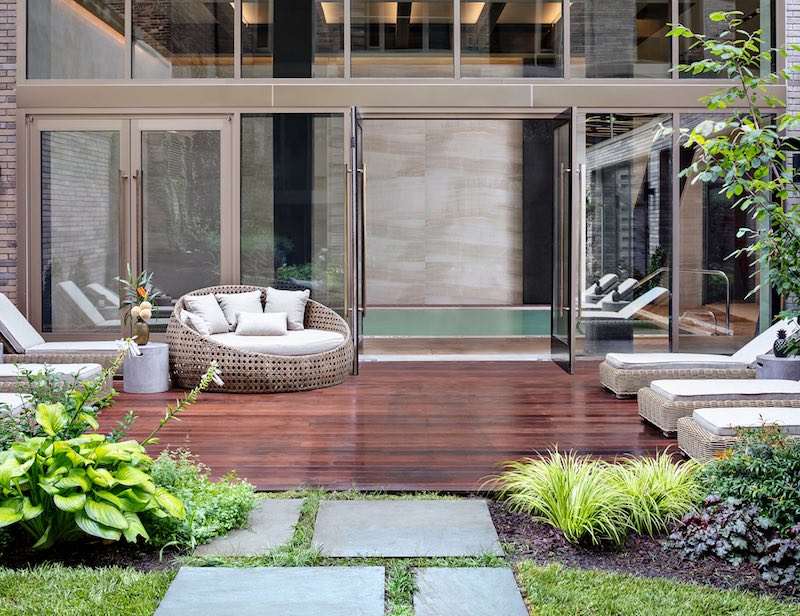 Midtown Manhattan is home to New York's most iconic structures and museums: The Empire State building, the Chrysler building, and the Museum of Modern Art, among others. In many ways, it is the heart that pumps life into the city's tourism industry, as well as a desirable location for hot luxury real estate. The 505 W 43 is a swanky condo complex that encompasses so many attributes that make Midtown such a captivating part of the city. Its 6,000 square foot meditation garden, connected to the building's pool area, offers unparalleled relaxation. Spacious and insulated, this quiet place allows guests to take time away and meditate with minimal distractions. Lounge chairs and landscaping also make it an excellent place to kick up your heels and spend quality time with friends and neighbors.
40 Bleecker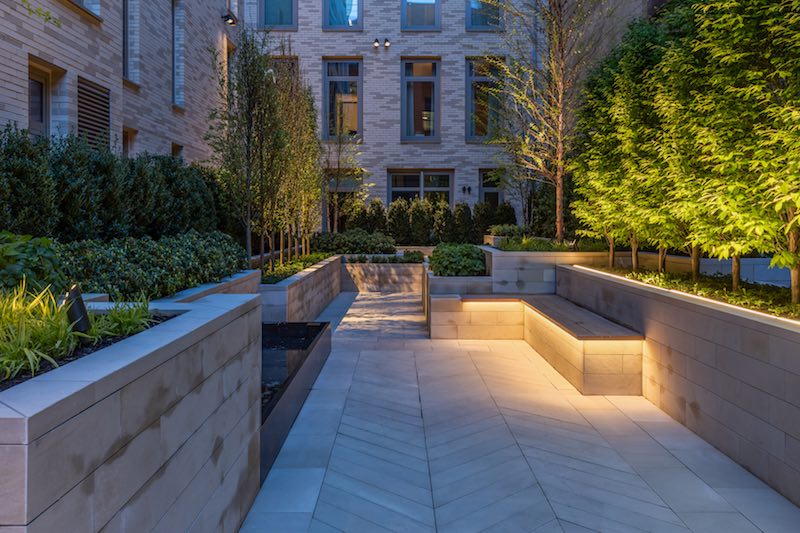 40 Bleecker, located in NoHo, is peak luxury. Its condos come adorned with statuary marble accents while the high ceilings and natural lighting give the residences an airy, transcendent feel. When owners want to get some fresh air, however, all they have to do is walk out into the complex's sumptuous meditation space, where a lush garden and cool shade awaits. The soft murmur of waterfall installations creates a soothing ambience, and the garden's intricate stone pathways accent the space's tranquil mood, inspiring calm and relaxation. 40 Bleecker's meditation garden is a standout amenity, creating a serene oasis among the urban sprawl of Manhattan.