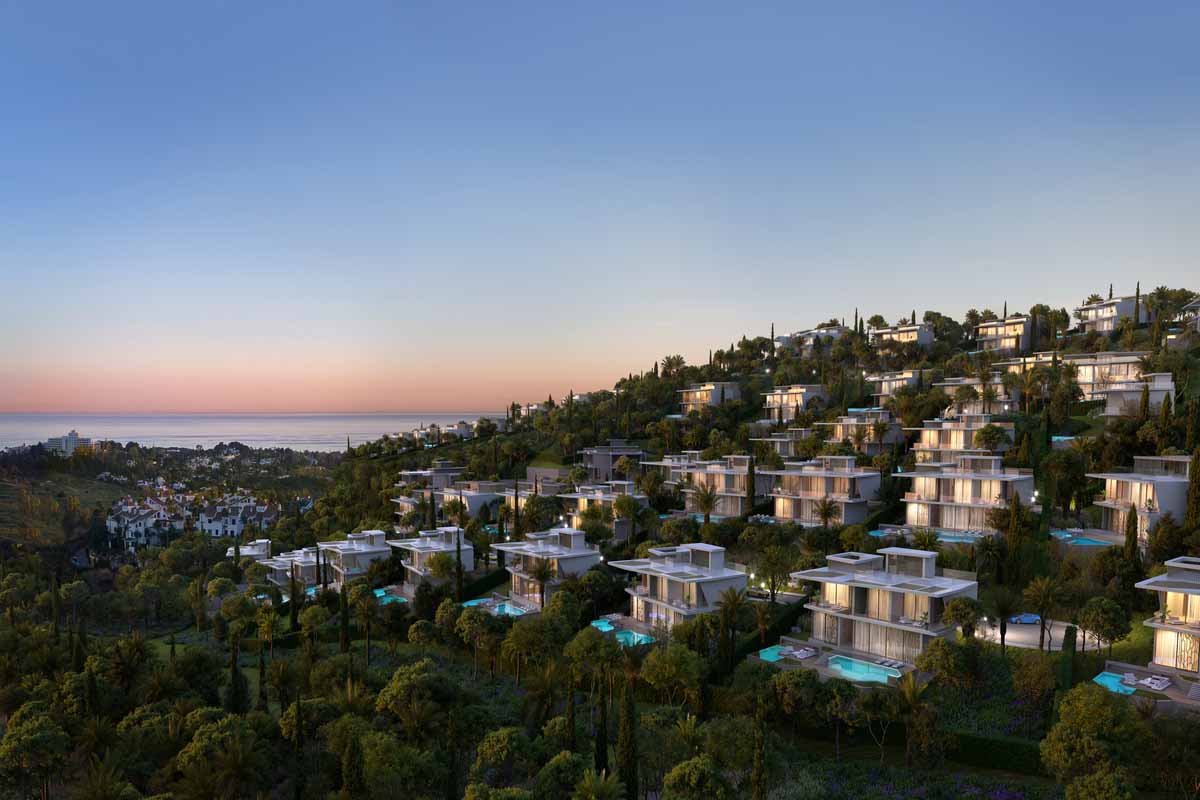 When Automobili Lamborghini set its sights on the luxury real estate market, they chose the lavish setting of Marbella, Spain for its first European venture. While competing luxury auto manufacturers like Bentley, Bugatti and Aston Martin have already tapped into the residential market, Lamborghini is set to race into its first foray at record speed.
Similar to the exquisite Italian sports car created for the sophisticated driver, the project was designed as an ultra-exclusive retreat boasting spectacular views overlooking the Mediterranean Sea. Construction is set to get underway by luxury real estate developer Dar Global with a targeted completion date of June 2026. Cilo Marbella is the listing agent for the development.
Stephan Winkelmann, chairman and CEO of Automobili Lamborghini, said in a statement, "This is a strategic collaboration driven by shared values of excellence, quality, and innovation. The developer's experience in creating luxury properties in combination with Automobili Lamborghini's design philosophy has led to this stunning achievement."
From its stunning seaside location to each home's eye-popping design, the luxe project known as Tierra Viva is tucked away in the wealthy enclave of Los Jaralillos – Benahavis, Marbella. The 53-villa neighborhood features three distinct villas that range in size from four to six bedrooms.
Here's a look at the three distinct configurations named after stones almost as precious as each home:
Esmeralda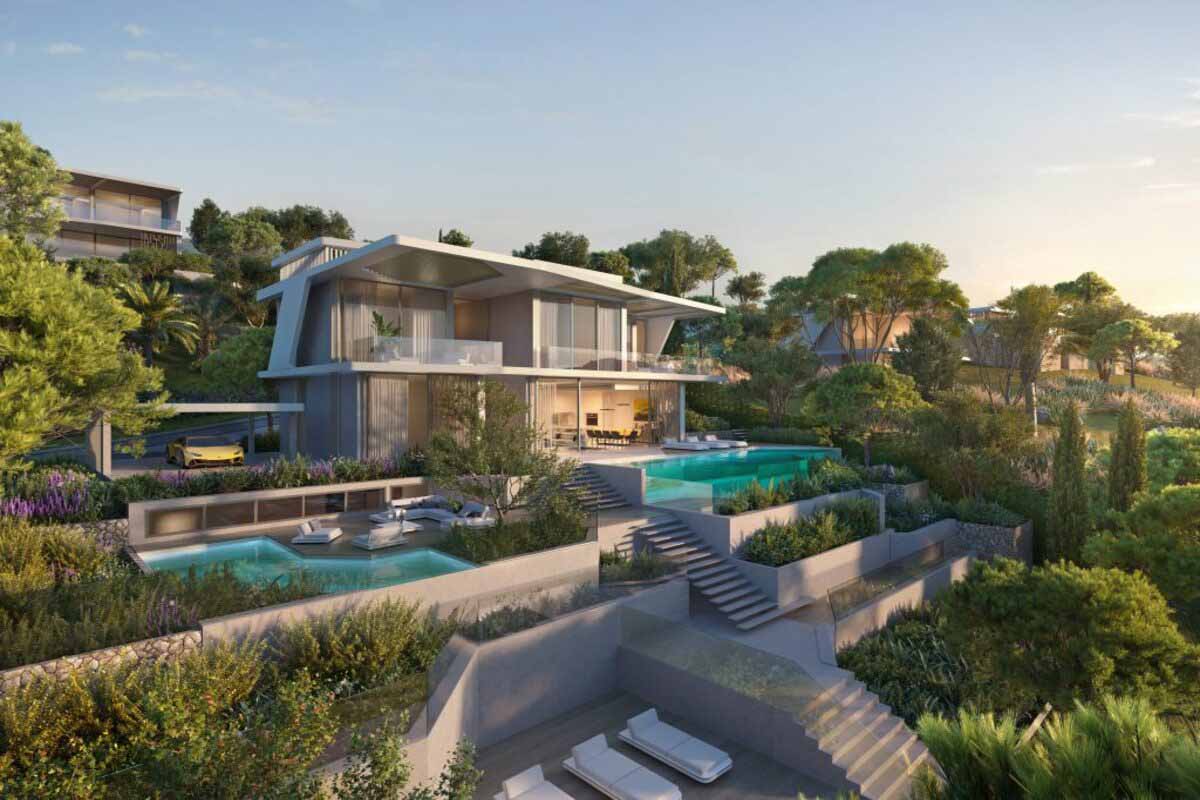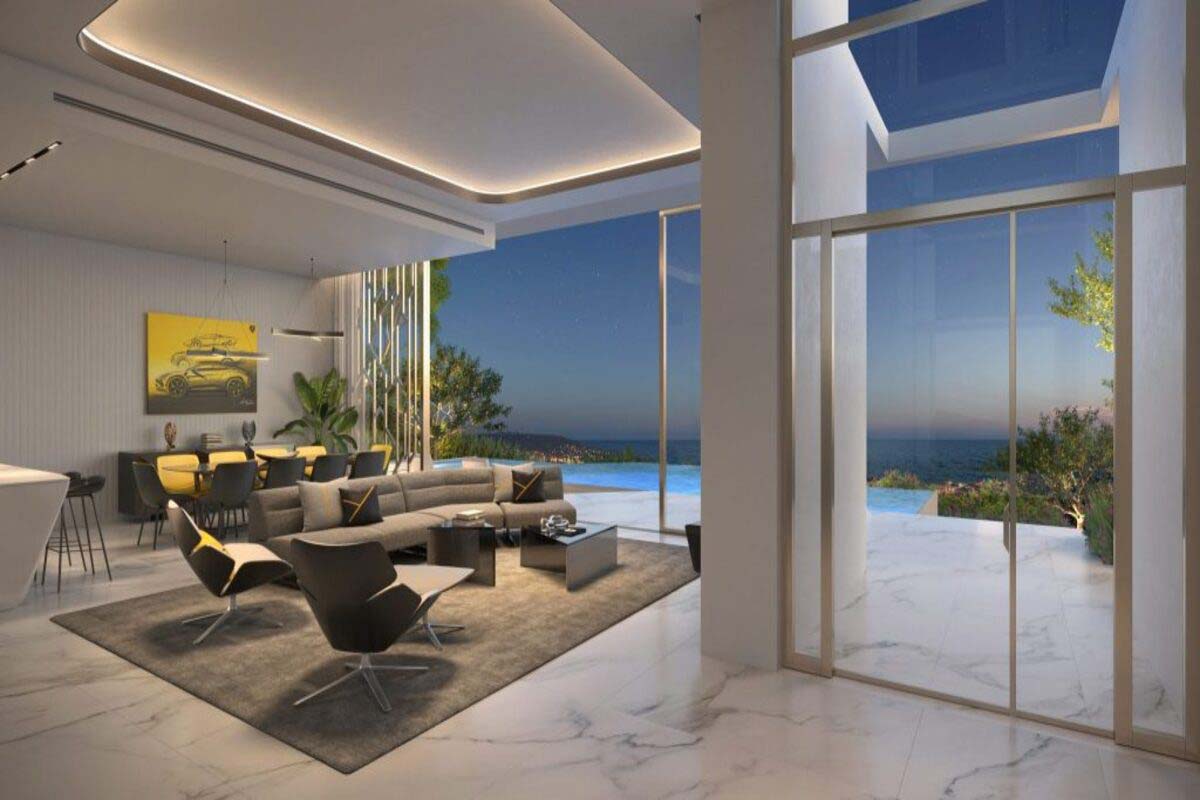 This stunning four-bedroom hillside villa is the smallest of the offerings but is certainly not slight on space. There are 23 units available with each ranging in size from 7,320 to 8,848 square feet of space. Some units are designed to offer golf views of 12 neighboring courses while others have stunning sea vistas. The extravagant interior features walls of glass that retract to bask in the panoramic views, concrete boundary walls for sound attenuation, and double-glazed windows for increased insulation.
The ground floor features a dining room, gourmet chef's kitchen, formal living room, and guest suite. A swanky all-white kitchen has polished marble flooring, a minimalist design, and high-end appliances. The nearby spacious living area has plastered walls, a gypsum ceiling, and built-ins. It opens up to an enormous terrace overlooking a spectacular infinity-edge pool. A jaw-dropping primary suite is located on the first floor and features a sitting area, custom hanging lights, and walls of glass that open up to a breathtaking private terrace with beautiful views of the nearby Mediterranean Sea.
Two more en-suite bedrooms can be found on this level as well. When it comes to relaxing, there are many outdoor spots to choose from, including poolside by the infinity-edge pool, on one of the terraced gardens, from one of the many sea-facing terraces, or at the rooftop terrace. Inside, head to your own private steam and sauna rooms for the ultimate spa experience.
You can even host your own private movie screening in the home theater located on the lower level. An elevator offers easy transport to and from each level. Each lavish home will also be decked out with high-end finishes inspired by Automobili Lamborghini, and feature a wine cellar, and, of course, a garage large enough to accommodate at least three Lamborghinis.
Zafiro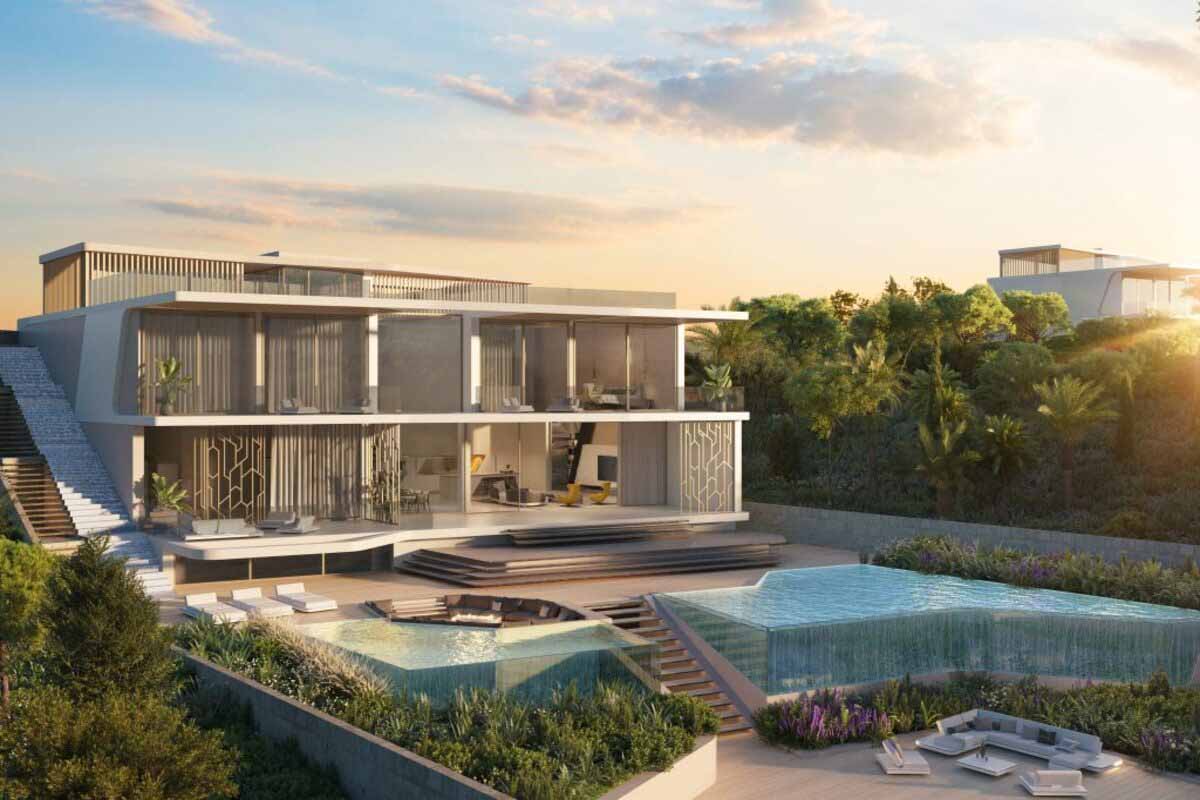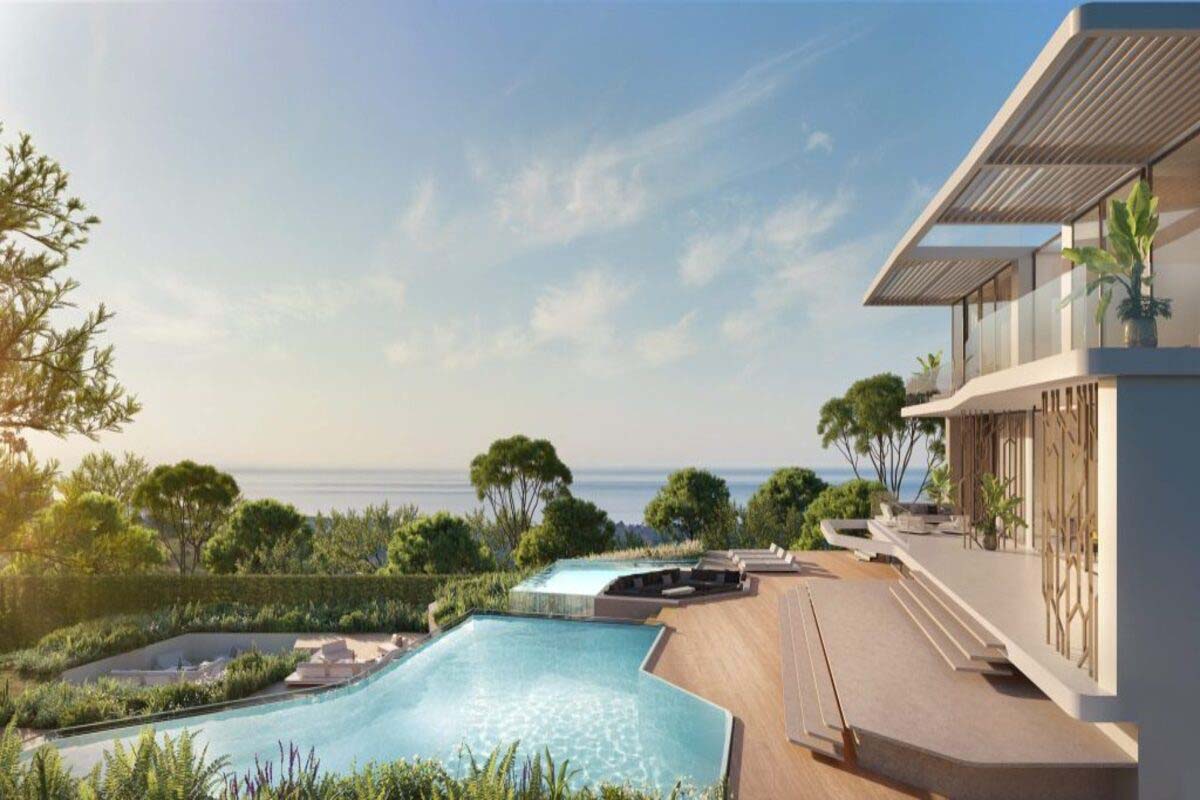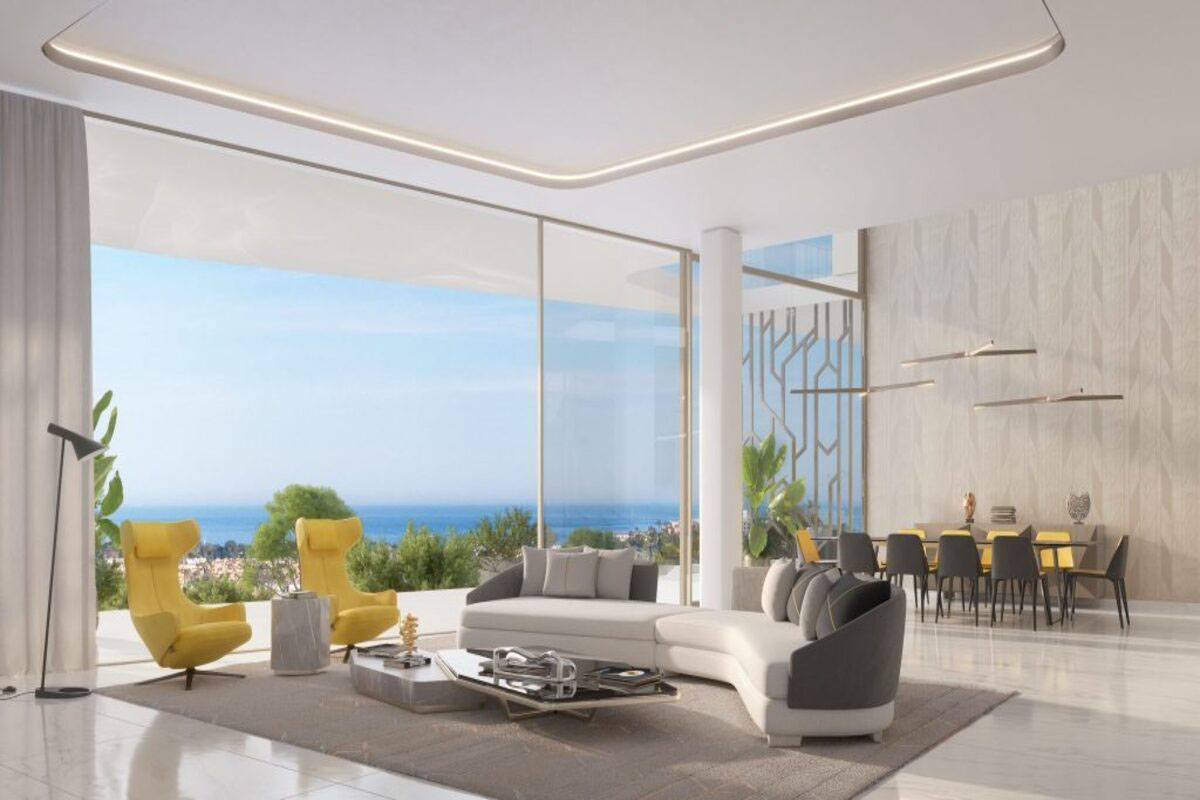 This prestigious five-bedroom villa has the majority of its offerings on the ocean side of the collection. While not the largest in size in this collection, Zafiro offers the biggest number of units. There are 28 spacious villas ranging in size from 9,289 to 11,130 square feet of space scattered throughout the hillside location. On the basement level, a service kitchen, maid's room, and laundry room can all be found. A sauna, changing room, and steam shower are also located on this level along with a wine cellar, home theater, pantry, and multi-purpose room that could be transformed into a fitness center or entertainment room for children.
Upstairs on the ground floor, the living and dining rooms offer direct terrace access overlooking the infinity pool. The showstopping kitchen is also located on this level along with a guest suite. The first floor features a primary suite with soaking tub, and three en-suite bedrooms, each with access to its own private terrace. A rooftop terrace has plenty of areas designed for entertaining or lounging and provides the perfect vantage point for soaking in the sumptuous views.
The four-story home also offers spectacular vistas from every room. The living room features soaring walls of glass that open up to the multi-tiered terrace located steps from the infinity pool. A two-story dining room offers stunning views of the pool, impeccably designed hardscape, and water views. Each of the hillside homes is perched at a unique elevation within the collection for unsurpassed views. They also have 24/7 security at Automobili Lamborghini for the ultimate in privacy and protection.
Diamante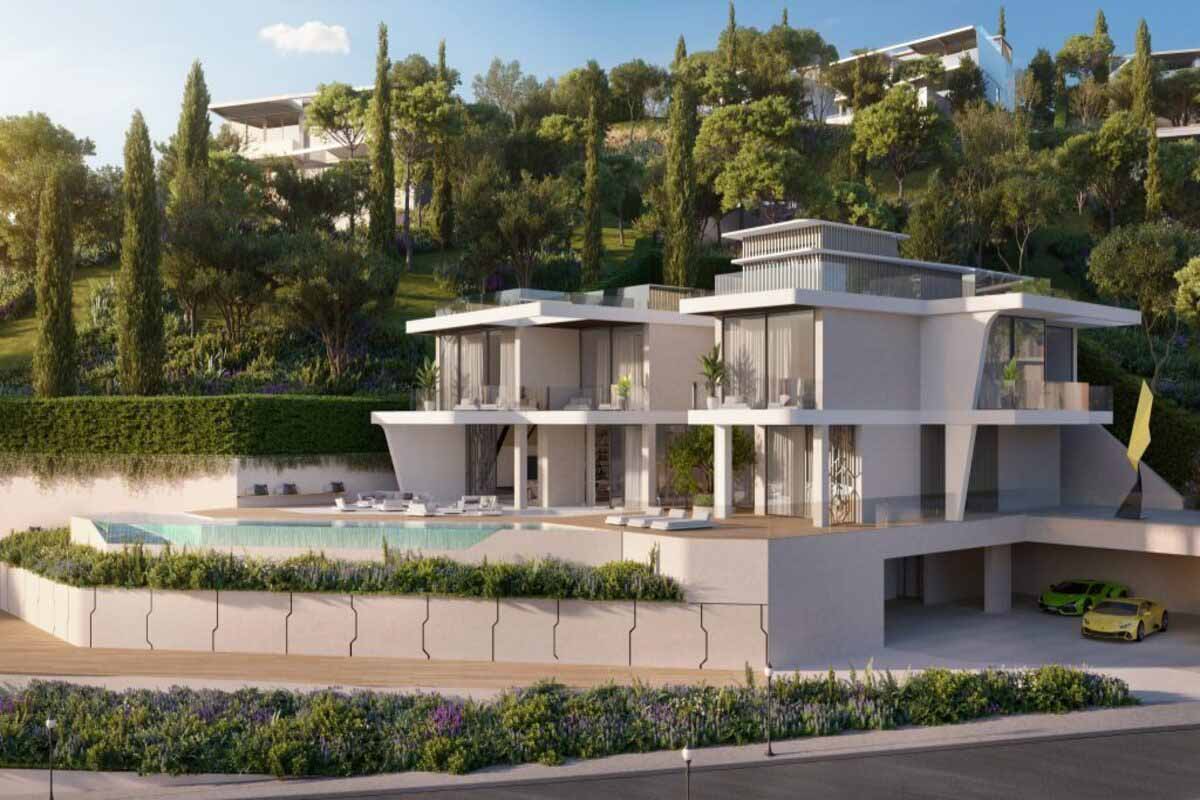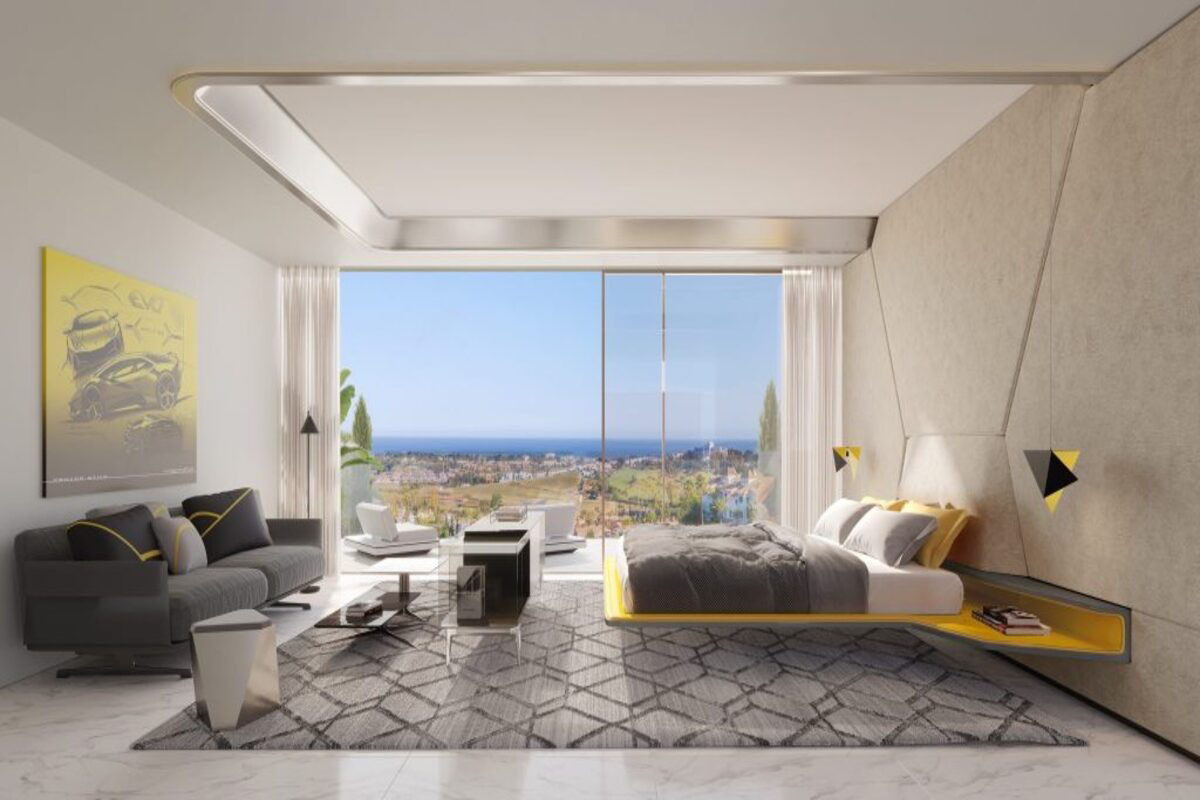 Both of these six-bedroom units are certainly a diamond in the rough with their rare and limited availability. There are just two of these uber-exclusive units that offer mesmerizing sea views. Each of the largest and most spectacular four-level villas features a driveway and parking area with precast concrete pavers. An exquisite foyer in the opulent villa features tailor-made, high-end finishes, including marble floors, plastered walls, and a gypsum ceiling.
One of the Diamante units features 13,498 square feet of space while the largest boasts 15,608 square feet of sprawling space. The basement level has parking for up to four vehicles. Maid's quarters are located here along with a laundry room, service kitchen, wine cellar, home theater, sauna, steam room, and multi-purpose room that can be easily converted into the use of your choosing.
On the ground floor, you'll find a showcase kitchen boasting one of the highest examples of minimalistic design, living and dining areas with massive glass walls that open up to a stunning infinity pool area and surrounding scenery, along with an en-suite guest bedroom. Five more light-filled bedrooms, including a sophisticated primary suite with walk-in closet, soaking tub and private terrace, can all be found upstairs.
Each en-suite bedroom has access to a private terrace. The rooftop terrace offers even more space designed for relaxing and entertaining. The two premiere Diamante units in the luxury residential complex also feature the same impressive clean lines and luxury finishes as the smaller units. The top two distinguished residences were designed for the most sophisticated buyer in mind.
Jason Higgs, director of sales for Cilo Marbella also noted in a statement, "This is truly what it means to be living life in the fast lane. As usual, we expect our clients to come from the upper echelons of the worlds of business, entertainment, and sports, and I know they will all be absolutely thrilled by what is on offer here."
Pre-launch prices at Automobili Lamborghini originally ranged from $3.7m (€3,6m) to $8.8m (€8,4m) but the smaller sized units are already under agreement. Available units now range from $4.5m (€4,3m) to $8.8m (€8,4m).