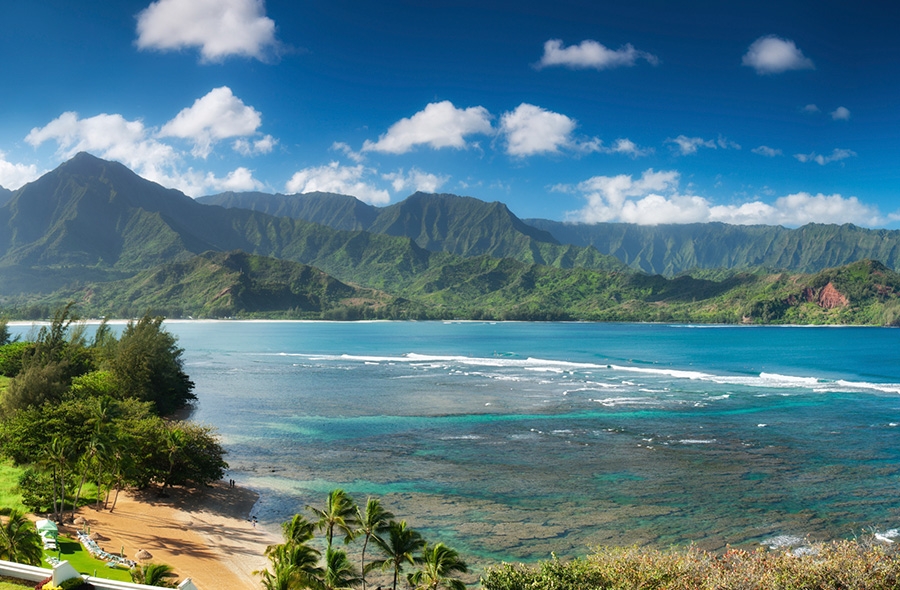 The Point at Anini Vista
Listed by John C. Ferry R(B)
Cell: 808.652.8900 Email: [email protected]
Offered at $38,000,000
View Property Video
Property Description:
The Property: Situated on the promontory of the dramatic coastal bluff of Kauai's north shore with sweeping views of mountain, shoreline, reef and beyond, this impressive estate fuses contemporary and traditional Hawaiian design elements that encourage an indoor-outdoor lifestyle while preserving intimacy and privacy. Thoughtfully hand selected materials along with exceptional architectural and structural engineering combine to make this residence a timeless masterpiece. Listen closely. Hear the trade winds whisper into your mind and let your soul unwind…
The History:
The property was originally owned by Princeville Ranch (AmFac) and was used for cattle grazing. Eventually the property was annexed off and purchased by the legendary Harry Weinberg Philanthropic Foundation. It was then developed and represented by Bill Dornbush of Dornbush & Co. Ltd and John C. Ferry, founder and president of Coldwell Banker Bali Hai Realty. The current owner purchased two lots that were part of this development: a 5 acre lot in 1999 and the second lot of 1.78 acres in 2000. They completed building their custom designed, one of a kind masterpiece in 2003.
The Vision:
Visionary architects Stephen Devery & Gary Tobey, with their unique ability to fuse together traditional Hawaiian elements into contemporary island design, conceptualized this home to be as low profile as possible. By creating the illusion of organically growing out of the building site, this home complements the land, giving off an indigenous feel that responds to the rugged irregularities of the dramatic bluff it is situated upon.
Island serenity sways on the breeze throughout this sprawling 18,210 sf. (under roof), 5 bedroom, 5 bathroom and 3 half bath, 14- pod compound. Intentionally designed to break up the massing by binding smaller units together, occupants enjoy a sense of intimacy and privacy, while encouraging a flowing indoor-outdoor lifestyle.
Overseeing the construction of this estate was renowned builder Randy Weir, ensuring every aspect of the design vision was executed in exemplary fashion. All buildings were structurally engineered to handle the impressive aspects of its tropical location, while still maintaining the integrity of the land.
Talented landscape architect Marty Bryan took great care to honor the ancient Hawaiian's strong connection to the land by demonstrating a landscape design that incorporates the organic properties of the site.
Hanalei Bay Beachfront
Listed by Michael R. Schmidt R(B)
Cell: 808.652.6000
Email: [email protected]
Offered at $11,400,000
View Property Video
Property Description:
Rare Hanalei Bay beachfront offering! 2 beautiful homes near the Hanalei pier offer the ultimate views and swimming conditions on the bay. The "Carriage House" is a permitted vacation rental. The back home is a turn-key 2 bedroom, 1 bath with 3 car garage. The main house is a 3 bedroom, 2 bath with office, lanais, and carport right on the beach. Enjoy the best views of the pier, surf, mountains, and sunsets over Mt. Makana the north shore has to offer.
Hanalei Bay Villa
Listed by Michael R. Schmidt R(B)
Cell: 808.652.6000
Email: [email protected]
Offered at $11,000,000
View Property Video
Property Description:
Hanalei Bay Villa enjoys panoramic views of Hanalei Bay on the beach from 2 homes. From the main house, the contemporary design by architect James A. Schmit embraces the amazing views with 15′ high ceiling and large sliding glass doors that disappear into the walls. Here, the great room and adjoining master bedroom benefit with bright, warm indoor spaces that open to the private ocean oriented lanais. The spacious kitchen shares a tropical, waterfall view breakfast lanai with an office improved with artist Doug Britt built-ins. Downstairs, the 3,125 sf of living area is balanced by 2 large guest bedroom suites along with laundry room and 2 car garage.
The detached 1,051 sf 1 bedroom, 2 bath home Guest Cottage is complete with full kitchen and family room at the entry of this tropically landscaped enclave. This 3 level Cottage provides generous spaces and privacy that your guests may find difficult to leave.
The generous ocean views and beach front setting is assured at Hanalei Bay Villa. This special property perfectly complements the adjacent income property and permitted vacation cottage "Hale Nalu" (MLS# 276022). This collection of 3 homes and 2 properties at the quiet west end of Weke Road is a true tropical oasis and incredible ocean front opportunity.
Kaonohi Point
Listed by Michael R. Schmidt R(B)
Cell: 808.652.6000
Email: [email protected]
Offered at $5,5000,000
View Property Video
Property Description:
Enjoy the ultimate beachfront setting at Kaonohi Point on the dramatic north shore of Kauai. Designed by architect Ross Anderson, this custom 3 bedroom 3 bath residence showcases quality finishes with panoramic views from this unique Haena point location. Over 150′ of white sand beach frontage wraps around the property which is widened by a legendary reef tombolo while also creating amazing privacy. Actor Sylvester Stallone developed the premier Wainiha II project and originally designed this trophy flag lot for himself. This pristine home is sold beautifully furnished and landscaped. Windsurfers, kitesurfers, and tow surfers frequent the outer reefs while swimming and fishing is enjoyed inside the sheltered cove just steps from the private beach trail. Years of planning went into building this newer, well-maintained home. Years of enjoyment can be yours today at Kaonohi Point.
Hale Moana
Listed by Malia Powers R(S)
Cell: 808.651.1010
Email: [email protected]
Offered at $4,590,000
View Property Video
Property Description:
Views, Views, Views! Beautiful ocean, mountain, crater hill, incredible gardens, walk to an amazing beach right from your front yard! This private tropical oasis located on Kauai's North Shore, showcases unique views of the ocean and Kilauea's Crater Hill, accented by lush, terraced gardens coloring in the canvas below. Blending into the 2.71 acre hillside, this eco-sensitive, well built 3 bed/3 bath home with great air flow is fully wired with Cat 5/6 cabling and features a copper roof, solar electric for home and pool heating, water features such as pool, hot tub, koi pond, private well system, hand-stacked lava rock walls and a large fruit orchard with a varieties of trees with much more to offer. Enjoy a private, deeded path to a pristine, remote beach. Tropical tranquility thrives at this remarkable Kilauea rim home…a true designation not to miss.