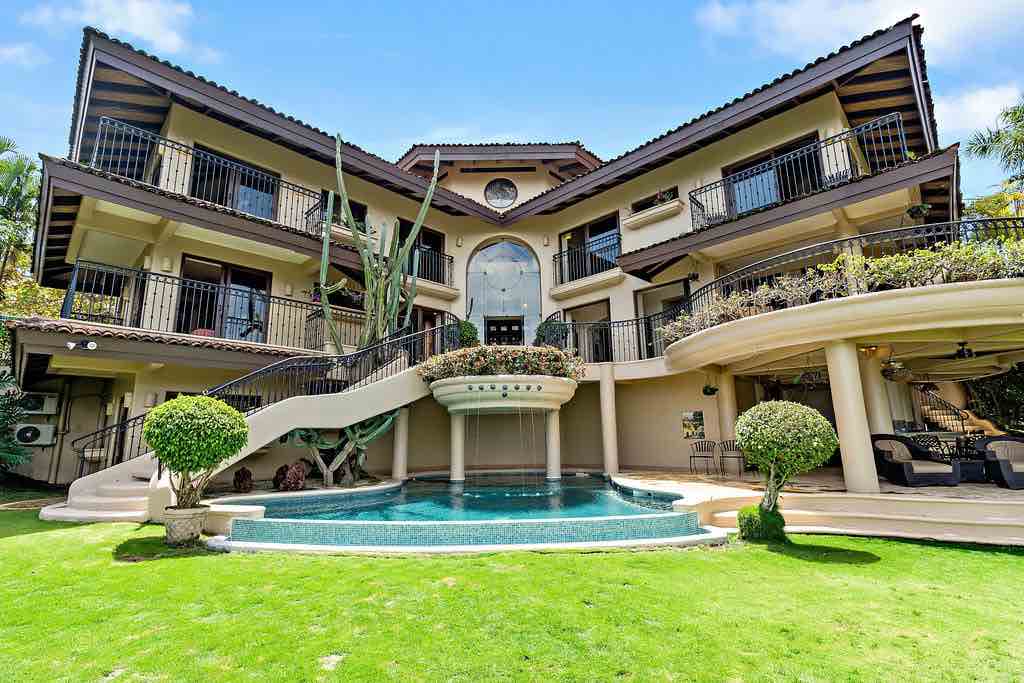 The exclusive neighborhood of Faro Escondido in the Los Suenos Resort and Marina in Costa Rica has a new luxury listing available: a stunning 7-bedroom, 7-bathroom mansion appropriately named Casa de Suenos Escondidos — meaning "House of Hidden Dreams" in English.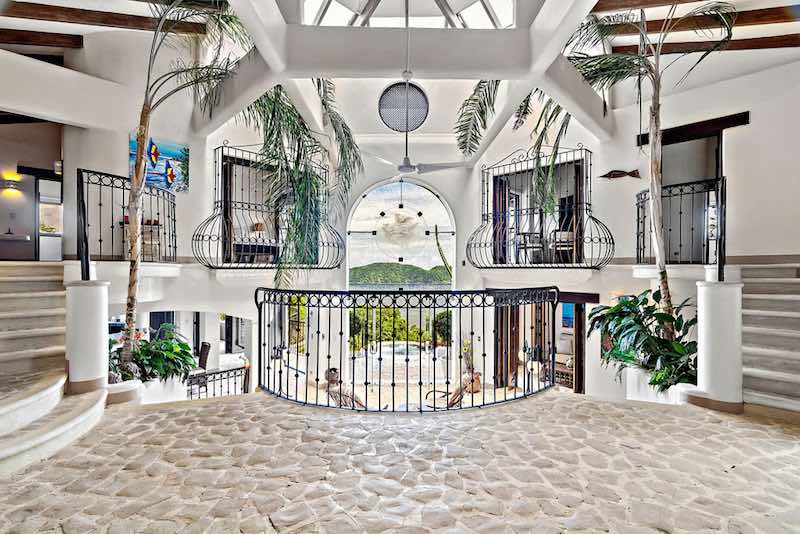 Nestled in cliffs along the Pacific Coast, this 8,180 square foot home overlooks gorgeous ocean views and Herradura Island while also offering luxury amenities and privacy. Vaulted ceilings throughout the home give it an expansive feeling, paired with huge windows and sliding glass or accordion-style doors in every space to allow residents to open the home to the majestic outdoor surroundings.
Other features of the home that lend themselves to a magical feeling include mature indoor palm trees and an extensive collection of indoor plants, a natural stone floor evoking old Spain, wrought iron railings, hardwood doors, custom-painted sinks, built-in alcove benches, and bright Costa Rican tiles.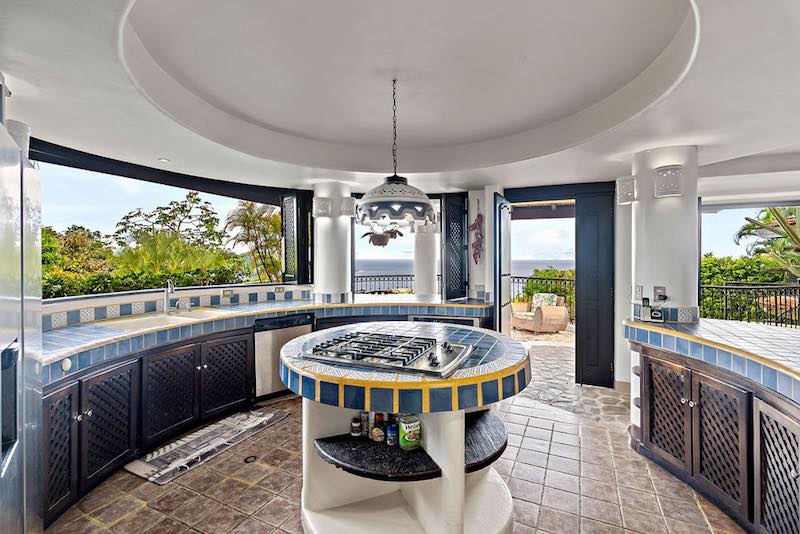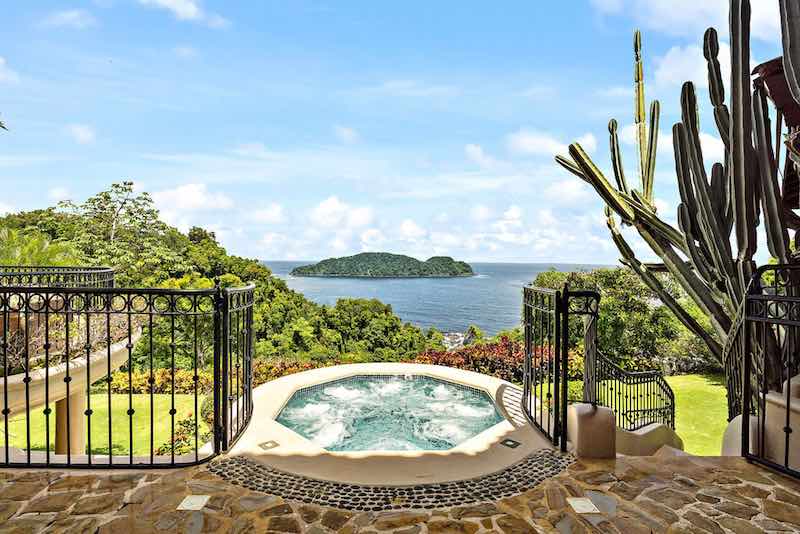 With a spacious kitchen and choice of several dining areas — including an indoor dining table with seating for 8, two breakfast bars, and plenty of outdoor entertaining spaces — this home is made for the gracious host. The kitchen also features original hand-painted tiles and hardwood shutters to open up the space to the surrounding ocean views.
The jacuzzi space on the main floor and the pool and fountains on the ground floor are both able to open up to the ocean as well, seamlessly blending the home with the natural wonder of the Pacific Ocean cliffside views.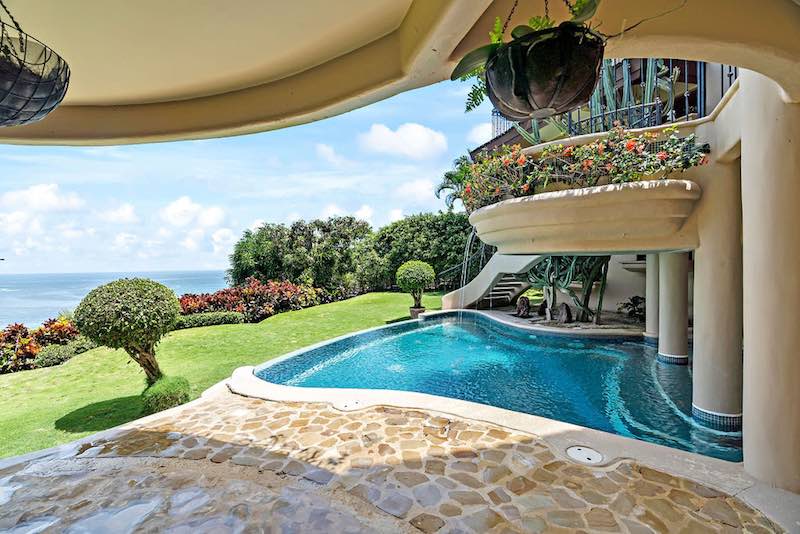 Each bedroom includes a luxuriously decorated en-suite bath with beautiful and brightly colored tiles and sliding doors to the ocean views. The home also features an open-air library and sitting room reminiscent of the traditional architecture of the area, entertainment, dining, and TV spaces, caretaker's quarters with space for two people, and lush pristinely maintained grounds with well-establish cacti, mango trees, orchids, and flowering vines. Residents will truly feel like they are living in a magical getaway with all the comforts of modern luxury amenities.
The Faro Escondido neighborhood is a gated community of high-end luxury properties along the cliffs and with views of the Gulf of Nicoya. Within the Los Suenos Resort and Marina, residents have access to top-tier restaurants, shopping, golf, and sport fishing, as well as an exclusive beach club with tennis courts within easy walking distance of Casa de Suenos Escondido.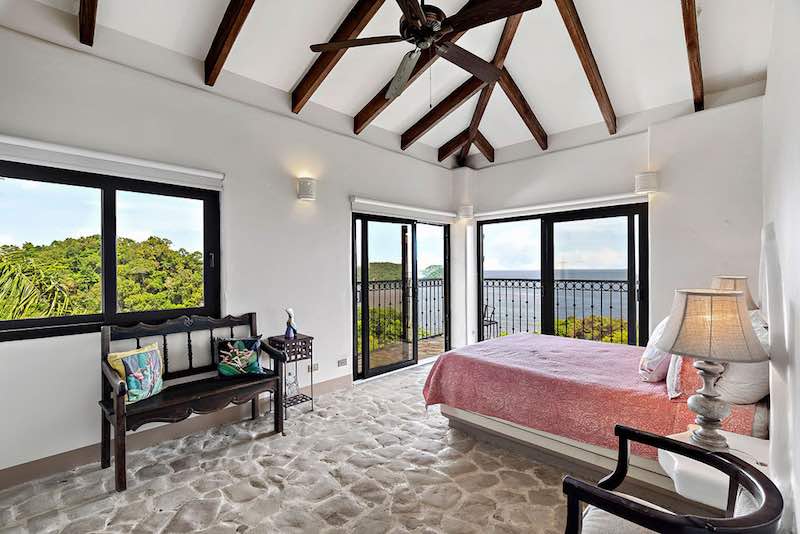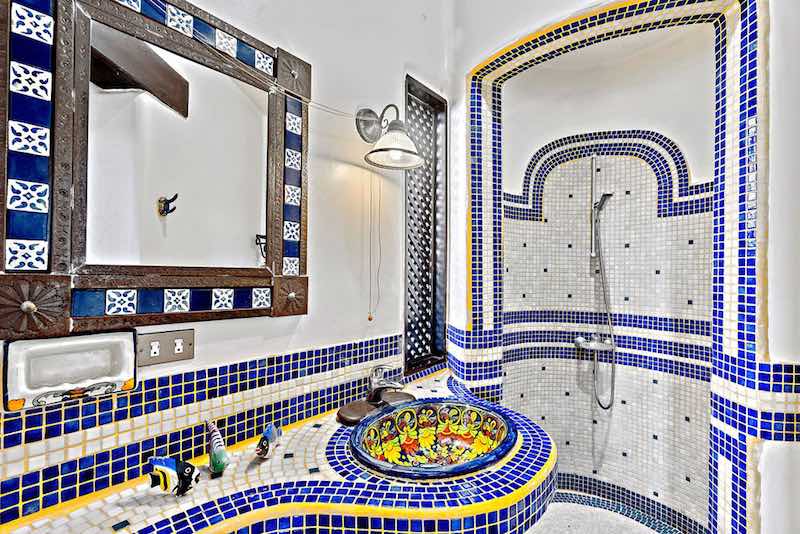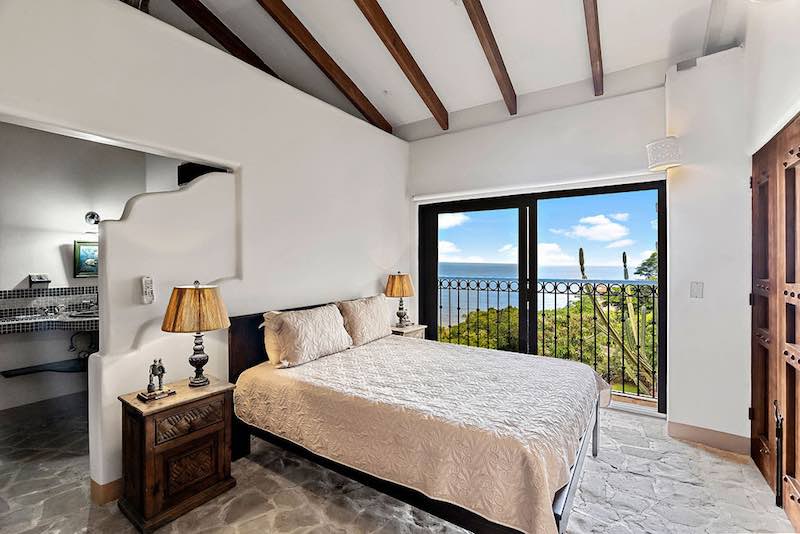 The home is also a convenient one-hour drive from the Juan Santa Maria International Airport in San Jose.
This property is managed by Krain Luxury Real Estate's Breitlander Team and is currently listed here for $2,290,000.