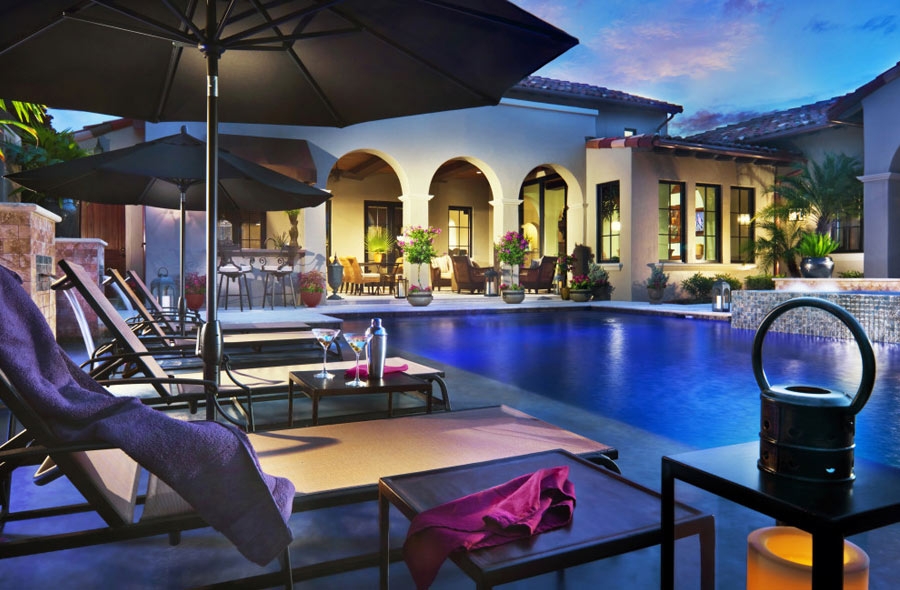 Just thinking about the name Disney brings happy thoughts of youthful exuberance and a place that instantly sparks your imagination.
What if you could bring these magical Disney experiences to everyday life? This can be your reality at Golden Oak, a private gated community at Walt Disney World Resort in Lake Buena Vista, Florida. Golden Oak offers the first-ever whole ownership of custom single-family homes featuring concierge-style resident services and the Disney Connection, described as "your go-to resource for family fun and memory making."
Golden Oak features five neighborhoods set amid scenic, natural preserves to create an intimate setting for the finest of luxury lifestyles. With the opportunity to select from multiple prestigious homebuilders, buyers can opt to build custom homes ranging in size from 3,800-4,500 square feet. Home prices in the newest neighborhood, Marceline, start at $1.7 million.
At Golden Oak, an exceptional guest service culture is a part of everyday life. The Resident Services team takes a concierge-style approach to facilitating personal, residential and resort requests such as park transportation, travel and private transportation, golf tee times, dinner reservations, private VIP tours, Extra Magic hours (at one Walt Disney World Resort theme park each day to enjoy select attractions), in-home dinners, party planning and more. When you become a resident at Golden Oak, you don't need to check in to a hotel to handle these details. Hello Fairy Godmother!
Golden Oak includes a private recreational club facility called Summerhouse which provides a welcoming, social atmosphere for residents and guests. As the perfect home away from home, Summerhouse features beautiful grounds, gathering areas at every turn, fitness facilities, locker rooms, a heated outdoor pool, family game room and more. Also within the Golden Oak community, the anticipated Four Seasons Resort Orlando at Walt Disney World Resort is scheduled to open in 2014. Combined with a Tom Fazio-designed golf course, restaurants, event spaces and a full-service spa, this will add another wow factor!
The surrounding area of Golden Oak is home to amazing shopping, sports and recreation, superior public schools and several highly-esteemed private schools. It also offers easy access to health facilities, arts and cultural venues, fine dining, and, of course, white, sandy beaches.
I had the chance to experience what I consider to be the luxury side of Disney as my family and I discovered a world beyond our wildest imaginations. As we became Golden Oak residents for a few short days, I can proudly tell our readers that Golden Oak has created an exceptional neighborhood that understands the luxury lifestyle and resort living. Keeping an emphasis on family and life-long memories is a priority at Golden Oak, and if you treasure the bonds of family relationships like I do, you will be blown away by the events that unfolded before our eyes.
As Golden Oak residents, we discovered that arranging a VIP Tour of Walt Disney World is as simple as calling Resident Services. Along with two amazing tour guides, we were whisked away to explore Walt Disney World Resort without the use of a directional site map or the daunting task of waiting in long lines to experience the attractions. This was the most pleasant experience I've ever encountered at a Disney theme park!
We then shared an amazing lunch (again without the wait) at one of the newest Disney restaurants. My daughter and I were then escorted to Disney's Bibbidi Bobbidi Boutique, courtesy of the Golden Oaks Resident Services team, where she was transformed into the princess of her dreams. It was truly a magical experience and a moment my daughter will carry with her for years to come. I did attempt to get this scheduled ahead of time, but was told it was not possible due to the short notice. However, since I was experiencing Disney World as if I had become a resident of Golden Oak, the doors magically opened. I commend the Golden Oak Resident Services team for facilitating that request.
We were also escorted to Disney's Epcot center, where we were introduced to the Disney Events Group who revealed the services they were able to perform for residents of Golden Oak. From in-home dinners to magical parties, the team can put an elaborate party together with ease.
Only the magic of Golden Oak and Disney could have created the amazing moment we shared next: an exclusive dinner experience featuring eight iconic Disney characters and a live disc jockey. Equipped with their autograph books and their dancing shoes, our children were in heaven! And you can't possibly leave Epcot without experiencing live fireworks over the water. The IllumiNations Fireworks dessert party was an amazing sight to see and enjoy. The private setting and attention to detail was incredible.
Of course, you can't say goodbye without a catered sunrise breakfast at Disney's Animal Kingdom. A private, guided tour made this event quite spectacular. It was absolutely over the top!
"We've been delighted by the positive response over the past 24 months," says Page Pierce, Vice President of Disney Resort Real Estate Development. "Our first four Golden Oak neighborhoods are nearly sold out, so Marceline quite literally builds on that success."
To own and enjoy a luxury lifestyle surrounded by Walt Disney World Resort is a once-in-a-lifetime opportunity. The ability to enjoy remarkable family experiences that will forever be engrained in your memory bank is priceless. Could you imagine being the grandparents that have a home at Golden Oak? What about being the talk of the town at family reunions? Those that have a desire to surround themselves in a magical Disney environment while investing in the family legacy will undoubtedly be amazed with the glorious community called Golden Oak.