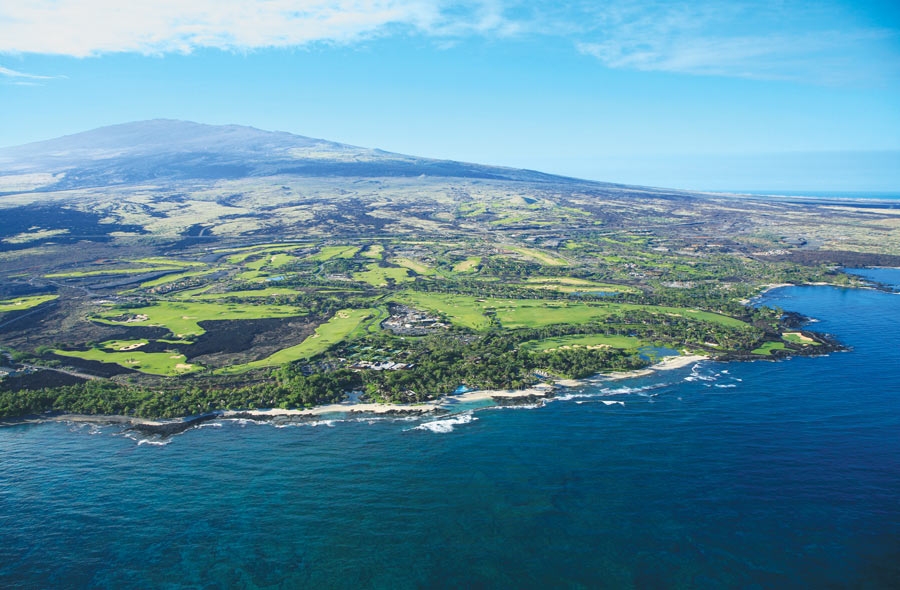 On Hawai`i Island on the Kona-Kohala Coast, Hualālai recaptures the spirit of another time. Swaying palms hide the rooftops of the beachfront bungalows and contemporary Hawaiian designed homes, where the outside landscape is part of the architectural design.
Dramatic green fairways cut through the lava and drop to the coast to hug the sea. Pathways wind through open dunes, by ancient Hawaiian fishponds, through flowering gardens that perfume the air. Gentle hosts welcome all to their 'ohana, family, with a heightened level of hospitality that is called ho'okipa.
Experience the Hualālai lifestyle from the comfort of a private residence. Welcome to Hualālai. In this serene paradise, the dream of Hawai'i that everyone holds in their hearts is fulfilled.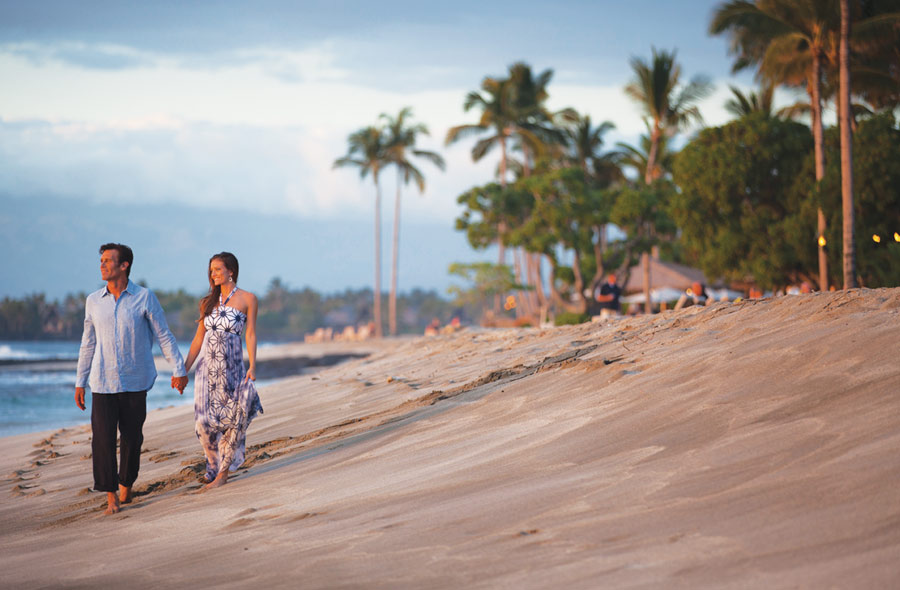 Hualalai's Lifestyle
Located just 15 minutes from the Kona airport, Hualālai offers the ultimate combination of weather, service and community. The beauty of this place brings you here, but it will be the people and friendships that will keep you coming back for years to come.
Membership into The Hualalai Club brings another rich and fulfilling dimension to living at Hualalai – the unequalled Hualālai lifestyle. Club Membership is available exclusively to Residents of Hualālai Resort and provides many privileges for Residents and their 'ohana (family), creating a coveted way of life unique to Hualālai.
In addition to spectacular, award-winning club facilities, The Hualālai Club is all about connecting with family and fellow Members at special events hosted throughout the year. Membership in The Hualālai Club builds relationships and creates memories you will cherish for a lifetime!
The Hualālai Club provides enhanced benefits, services and facilities for Members, including Use of all Club and Resort facilities.
Golf on two 18-hole championship golf courses.
Hualalai Spa offers a Sports Club, Spa and Tennis Club.
World Class Dining at The Canoe Club, the Residents' Beach House, the Ke 'olu Clubhouse, The Hualalai Grill, Hualalai Coffee Company, ULU Ocean Grill + Sushi Lounge, The Beach Tree Restaurant.
Beach and swimming facilities at the Four Seasons Hualālai Resort.
The Ka'ūpūlehu Cultural Center programs are designed to be interactive, fun, and educational for the entire family. Please join our mea ho'okipa (host) as they share the Hawaiian culture and teach you to make crafts that you will be able to take home and share.
Alaka'i Nalu Program: The warm blue ocean waters and sandy beaches are alluring attractions for guests at Hualālai Resort, Four Seasons Resort Hualālai and neighboring Kona Village. The beauty can be deceiving so learning about the ocean conditions are a priority in their daily schedule. To help resort guests interact with the powerful force of the ocean and the topography of the coast, the Alakaʻi Nalu (leader of the waves) program hearkens back to the Hawaiʻi of the '30s and '40s, when beach boys were respected, fun-loving stewards of the ocean. Both resorts provide numerous options for water sports and unique leisure activities.
Luxe Shopping Whether you are looking for the perfect gift, a one-of-a-kind piece of jewelry, athletic apparel, or even delicious island treats to just fill your cooler with, you will find it here at Hualālai Resort. Our concepts are designed to provide each guest with something special from their experience at Hualālai.
Club Member and Family Privileges: Full Membership benefits for the Member and spouse; varying levels of benefits for the Members' immediate and extended family.
Hualālai Concierge Services: Dedicated concierge staff is on-call daily.
Special Events: A wide variety of Member-only events are scheduled throughout the year.
Communications: Members receive weekly activity calendars, periodic newsletter, and have access to a private log-in on the Hualālai website for up-to-the-minute information on Club news and events.
Among the other benefits of Club Membership:
Special Members-only pricing
No Greens Fees or Court Fees
Hear what our members have to say about Haualalai's lifestyle:
Hualalai Real Estate
Some 865-acres of gently sloping, pristine land rests comfortably at the foot of Mt. Hualālai on Hawai`i Island, providing a home for Hualālai Resort. A diverse collection of low-rise, low-density neighborhoods are situated to capture tropical trades and spectacular ocean vistas beginning at the Resort's uppermost elevations and cascading gracefully to oceanfront enclaves. Private and discreet, each neighborhood possesses a special charm, unique "viewscape", and distinctive upcountry, mid-slope or coastline location. Reflective of the precise area these neighborhoods occupy on Resort Property and with respect for the culture, each has been given its own Hawaiian name. Among those monikers are Ānea (gentle as a breeze) Kai Malino (calm sea) Ke Alaula (the rosy glow of sunset) and
Paku`i (heavenly scented) just to name a few.
Today, some 300 homes exist within this luxury residential resort community, including expansive custom homes, condo homes and villas. Whether you choose the ease and convenience of condominium living or the privacy of a custom home in paradise, exquisite beauty and tranquil ambiance are the common denominators!
Following is a sample of our properties listed as of May 2015. For current offerings visit www.hualalairealty.com
Homes For Sale
72-455 Kaupulehu Drive 4 Bedrooms, $7,500,000
72-152 Ke Alaula Street 4 Bedrooms, $5,690,000
72-155 Laueki Street 4 Bedrooms, $5,495,000
72-147 Pakui Street 3 Bedrooms, $4,200,000
72-122 Puu Kole Street 4 Bedrooms, $7,250,000
72-104 Hainoa Place 5 Bedrooms, $5,850,000
Condo Residences (with Pool) For Sale
72-104 Hainoa Place 4 Bedrooms, $4,550,000
Villas (Flats) For Sale
Fairway Villa 104A 3 Bedrooms, $2,695,000
Hainoa Villa 2905A 2 Bedrooms, $1,525,000
Hainoa Villa 2903B 2 Bedrooms, $1,575,000
Waiulu Villa 137B 3 Bedrooms, $2,575,000
Waiulu Villa 119D 3 Bedrooms, $2,650,000
Villas (Townhouses) For Sale
Kaulu Villa 129D 3 Bedrooms, $2,250,000
Kaulu Villa 111B 3 Bedrooms, $2,150,000
Ke Alaula Villa 228B 3 Bedrooms, $2,795,000
Our on-site presence just steps away from the Hualalai Coffee Company, allows us to accommodate walk in interest from resort guests. Our office is open Monday – Saturday from 8:30 a.m. to 5:00 p.m. and Sunday from 10:00 a.m. to 5:00 p.m. 
Hear what our members have to say about Haualalai's lifestyle: