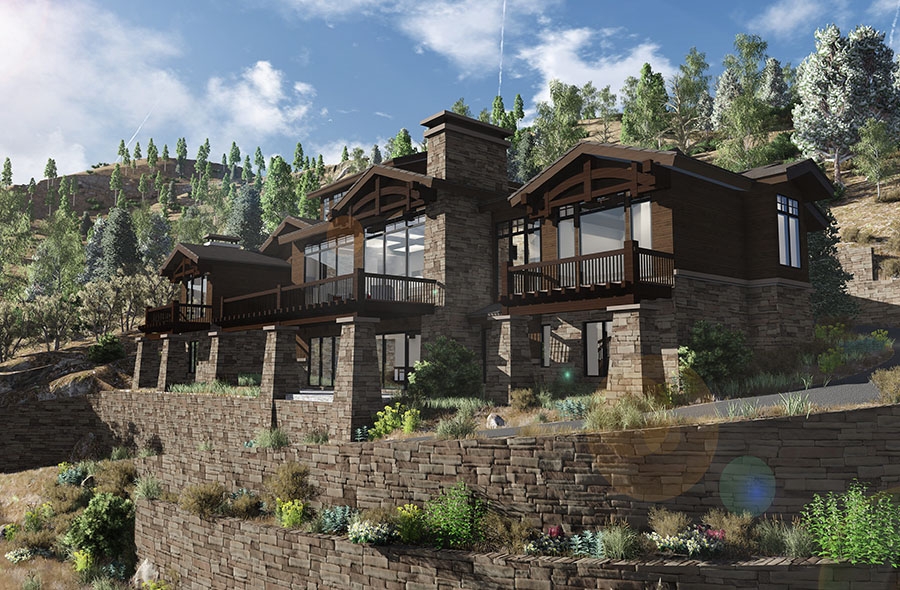 Designed by local legends and world-renowned architect and builder, Mike Upwall and Mike McNulty, this striking Park City residence exudes mountain luxury. Step into the elegantly conceived space and you'll be greeted by over 11,000 square feet of open-plan mountain living.
Upwall ensured residents would have ample, comfortable space with six bedrooms, eight bathrooms, and multiple living areas. Located in the prestigious gated community of Deer Crest, the ski-in/ski-out estate will impress even the most discerning clientele. There are few things more enjoyable after an exhausting day on the slopes than skiing directly into your après ski room, finding your favorite cocktail, and retiring to your sauna. Should Utah's famous powder prevent you from climbing stairs (albeit, happily,) simply step into the home's elevator. On the main level, you'll find glass walls giving way to extraordinary views of Jordanelle Reservoir and Deer Valley Resort, while exposed beams and stacked stone columns grant a respectful nod to the area's rich heritage. Gaze down on the lake, where endless hours of summer fun can be had in the form of power boating, sailing, jet skiing, and shoreline sunbathing. Around the area, miles of mountain trails form North America's only IMBA Gold rated trail system.
The Area
Fly into Salt Lake International Airport and enjoy a short 30-minute commute to your private mountain retreat. Already one of the most efficient travel hubs in the country, the airport is soon to undergo a dramatic transformation, creating what is likely to be the central stop for destinations in the U.S. and around the world. Once in Park City, don't be surprised if you hear a local tell you "you'll come for the winter and stay for summer", because despite Utah's claim to the best snow on Earth, summertime recreation is truly the cherished Parkite secret. When it comes time to cool down, treat yourself, friends, and family to the finest dining and boutique shopping in the state. Over 100 incredible restaurants and galleries are just five minutes away, nestled in and around Park City's charming Historic Main Street area. Recently named The Friendliest Town in America, Park City is not only one of the most enjoyable and astonishingly beautiful resort destinations, it is also a home for residents and visitors alike, and a place where lifelong friendships are formed and strengthened.
About Engel & Völkers
For over forty years, E&V has established itself as the definitive name in European luxury real estate. Long overdue, the brand is now making its claim on the North American market, and in doing so revolutionizing how upscale property is bought and sold. Founded on the concept of bringing industry leading service to discerning clients, Engel & Völkers delivers a fresh take on marketing, superior market knowledge, and a vast, truly priceless network, ensuring not just a service, but an experience.