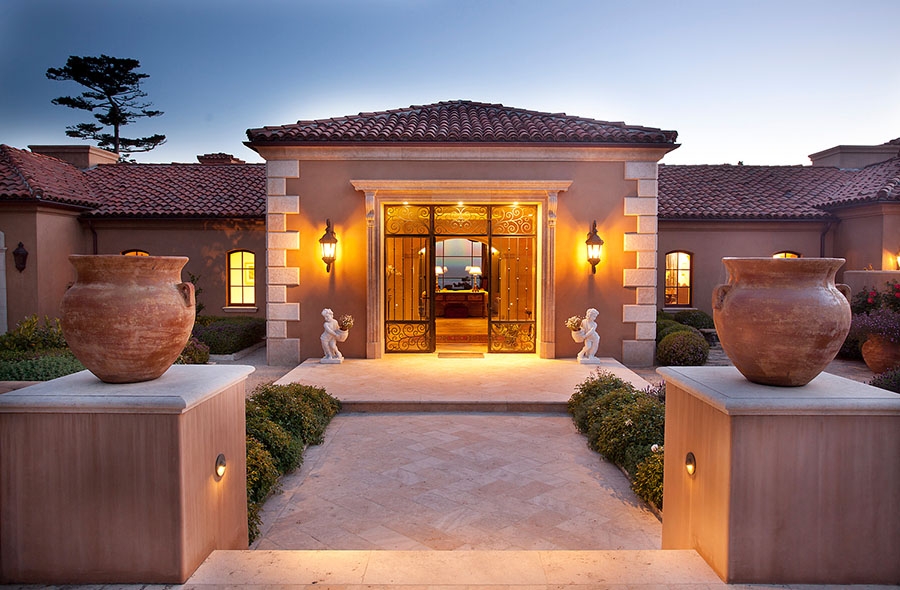 Marta Karpiel is a discerning, luxury real estate agent specializing in the most prestigious areas of the Monterey Peninsula, with an exclusive focus on Pebble Beach.
Her work has been highlighted in many publications and has been featured on magazine covers. Marta's impressive portfolio has an unprecedented record of achievements spanning nine real estate awards in less than seven years, placing her in a class of her own.
Marta's unrivaled marketing skills coupled with her distinctive European background enabled her to establish new standards in Pebble Beach's luxury real estate market; exemplifying original and advantageous perspective without compromise. She is judicious in the selection process of her clients, and intentionally does not accept a large number of listings at one time. Her international bespoke marketing strategies and innovative style attracts a sophisticated clientele from around the world. Speaking English, Polish, Russian, and Italian, she is able to communicate and connect with a diverse range of cultures, and as a result, more that 65% of her clients are international.
Born in Poland, Marta spent much of her youth near historic Krakow. Prior to receiving her Master's Degree in Marketing and Management from the Academy of Economics (Krakow, Poland), she traveled throughout Europe choosing to reside in Naples, Italy. Marta added Social Psychology to her studies, recognizing the importance of understanding an individual's perspective as an integral element of successful negotiation. Before embarking on her career in real estate, Marta worked for British Petroleum Amoco as a Direct Marketing Executive.
Featured Listings
Villa Okeanos
Villa Okeanos – envisioned for royalty, this magnificent authentic Mediterranean villa is sited on over 2 acres above the prestigious 17 Mile Drive possessing spectacular views of the Pacific Ocean.
Through private entry gates and elegant formal European gardens with mature olive trees awaits a villa of unparalleled old world craftsmanship. Stunning masterwork is illustrated throughout, from gold leafed hand painted domes inspired by Italian artists Titian and Giovanni Battista Tiepolo to original Murano artisan lighting. Their illumination highlights the hand chiseled French limestone floors, Doric columns and striking landscape of the ocean beyond. Indescribable natural beauty coupled with the finest architecture and craftsmanship. Villa Okeanos represents perfect harmony between classicism, proportion, and the resplendence of nature. Ancient Greek principles combined with the most luxurious modern amenities without the slightest compromise. This complex work of art comprising nearly 8,000 square feet, encompassing the main house with five en-suites, formal gardens, west facing terraces, and guest house, achieves the seamless execution of artistic inspiration following the heritage of European Architecture.
$23,000,000.00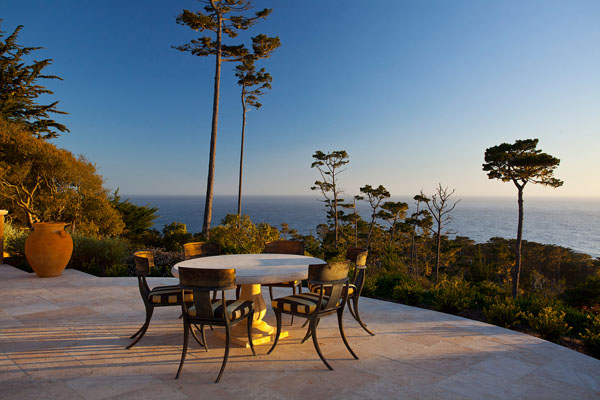 ---
Casa Azzura
Mediterranean oasis – an inspired retreat on over 1.3 level acres, a short walk to Pebble Beach lodge. Incredible privacy surrounds this light filled 3 bed, 3 bath, remodeled home with superb amenities. Over 3,000 sq. ft. of Limestone terraces span the length of the house, high ceilings, outdoor kitchen, bar, artist's studio, and fire pit, complete this gated estate. Prime location, sublime setting, California lifestyle with a European flair, offering the best of indoor and outdoor living.
$4,290,000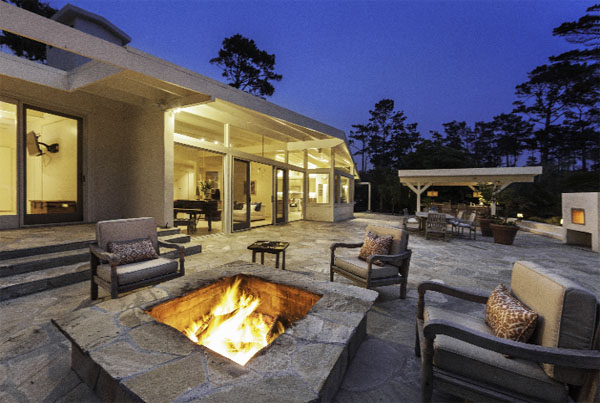 ---
Castello Di Vista
Possibly the most iconic estate in exclusive Quail Meadows, perched on the finest 3 acre lot with dramatic rare views of the mountains, lake, Carmel Hills and beyond. Grand, yet intimate, this irreplaceable luxury retreat of 6285 sq ft, is exquisitely maintained featuring a main house, two separate guesthouses in a park like setting, and stunning views from your 1559 sq ft of terraces. You will find serenity and sophistication the moment you drive through the property's private gate passing the lush landscaping with water feature to the main entry. The finely designed craftsman style architecture is a supreme blend of sophistication setting the standard in Quail Meadows living.
$4,200,000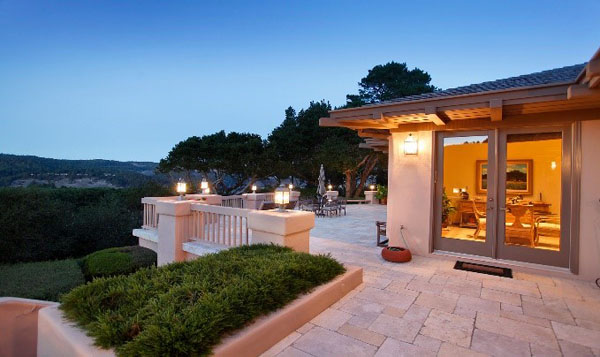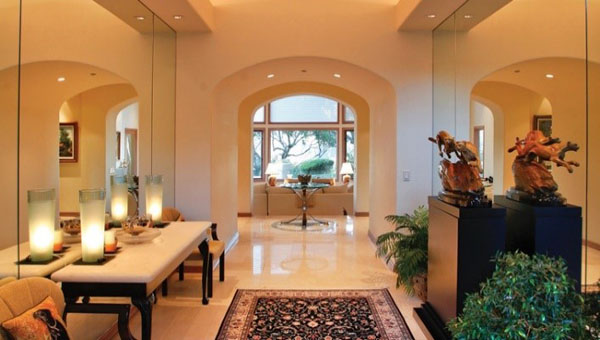 ---
Hawkins Way
Extraordinary setting — a half-acre property in the midst of the renowned Spyglass Hill Golf Course, with a spectacular, one-of-a-kind view framed on three sides by golf course — direct view of the 15th Hole and overlooking the 14th Hole and Pond — a treasured location featured in numerous golf publications. The carefully designed, contemporary-style home of 2,400 Sq Ft offers 3 bedrooms and 2.5 baths and is sited on a cul-de-sac surrounded by trees and greens. Golf enthusiasts will enjoy prime seats for tournaments while enjoying the breathtaking beauty of the golf course.
Price Upon Request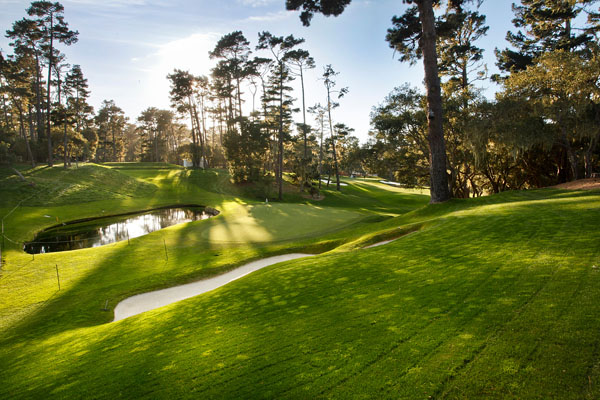 ---
Hillside Retreat
Nestled quietly in the hillsides of the exclusive Quail Meadows, this executive retreat of 3.5 acres offers panoramic and exceptional views of the hills and meadows. Spacious yet warm and inviting, the 5252 sq ft of handcrafted luxury and beauty is surrounded by professionally designed low maintenance gardens and landscaping. Custom finishes throughout with the finely styled craftsman architecture provides both comfort and sophistication for the most discerning owner. Enjoy the lifestyle of your morning coffee gazing over the meadows and capture the sunsets while relaxing on the terraces.
$3,850,000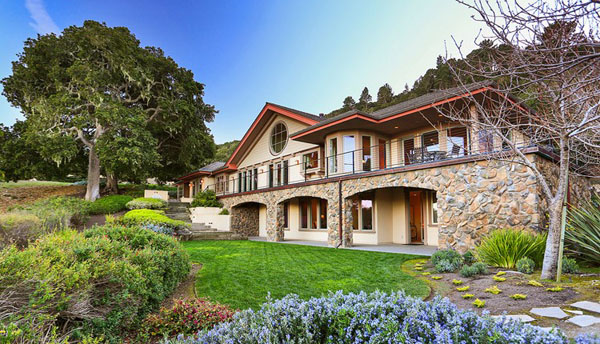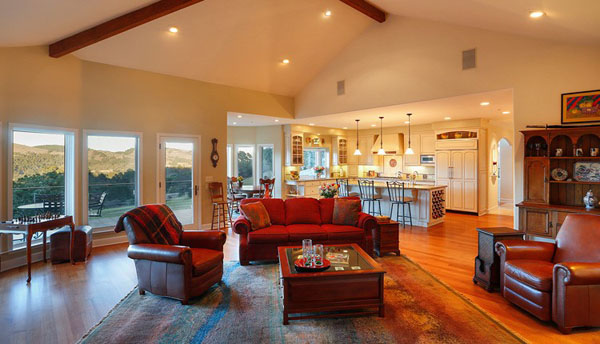 ---
Carmel Ocean View Cottage
Located on Carmel's most sought after street, this charming 4 bedroom home overlooking Carmel beach presents both ocean views and solitude. A rare blend of livable beach home walking distance to the beach and complete privacy owing to the secluded courtyard entrance. Comprised of a living room with a balcony presenting views to Point Lobos and a fireplace, generous, well- appointed kitchen, dining area with its own courtyard perfect for outdoor entertaining, spacious master bedroom with ocean view, guest bedrooms sharing a private courtyard, high beam ceilings, hard wood floors, all drenched in sunlight from skylights and large picture windows. Sophisticated year round coastal living with stunning Pacific sunsets and the gentle sounds of the ocean.
$3,825,000