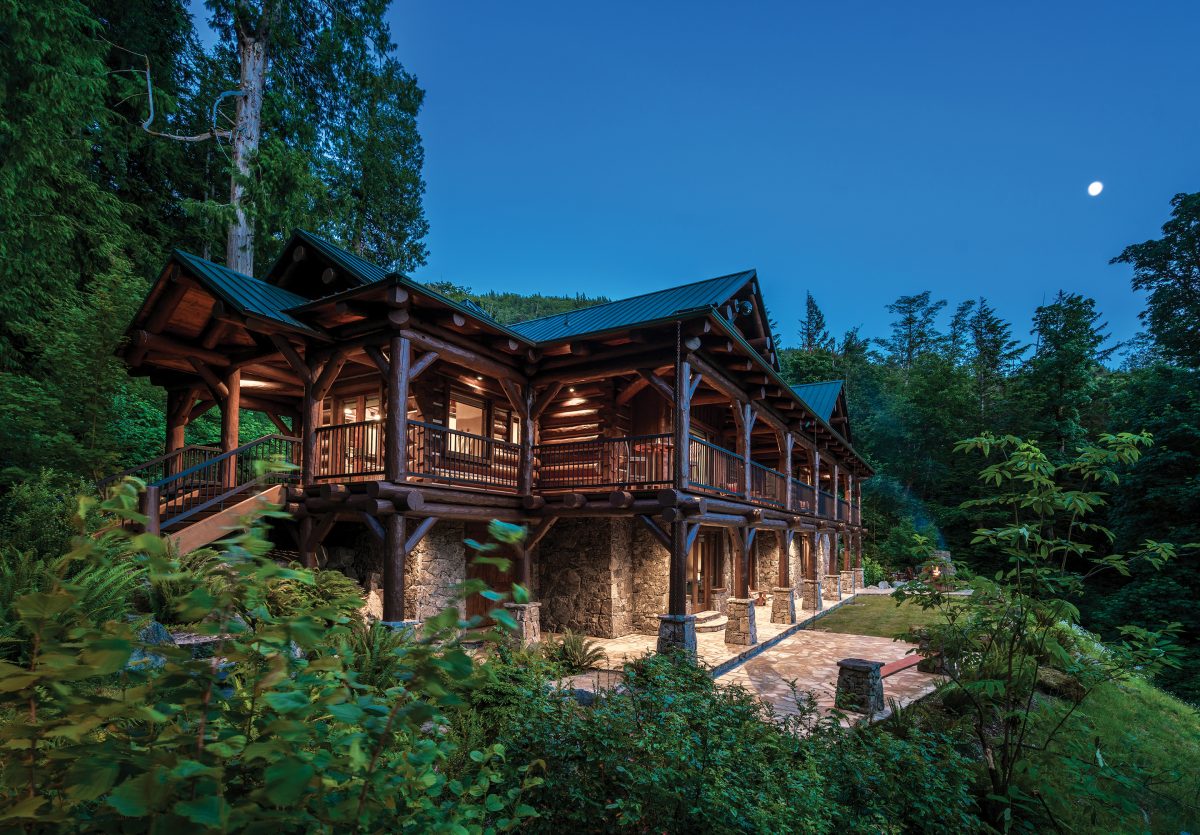 Imagine your home-away-from-home situated on the Emerald Edge of the Great Bear Rainforest; the largest and wildest temperate rainforest in the world. This idyllic wilderness retreat overlooks a deep-water harbour tucked away in Canada's exclusive Bute Inlet, British Columbia.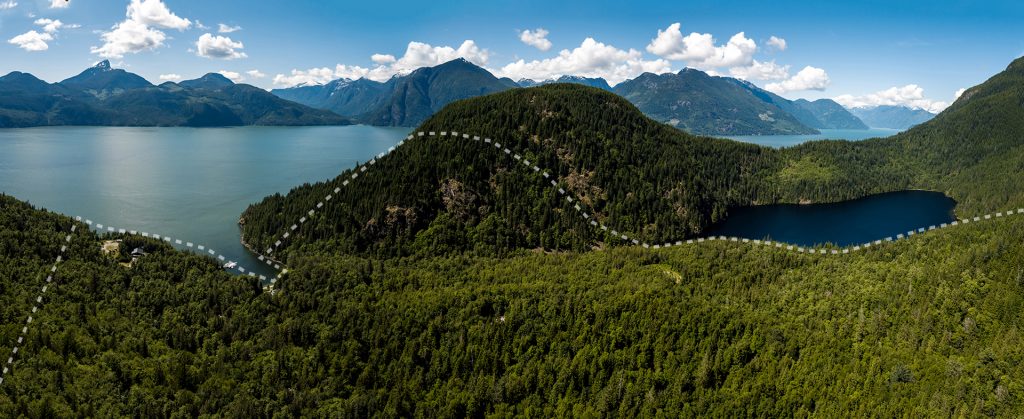 Centered amongst the vast Pacific Ocean, lush green mountains, and captivating glaciers, Fawn Bluff is a secluded sanctuary like no other on Earth. Although remote, Fawn Bluff is only 14 minutes by seaplane from Campbell River Airport on Vancouver Island, an international port of entry. And in an hour, you can be in downtown Vancouver.
Fawn Bluff was purposefully designed for a nature-loving, sport-fishing, active family. The land remains unspoiled and untamed, while the resort-like amenities are anything but.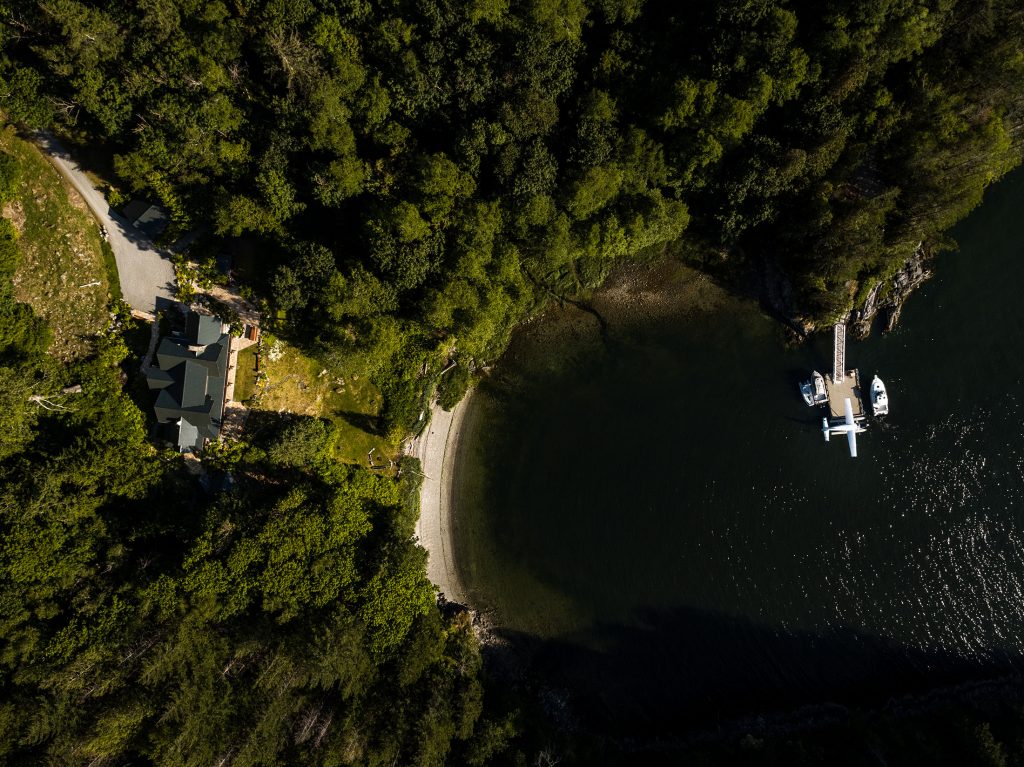 The true beauty of Fawn Bluff is the opportunities she brings her new family. These sprawling 340 acres are scalable for limitless possibilities. With the 4,000 square foot Founder's Lodge, a very private lake cottage, a fully outfitted guest house that sleeps 13, staff quarters paired with a 9,000 square foot heli-hangar and workshop, docks and barge system, over 5 kms of vehicle and bike paths, and a look-out platform with plans for a three-level tree house overlooking Leaske lake – the possibilities are truly endless with so much room for expansion. Fawn Bluff can become the ultimate commercial wilderness resort.
On the Water
Fawn Bluff serves up the great outdoors in every way. A 1 km-long private lake is perfect for kayaking and paddle boarding. The bay allows for deep water mooring, perfect for large yachts and float planes.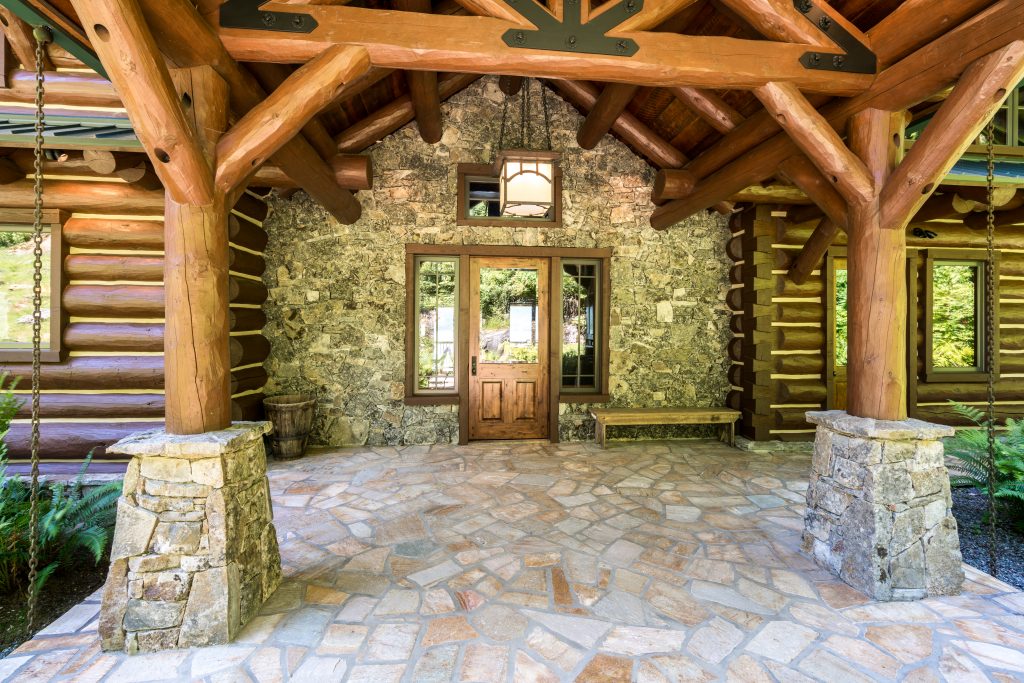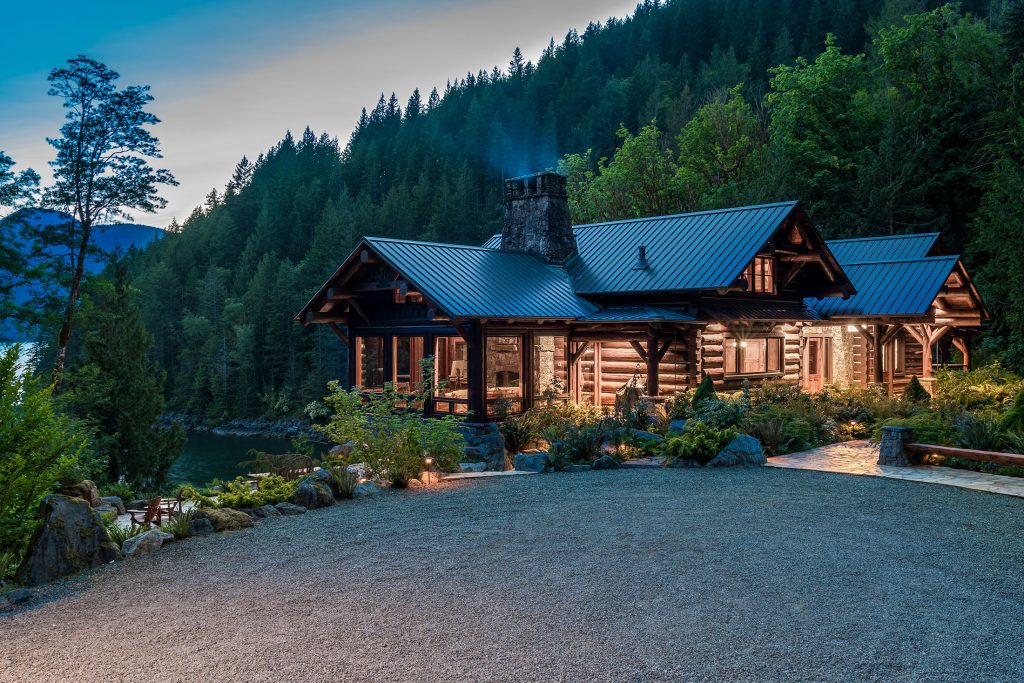 Nestled within the golden triangle of Canadian fishing lodges, avid anglers will relish in the abundance of world-class salmon, lingcod, halibut, and rainbow fishing. Your bounty is shared only with local residents who also call Fawn Bluff home—grizzlies, black bears, eagles, and seals. The rolling hills and valleys are also home to cougars, deer, and other incredible animals living naturally and unapologetically in your private 340-acre backyard.
Rustic Elegance
The Founder's Lodge is a breathtaking resort-style home. Both inside and out, your stunning cabin in the woods can be simply defined as rustic elegance: with natural finishes, reclaimed materials, organic surfaces, custom fixtures and hard- ware, complemented with the subtle, modern-day conveniences and connectivity required of a busy, successful family. Welcome to refined yet remote coastal living.
The front entrance of the Founder's Lodge is made of solid, lichen-covered living stone, hand-picked from Valemount in Revelstoke, evoking a sense of history and authenticity, providing a welcome entrance for all who come to stay. As you step inside the foyer of your new home, take stock in the grandeur of the vaulted ceiling made of reclaimed wood from an old cannery. Circular burn marks in the wide planks are from old joist rings and saw blade markings, adding a real warm and rustic feel to the floors and ceilings. The double French doors directly in front of you, open up onto a covered veranda that spans the length of the lodge, giving light and sight to the beauty that await outdoors.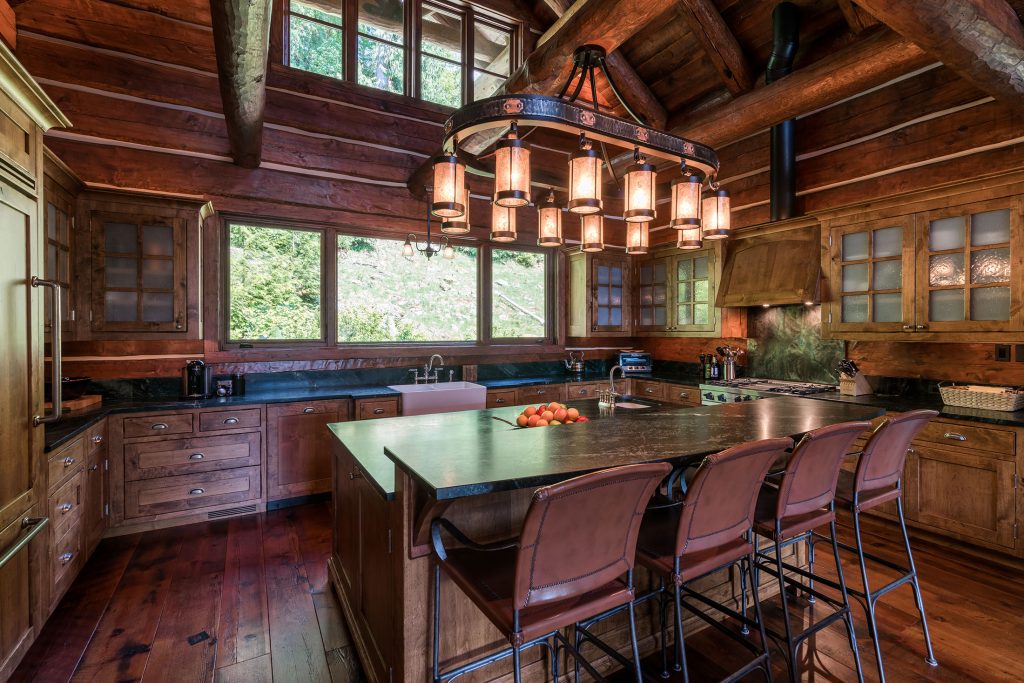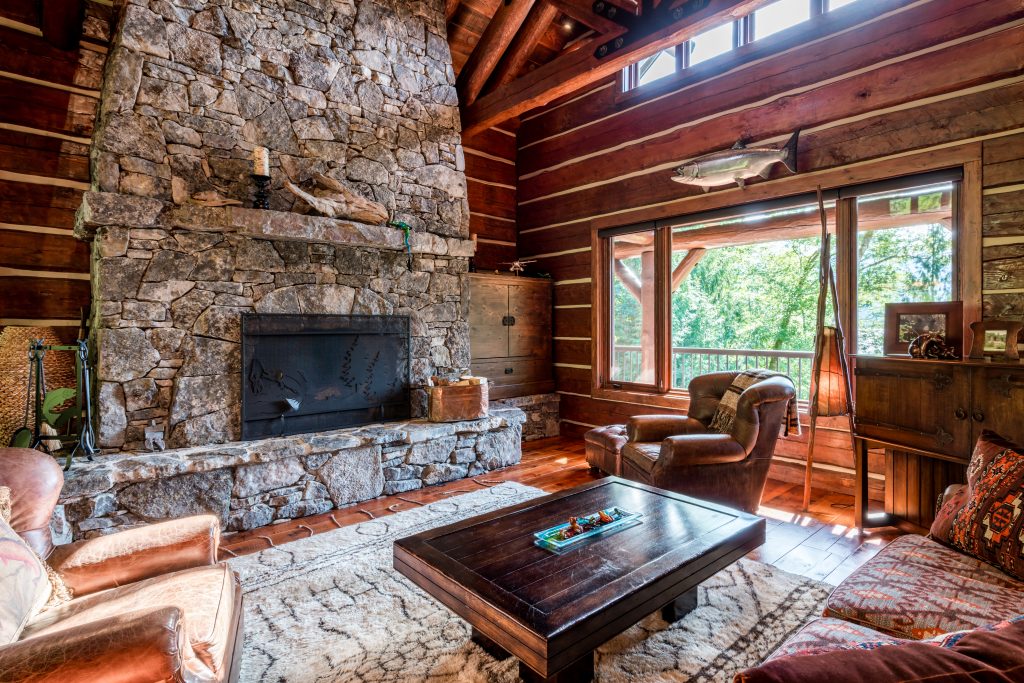 Even the most discerning chefs will enjoy cooking in this grand and inviting entertaining kitchen, complete with solid wood custom cabinets, integrated Sub Zero fridge and freezer and 4 burner Viking oven with built in hood fan. At the center is an oversized island with breakfast bar with rich dark green stone countertops, chosen to reflect the natural surroundings. From there, the living room welcomes you with a soaring fireplace. This double-sided fireplace backs onto a large four seasons room, perfect for early morning coffee or evening nightcaps before turning in. Windows on three sides provide magnificent northwest views where you can enjoy conversations with family, friends and colleagues.
Your master bedroom delivers awe-inspiring morning views of the bay and inlet, and flawless sunsets every evening. A set of Benjamin Franklin stairs lead up to the large private loft above the master suite that sleeps two.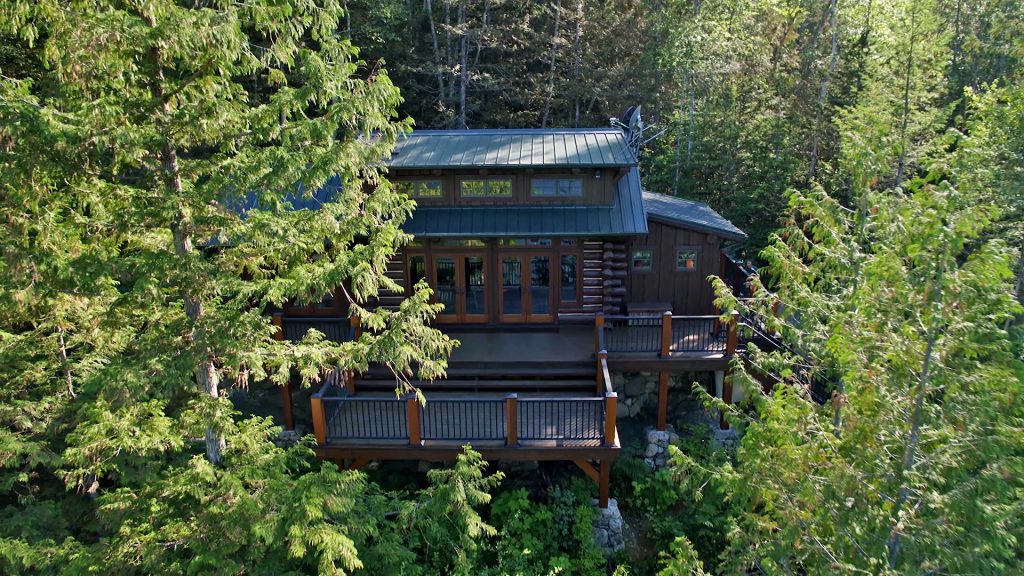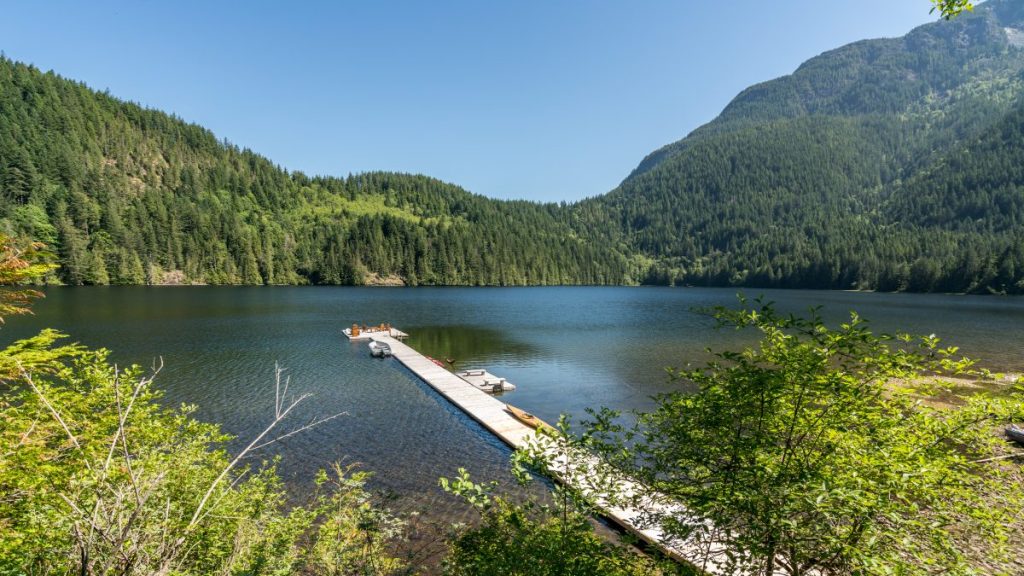 On the lower level of the house are the two large guest bedrooms with ensuites, walk-in closets and french doors opening up onto the flagstone terrace over-looking the inlet.
This enclave for guests is outfitted with a proper games room, complete with solid wood custom cabinetry and wet bar with same stone countertops found in the upstairs kitchen, Sub-Zero fridge and freezer drawers integrated into the cabinets, and custom built entertainment unit with built in sound system.
Celebrate & Gather
Whether it's a garden wedding or a fishing club adventure, the Guest House is stocked and ready to go. This 6-bedroom, 4-bathroom, 2-kitchen guest house spans almost 3,000 square feet, and has wrap-around verandas offering views of the inlet, glacier and mountains. With views that will leave your guests in awe of nature's beauty. The design of the Guest House was singularly focused on celebration and gathering—the kitchen on the lower level is a caterer's dream, complete with commercial-grade equipment and ample storage.
The Hollywood Trailer
This bona-fide Hollywood Trailer sits atop the best vantage point of the property. Transported from its original California studio lot, this pied-à-terre is like a home-away-from-home. With a wrap-around deck serving views from every angle, a small but mighty one-bedroom, one-bathroom packs quite a punch. Equipped with a kitchen, outdoor shower, a sunken hot tub, and full views of the inlet. However, if you prefer to grow Fawn Bluff into the resort she was destined to be, this is the perfect location for a second guest residence, allowing for more commercial opportunities.
A Well-Oiled Machine
A remote resort like Fawn Bluff does not run seamlessly without the support of world-class staff. Everything is carefully monitored and maintained by the on-site staff. With their own private quarters, the Staff Camp sleeps up to 12 staff comfortably to help keep Fawn Bluff fully operational year-round. There's also an engineering room and a 9,000 square foot, ultra-fortified facility which includes a helicopter hangar and cement landing pad.
Connected with Nature
Here, you can be one with nature without sacrificing the seamless connectivity you need—Fawn Bluff offers its residents and guests complete access to the digital modern world. To ensure seamless network reliability, a satellite communications system ensures continual internet, cellular, and security services while supplying maximum bandwidth to everyone on site. While the Founder's Lodge also offers a cellular booster amplifier to offer clear and consistent cellular service.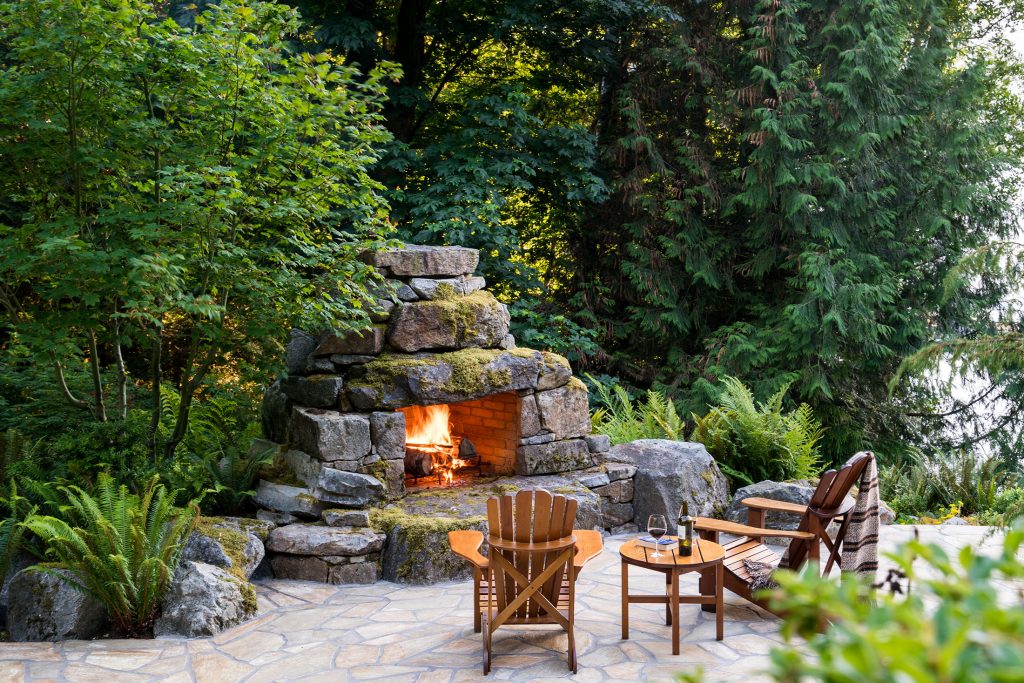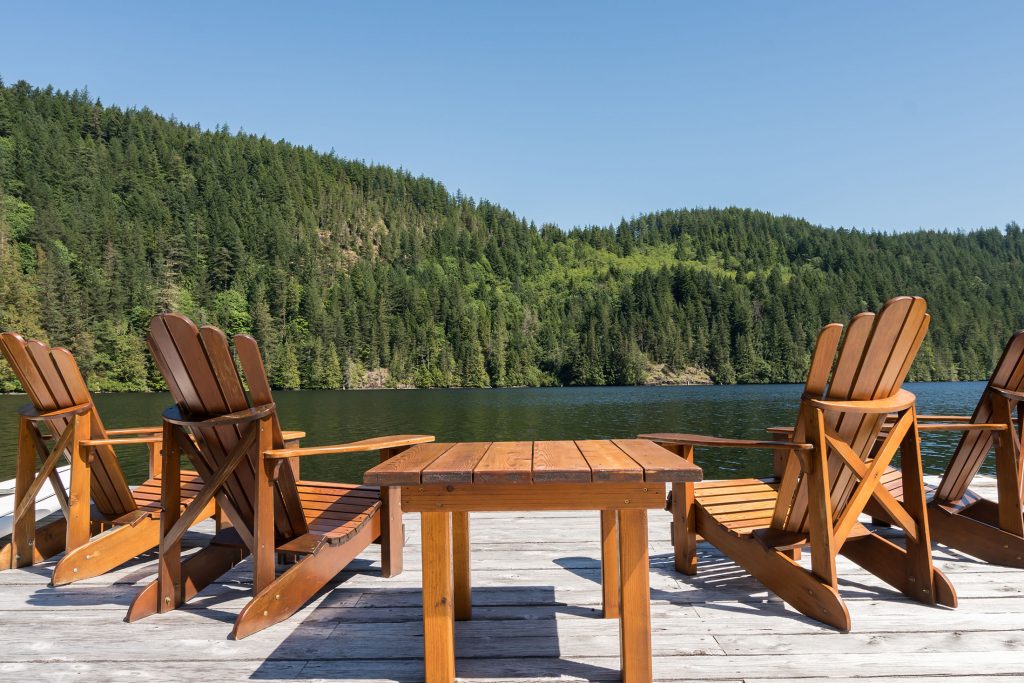 Fawn Bluff leaves little footprint on her environs. When building Fawn Bluff, the timber used was found on site and there was no over clearing. UV-filtered water is taken directly from the lake and creek and replenishes every 24 hours. The property is equipped with solar panels, a garden and green house for fresh herbs and vegetables.
Your Fawn Bluff Day
Fawn Bluff offers endless possibilities for wellness and adventure. Enjoy gourmet meals al fresco under the clearest skies, or roast marshmallows in the moss-covered outdoor fireplace. Spend time unwinding in one of three hot tubs, always kept at the perfect temperature, sit back in hand-crafted Adirondack chairs and take in the breathtaking views all around. Sunrise yoga on the lookout platform, a jog through the forest, or go fishing for your dinner—rainbow trout is on the menu!
If you're hoping for something more elaborate, Fawn Bluff's director of possibilities has 22 years of experience facilitating happiness for everyone. Pete knows how to make dreams come true; he has the contacts and the drive to deliver on the best experiences. Fish for halibut, salmon, Dungeness crab, spot prawns in your backyard. Take the helicopter to Whistler Blackcomb for some world-class skiing (or world-class après). Or take the floatplane to Vancouver or Victoria for some city adventures.
Whether you build her up and open her doors for commercial use, or want to keep her glory to yourself, this treasure can grow to unlimited potential.
To learn more about a once-in-a-lifetime opportunity to own this quintessential Canadian retreat in Bute Inlet, BC, Canada, visit FawnBluff.com.