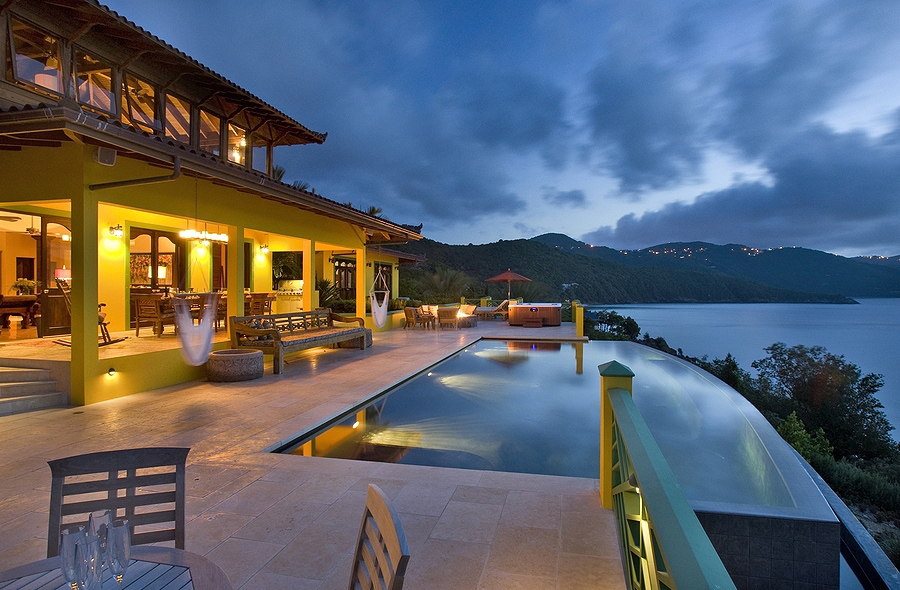 Golden Pavilion Villa stands as an expert employment of intricate, thematic design.
Creating its own composed world within the British Virgin Islands Caribbean scenery, the grandiose villa tends toward desires for secluded and serene island living.
Renowned for its Balinese architectural influence, the property is situated within a private residential estate in the north of Tortola and commands a distinctive waterfront location. The hillside retreat is positioned on 4.214 acres and reveals diligent attention to detail, combining Caribbean culture with Balinese ideals and an injection of British colonial elegance. This blend is exemplified on immediate admission through a traditional Balinese entrance gate design – angkul-angkul. Lily ponds, statues of dancing maidens and Buddhas welcome residents into the meditation garden, communicating charm and sophistication.
Completed in 2007 to an impeccable specification, the residence's design encompasses over 6,000 square feet of magnificently orchestrated living space. Comprising the interior is an extraordinary Great room, airy library, refreshing media/ family room, state of the art kitchen, master bedroom suite and three guest suites located on the ground floor, all opening onto enchanting covered verandas.
Conspicuous features include an extensive terrace – perfect for social occasions- equipped with a hot tub, outdoor fire pit, fully fitted indoor gym and a modern heated infinity edge pool on the exterior of the villa that smoothly juxtaposes the traditional feel.
This is further enhanced by the stunning 200 degree ocean view. The vast second floor bar and pool room is furnished with a nine foot billiards table, the ability to take advantage of the 360 degree views and all the electronic amenities necessary to fulfill indoor entertainment.
An independent one bedroom guest cottage, finished to the magnificent standard that the entire villa breathes, is privately located at a slightly higher elevation off the access driveway; ideal for guests or managerial staff if the property is to function as a villa rental.
In its entirety, the property hosts five inviting reception rooms, five exceptional bedrooms with four poster beds and exotic fabrics and seven bathrooms. On the interior of the villa, traditional Balinese statues, furnishings, artwork and details all commingle with sweeping views of the sea and Guana Island to produce a fresh ambience throughout the expansive space. Interior flooring and exterior terracing come from Jerusalem Gold Limestone; exterior entry gate doors, decorative roof tiles, statuary furniture and artwork are from Bali; doors, windows and kitchen cabinets are constructed from Brazilian Mahogany, custom- fabricated on Tortola.
Striking landscaped grounds baring witness to immaculate maintenance, grant passage to walking gardens and paths leading through sunken stone retreats and sitting areas that escort residents to sea access- great for avid fishing enthusiasts or those who wish to admire the ocean from a closer perspective. A short distance from the property lies secluded Little Bay beach for further enjoyment of Golden Pavilion's encompassing splendour. Such conveniences contribute to the private universe imparted by the comfort of this spectacular property.
A 15 minute drive to Road town, the central shopping ground of the British Virgin Islands and the International Airport at Beef Island in the other direction, holds true to the villa's ethos of effortless living.
The concept of easy living and distinct thematic approach of the property's design, endows homeowners with a viable and lucrative option of utilizing the exotic hideaway as a villa rental, running the retreat to the specifications they see fit.
Current Estate Manager Matthew Restell tailors villa rental services to the requirements of individual groups, who possess the great fortune to vacation at this retreat. Whether it's the beautiful view, reinvigorating walks around the adventurous rocky terrains and beautiful gardens, or relaxation on one of the British Virgin Island's best secluded beaches a minute away, the villa transports guests to tranquility.
At this present time, a multitude of water sports apparatus are available to guests including kite boarding equipment, surf boards, water skiing gear and fishing rods for on and off shore. There are numerous snorkeling sets, easy accessibility to stand up paddle boards. Rental of kayaks and diving apparatus are also attainable, delivering the comprehensive water sports experience that is customary to the British Virgin Islands vacation.
Culinary expertise complete visitor's escapism at the exotic hideaway, with options of chef service at the villa or exploration of the abundance of restaurants available. Managerial staff will go to great lengths to fulfill guests' requests, ensuring the perfect holiday.
With high numbers of returning visitors, the villa's ability to unite visitors with the natural relaxed Caribbean feel, creates an addiction and provides great return on homeowner investment.
The attractive alternative of annual residency grants year round sunshine, calming breezes, scenic views and an atmosphere that bestows Zen qualities on mind, body and soul.
Golden Pavilion Villa
For Sales Inquiries
Smiths Gore BVI Ltd
284.494.2446
[email protected]
For Rental Inquiries
Matthew Restell
284.541.0185
[email protected]