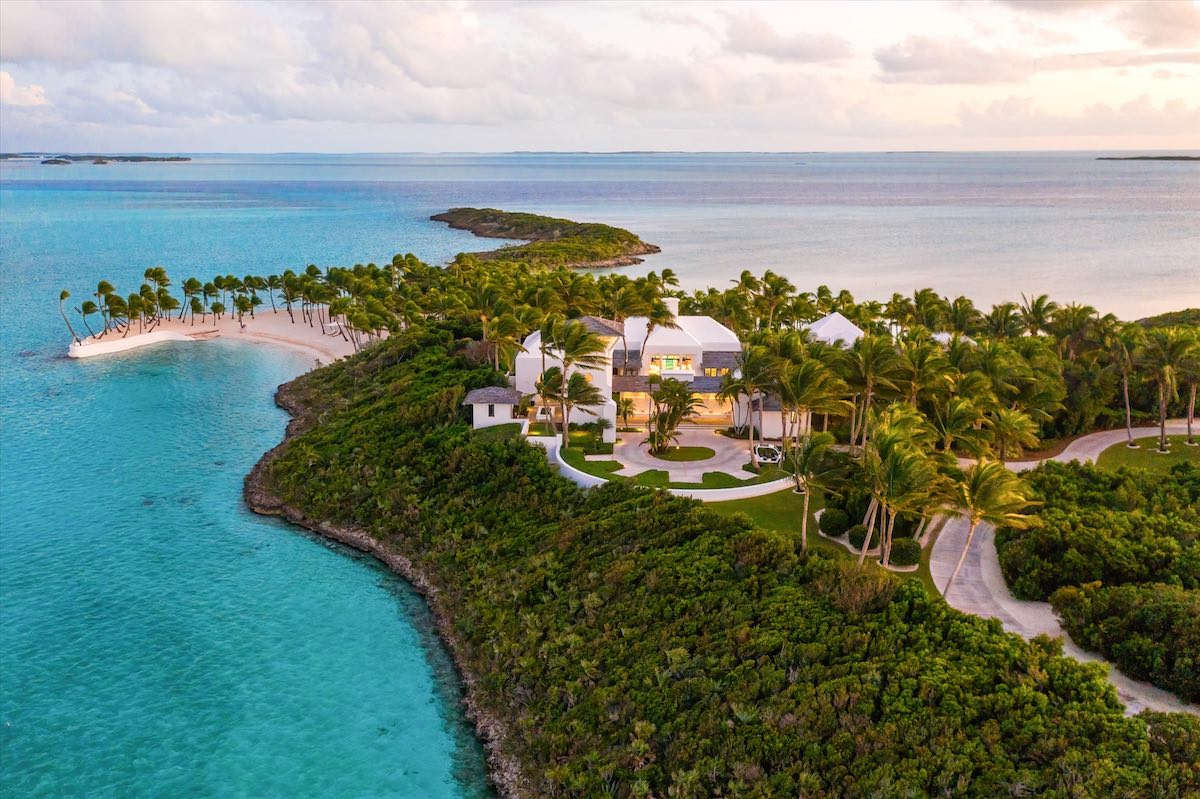 When power couple Faith Hill and Tim McGraw purchased L'île d'Anges (Goat Cay) in the heart of Exumas, Bahamas, in 2003, they had no intention of living in a yurt on the island's beach for nine years. But they did just that while an entire infrastructure (electricity, water, foundations, housing for construction crews) was being built to run and house their estate.
Also known as Goat Cay, the private island extends nearly 20 acres. The tropical landscape of palm trees and wild vegetation and their clear turquoise water surroundings lent themselves to having an open indoor/outdoor living concept.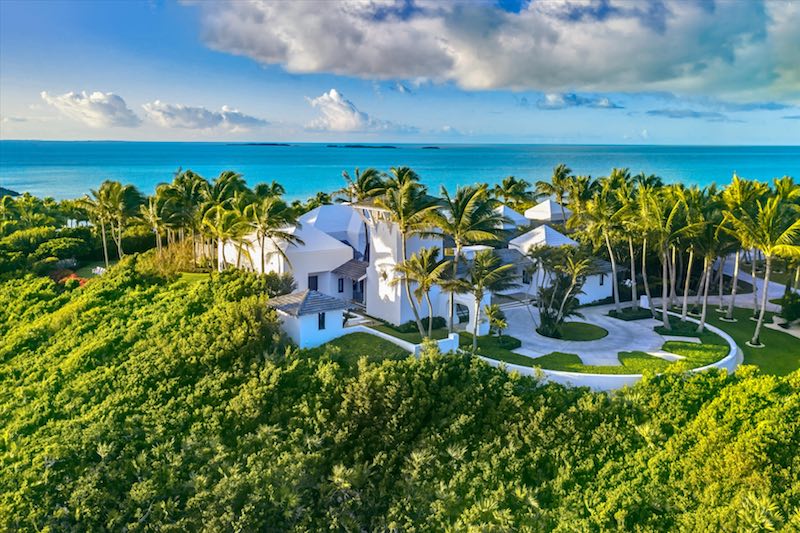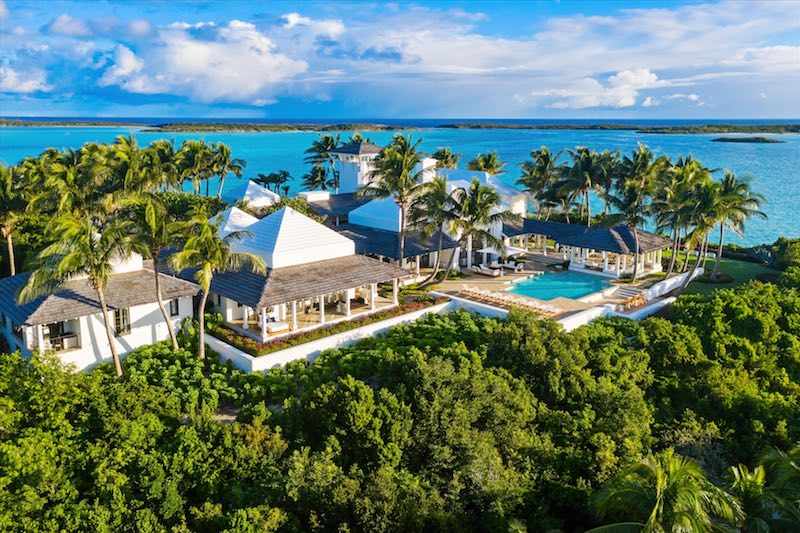 The 6,500-square-foot mansion is built in the center of the island on a high point allowing the most sweeping panoramic views. Upon first entry, crisp, white-washed walls set the tone for a Mediterranean feel as 5,000 square feet of covered verandas with open-air tiled walkways connect eight separate 'pods' with pitched, thatched roofs set around an inner courtyard garden. Four bedrooms include a main suite and a kid's room — considered to be a dorm room/bunkhouse. A massive great room allows for entertaining. The primary suite features lofty ceilings with impressive beams and a beautiful closet and spa-like bathroom. All bedrooms have glass windows while the living area has a glass-paneled, roll-up door allowing for a breezy, relaxing retreat as it opens onto the pool terrace. The large chef's kitchen has double islands and sleek, modern appliances and a warm, inviting color palette.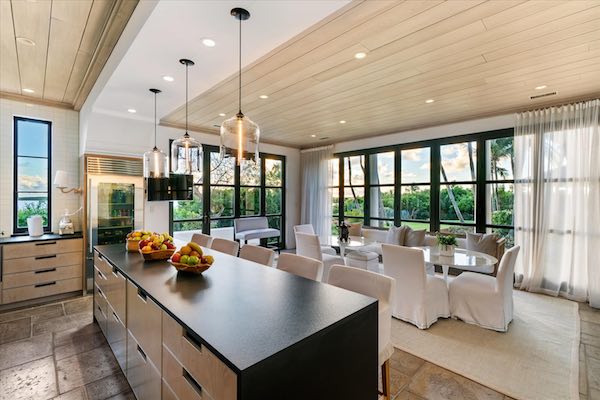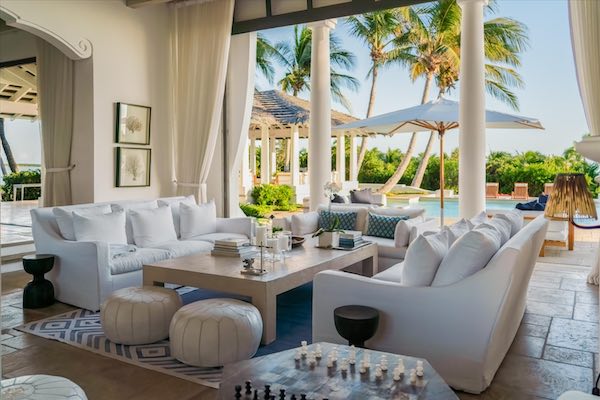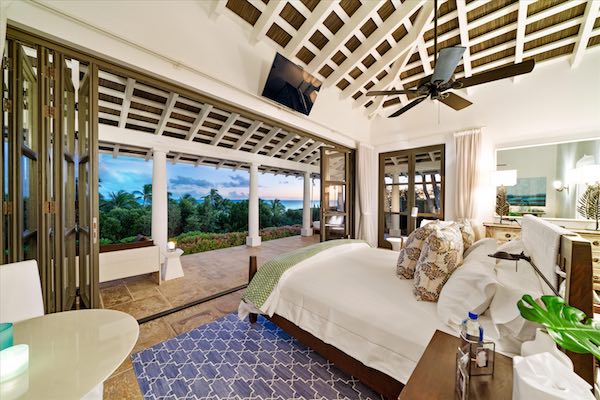 Surrounding features include two yurts that provide high-end beach accommodations for those who want to get even closer to nature's splendor; 1.3 miles of ocean frontage where a private dock holds fishing boats, jet skis, and other watercraft; a stunning swimming pool and loggia ending in a cabana; and both an outdoor bathtub and shower. A breathtaking observation bell tower has 360-degree views. Every architecture and design feature is in line with the Mediterranean vibe.
Although elegant and luxurious, the couple wanted to make it family-friendly with a laid-back feeling — a functional house that would blend with the environment.
This island property is turnkey and can be serviced by a small staff who can reside on the island in three separate cottages located on 6,000 sq. feet of secondary accommodations toward the north end of the island.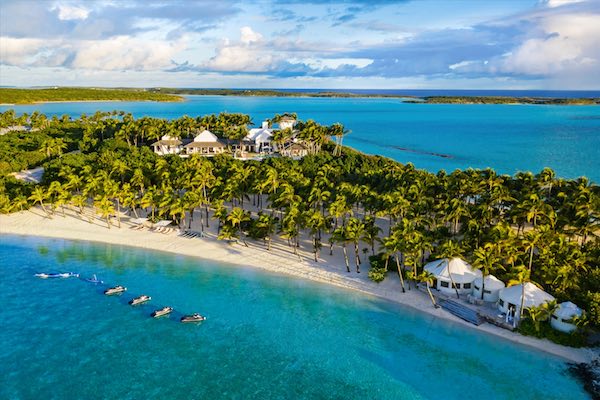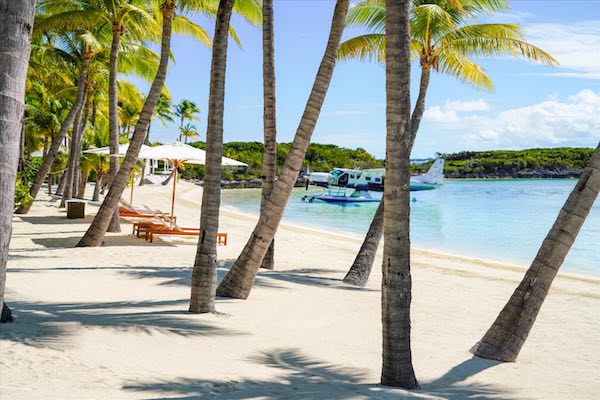 L'île d'Anges is an 80-minute flight from Miami and 105 miles southeast of Nassau. The island is accessible by seaplane or private planes and charters can fly into the Exuma International Airport, followed by a short boat ride to the island.
Contact listing agent Edward de Mallet Morgan of Knight Frank for further information.