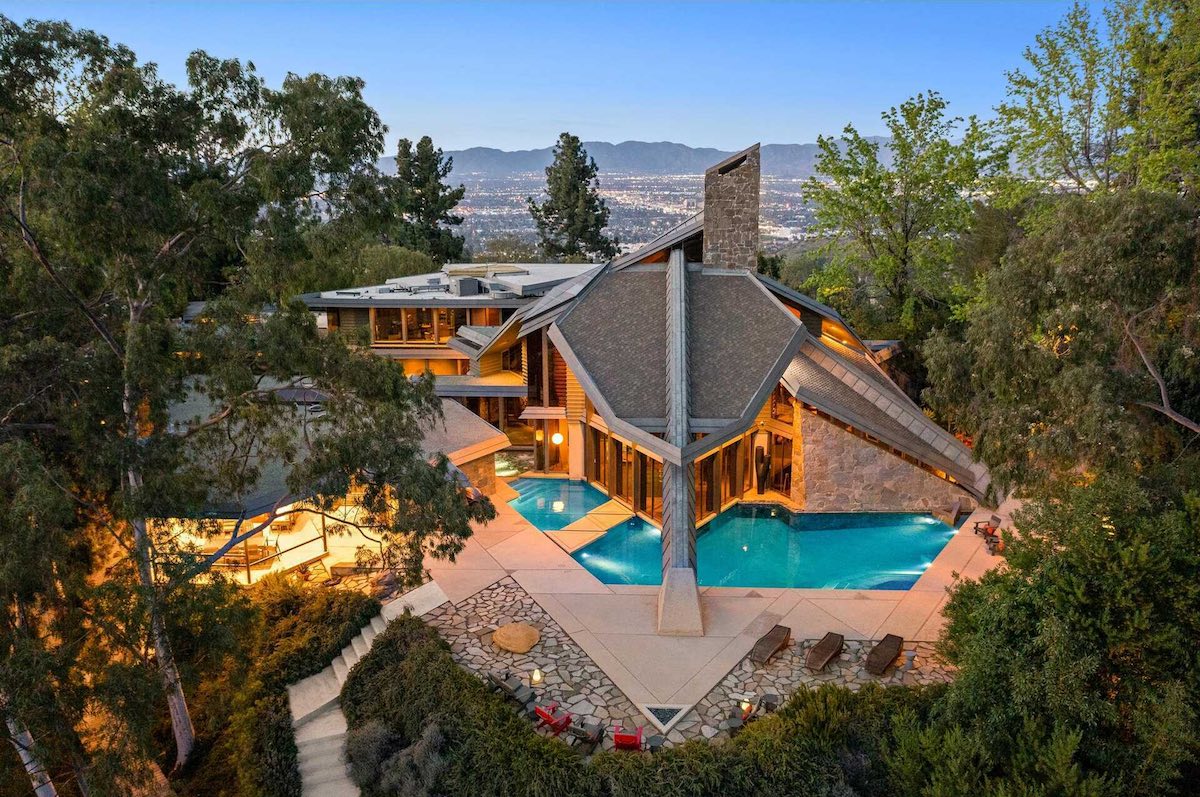 Although basketball legend Wilt Chamberlain built his mansion in 1971, the competitor's essence remains strong and palpable within its sophisticated and opulent design more than 50 years later.
A four-time MVP and Hall of Famer, Chamberlain is most remembered for his years with the Los Angeles Lakers and is universally recognized as one of the greatest basketball players in history. At the zenith of his professional success, he bought a 2.5-acre plot of land which was once a former Cold War anti-aircraft missile site. He commissioned renowned architect David Rich to design a luxury custom bachelor pad in Los Angeles on this newly acquired plot of prime California real estate.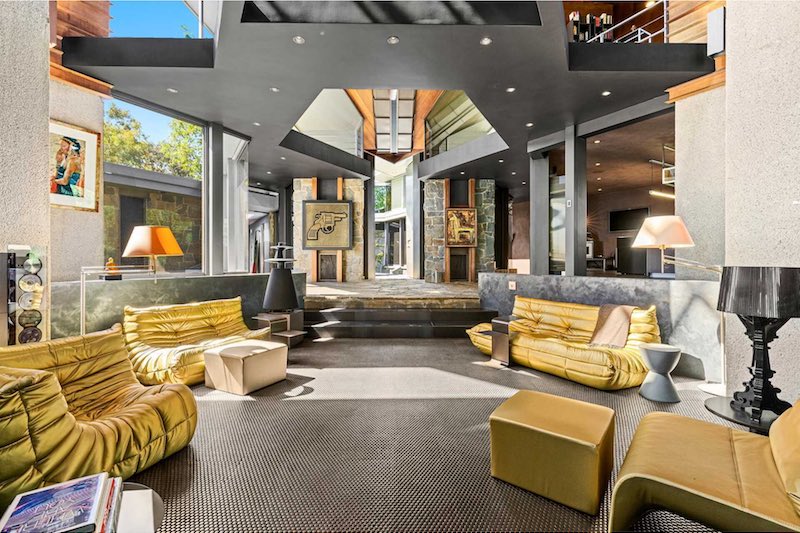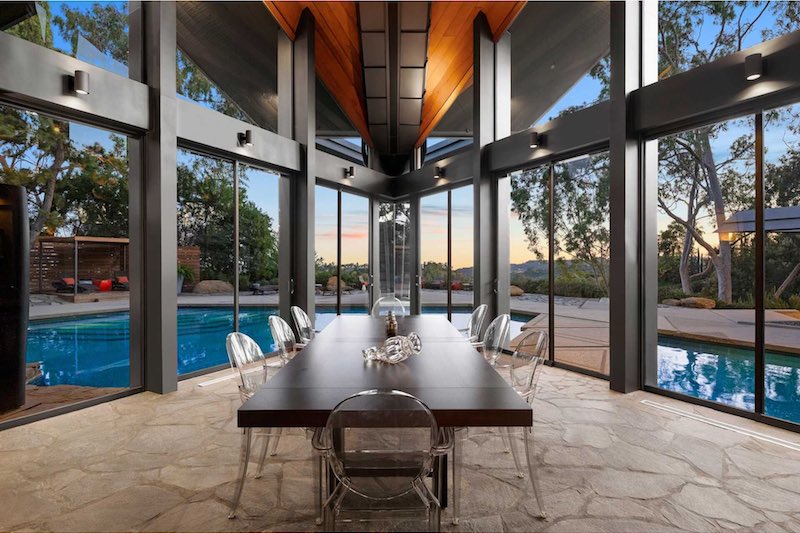 What resulted is a residence that has become an architectural treasure, constructed from a combination of redwood, glass, and natural stone from surrounding Bouquet Canyon in the Santa Clarita Valley. This magnificent home was specifically built to the specifications of the legendary basketball player and is highlighted by an incomparable wrap-around swimming pool that logistically can't be reproduced today. The residence, initially dubbed Ursa Major, is a reference to Chamberlain's moniker (The Big Dipper), which sprang from the 7-foot-1 player's need to lower his head when walking through doorway-entrances.
His height guided the architect's overall layout of this triangle shaped mansion modeled and influenced by the iconic Frank Lloyd Wright. In the beginning of the house development process, David Rich showed Wilt a rendering of a circle, a rectangle, and a triangle for the building-design of the vast multi-acre site and asked him which configuration seemed most naturally livable and suitable to him. He chose the triangle design, and the rest is history.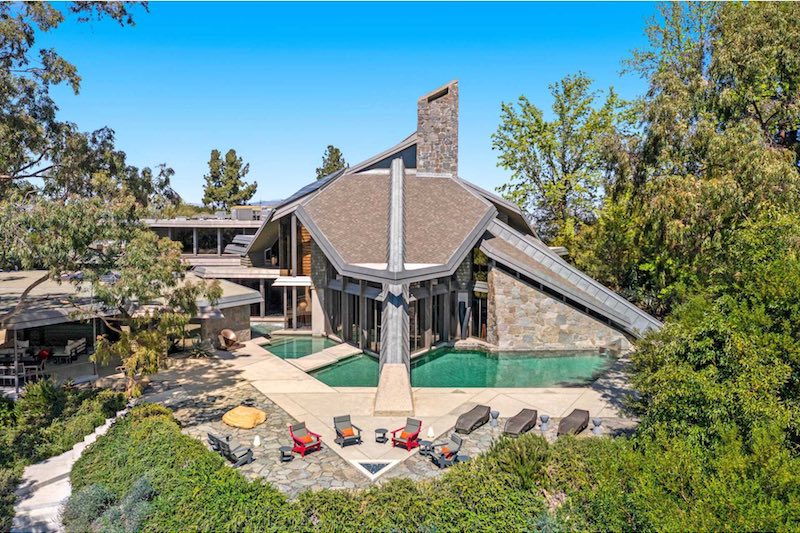 Listed for $15 Million, the residence is situated on a hilltop in a quiet cul-de-sac and is surrounded on all sides by towering trees. The property is entered via a winding stone pathway bordered by beautifully illuminated ponds and elegant water features before being met by a grandiose 2,000-pound front door. Once inside, you'll notice the home's most stunning feature, its five-story, 40-foot ceilings.
At 9,400-square-foot estate, the residence has been completely refurbished to incorporate cutting-edge technology and showcases six luxurious sleeping quarters and eight bathrooms. Among the additional facilities within the home, there is a media and billiards room, a gym, a redwood sauna, and an outdoor kitchen. There is also a remodeled restaurant-style main kitchen with cutting-edge appliances and amenities.
The interior layout and swanky furnishings were designed with precise characteristics that contrast nicely with the local landscape and make use of natural components, like the redwood and stone that were used. The main living area contains a sunken lounge space with a fire pit and is surrounded by walls of massive windows, ensuring that you are always able to see outside.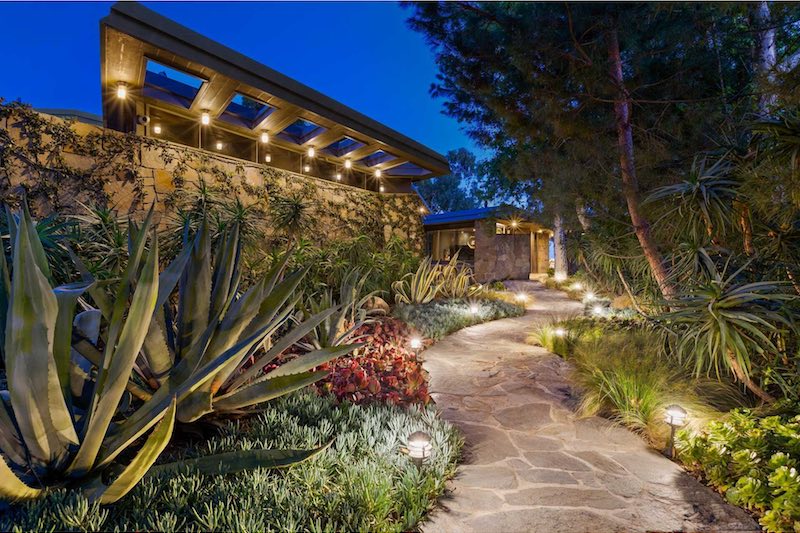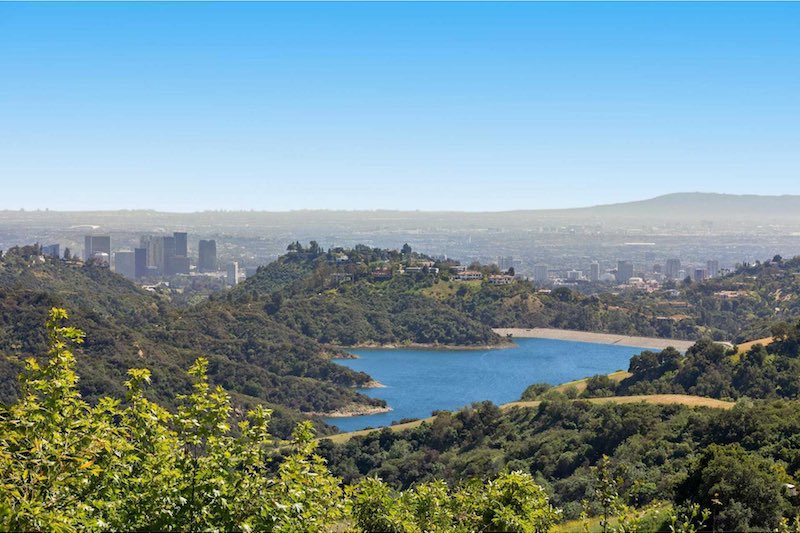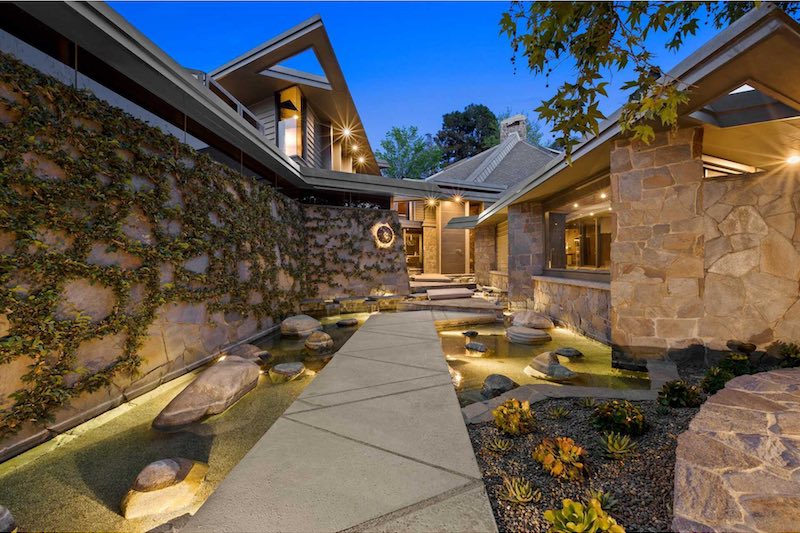 The master bedroom and bathroom are located on the second floor, encompassing the entirety of the second level and are accessible through a distinctive floating stairway, offering spectacular panoramic views of the ocean, and neighboring mountains. Adding an additional touch of modern luxury, outside you'll see the wraparound pool creates the illusion that the house floats on water.
While there have been various revisions over the last half-century, Chamberlain's original idea of what he envisioned as his primary home has remained, and the structural design of the house as a whole reflects the array of eclectic facets of the legend's life.