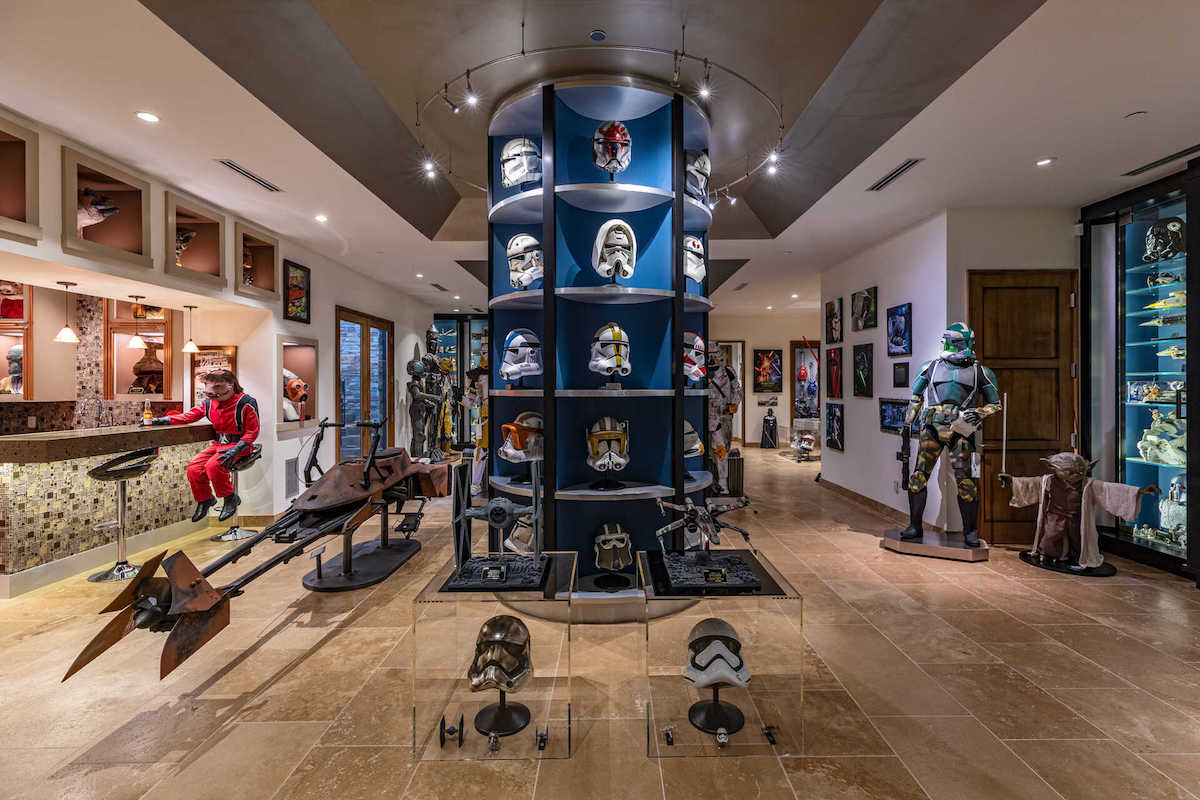 Stepping behind the cinematic lens can be exhilarating for a movie aficionado; but actually living in a home replete with memorabilia from your favorite flick totally immerses you into a world cloned from the big screen. For fans of the sci-fi Star Wars saga, one Hidden Hills, California mansion encompasses everything that "The Force" has to offer in a whopping 5,000-sq foot basement below an incredible 18,183 square-foot home—all for $26.5M.
Underground Star Wars Museum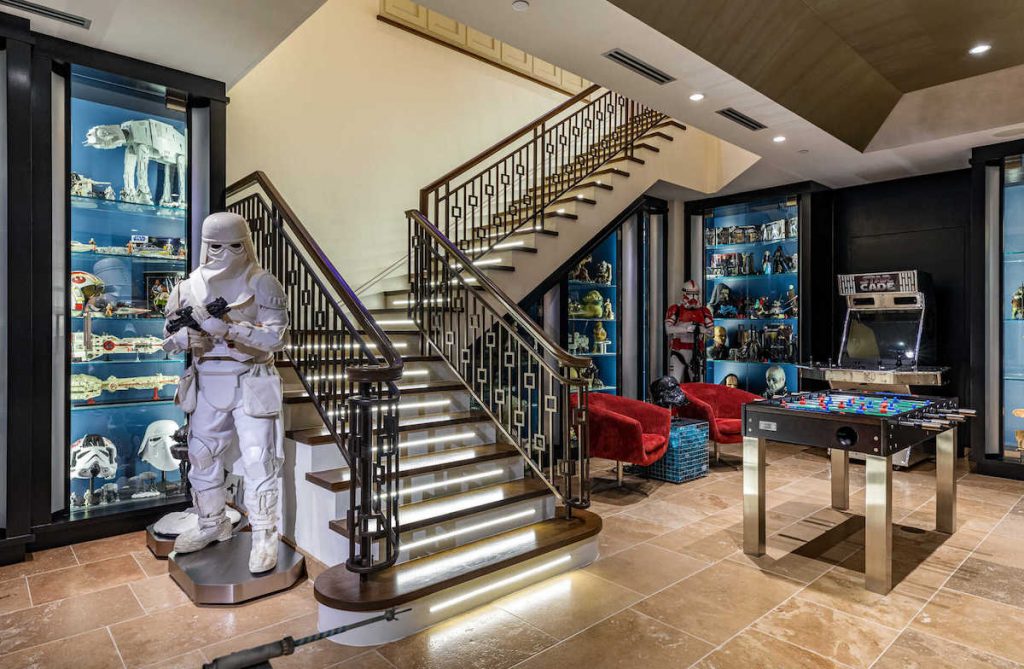 The massive entertainment complex carefully burrowed in the basement is an out-of-this-world man cave filled with some of the most extensive and unique Star Wars paraphernalia in the galaxy. Custom display cases showcase thousands of collectibles, props, and mannequins, and even boasts one-of-a-kind pieces commissioned by the homeowner and built by master prop makers and artists.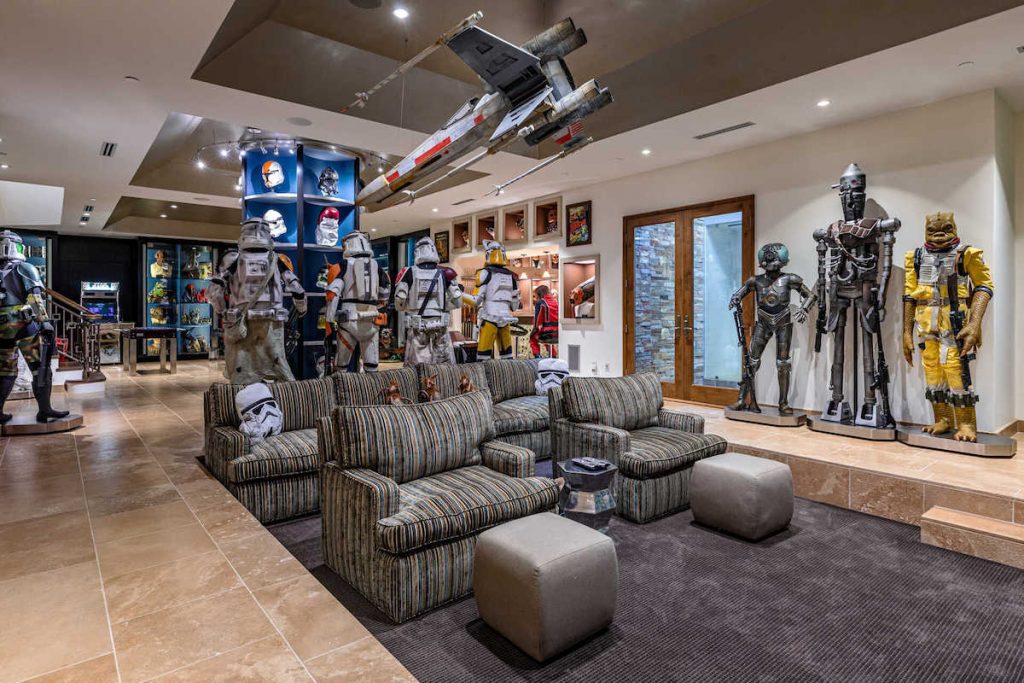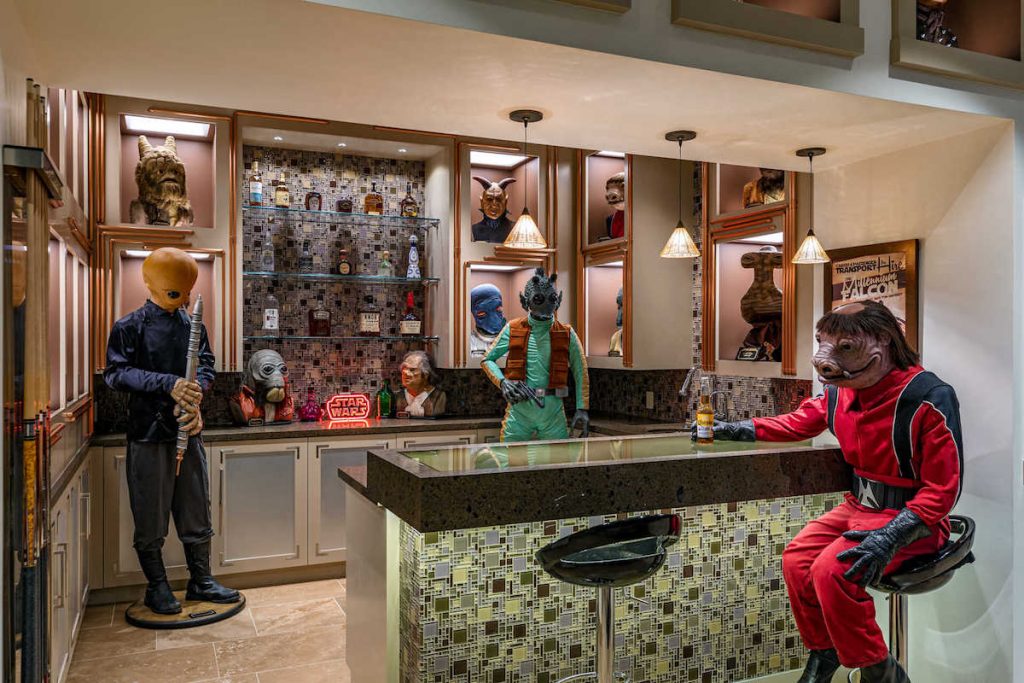 To immerse guests deeper into the genre, there is a replica of the Tatooine 'cantina bar' with several life-size figures that frequent the place in the films along with an X-wing starfighter.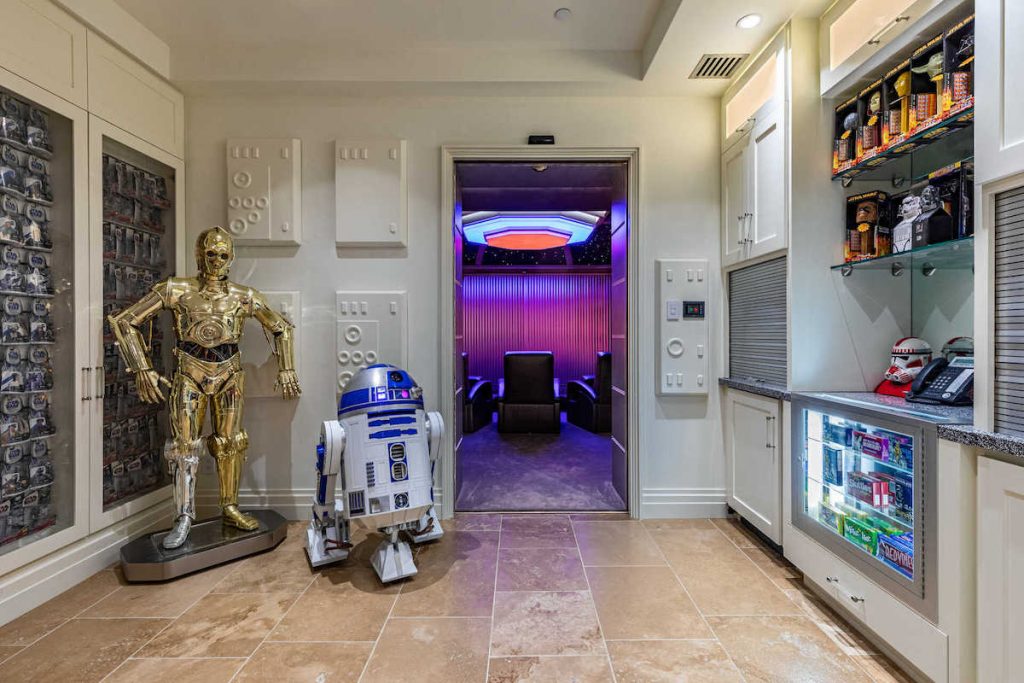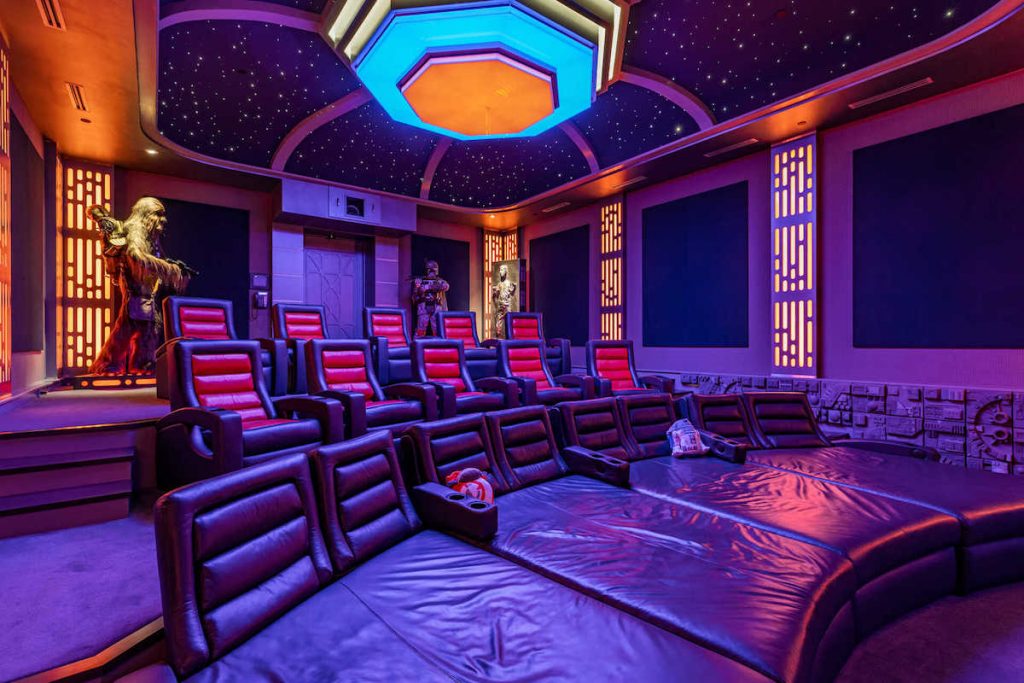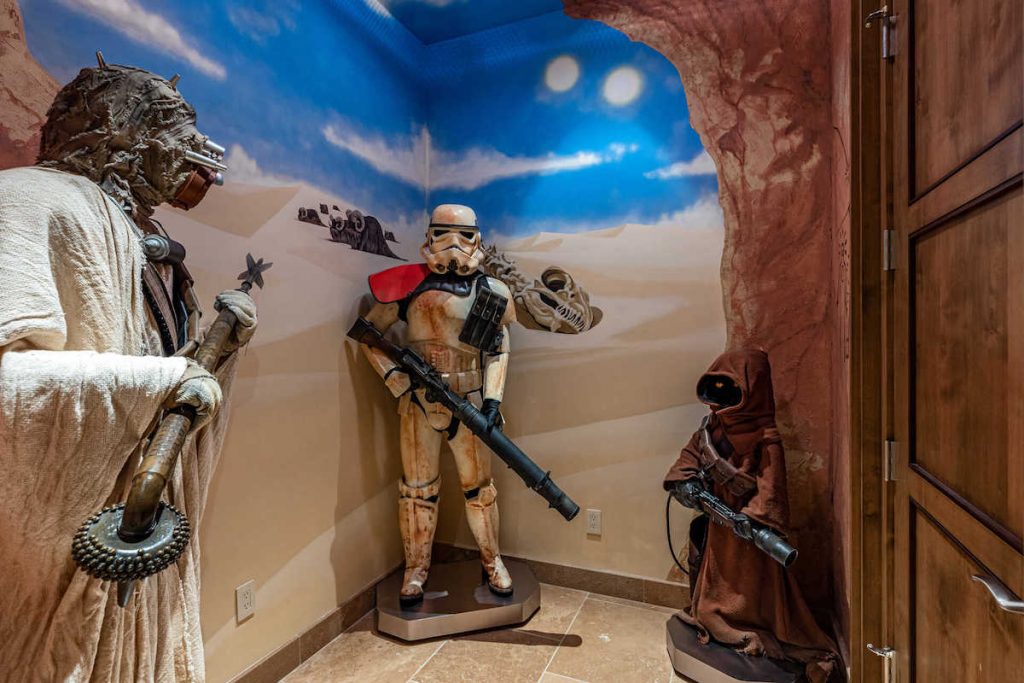 The multi-million-dollar collection also includes a colossal home theater with a 19-foot screen, replica of the Death Star surface, and a concession stand managed by R2-D2 and C-3PO. Some of the assemblage is available for purchase separately while others are a mainstay of the home and included in the sale.
Out-Of-This-World Mansion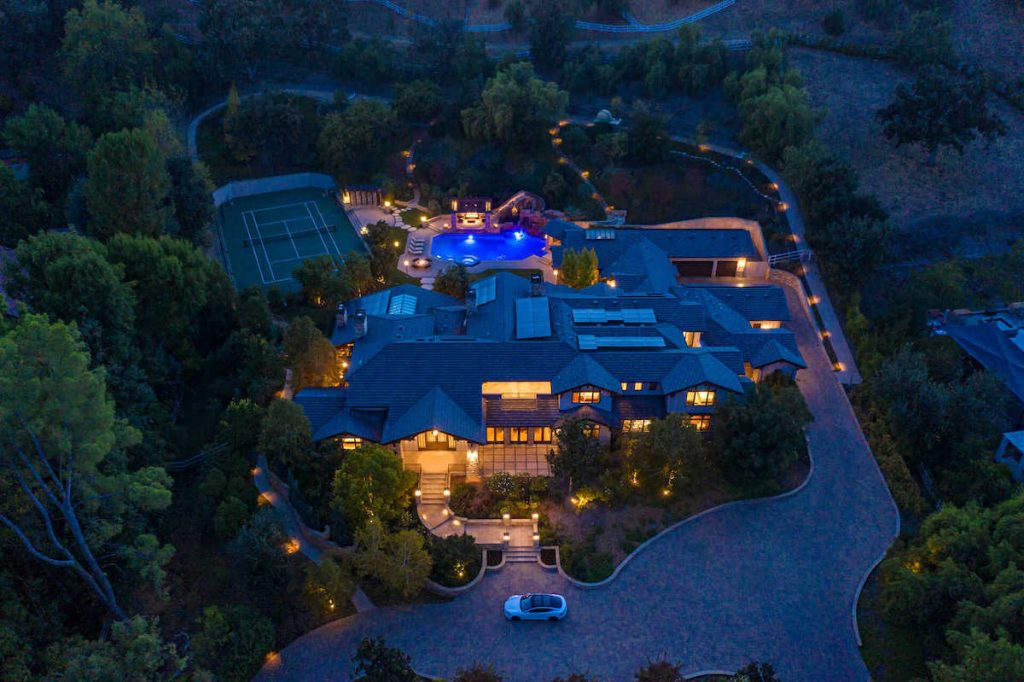 With six bedrooms and eleven baths, this mansion can hold friends and family visiting from the furthest corners of the earth and beyond. The 3-acre property includes a fruit orchard, grapevines, and an organic herb garden. Much of the property is powered by a 24-kilowatt solar grid system, while the 750-gallon saltwater aquarium has its own filtration enclosure as it self-feeds and self-regulates. There is a wine room, tennis court, gym, and panic room. The indoor-outdoor pool and spa include a grotto, waterslide, and waterfall.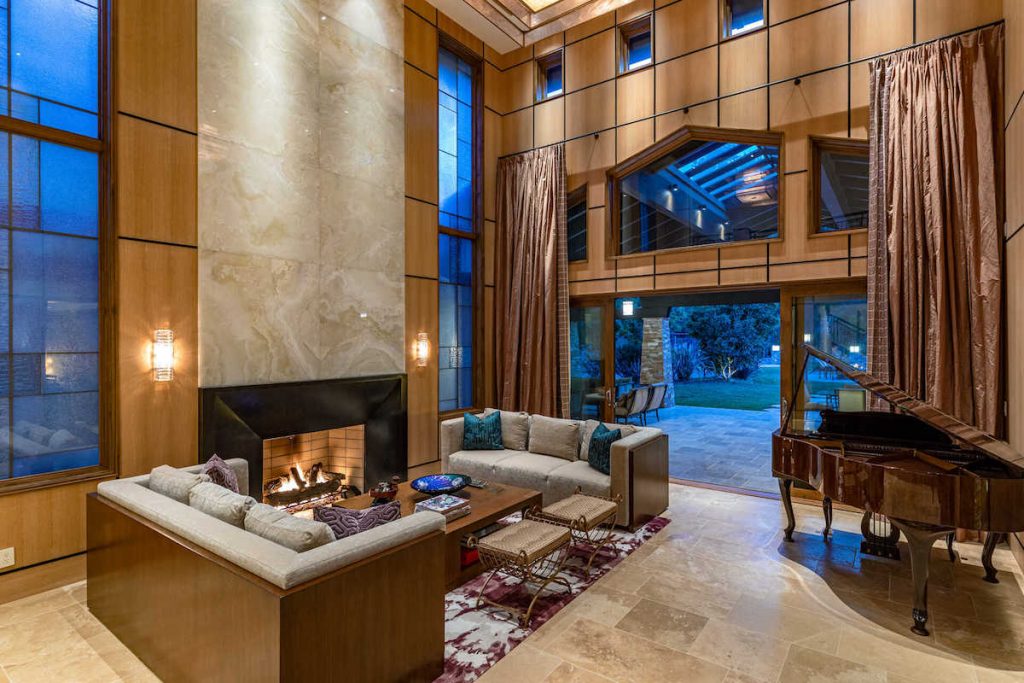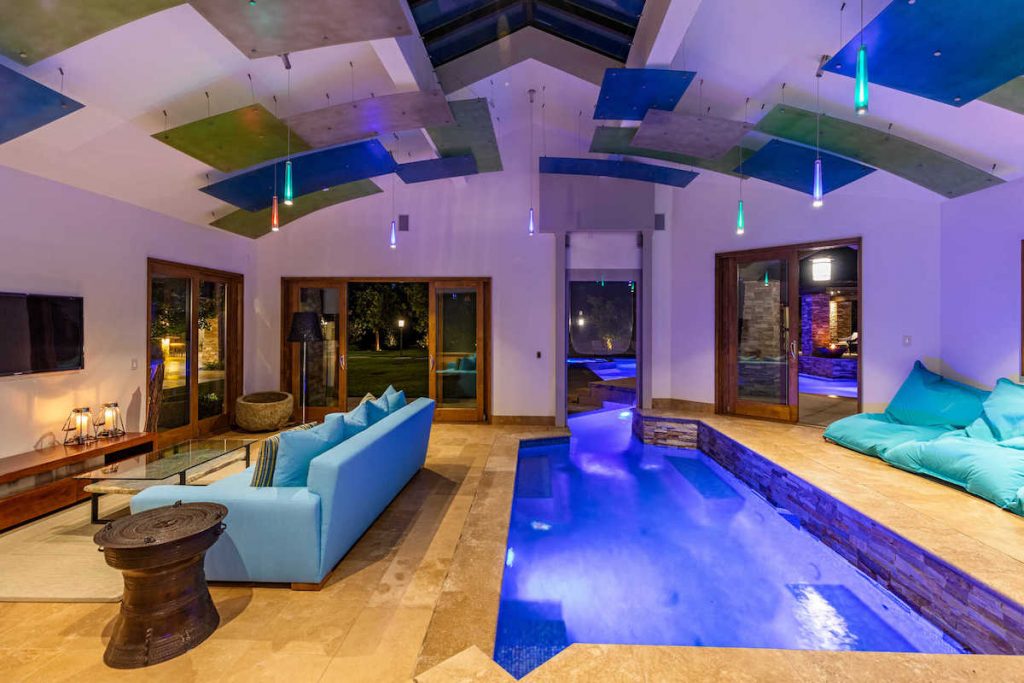 To add to the luxury of the home, a custom music studio with acoustic walls and extensive guitar collection rests within the high ceilings and large windows of the stone-paneled interior home. Modern and geometric motifs adorn the rustic home built with stone and wood throughout the mansion. For those that want to gaze out into the universe's night sky, a state-of-the-art telescope resides in the Hidden Hills' only observatory conveniently located on the property. This piece of equipment rivals any high-powered telescope in the area.
If you're interested in immersing yourself in the intergalactic world that George Lucas has created, look no further. This exclusive California sci-fi home is calling your name.