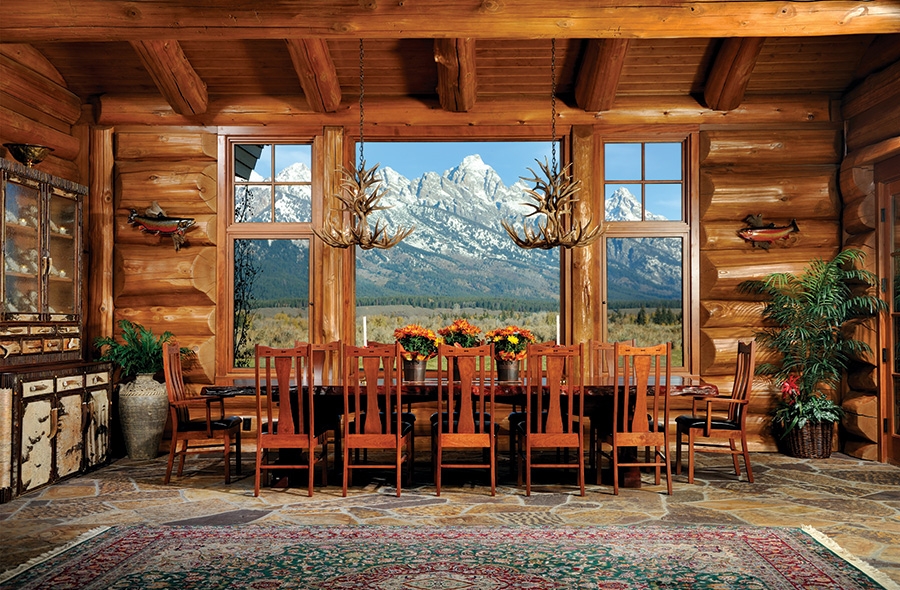 In 2003, after more than 40 years of collective experience building custom homes, Robert Lockerby and Tim Miller set out to create a world-class handcrafted log and timber frame company.
They hired the industry's best architects, designers, engineers, builders and log crafters. Today, their exceptional work stands as a testament to their success. Their luxurious homes can be found in exclusive locales all over the globe and have earned them many prestigious industry awards, as well as international recognition.
Summit Log & Timber Homes, LLC builds incredible homes that showcase the natural splendor of the logs and timbers they use — elevating them to stunning works of art. Robert and Tim believe in exceeding expectations and provide only the finest quality materials and craftsmanship. They have earned the reputation of delivering unsurpassed customer service.
If you are looking to build a spectacular custom home, discover the possibilities by contacting Robert or Tim at Summit Log & Timber Homes, LLC. You will truly be amazed at how elegant and extraordinary their handcrafted log and timber frame homes can be!
Summit Log & Timber Homes, LLC
208.468.4327

Back At The Ranch
Handcrafted Luxury Cowboy Boots Back at the Ranch in Santa Fe, New Mexico, has earned an international reputation as a "go to destination" for some of the world's finest handmade luxury cowboy boots, prompting the New York Times to call it "…probably one of the best custom boot companies in the country."
Inspired by a dedication to traditional craftsmanship, Back at the Ranch owner Wendy Henry believed she could bring a fresh, modern twist to this traditional fashion icon.
Using only luxury materials and sourcing some of the world's most unique exotic skins, the've been creating thousands of one-of-a-kind custom boots popular with A-list actors, filmmakers, country music stars, politicians, and fashionistas from around the world.
"Our second- and third-generation craftsmen, men have spent their lives making cowboy boots, each one by hand in our El Paso, Texas factory," says Wendy. Their motto is "perfection is in the details."
These distinctive boots are also highly sought after not just because of their exquisite designs, but also for their modern innovations—such as using Vibram soles, a line of ankle-hugging short boots with side zippers, and the ability for customers to customize their boots with their own designs.
Back at the Ranch occupies a distinctive place in the world of luxury cowboy boots: known equally for modern, fashion forward designs and commitment to exemplary customer service.
Back At The Ranch
BackAtTheRanch.com
888.962.6687

Creatively Inspired
Handcrafted Homes in the Old West Spirit Inspired by their location in Western Montana's beautiful Flathead Valley, James Bachofner and Brad Neu, owners of Kalispell Montana Log Homes, have been building log homes of just about every size and shape imaginable since 1975. Their craftsmen preserve the spirit of the Old West by using handcrafting techniques handed down from generation to generation to create homes that are as unique and beautiful as the Rocky Mountains from which they come.
General Contractor Dennis Cozzetti summed up the craftsmanship of Kalispell Montana Log Homes: "… impressed is an understatement. While I have done a number of log cabins with different companies, none even come close to the outstanding product that Kalispell Montana Log Homes delivers. It's like comparing a Ferrari to a Volkswagen…" These amazing log structures have been delivered from Presque Isle, Maine to Heaven's Landing in Georgia and from Big Bear Lake, California to Valdez, Alaska, and all points in between.
One of the most exciting aspects of any project is when your one-of-a-kind log home enters the design phase! Kalispell Montana Log Homes offers in-house 3D design but is just as comfortable working with your local designer or architect to assist in developing your dream home. Upon approval of your design, talented log smiths will begin hand peeling, scribing, notching and precisely fitting the large-diameter, naturally-dried logs at their Kalispell, Montana construction yard. Your log package is then disassembled, loaded for transport and re-assembled at your site by these same craftsmen.
Whether you are looking for a rustic "log cabin" or an impressive "log estate," the professionals at Kalispell Montana Log Homes have the experience and knowledge to assist you in making your dream home a reality!
Montana Log Homes
406.752.2992
Canada's Log People Inc.
Canada's Log People Inc. stands in the forefront when it comes to building handcrafted luxury lodge homes and timber homes. Company owner and president Theo Wiering founded "The Log People" in 1978 and has been dedicated to building the finest log buildings possible. Over 1,400 log buildings shipped worldwide!
Our handcrafted log and timber homes are built primarily with Engelmann Spruce, Douglas Fir, Lodgepole Pine and Western Red Cedar. The logs we use are an average of 12 to 20 inches in mean diameter, and the tight-grained timber is between 80 and 400 years old. We put a high priority on sustainable forestry; Canada's Log People harvests timber from designated forestry areas in British Columbia, which are then replanted with five saplings for every harvested tree. We put back what nature gave us. As a further measure of quality, over 95 percent of our timber meets the highest premium/select grade standard of the Timber Products Inspection grading agency.
In 2009, while in Norway to assemble a log home, Theo visited a heritage site that had several log buildings built by the Scandinavians around the 13th century. Only hand tools such as adzes and broad axes were used to craft the spruce logs into place. Today, we use current techniques for fitting and modern chainsaws.
To help put your ideas on paper, our drafting and design team has over 60 years of combined experience using the latest computer software.
Our mission statement is "Built with Quality and Pride." A handcrafted log or timber home is solid, warm and comfortable, and will be a source of pride and satisfaction for many years to come. Let us or one of our professional representatives make your dream home become a reality. We thank you for your interest.