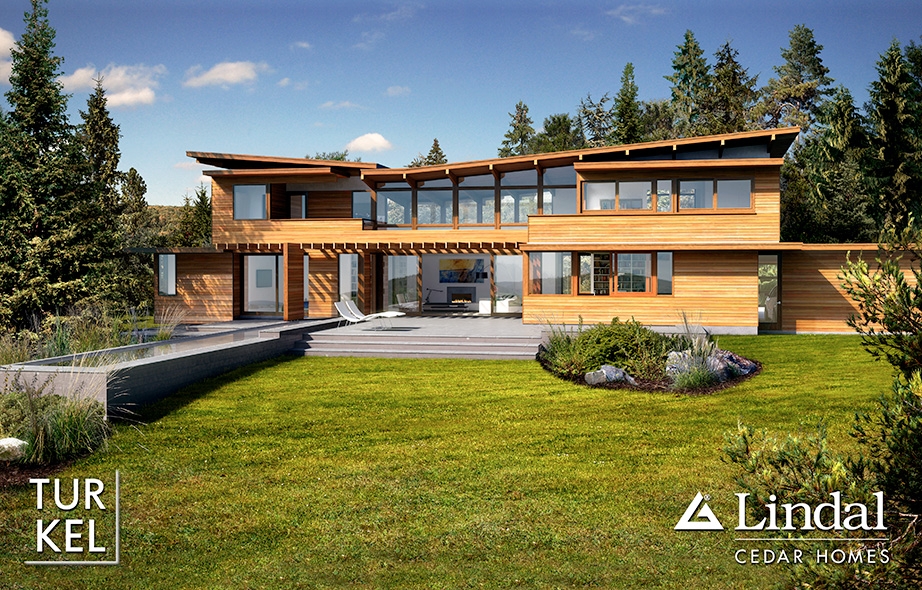 Majestic Peaks Custom Homes LLC is situated to service clients for their dream home through the central and western states and beyond – 'the world is truly your oyster'. For over 70 years now Majestic Peaks Custom Homes have been shipping homes throughout the world – so call to discuss your vision, and your destination. Lots of people can design your home, Lindal delivers it too!
Modern Designs
This is one of the many exciting new Modern Designs we offer through our Dwell Homes Collection Catalogue. Beautiful clear premium western red cedar siding and high performance walls of glass bring the out doors in from this gorgeous glue lam post and beam home with precision tapered beams.
Clean crisp lines dictate the finishes in our Modern Lindal Element homes.
Exciting modern designs provided by a compilation of world class architects create our 'Lindal Architect Collaborative' series homes. These varying styles all showcase our patented 70 year old post and beam system along with our premium western red cedar accents with natural colors to blend the homes contiguously with the environment.
Dynamic combinations of glass and structure – all designed and budgeted up front so the project has a clear outcome.
Styles to suit all interests, from Classic – to Modern – to Mountain Contemporary.
Stylish efficiency describes this popular design modified from 1148 sf (as shown) on up as desired – ease of customization in a timely fashion.
Classic Designs
At Majestic Peaks Custom Homes, we have built our reputation on a foundation of well-crafted and enduring cedar post and beam houses that are known for showcasing the surrounding views and environment. The system enables walls of glass so uncluttered by structure that the boundary between inside and the out practically disappears. The features combine to create an immediately identifiable Lindal environment; a relaxed retreat; a refuge from the busy world.
This exciting 'pod' style design was provided to Lindal by Jim Cutler – one of the key architects who developed Bill Gates' amazing waterfront home. This design can easily be enlarged or reduced to fit both your lot, and your lifestyle.
View 4 Modern and Classic Plan Books Online – from the comfort of your living room.
Please go to www.Lindal.com/YourLindalFolder/?DLR=2324 – then register or sign in – then click on 'Lindal Planbook Library' on left menu – click on 'Read the entire plan book online' of your book of choice – then enjoy the presentation – page by page (4 Planbooks include Living Dreams, Lindal Elements, Lindal Architects Collaborative, Turkel Design and Small Treasures) – you can order a hard copy if desired right on this site. To get back to look at another plan book – close the book you are in ('X') and click on 'Lindal Planbook Library' on the left menu again.
Be sure to give us a call to discuss your ideas. Whether you are building a new single family home, a large estate, a multi unit corporate retreat or a commercial building – it would be our pleasure to discuss how we can help with your project. Location is not an issue – we ship our projects all over the world. We look forward to hearing from you – soon!
Brent Hughes
President and CEO
Majestic Peaks Custom Homes