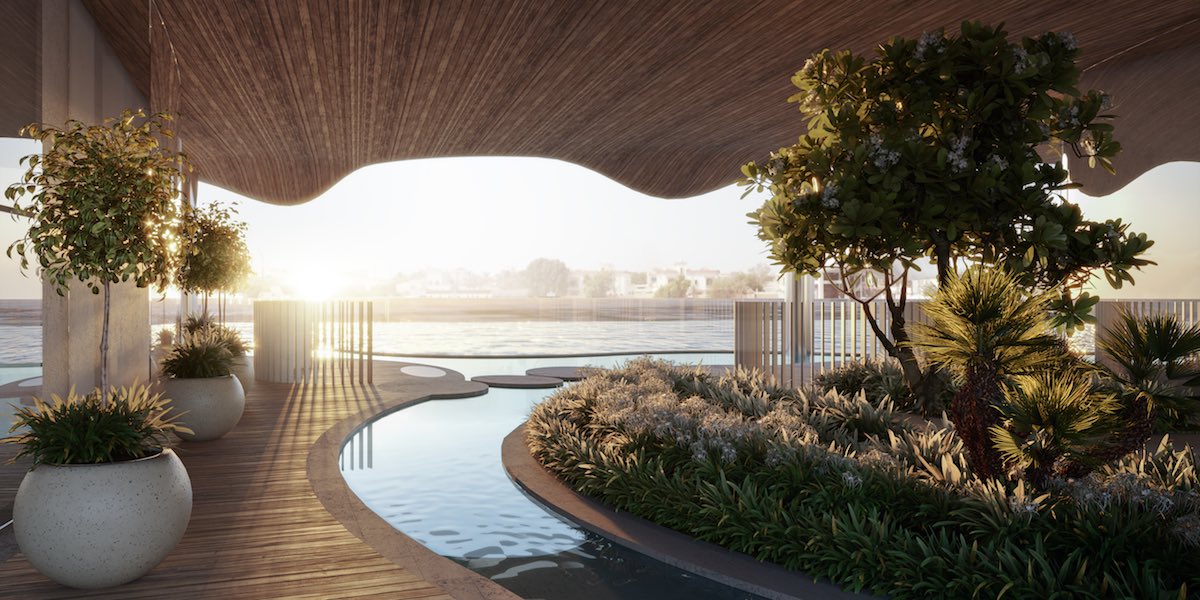 The city of Dubai is known for many things: its year-round sunshine, its exquisite restaurants and nightlife, and its soaring skyscrapers, some of which are the tallest structures in the world. In this sprawling metropolis, the arid desert heat combines with a swanky, cosmopolitan culture to form one of the most vibrant business and tourism hubs on Earth. Because of its desirable location in one of the world's wealthiest cities, real estate in Dubai fetches a hefty sum, numerous investors and entrepreneurs looking to stake a claim in this dynamic, ultra-luxe market. A palm-tree paradise that offers some of the finest amenities, Dubai is also a magnet for ambitious architects, who want to take high-end living to the next level.
Recently, the Italian restaurateur and real estate company Cipriani opened a whole new set of homes called Mr. C Residences Jumeirah in Dubai. These residences are a masterful blend of Dubai's old-world charm and contemporary comfort, encapsulating the rich melting pot that this Middle Eastern metropolis has become. To execute these upscale residences, Cipriani melded minds with award-winning architectural firm Arquitectonica and design agency Meyer Davis to construct palatial oases in the middle of the desert. In these homes, Cipriani's storied history of exceptional service meets Arabian charm, serving as a respite from the hustle and bustle of Dubai's fast-paced rhythm of life.
Classic European Flair, Modern Conveniences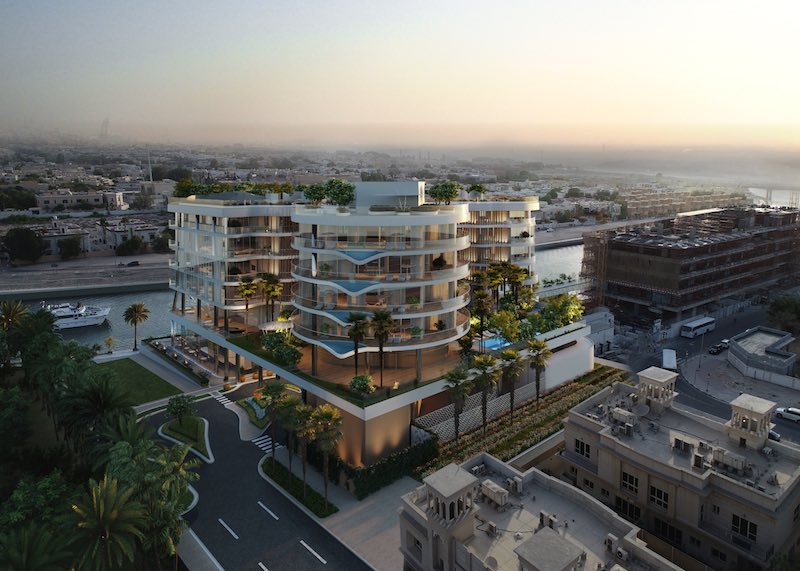 Stepping into Mr. C Residences is like entering a private paradise, where guests and residents can take off their shoes and bask in the resplendence of Jumeirah's gorgeous surroundings. With its contemporary feel and classic European flair, the condos are home to stunning views of the Burj Khalifa, which holds the title of the world's tallest skyscraper, stretching a staggering half mile into the air. Living here also gives residents a finger on the pulse of Dubai's cultural scene and nightlife, without crowding them with unnecessary noises from the city. Panoramic views of the Dubai Canal are also one of the highlights of staying in these Cipriani creations, the ebb and flow of ship traffic visible from the homes' elegant terraces.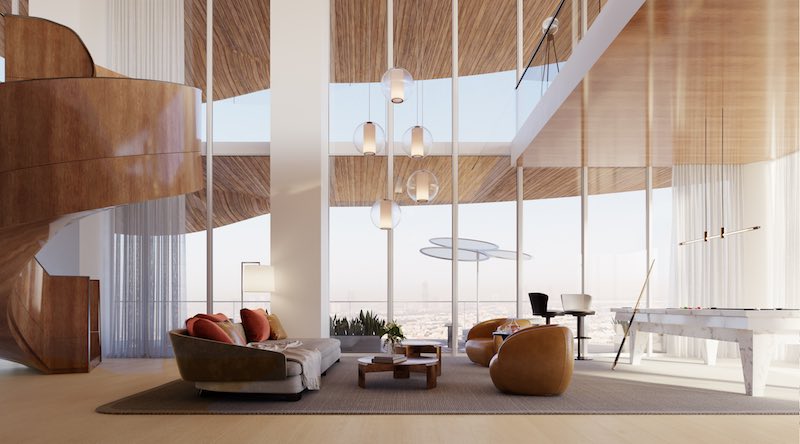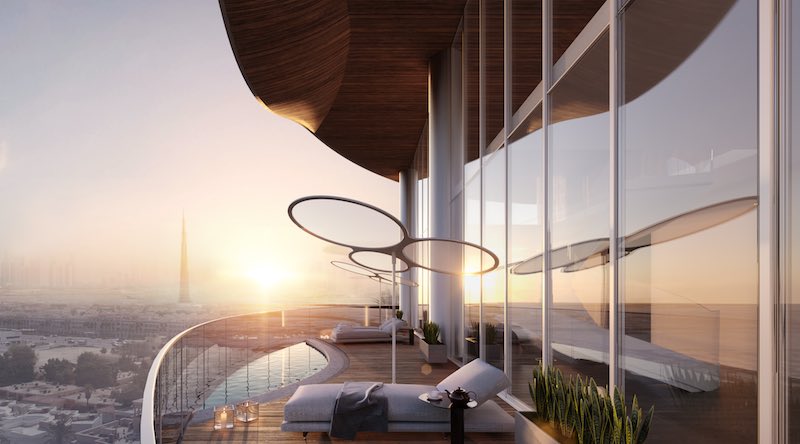 Clean lines. Open floor plans. Private spaces. These are the defining features of Mr. C Residences Jumeirah. Each unit boasts floor-to-ceiling windows that flood the interiors with natural lighting and give prime views of the city. Wood floors adorn the living spaces, and the kitchens and bathrooms come equipped with Italkraft and Miele appliances, framed by Italian terrazzo and quartz countertops, giving the space nuance, sophistication, and loads of inviting ambience. Despite its proximity to the heart of Dubai, the complex is home to private rooftop gardens, private outdoor terraces, private elevators, and private pools—allowing occupants to choose how social they want to be. One night they can host a lively gathering with friends, the next they can spend solitary time reading a book or sunbathing in an insulated outdoor space. With digital key and parking entry as well, getting in and out of Mr. C Residences is as swift as a desert breeze, ensuring that living in Dubai is as sporty and sophisticated as the city itself.
Cipriani's World Class Services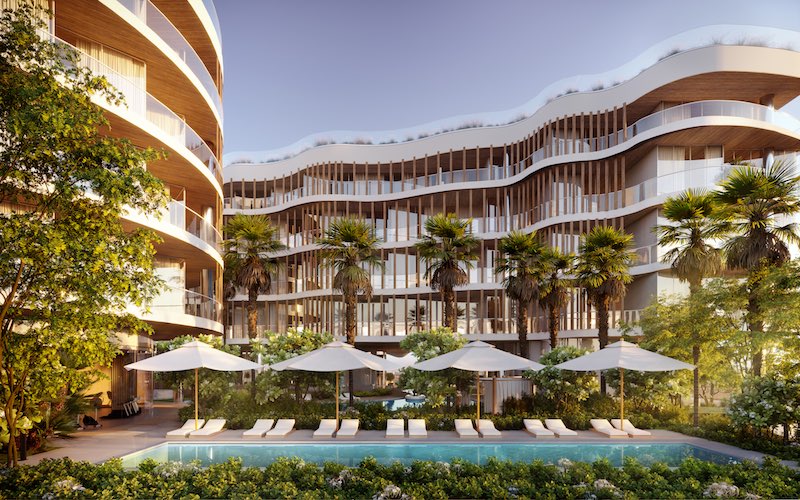 Mr. C Residences Jumeirah is more than a condo complex, more than a gorgeously-designed architectural masterpiece, it is a fully-equipped oasis, where residents and guests can dine, exercise, socialize, and relax—all with Ciparini's world-renowned service. There are poolside cabanas for ordering drinks and catching some shade, but there is also a juice bar in the complex's Bridge Lounge. This versatile space comes with a built-in screening room and an outdoor theatre space for next-level movie watching with friends or family. Gym buffs will find everything they need here to stay in tip-top shape: yoga spaces, lap pools, a fully equipped gym with equipment by Technogym, all the state-of-the-art technology for maximum gains. Afterward, residents can get a haircut at the on-site salon or recover in the luxurious spa facilities, which offer a range of massage and sauna services for a restorative afternoon of relaxation.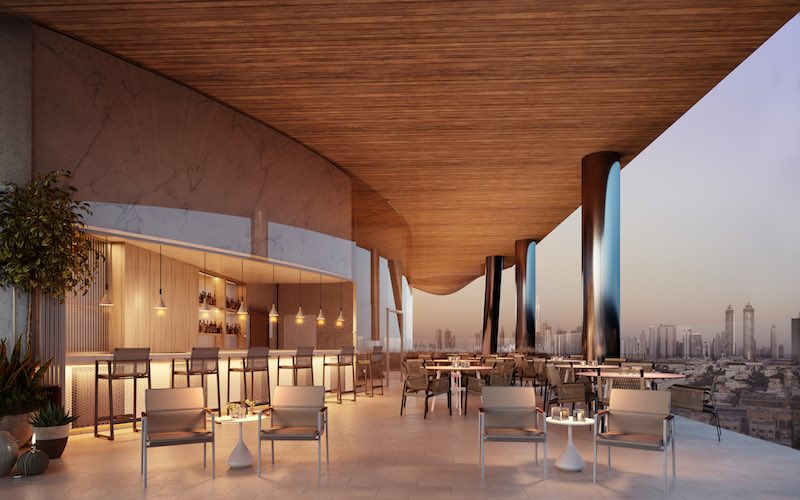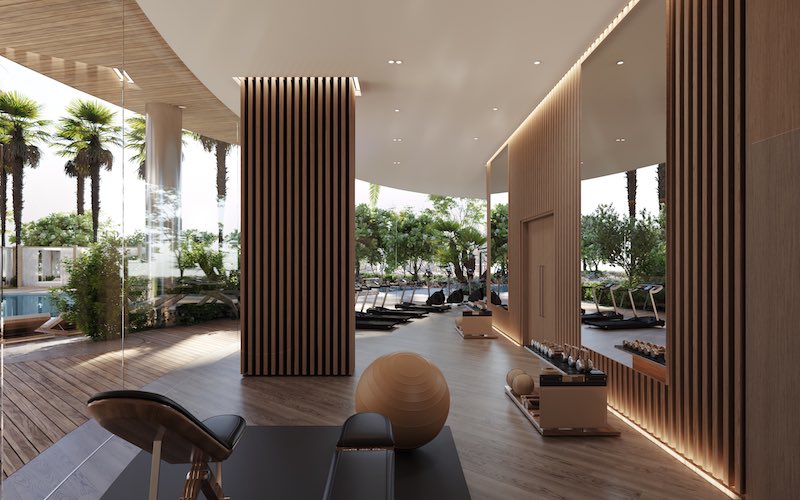 No Cipriani residence would be complete without one of the restauranteur's famous cafés. Bellini Café is an upscale Italian eatery, first established in 1931 by Giuseppe Cipriani, and the restaurant presents a range of Italian classics that are of top-notch quality—all with the legendary service the brand has become known for worldwide. Whether you want to grab a drink with friends before a night on the town, or have a romantic evening with a partner, this restaurant is a highlight in what is a stunning new condo complex. At Mr. C Residences Jumeirah, European elegance meets the Arabian high life.