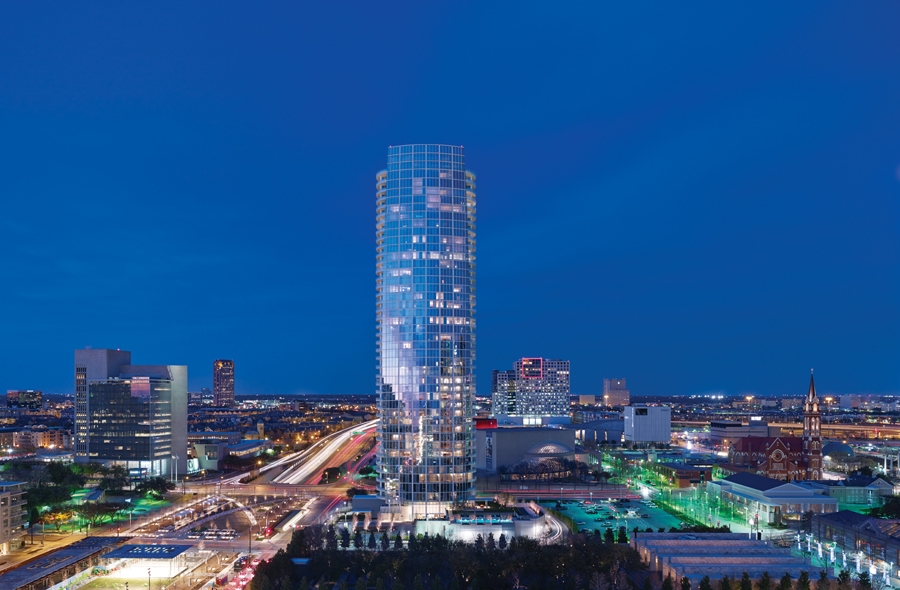 When you call Museum Tower home, every day is an opportunity for adventure. Located in the center of Dallas, you are neighbors with the finest art, fashion, performances, gourmet fare and entertainment the city has to offer.
Life in Museum Tower means you're free to pursue the things you love. Enjoy the city's vibrant life from a space of total luxury and comfort. Sit on top of the world surrounded by unmatched panoramic views of Dallas, alive with excitement and character. Travel without worry and know your home is being properly cared for. A piece of art itself, this architecturally stunning residential tower is reserved for a community of owners ready to make the most of life.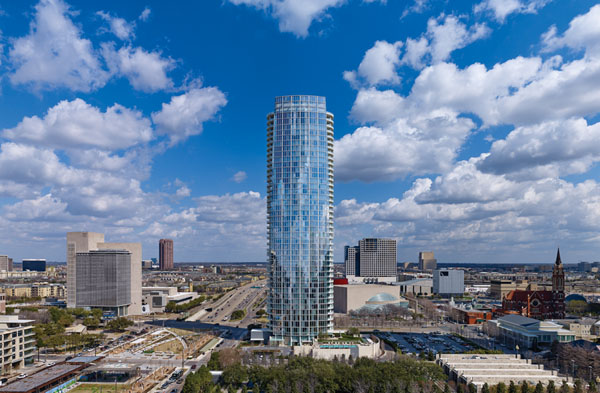 The opportunity to live the life you love does not come along very often. At the center of Dallas, Museum Tower offers the chance to immerse yourself in all the events and activities the city has to offer. With access to the Arts District, Uptown, Downtown, and Klyde Warren Park, you are moments away from gourmet restaurants, renowned shopping, professional sports and fine works of art. At the cultural heartbeat of the city, Museum Tower puts you in the midst of all the excitement.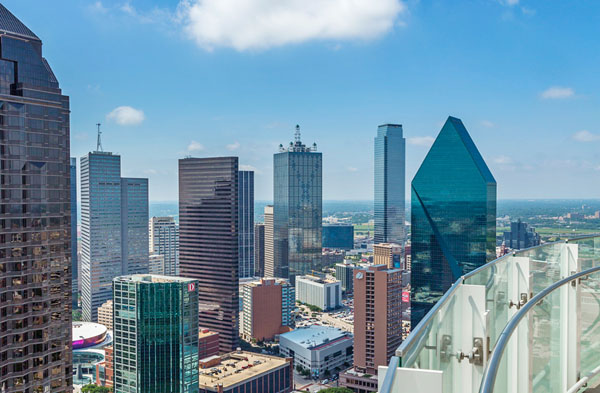 Your home serves as an echo of your personality. Beautiful, unique and expressive, Museum Tower lets the world know your distinct style to life and love of the spectacular. Conceived to transform, yet complement the dramatic skyline of Dallas, your home stands as an icon, created by internationally celebrated architect Scott Johnson. Reaching 42 stories into the sky, each level offers a unique view and living experience. The structure represents a classic modern form derived from an intersection of ellipses, and you'll find the broad, curving glass sails wrapping the tower provide a distinguished look of magnificence and sophistication. The style and grace of the building is a marvel to behold, making this a rare chance to live within a true work of art.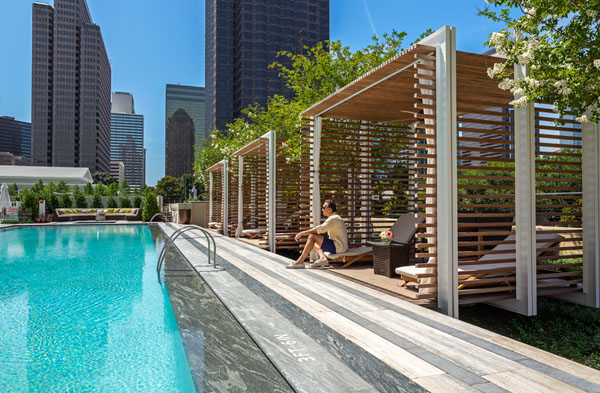 Beyond a beautiful home, Museum Tower provides the freedom to pursue your passions. Whether you serve on an organization's board, wish to focus on philanthropy, want to start a new business or merely relax with friends and family, this is your chance to choose your priorities. By eliminating many of the challenges of owning a house, you'll find more time for yourself. Let us care for the lawns and pool as well as coordinate services such as repairs, laundry, grocery stocking and pet grooming. Plus, our front desk is manned 24/7 to protect the building and your home.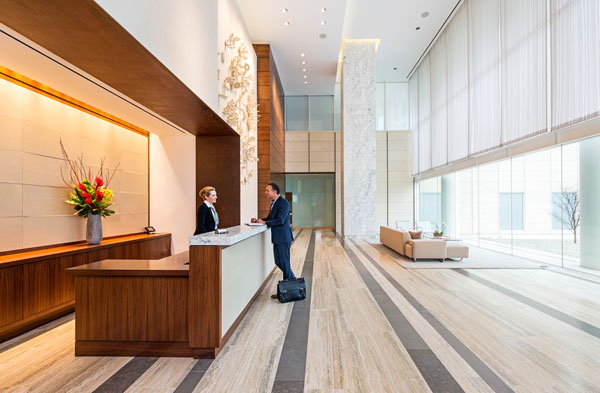 Mornings will never be the same when you literally start them on top of the world. Wake up among the clouds and watch the sun crest over the city as you sip your coffee, because in addition to comfort and luxury, your home at Museum Tower offers amazing vistas. Enjoy the sweet sounds of the occasional outdoor concert in the Arts District from the comfort of your balcony. After an evening at the theater, toast with friends above the city as it comes to life after dark. The beautiful views outside your windows are matched only by that of your home's interior. With a selection of designs, stunning features and a variety of layouts available for you to make your own, you're guaranteed a beautiful view whether you are gazing out or in.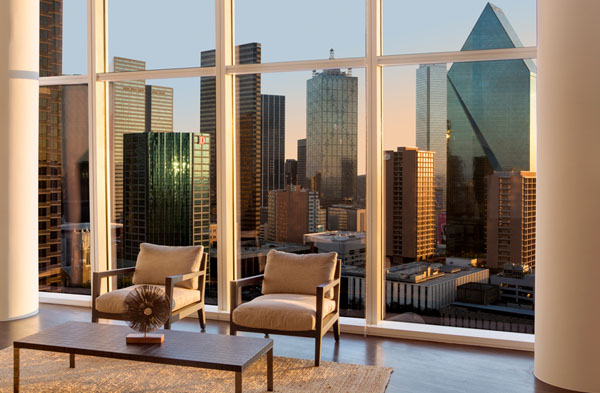 Your home at Museum Tower will have as much character as you. The individual nuances of each residence and nine floor plans make each home special, whether it's an intimate, 1,800-square-foot pied-à-terre or the expansive, 9,000-square-foot penthouse. Each residence features elegant hardwood floors, premium stone counters, refined finishes and gourmet kitchens incorporating Miele appliances and Dornbracht fixtures. With a selection of schemes, floor plans, kitchen designs and bathroom finishes, you have the opportunity to find the right home for you. The interiors of the dramatic one-, two-, and three-bedroom homes are enhanced by the design direction of Booziotis & Company Architects. The direct access elevators conveniently only stop at your front door. Plus, you'll love the natural light filling your living space through the 10-foot-high, floor-to-ceiling windows as they frame breathtaking panoramas of the city below. Common areas of the tower project an atmosphere of refined elegance and functionality – all thoughtfully designed by Johnson Fain along with HBA/Hirsch Bedner Associates and personally supervised by Michael Bedner.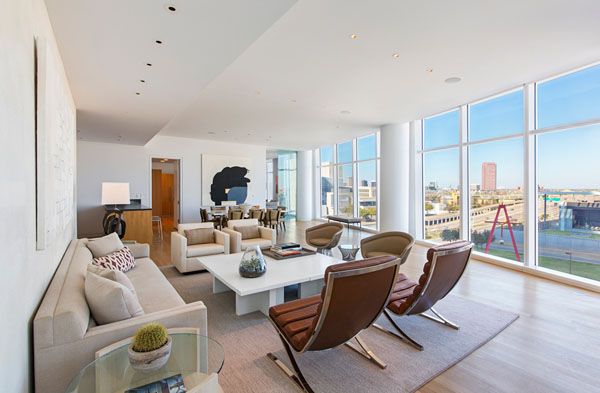 When you live in the nation's largest contiguous Arts District, your neighbors include Mozart, Shakespeare and Picasso. With priceless works of art and breathtaking shows across the street, Museum Tower provides many opportunities to feed your cultural passions. This architectural masterpiece is a work of art in and of itself and a natural piece in a neighborhood of museum and performance centers. Also nearby, you can discover new wonders at the Perot Museum of Nature and Science or head to the American Airlines Center to catch a Dallas Mavericks or Dallas Stars home game. The beautiful Klyde Warren Park serves as your front yard, and from your terrace you can spot the Trinity River and Santiago Calatrava's Margaret Hunt Hill Bridge, a modern marvel of beauty and engineering.
After satisfying your cultural appetite, discover one of the renowned local restaurants, lively nightspots or exclusive shopping districts by foot or car. Enjoy some of the finest shopping around at Highland Park Village and Uptown's West Village. Share a meal and lively conversation at places like Lark on the Park, Savor and CBD Provisions at the Joule. Shop to your heart's content at the Neiman Marcus flagship store and Stanley Korshak. Find something unique to your style, because fashion leaders Hermes, Harry Winston, Jimmy Choo, Diane von Furstenberg, Chanel, and Christian Louboutin are all nearby. Plus, say goodbye to your daily commute, because your home at Museum Tower is only blocks away from the largest commercial office center in North Texas.
Stepping out the front door of Museum Tower will introduce a rich environment both natural and urban. The five-acre Klyde Warren Park serves as your beautiful front lawn. Treat yourself to a picnic or a concert, or simply relax in this oasis of green space. Creating a natural link between Uptown and Downtown, the park is convenient for walks, picnics, relaxing, exercising your dog, entertaining children and more. Klyde Warren Park offers botanical gardens, walking paths, food options, an arts plaza, a children's garden, an entertainment pavilion and more, all just a short elevator ride away. When life calls for an intermission, Klyde Warren Park is only seconds from your door.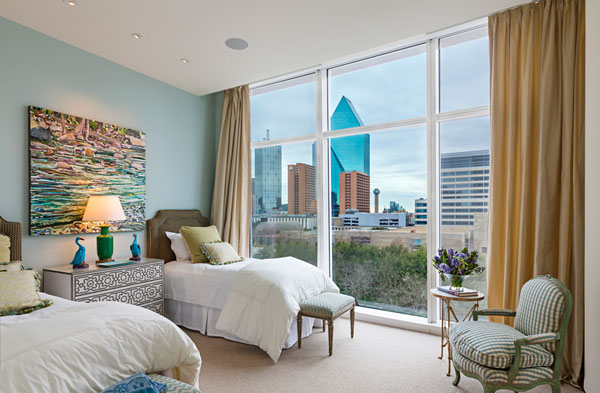 Health, wellness and leisure are a lifestyle. Your dedication to well-being is matched only by ours, as Museum Tower provides the amenities and conveniences to match your speed of life. At our state-of-the-art fitness center, five more minutes feels like two. Find the workout that works for you with our strength and cardio equipment, not to mention plenty of space to accommodate your personal trainer and massage therapist. Practice tai-chi, Pilates or yoga in the movement studio as you overlook the enchanting Zen garden. For your social workout, two separate Owners' Lounges provide comfortable places for morning coffee and evening cocktails. The second floor Terrace Lounge offers a particularly engaging location to take in the Dallas skyline. And just beyond the spacious indoor and outdoor seating areas, fall in love with the lush grounds covering more than an acre and a half. Enjoy the picturesque sweeping lawn, bocce court, 80-foot pool with cabanas, outdoor fireplace, fire pit, outdoor cooking and dining areas. It is all surrounded by manicured landscaping, creating an ideal setting for social engagements. Finally, take your four-legged friends to the private dog park that includes a dedicated space for pet grooming. In fact, you can experience many memorable days without even leaving the premises.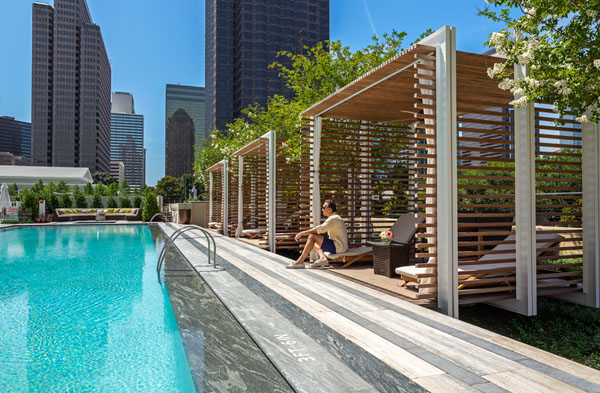 Your free time should not focus on what you have to do, but what you want to do. The staff of Museum Tower offers personal services that allow you to concentrate on living life to its fullest. The staff is ready to provide for you day-to-day needs, like taking care of your dry cleaning, helping with dog walkers and even stocking your home with groceries before you return from a trip. Plus, we will also handle many of your specialty needs. Our Director of Resident Relations is dedicated to help you in the pursuit of your passions. From assistance in planning a major milestone celebration or charitable event in our dramatic ground-floor gallery to securing tickets to the big game or the most popular shows, to setting up a private winery tour in California's Napa Valley, we are ready to go above and beyond to turn your dreams into realities. Ready to provide personal services at a moment's notice, our staff will free up your time, letting you pursue the things you love whenever the opportunity arises. Welcome home to Museum Tower.