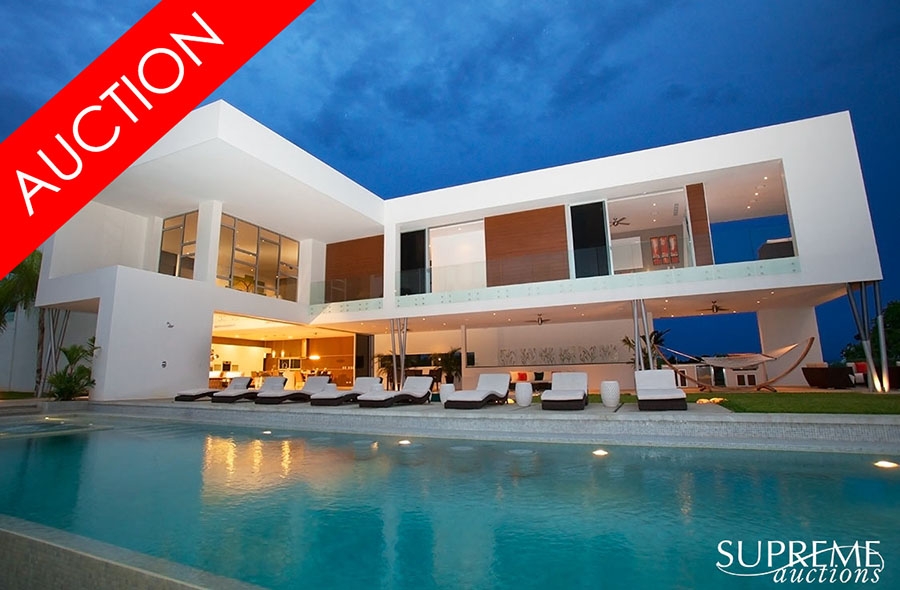 A distinguished and sustainable Eco-lifestyle is within reach, and located in the breathtaking Nicoya Peninsula.
Welcome to Nirvana Sanctuary, where beauty and natural splendor abound. Supreme Auctions is offering you your choice of not one, but four exquisite eco-luxury homes. Each is a unique and stunning property in its own right, and all are located in one of the most tranquil resort communities in Latin America on the Nicoya Peninsula in Guanacaste, Costa Rica. Sleek, modern designs, ultimate comfort, contemporary living, all with a low ecological footprint, makes these homes the perfect getaway for anyone who wants to be "off the radar" and one with nature. Join some of the world's most eco-conscious people in creating your own slice of paradise. As an owner of one (or all) of these incredible properties, you will have the freedom to choose to live here, vacation here, and have a beautiful investment property that will pay for itself over and over.
Opportunity is calling, come and visit today! Pure Vida – The Good Life!
Contact Supreme-Auctions.com for more information.
Nosara, Costa Rica is known around the world for its surfing, yoga and abundant health retreats and active lifestyles. Experience diverse fauna and flora, spectacular ocean and mountain views, beautiful gardens, swimming pools and walking trails. This truly is a diverse international community that embraces luxury, adventure, relaxation, accessibility and privacy. The environment boasts alluring and easily accessible nature in the form of beaches, mountains, jungle forests, rivers and amazing views including unforgettable sunsets.
Opportunity is calling! Contact Supreme Auctions at 866-929-2243 to schedule a viewing of these incredible properties today!